10 Best Dog Pooper Scoopers of 2023 – Reviews, Top Picks & Guide
As a dog owner, you know that along with the joys of a wagging tail, furry cuddles, and faithful companionship comes one not-so-pleasant task. Picking up after your dog, whether in your own yard or on a walk, is an inescapable part of everyday pet maintenance.
However, there's an alternative to the "plastic bag over your hand, stoop, and grab" disposal method. A dog pooper scooper can give your nose and your back a break and best of all, keep your hands free.
Dog pooper scoopers come in a broad range of designs and layouts. We've listed 10 of our top picks and included detailed reviews with quick reference pros and cons lists. Be sure to also scroll down to our buyer's guide for tips on making a more informed purchase.

A Quick Comparison of Our Favorites of 2023
Rating
Image
Product
Details

Best Overall

NANAPLUMS

Soft ergonomic handles
Telescoping handles
Durable and heavy-duty construction
Check Price

Best Value

Dogit Jawz

Best value
One-handed operation
Ergonomic grip with padding
Check Price

Premium Choice

Activedogs

Welded for greater durability
Deep-capacity shovel
Long handles with comfortable grips
Check Price

GoGo Stik

Portable for taking on walks
Telescoping handle
Includes 10 plastic waste bags
Check Price

Nature's Miracle Jaw

Spring-action claw
Non-stick surface
Antimicrobial protection
Check Price
The 10 Best Dog Pooper Scoopers
1.

NANAPLUMS Dog Poop Scooper – Best Overall
For its multiple convenient elements and sturdy design, the NANAPLUMS dog pooper scooper is our top pick for the best overall product. Made entirely of rust-proof heavy-duty aluminum alloy that's easy to clean, this scooper comes with two tools, a rake and a bin .
Both the bin and the rake have handles with soft ergonomic grips and a telescoping feature that can extend them from 20 inches to 38 inches. While you may still have to stoop if you're taller, the rake-and-bin method makes easy work of poop clean-up. The rake comes with well-spaced metal phalanges that can effectively scoop on and through a variety of surfaces
The durable collection bin comes with hooks so you can line its interior with an everyday grocery bag for convenient, mess-free disposal. The bin rotates from flush to the ground to an upright position in order to better hold an ample amount of collected waste. While helpful, the large collection ability combined with the heavy-duty construction may become heavy for users with limited strength.
Rust-proof, easy-to-clean aluminum alloy
Soft ergonomic handles
Telescoping handles
Rake with well-spaced metal phalanges
Rotating collection bin with bag hooks
Durable and heavy-duty construction
Handle length may be short for taller people
Can become heavy depending on your strength level
---
2.

Dogit D127 Jawz Waste Scoop – Best Value
If you're looking for the best dog pooper scooper for the money, look no further than the one-handed Dogit Jawz waste scoop. You simply squeeze the grip on the handle to operate the scooper jaws with serrated edges. A mechanism with two calibrated springs opens and closes the claw for quick and convenient disposal.
Designed for your ease of use, the handle has an ergonomic design with soft, contoured rubber pads for comfort. Also, the claw features sharp, pointed teeth that can remove waste from both grass and gravel. Additionally, at 25.5 inches in length, it gives you reasonable reach. However, if you're taller, you'll still need to bend.
This scooper is made of strong lightweight plastic. We found that the plastic pieces and operating parts may break with moderate to heavy clean-ups. Also, if you own an extra-large dog, the claw may not be wide and deep enough for big jobs.
Best value
One-handed operation
Ergonomic grip with padding
Claw capable of clean-up on variety of surfaces
May be too short in length for taller people
Collection claw may not be large enough
Plastic parts may not be durable
---
3.

Activedogs Dog Poop Scooper – Premium Choice
We selected the Activedogs Best Ever dog poop scooper as our premium choice. The first time you pick up this scooper, you'll notice the solid construction. Made with rust-proof powder-coated aluminum and welded for greater strength, the shovel and rake work together in a scissor-like motion to open as wide as you need to scoop even the largest of messes.
The diamond tread plate shovel and scoop have a deep capacity at 7.5-inches wide. The scoop features zigzag-style teeth that effectively scrape through grassy and dirt-covered surfaces. This pooper scooper's long handles have a plentiful length at 38 inches and come with molded rubber grips for your comfort.
Be aware that this product is, by far, the most expensive on our list. Also, while the screw connecting the two handles makes for convenient storage and more synchronized operation, we learned that it frequently loosens. Also, certain users found the heavy-duty materials of this scoop to be too heavy, making it unwieldy to use properly.
Rust-proof powder-coated aluminum
Welded for greater durability
Opens wide enough to handle all mess sizes
Deep-capacity shovel
Long handles with comfortable grips
Attached shovel and rake allows for convenient storage
Expensive
May be too heavy and unwieldy to use properly
Screw may loosen
---
4.

GoGo Stik Pooper Scooper
Take the GoGo Stik pooper scooper with you on walks for hands-free cleanup. The unique design of this scooper has a looped end on which you can affix either one of the 10 included bags or your own plastic grocery bag. The telescoping handle allows you to reach under your dog to catch the poo before it hits the ground, or you can flip it into the bag.
With the bag covering the opening, the scooper stays clean, eliminating the need for washing off. The telescopic adjustable aluminum handle adjusts to a length of between 25 inches and 36 inches. We learned that taller people may find the handle too short.
Although this is a clever and easily portable concept, we discovered that using this product takes some technique. Either catching your dog's poo or having to scoop it up may present a challenge. You may encounter difficulties scooping on concrete, wet grass, or similar rugged surfaces. Also, the opening of the scooper may not be wide enough for waste produced by larger dog breeds.
Portable for taking on walks
Includes 10 plastic waste bags
Telescoping handle
No need to wash tool/clean scooper
Challenging to master technique for picking up pet waste
Not effective on certain surfaces (concrete, wet grass)
Opening of scooper not wide enough for large dogs
Handle length too short for taller people
---
5.

Nature's Miracle Jaw Scoop
With a handle-operated claw-like scooping mechanism, the Nature's Miracle jaw scoop allows you to pick up your dog's messes without having to stoop all the way to the ground. At 27.5 inches, you won't have to bend much, depending on your height, and the lightweight material makes it easy to carry around.
The spring-action rubber grip opens and closes the claw, which has serrated, toothed edges for effective pickup on a variety of surfaces, from grass to granite and concrete. The non-stick surface of the scoop helps with easy disposal. This Nature's Miracle product has antimicrobial protection and odor-blocking technology.
The main issues we encountered with this product are the durability and ease of use. As with most, if not all, spring-operated scoops, multiple uses eventually lead to broken moving parts. Also, the claw action may require some technique to be effective. Finally, we learned that the non-stick surface may not completely prevent messy cleanups.
Spring-action claw
Rubber grip
Serrated, toothed scoop edges
Non-stick surface
Antimicrobial protection
Odor-blocking technology
Lacking long-term durability
Grip may be difficult to operate
Non-stick may not be effective
---
6.

Petmate 71034 Pooper Scooper
Ideal for larger dogs or if you own multiple dogs, this rake-and-bin combination with the Petmate pooper scooper allows you to clean up an ample quantity of waste effectively and efficiently. It includes two Arm & Hammer odor control bags, which easily hook to either side of the bin. Collection bags are not necessary for use, as everyday grocery bags work well for the most part.
Both the bin and the rake are easy to clean. The bin rotates for an ideal angle for collection and transport. The bin comes with an attached handle that can extend up to 32 inches. The plastic rake has curved prongs for improved pick-up on almost any surface. When you're finished using it, the bin and the rake snap together for convenient storage. Both handles come capped with built-in loops for hanging.
While this is an affordable product, we found that the plastic material doesn't have as much durability as metal. Also, we learned that the handle may unscrew, causing the bin to swivel and become difficult to use.
Ideal for larger dogs or multiple dogs
Able to collect ample quantity of waste
Includes two Arm & Hammer odor-control bags
Easy-to-clean plastic material
Bin rotates and attached handle extends
Convenient storage options
Affordable
Lacking durability
Plastic material not as sturdy as metal
Handle may unscrew and swivel
---
7.

Bodhi Dog Complete Poo Pack
For a complete kit that includes a pooper scooper, a dog waste bag holder, and a roll of bags, consider the Bodhi Dog Complete Poo Pack. Ideal for backyard use or bringing along on a walk, this claw scooper is made from lightweight, nonstick plastic and comes with two high-tension springs to clamp with firm effectiveness.
At 24 inches in length, you may not have to bend much to make quick cleanup of your dog's waste. The handle on this scooper has an ergonomic design, as well as a hole for hanging up when in storage. The scooping claw is designed with alternating teeth for more effective pickup in grass and other surfaces. The bucket is large enough to accommodate messes left behind from larger dogs.
While you could use this tool without a bag, the included bags allow for cleaner use, as they line the claw mechanism. Unfortunately, the bags tend to rip easily or fall off, and everyday grocery bags do not work, requiring you to order replacement bags only from Bodhi.
Kit includes scooper, bags, and bag holder
Lightweight, non-stick plastic
Ergonomic handle
Easy storage
Scoops effectively on variety of surfaces
Requires ordering replacement bags from this company
Issues with bag ripping or falling off
English vs American Labrador – Here are the main differences!
---
8.

DogBuddy Pooper Scooper
When you want to bring along a pooper scooper on your walks to keep your hands clean or when you're on the go but don't want to tote around a large clunky tool, consider the easily portable DogBuddy pooper scooper. Hook the DogBuddy onto your leash to keep it with you whenever you need it.
When it's time to scoop poop, expand the accordion-style folded collection chamber, remove a plastic baggie from the convenient integrated bag compartment, wrap it around the clamp mechanism to protect the scooper from mess, grab the poo, and tie the bag. While this is a clever design, we noticed that the smooth ends of the clamp make picking up poo on grassy or gravel surfaces extremely difficult.
The bag compartment fits standard size rolls for easy replacement. However, we found that the bag compartment tends to open and drop the entire roll when you're trying to remove just one bag. This pooper scooper comes in two sizes, but neither will accommodate waste from certain medium and most larger dogs. Additionally, keep in mind that this product requires bending down.
Portable
Hooks onto your leash
Includes storage for standard size roll of baggies
Clever hands-free design
Flimsy roll storage chamber
Difficult to pick up waste on grass or gravel
Too small for medium to larger dogs
Requires bending down for pick up
---
9.

Spotty 2142 Pooper Scooper
The combination rake and collection tray on the Spotty rake pooper scooper has a length of 36.75 inches. Both the rake and the tray are welded at the base and made with lightweight, weather- and rust-resistant aluminum.
The rake has nine prongs designed to scoop through thick grass. However, we discovered that the prongs tend to bend easily. We also found that the tray does not stand on its own, making operating this pooper scooper set less convenient. The tray itself is only 6.5 inches wide, which may be too small for larger dogs and bigger clean-ups. The packaging sticker's location on the tray may be an issue particularly because it's nearly impossible to remove.
The treated wood handles on this set include soft thermoplastic grips capped with a loop for hanging and a plastic component to attach both tools together for easier storage. Be aware that the wood lacks durability and quality.
Reasonable length at 36.75 inches
Welded, lightweight, rust-resistant aluminum
Soft thermoplastic grips
Easy to store
Flimsy construction on rake prongs
Poor quality wood handles
Collection tray too small
Unable to stand on its own
Packaging sticker on tray difficult to remove
---
10.

CO-Z Pet Pooper Scooper
A one-handed claw design pooper scooper, the CO-Z pet pooper scooper comes with a bone-shaped poop bag dispenser and refill bags. It's easily portable and compact to store, thanks to a convenient foldable hinge and shorter length at 24 inches. However, keep in mind that you'll need to bend more to operate it.
This lightweight tool has a handle fitted with ergonomic finger slots for a comfortable hold. Unfortunately, the springs are set too tight, and considerable effort is required to open and close the grabbing component.
The claw on this pooper scooper employs serrated teeth for better pick up on grassy surfaces, as well as a non-stick bucket. You can keep this unit clean by wrapping the included plastic bags around the claw. However, we learned that without the inclusion of an attachment feature, the bag often falls off.
This product takes our last spot for lacking in durability. Made of plastic, this pooper scooper may break rather easily.
Lightweight and portable
Foldable, compact design
Includes bag holder and replacement bags
Tight springs make claw operation strenuous
Lacking durability/breaks easily
Plastic bag often falls off claw
Shorter length requires bending

Buyer's Guide: How to Choose the Best Dog Pooper Scoopers
With so many different designs for a variety of clean-up duties, you may not be sure which product will do the best job of picking up your dog's messes. In this buyer's guide, we discuss important factors to consider before making a purchase.
Which Design Works for You?
Beyond a few unique products we featured, there are two basic designs of pooper scoopers: the rake-and-bin combination and the one-handed claw. Both styles have the same result of poo that is picked up and properly disposed of. However, you'll need to consider whether portability is important to you, as well as the size of your dog's piles and the overall clean-up task.
Rake-and-Bin Combination
Rake-and-bin combinations are the clear winner for big jobs and larger dogs. If you're planning to maintain your backyard or perhaps need to collect multiple messes, using a well-built, rust-proof aluminum rake and bin can make this task easier. Be sure to look for a rake with sturdy, pointed prongs capable of scooping through grass and able to be effective on less-than-ideal surfaces, such as gravel and pavement.
The collection bin should be deep and wide enough to carry a load for disposal. It's also helpful if the bin can rotate from flush to the ground to upright in order to reduce the chance of losing what you collected. Also, the ability to line the bin with an everyday grocery bag helps keep your pooper scooper clean and makes disposal more convenient.
One-Handed Claw Pooper Scoopers
One-handed claw pooper scoopers are ideal for toting along on a walk with your dog, as they tend to be constructed of plastic, making them lightweight and portable. Certain products include a plastic bag that covers the claws and eliminates mess. Be sure to look for a handle with an ergonomic grip that easily operates the claw's opening and closing motion. The springs should be tight enough to hold the collected poo but not so rigid that squeezing the handle becomes a strenuous task.
Many products with this specific one-hand claw action design lack durability. With many moving parts, the opportunity that a break may occur increases. Also, make sure the grabbing claw has serrated edges rather than a smooth surface. The claw's teeth should be able to glide through grassy areas and be able collect your dog's waste on a variety of surfaces.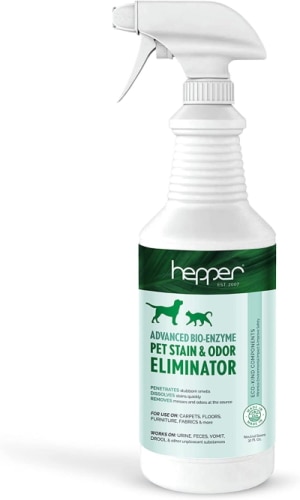 Having a pet means cleaning up smells, stains, hair, vomit, and more...and you can add to your pet clean-up routine with the Hepper Advanced Bio-Enzyme Pet Stain & Odor Eliminator Spray. It's our product, and we love it so much, we just have to share! It permanently removes the very worst smells and stains, and we offer a 100% satisfaction guarantee! Click here to get yourself a bottle!
What to Consider Before You Make a Purchase
Finally, consider your height and strength level. Beyond keeping your hands clean, pooper scoopers should reduce the need to bend and stoop. If you're taller, look for a product with a longer handle. Also, certain well-built rake-and-bin combination pooper scoopers come with heavy-duty construction that can become unwieldy. If you're lacking in strength, operating a hefty rake and bin, as well as a tight one-handed claw scooper, may become a frustrating process.
Keep in mind that matching up how you intend to use your pooper scooper and looking for a product made of high-quality materials will lead to the sweet smell of success — or rather, the fresh air of an efficient cleanup. When you're done using your pooper scooper, be sure the model you choose comes with an easy method of storage, such as hanging holes, attaching features for rake-and-bin products, or a compact design.

Conclusion
The NANAPLUMS Dog Poop Scooper is our top pick for the best overall product on our list due to its long-lasting durability and heavy-duty construction of high-quality, rust-proof, easy-to-clean aluminum alloy. This pooper scooper's rake and bin both have soft ergonomic handles with telescoping capabilities to adjust to the length you need. The rake has well-spaced metal phalanges, and the rotating collection bin comes with bag hooks.
The Dogit D127 Jawz Waste Scoop is our selection for the best value. The spring action claw opens and closes with one-handed operation by squeezing the padded ergonomic grip. The claw's design makes it capable of clean-up on variety of surfaces.
The Activedogs Best Ever Dog Poop Scooper earned our premium choice at our third-place spot. Constructed from rust-proof powder-coated aluminum and welded for greater durability, the rake and bin are connected at a single point, which allows this pooper scooper to open wide enough to handle all mess sizes. It also has a deep capacity shovel and long handles with comfortable grips. The attached shovel and rake allow for convenient storage.
Hopefully, our thorough reviews, helpful pros and cons lists, and informative buyer's guide have helped you make a better choice about which pooper scooper to purchase. Choosing a design that works for your dog's cleanup needs can become a messy process. However, once you own the right pooper scooper, the task becomes so much quicker and easier. Best of all, you'll be hands-free.
---
Featured Image Credit: Petmate, Amazon