8 Best Dog Shampoos for Chihuahuas in 2023 – Reviews & Top Picks

Many Chihuahua owners can commend these little cuties for being tolerable during grooming. It seems like this breed is always being pampered, preened, and pruned. To keep your Chihuahua clean and snazzy, bath time is among your monthly tasks. After all, you won't want them wearing their adorable outfits when they're all dirty.
But what kind of shampoo works best for this type of pooch? We've rounded up the best products we could find and we're here to tell you about our experience. Let's take a look at these honest reviews to figure out which one suits your Chihuahua the best.
---
A Quick Comparison of Our Favorites in 2023
Rating
Image
Product
Details

Best Overall

Hepper Colloidal Oatmeal Pet Shampoo

Natural aloe and oatmeal included
Suitable for any pet
Subtle fragrance
Check Price

Best Value

Burt's Bees Tearless Dog Shampoo

pH balanced for dogs
Cruelty-free
Can use with flea and tick medication
Check Price

Premium Choice

4-Legger Organic Hypo-Allergenic Dog Shampoo

Vegan
Gluten-free
Hypoallergenic
Check Price

Veterinary Formula Clinical Care Dog Shampoo

Combats infections
Soothes skin
Reduces itching
Check Price

Buddy Wash Relaxing Green Tea Dog Shampoo

Terrific smell
Long-lasting effects
It makes fur soft and shiny
Check Price
The 8 Best Dog Shampoos for Chihuahuas
1.

Hepper Colloidal Oatmeal Pet Shampoo — Best Overall
We love this shampoo because it's great for sensitive skin. Chihuahuas tend to be prone to skin issues and Hepper Colloidal Oatmeal Pet Shampoo is a solid option. It includes colloidal oatmeal—an ingredient that can help improve skin health. It also includes aloe vera, which nourishes the skin. Plus, it's free from any potentially troublesome ingredients, including sulfates, phthalates, and synthetic dyes.
This shampoo is pH-balanced, and you can use it for practically any animal. If you have multiple pets, that's even more reason to go with this shampoo. It does have a subtle fragrance. However, much of this comes from the inclusion of aloe vera, which is quite fragrant by itself. It can prevent irritation from the bath, as well as treat existing irritation.
The only potential issue is that this formula isn't specifically made for smaller dogs. However, in most situations, this won't be much of a problem.
Natural aloe and oatmeal included
Suitable for any pet
Subtle fragrance
Nourishes skin
Not made specifically for smaller dogs
---
2.

Burt's Bees Tearless Dog Shampoo — Best Value
If you have a tiny Chihuahua pup, check out Burt's Bees Tearless Puppy Shampoo with Buttermilk for Dogs. This product contains only gentle ingredients that soothe your puppy's skin without any harmful effects. Even if they get it in their eyes, it will be no worse for the wear.
The added buttermilk works to soothes and lathers, as not to dry out your puppy's fragile skin. The formula is specifically pH balanced for a dog's skin, and for so it leaves it fresh, soft, and supple. Each bottle is 97% natural ingredients that are completely cruelty-free so you can rest easy knowing that no animals were harmed when making this product.
The added honey really helps your Chihuahua as well. It promotes healthy, strong hair growth and removes dead skin and fur from your pup's coat. This is also one of the few products you can use combined with flea and tick treatments.
One downfall of this product is that it is quite thin in consistency. Sometimes you have to use a tad bit more to really work up a good lather. But regardless, we think this is the best dog shampoo for Chihuahuas for the money.
pH balanced for dogs
Cruelty-free
Can use with flea and tick medication
Affordable
---
3.

4-Legger Organic Hypo-Allergenic Dog Shampoo — Premium Choice
Don't let the higher price tag turn you away. The 4-Legger Organic, Hypo-Allergenic, Lemongrass & Aloe Dog Shampoo might be exactly what you're looking for. The shampoo has so much to offer your Chihuahua in terms of cleanliness, safety, and smell.
If you have a pooch that's particularly sensitive to certain chemicals or products, this is an extremely great alternative as it is 100% hypoallergenic. If your Chihuahua is prone to yeast and skin infections, this is another great option two as it contains lemongrass, which has antifungal properties.
This company really cares about the safety of your pooch. So this product is 100% cruelty-free with no added dies or parabens. It is also vegan, gluten-free, and non-GMO. They choose their ingredients extremely carefully to ensure that your pet is taken care of, so every bit of this is non-toxic.
Be mindful if you have a long-haired Chihuahua as this product sometimes causes tangling in longer hair. Because it cleans so well, it strips all oils in the hair, which can make it a bit stiffer. Every dog's coat will have a different texture, so it will greatly depend on your Chihuahua.
Vegan
Gluten-free
Hypoallergenic
Non-GMO
Might cause tangling
Pricey
---
4.

Veterinary Formula Clinical Care Dog Shampoo
If your Chihuahua is suffering from some pretty serious skin issues, Veterinary Formula Clinical Care Antiparasitic & Antiseborrheic Dog Shampoo might help them tremendously. This formula is specifically designed for tough bacterial and parasitic skin conditions.
The added oatmeal and aloe tone and help soothe the skin so your Chihuahua will leave the rashes alone—not itching or re-opening healing wounds. The coal tar and micronized sulfur also help to heal existing skin conditions as well as prevent future ones.
It would be best if you didn't use this shampoo unless it is medically necessary. This product should only be used when you're trying to reduce symptoms of an existing condition. It isn't suitable for every-bath use.
Because it contains coal tar, you should never use this product on your house cats. If you were looking for a shampoo that you could use across the board, this is not the pick for you.
Combats infections
Soothes skin
Reduces itching
Heals wounds
Not for use on cats
For medical use only
---
5.

Buddy Wash Relaxing Green Tea Dog Shampoo
If you're looking for an all-in-one fantastic-smelling shampoo, consider Buddy Wash Relaxing Green Tea & Bergamot Dog Shampoo & Conditioner. The scent is lovely and refreshing—not to mention it does wonders for your Chihuahua's coat.
This body wash covers all bases of basic cleanliness. It lathers up beautifully washing away debris and leaving your pet smelling and feeling fantastic. The ingredients are completely safe for dogs—and even human grade. So, you can relax knowing it's good enough for humans.
The specific formula is supposed to be relaxing, so you should see these properties transpire and your dog's behavior—and you're going to love it as well! Your Chihuahua will have a shimmery coat with a scent that lasts for days post-bath.
Terrific smell
Long-lasting effects
It makes fur soft and shiny
Not all will enjoy the smell
---
6.

Buddy Wash Lavender & Mint Dog Shampoo
Buddy Wash Original Lavender & Mint Dog Shampoo & Conditioner not only does it smell fantastic, but it gets the job done. Your Chihuahua will smell fabulous and feel soft as silk. The combination of lavender and mint gives a fresh, calming effect.
The formula has a thick lather that cleans out debris while softening the skin and leaving the fur squeaky clean. This product is soap and alcohol-free, so it won't harm your Chihuahua skin or dry it out. It is coconut-based, using only natural extracts such as aloe vera, sage, rosemary, green tea, and chamomile.
This product contains a wheat protein that is safe for both adult Chihuahuas and puppies. It isn't tested on animals so you know that there is no cruelty involved in making the product. It's even safe enough to use on yourself! This product is made right here in the USA with traceable ingredients.
All that being said, everyone has a preference, and if you aren't digging the strong scent, you might not enjoy the product as much as we did.
Calming
Clean, crisp scent
Cruelty-free
Human-grade
Made in the USA
No all will prefer the scent
---
7.

Crazy Dog Baby Powder Dog Shampoo
Nothing smells like nostalgia more than the soft aroma of baby powder. If you're a fan, you might want to look at Crazy Dog Baby Powder Dog Shampoo. It leaves your pampered pooch tidy and aromatic.
You can use the shampoo on puppies and adult Chihuahuas alike. The formula is specifically designed to be tear-free, not irritating the eyes and other sensitive parts. It has added B5, which promotes a healthy coat nourishing the skin and reading any buildup.
The product contains wheat protein which is a component that is supposed to make your dog's hair manageable and soft for days. The sat lingers for a long time as well, so your pup will smell freshly bathed long after it's over.
Even though some people might totally love the smell, it might not be for everyone. If you're going into it expecting it to smell identical to baby powder, it contains a slightly different scent. However, it is long-lasting on your dogs for something you want when buying a shampoo product.
A clean, subtle smell
Tear-free
Nourishes coat
Not everyone will enjoy the scent
---
8.

Frisco 2-in-1 Shampoo & Conditioner
Using a plant-based cleanser, Frisco 2-in-1 Shampoo & Conditioner with Aloe for Dogs & Cats will work well for your Chihuahua as well as any felines in your household. This product contains pro-vitamin B5 and certified organic aloe vera to make the skin fresh, supple, and clean.
This product is designed specifically for odor control, so you know that it will be long-lasting once the bath is over. Pet owners always look for a way to stretch the scent as far as it will go—and we think it does.
The shampoo has a great lather combining cleaning and conditioning effects. It contains no harmful parabens or dyes, so you don't have to worry about your dog suffering as a consequence. This product might leave a residue if you don't rinse thoroughly.
Certified organic
Odor control
Great lather
Might leave a slight residue

Buyer's Guide
Chihuahuas are small little dogs that are thankfully easy to handle in the tub. Aside from the lighting, you can easily restrain them while you get them nice and clean. Chihuahuas can come in a few hair lengths, body patterns, and colors. Each dog will be unique to care for.
When you choose, it ultimately depends on your personal situation. Some of them have sensitive skin or irritation that requires something special. Even if they don't show any sensitivity to those things, you should always try to go as natural as possible to maintain the coat's integrity.
General Purpose
General-purpose shampoos take care of the dirty issue making it all clean and shiny. There's no fancy bells and whistles here—just plain shampoo. But it definitely gets the job done. Sometimes, we do have to be careful, as some general-purpose shampoos sometimes contain fragrances and irritate your Chihuahua.
2-in-1
These formulas eliminate extra purchases, combining cleanliness with hydration. No need for repeated steps. If you have an extra scared Chihuahua, it will cut down on time spent in the tub.
Organic
If you don't like the idea of letting a bunch of chemicals onto your dog, you can always go the organic route. Organic shampoo uses all-natural ingredients. All fragrances are usually natural oils, which are beneficial for your dog.
Medicated
If you want Chihuahua to suffer from hotspots, breakouts, and hair loss, medicated shampoo might be just what you are looking for. But there is the possibility of making the problem worse. Please consult with your veterinarian to make sure they were using the right products concerning that.
Flea & Tick
There's nothing like the warm months—every time you turn around, you're combatting pesky pests. These shampoos contain a combination of medication and cleaning agents. Flea and tick problems need to be treated by your veterinarian.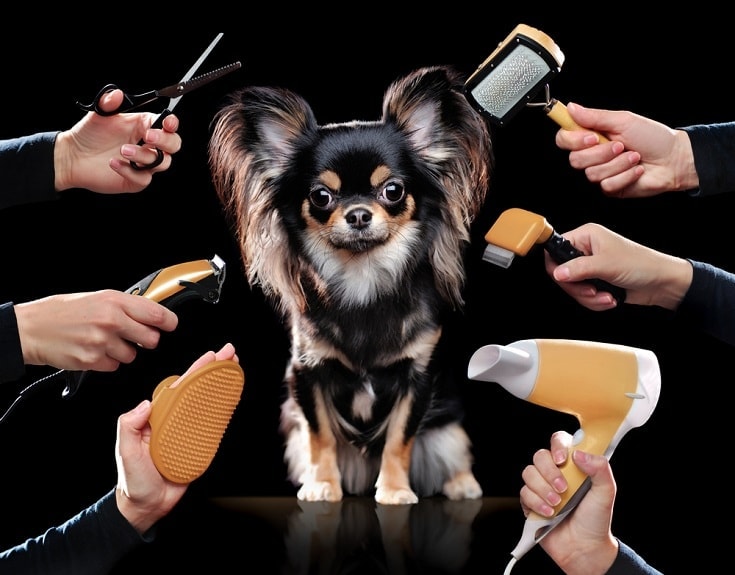 Antifungal
If your dog has issues with recliners, infections, skin problems, and antifungal shampoo, they may benefit greatly from this type of shampoo. Some antifungal shampoo may require a  prescription from your veterinarian. Some treatment situations can be very specific. Make sure to contact your veterinarian with any questions before applying.
Sensitive Skin
Just like us, Chihuahuas can have sensitive skin, which can lead to breakouts and other issues. You can buy soothing shampoo explicitly designed for those types of dogs.
Allergies & Sensitivities
Chihuahuas can suffer from all sorts of allergies from various sources—just like you. There are certain products that they can't handle. Figuring out what could be irritating your pooch is part of the process. When it comes to food-related allergies, shampoo won't combat the issue alone.
If you aren't sure what irritates them, your vet can determine the root cause. If you were counting on shampoo to directly take care of these kinds of issues, they simply can't. You will need to use a combination of food trials and allergy tests—it's a significant elimination process.
While you're doing that, you can buy a shampoo that could soothe the issue but not eradicate it. Sometimes, combination treatments are the way to go.
Harmful Ingredients
No matter if your Chihuahua is prone to allergies or not, there are certain ingredients that you should avoid altogether.
Artificial dyes
Fragrance
Parabens
Phthalates
Cocamide-MEA
Mineral oil
Alcohol
Propylene Glycol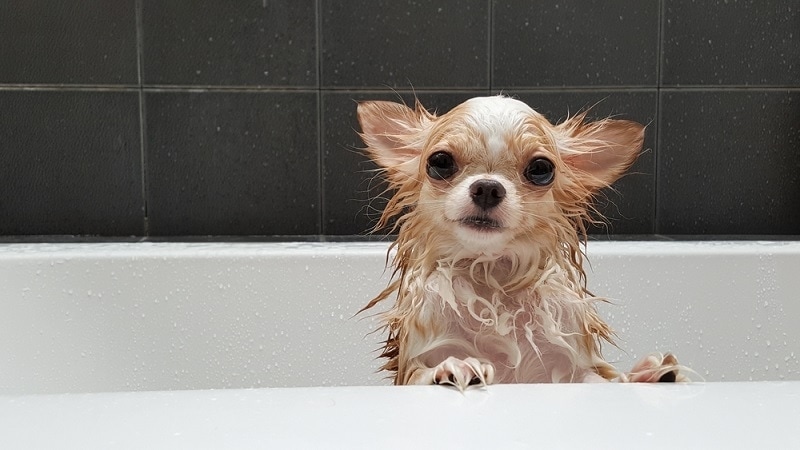 How to Bathe Your Chihuahua
The last thing you want to do is give your Chihuahua a bad bathing experience. Since Chihuahuas are so small, it's best to bathe them in a controlled environment, like a kitchen sink. You have more grip and control, preventing them from going under.
There is no one-size-fits-all when it comes to bath time. Ultimately, it's whatever works best for you and your dog. Some people prefer using a bathtub, a bucket, or a kitchen sink.
If you have a more anxious dog, the smaller space, the better it might be. It eliminates their ability to try to get away from you, and it might also make them feel a little bit more secure.
How Frequently Should You Bathe a Chihuahua?
A general rule of thumb is to bathe your Chihuahua every month. At the very least, you should clean your Chihuahua once every 3 months. The frequency will depend on your Chihuahua's skin, but you should never let it go longer than that.
Even if your Chihuahua is indoors all the time, they still get oil buildup and debris in their fur. Bath time was also an excellent opportunity to check for fleas and ticks, skin abrasions, and irritation.
Plus, it is a perfect way to bond with your dog. Many dogs don't like water, so giving them the experience will help build trust.

Conclusion
Hopefully, our reviews help you choose the best dog shampoo for your Chihuahua. Our personal favorite was the Hepper Colloidal Oatmeal Pet Shampoo because of its long-lasting smell and favorable ingredients. We think most owners could agree that this is a pretty top-notch pick.
If you have a puppy or an adult dog and you're looking to save a few bucks, consider Burt's Bees Tearless Puppy Shampoo with Buttermilk. It has an ideal formula that is gentle on the skin and eyes.
No matter which one caught your attention, you're sure to love whichever you choose. Other owners can agree that they enjoy these products for their dogs very much. Your Chihuahua will be in tip-top shape in no time.
---
Featured Image Credit: Annette Shaff, Shutterstock