7 Best Dog Shampoos for Goldendoodles in 2023 – Reviews & Top Picks

Just like how the ideal hair shampoo varies between individuals, so does dog shampoo. We choose shampoo based on our hair type and scalp needs. Similarly, you must consider your dog's fur type and other unique needs when looking for a shampoo for them.
The Goldendoodle is a marvelous dog. The result of crossing the loyal and friendly Golden Retriever with the adorable and charming Poodle, the Goldendoodle might just be the most wonderful dog in the world, even by retriever standards.
They come with a delightful temperament since both parents are from highly personable breeds, in addition to being achingly beautiful.
So, which is the best shampoo for the Goldendoodle?
As mentioned, this will depend on the dog's coat or fur type. When it comes to Goldendoodles, the type of coat they sport will depend on the parent they take after the most. Considering how different the Golden Retriever's and the Poodle's coats are, the ideal shampoo can vary considerably among Goldendoodles, even among pups from the same litter.
Most Goldendoodles sport a coat that features characteristics from both parents. Additionally, they all tend to have sensitive skins. As such, the best shampoo for your dog is one that is not only suitable for both Goldies and Poodles but also is not harsh on their skin.
Fortunately, we have done the legwork for you and have compared numerous products to bring you these reviews of the best dog shampoos for Goldendoodles on the market today. Here are the best Doodle shampoos on the market:
---
A Quick Comparison of Our Favorites (Updated 2023)
Rating
Image
Product
Details

Best Overall

Hepper Colloidal Oatmeal Pet Shampoo

Lovely, long-lasting scent
No irritating ingredients
Great for all furry domestic pets
Check Price

Best Value

Healthy Breeds Oatmeal & Aloe Shampoo

Designed for Goldendoodles
Gentle and soothing
Made from natural ingredients
Check Price

Premium Choice

K9 Pro Oatmeal Shampoo

Designed by veterinarians
Gentle and soothing
Delightful fragrance
Check Price

4-Legger Organic Oatmeal Shampoo

Organic
Made from natural ingredients
Gentle on the skin
Check Price

Buddy's Best Natural Shampoo

Gentle and soothing
Natural ingredients
Moisturizing
Check Price
The 7 Best Dog Shampoo for Goldendoodles
1.

Hepper Colloidal Oatmeal Pet Shampoo – Best Overall
Hepper Colloidal Oatmeal Pet Shampoo is a top-notch hygiene product that deserves your attention. This shampoo is a few dollars more than some competitors, but for a good reason.
This shampoo has a rich lather, smells superb, and has an aloe and cucumber scent for a fresh feel. It is entirely safe to use on dogs and cats. So, it will work for your whole household of domestic pets.
The colloidal oatmeal is prime for soothing even the most irritated skin—ideal for sensitive pets! We love the clean ingredients in this perfectly pH-balanced formula. It is made with pet-safe elements, clear of soaps, gluten, dyes, DEA, sulfates, and phthalates.
We think most pets can benefit from this shampoo, and we know pet parents will love the long-lasting fresh scent! We think it's the best overall dog shampoo for Goldendoodles.
Lovely, long-lasting scent
No irritating ingredients
Great for all furry domestic pets
Soothes and moisturizes skin
---
2.

Healthy Breeds Oatmeal & Aloe Dog Shampoo – Best Value
This shampoo is tailor-made for dogs with sensitive skins such as Goldendoodles. The main active ingredients here are aloe vera and oatmeal, which have a soothing effect on the skin.
This makes the Healthy Breeds Oatmeal & Aloe Dog shampoo suitable for dogs that suffer from itchy skin. The shampoo's pH has also been balanced to match that of your Goldendoodle's skin just to make sure that it won't irritate them. Moreover, it has moisturizing properties to help restore the skin's natural moisture and suppleness.
This shampoo also has a pleasant fragrance that does not come from artificial perfumes. However, some users find the scent to be a bit too subtle. If you fall under that category, we recommend combining this product with a deodorizing shampoo to help you wash away the "dog smell."
Gentle on the skin and easy to lather; it is surprising how budget-friendly the Healthy Breeds Oatmeal & Aloe dog shampoo is. Among the many shampoos we checked out, we found this product to be the best dog shampoo for Goldendoodles for the money.
Designed for Goldendoodles
Gentle and soothing
Moisturizing
Made from natural ingredients
Best value for money
The scent is too light for some
---
3.

K9 Pro Oatmeal Dog Shampoo – Premium Choice
If you do not mind digging a little deeper into your pocket, the K9 Pro Oatmeal dog shampoo is one of the best shampoos you can get for your Goldendoodle. This is because it is designed by vets to ensure that your doggo gets not only a thorough cleaning but also in the safest way possible.
As with other high-quality dog shampoos, the K9 Pro also has aloe and oatmeal as its main active ingredients which soothe the skin.
What's more, the K9 Pro is hypoallergenic, meaning that it works to boost your pup's allergy-friendliness. Additionally, it is soap-free to circumvent the damage that excess soap has on skin and fur. And with its moisturizing properties, it leaves your pup with not only healthy skin, but also with a shiny, full, and smooth coat.
You will also not be disappointed by the K9 Pro's deodorizing properties, as it leaves your pooch with a marvelous cucumber melon scent.
While this shampoo might be a tad bit pricier than other options on this list, it just happens to be one of the best shampoos for Goldendoodles.
Designed by veterinarians
Gentle and soothing
Delightful fragrance
Moisturizing
---
4.

4-Legger Organic Oatmeal Dog Shampoo
In another person's list, this shampoo by 4-Legger could easily be in the top three because it is seriously good. What makes this product particularly appealing is the fact that it consists of an organic formula.
This means that its ingredients are not only natural but also have been grown using the best practices to avoid contamination by chemicals such as synthetic fertilizers and pesticides.
The 4-Legger Organic shampoo has aloe, lavender, and oatmeal as its primary active ingredients. These ingredients were handpicked for their soothing effect and moisturizing properties. They leave your pet feeling good, looking good, and looking forward to their next bath.
If you know anything about lavender, then you know its calming effect, even when applied topically. This shampoo aims to deliver the same to your pup, making it a good choice for dogs that are prone to anxiety. Lavender is also renowned for its lovely scent, making it a good deodorizer as well.
Like the K9 Pro, 4-Legger's Organic shampoo is also considerably pricier than most dog shampoos on the market, and it is not hard to see why that is the case.
Organic
Made from natural ingredients
Gentle on the skin
Has soothing and relaxing properties
Moisturizing
The fragrance might be too light for some
Expensive
---
5.

Buddy's Best Natural Dog Shampoo
Buddy's Best Natural dog shampoo is another good product. It will soothe the skin of your Goldendoodle, moisturize it and leave your pet looking and smelling good.
As its name suggests, Buddy's Best Natural is made from natural ingredients. This means that it does not contain chemicals that could harm your pooch. Moreover, this hypoallergenic shampoo does not contain alcohol, meaning that it will not irritate or dry out your dog's sensitive skin.
The active ingredients in this shampoo will ease itching while giving your pet silky, soft fur. They include aloe vera, almond oil, biotin, shea butter, and oat. By combating itching and promoting healthier skin, this shampoo reduces the amount of flakes and dander your dog produces, thus reducing its chances of causing an allergic reaction.
In addition to the wholesome effect, this shampoo has on a Goldendoodle's skin and fur, it has moisturizing properties that make baths incredibly soothing for your pet. What's more, Buddy's Best Natural is remarkably easy to apply.
We also loved the mild fragrance this shampoo leaves after use. It comes with two scents: ripe melon and coconut vanilla bean. The only drawback we found was that it does not produce a lot of lather.
Gentle and soothing
Natural ingredients
Moisturizing
Deodorizes
Does not produce lots of lather
---
6.

Sofee & Co. Natural Dog Puppy Shampoo
As its name suggests, this shampoo by Sofee & Co. is made from natural ingredients to ensure that no harm will befall your Goldendoodle after using it. It is designed specifically for curly-haired dogs with sensitive skin. In other words, the Sofee & Co. Natural dog shampoo is a perfect match for Goldendoodles.
This shampoo is gentle on the skin and will produce a soothing effect that will get your pooch instantly hooked. And it is remarkably effective at cleaning thick coats.
However, the Sofee & Co. Natural dog shampoo does not have the strongest scent. Therefore, you might have to pair it with a deodorizing product if you feel that your pup needs a touch of fragrance.
While this product is considered a luxury dog shampoo, it is still within the means of most dog owners. Therefore, do not shy away from checking it out.
Does not contain artificial ingredients or additives
Good fit for Goldendoodles
Gentle but effective
Moisturizes, softens, and smoothens
---
7.

PET CARE Science Tearless Dog Shampoo
Even though the label on this shampoo by PET CARE Science states that it is designed for puppies, it is also a good fit for adult dogs with sensitive skins, such as the Goldendoodle.
The shampoo's active ingredients include aloe vera, oatmeal, and coconut oil. As you can imagine, it is incredibly soothing. Additionally, these ingredients work to boost your Goldendoodle's natural skin moisture, thus preventing flaking and itching.
We also appreciated the fact that it does not contain common shampoo chemicals, such as phosphates and sulfates.
The only issue we had with this shampoo is that it does not lather as easily as the other products on this list do. Additionally, it comes in a rather small bottle for its price.
Made in the USA
Has no harmful chemicals
Great for both pups and Goldendoodles
Made from natural ingredients
Does not make a lot of lather
Small amount for the price
---
Buyer's Guide: Finding the Best Shampoo For Goldendoodles
As you might have noticed, none of the products on our list was designed for Goldendoodles exclusively. This is because, as mentioned, Goldendoodles' coats can vary considerably depending on the parent they take the most after. As a result, due to those differences, it is not feasible to create a universal product for Goldendoodles.
Nevertheless, all Goldendoodles come with sensitive skin, which is why we gave priority to shampoos that are gentle on the skin while still giving a thorough cleanse.
However, your dog is an individual, meaning that it has unique needs. Moreover, you might also have preferences. To help you make an informed choice, consider the following factors when looking for the best shampoo for your Goldendoodle:
1.

Health Problems
Some dog shampoos are designed to help alleviate certain skin and coat conditions. Therefore, depending on the skin or coat condition your pooch might be suffering from, you might want either one of the following for them:
Anti-Bacterial/Anti-Fungal Shampoos
These shampoos help treat skin conditions resulting from the increased production of yeast and bacteria on a dog's skin. This issue is prevalent during summer or in areas with hot and humid climates. However, you might require a doctor's prescription to buy an antibacterial dog shampoo.
Dander Control Shampoos
A dander control shampoo is vital for people with dog allergies, as it is designed to remove dead skin (dander) from a dog's coat, thus ensuring that your pet does not leave dander all over the house.
Dander is what typically contains the allergens that most people are allergic to. While most Goldendoodles are allergy-friendly, you should consider using a dander control shampoo if your pet triggers allergic reactions.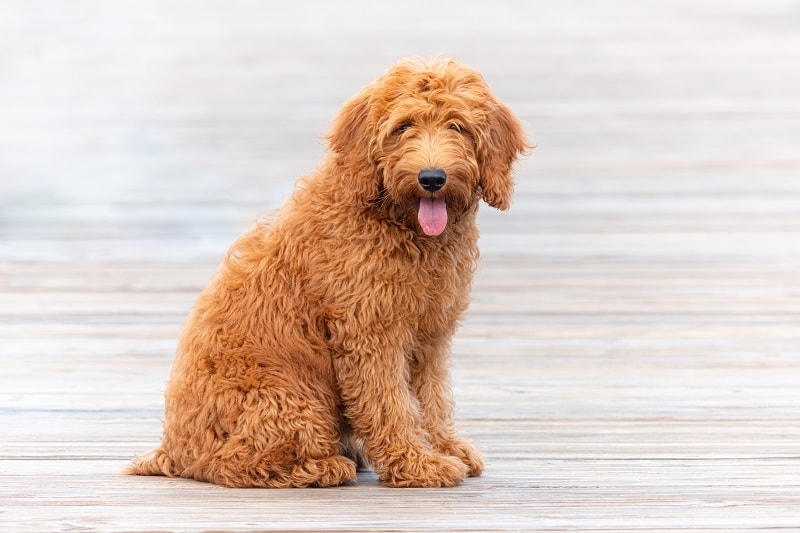 Sensitive Skin Shampoos
As mentioned, Goldendoodles have sensitive skin. Therefore, make sure that the shampoo you use is meant for sensitive skin. These shampoos typically come with ingredients such as aloe and oatmeal to help soothe the skin. Additionally, they do not contain dye, soap, parabens, and other skin irritants.
Skin & Coat Health Shampoos
These shampoos come in handy when you are looking to hydrate itchy, flaky skin or to restore softness and shine to a dry coat. Additionally, skin and coat health shampoos are also effective at counteracting the damaging effects of low-quality shampoos.
Itch and Redness Treatment Shampoos
Dogs with sensitive skins, such as Goldendoodles, sometimes suffer from itchiness and redness due to their curly coats trapping dirt, debris, fleas, mites, and ticks. Itch and redness treatment shampoos help remove dirt and parasites, in addition to soothing and calming the irritated skin.
Calming Shampoos
If your dog has a nervous disposition, a calming shampoo can go a long way in helping them to relax. These shampoos contain calming ingredients such as lavender and tea tree oil. Calming shampoos are also a great option for dogs that are afraid of baths.
2.

Purpose
Dog shampoos can also be categorized according to function. Therefore, depending on your needs, you might want to consider the following:
Deodorizing Shampoos
If your pup has a propensity for picking up less than appealing smells, a deodorizing shampoo can do them a lot of good. The fragrance in these shampoos helps to neutralize odor, leaving your dog smelling wonderful.
However, they cannot be used by themselves, as they serve no other purpose other than to neutralize odors. Moreover, some get their fragrance from artificial ingredients, which might irritate your dog's skin. Therefore, make sure that a deodorizing shampoo states that it is either natural or organic before picking it.
Waterless Shampoos
These shampoos are ideal for dogs that do not like being washed. As their name suggests, waterless shampoos can be used without water being present; simply rub the shampoo on your pup's coat and they are good to go. Waterless shampoos also come in handy when looking to clean your dog in a hurry.
3.

Chemicals
Dog shampoos contain several chemicals for various purposes. However, most of those chemicals are bad for a Goldendoodle, as they irritate the dog's sensitive skin. Some of the chemicals to watch out for include:
Synthetic or artificial colors and fragrances
Sulfate
Preservatives such as formaldehyde and paraben
Unfortunately, some manufacturers do not indicate all the ingredients in their formula, including the chemicals used. This is why you are advised to only use certified organic products from trusted brands.

Conclusion
With the numerous dog shampoo products on the market today, it can be difficult to identify the best one for your Goldendoodle. It also does not help that most dog shampoos are meant to be universal, bypassing the fact that different dogs have different needs.
Fortunately, we were able to identify a few shampoos that are a good fit for Goldendoodles.
You might have to experiment with a few of these to find one that suits your pooch best. However, you can never go wrong with Hepper Colloidal Oatmeal Pet Shampoo owing to its exceptional quality. If you are on a budget, the Healthy Breeds Oatmeal & Aloe dog shampoo is a great choice.
---
Featured Image Credit: Josh Fields, Pexels