9 Best Dog Training Apps – 2023 Reviews & Top Picks

Dogs make excellent pets, but all hell breaks loose when your cute bundle of fluff begins showing social and behavioral issues. Because dogs don't have an innate concept of right or wrong, they need training for mental stimulation and to enhance their confidence and the human-animal bond.
And hey, old dogs can learn new tricks!
Your animal can begin its first class at any age, although the sooner training begins, the better. If you want to train your dog in person, here are some top apps to help with everything from potty training to crate training and more!

The 9 Best Dog Training Apps
1.

PupFord Academy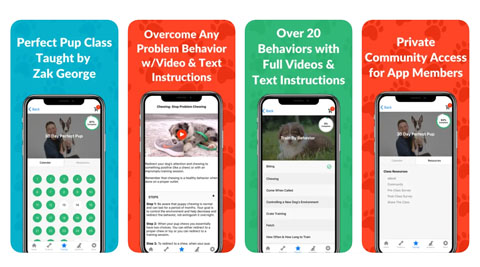 Pupford Academy, established in 2019, offers a vast library of videos designed to make it super easy to turn your ill-mannered dog into your favorite companion. From obedience training to sessions designed to stop aggression, you can find various videos to make your dog-parenting journey a tad easier.
Furthermore, you can also benefit from courses like dog body language, canine first aid, dog sports, etc. Qualified trainers conduct the lessons and encourage employing humane techniques and positive reinforcement to ensure safe and effective training.
Pupford Academy Pricing
PupFord Academy dog training sessions are heavily video-based. While you can find the academy's videos for free on YouTube, installing the app and paying a fee is worth it. It will save you from spending hours online searching for the next training step.
Access to the entire library of premium training courses, detailed videos, and examples will cost you $9.99/month. You could also opt for the semi-annual plan for $39.96, or spend $199.99 for a lifetime subscription.
---
2.

Dogo
If you need all-rounded introductory training courses on how to give your pup commands like play, walk, and exercise, Dogo is an ideal app to consider. The app allows systematic training and takes you straight to your last lesson. Each session takes roughly 15 minutes, and you also benefit from illustrative videos and examples.
Dogo also gives you access to skilled trainers who set exams and provide feedback on your dog's progress. Something that truly stands out is that all sessions are designed to be fun and to strengthen the bond between you and your furry friend.
Dogo Pricing
Downloading the Dogo training app will not cost you a dime. You can also freely access a whole week of training, although you have to pay $9.99/month for a premium plan that allows full access to all the app's features. The yearly subscription offers better value for the money and costs $99.99.
---
3.

GoodPup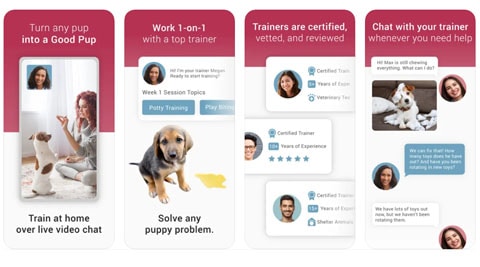 GoodPup is an ideal dog training app, especially if you value training sessions that offer quality and clarity. Each module is personalized, and you benefit from a certified trainer's real-time one-on-one training for 30 minutes per week.
The homework tracker also gives the app some bragging points and ensures users do the work to ensure the intended outcome. You can always check the progress stats to gauge how your furry friend is doing in various areas. Moreover, the GoodPup app has a chat feature where you can talk with a trainer anytime during your training sessions, air concerns, or seek guidance.
GoodPup Pricing
GoodPup offers free training for one week to allow you to sample the courses and app. After this, you will be expected to pay a $29.99/week subscription fee to access custom courses that include modules for socialization skills, basic obedience training, crate, potty training, etc.
---
4.

Puppr
Puppr is a popular app that features lessons from celebrity dog trainer Sara Carson. It offers a comprehensive training package that covers about 50 modules. Whether your pup needs beginner or advanced training, the app is a fun yet effective instructional tool for mastering new tricks and behaviors.
If you have several dogs that require training, you can create a profile for each of them and add their name, breed, age, and latest picture. The app simplifies keeping track of each canine's progress, an aspect that also makes it ideal for beginner dog trainers.
Puppr Pricing
You can download Puppr for free and access some of the basic features. However, if you want a premium dog training package, you must pay $12.99 monthly or $99.99 for the annual subscription. The paid service allows you to unlock lesson packages and the live chat service where you can talk to a trainer whenever you have questions about your dog's progress.
---
5.

Pup to Date
Pup to Date is not your regular dog training app. Its primary focus is not on obedience or trick lessons but on helping you with the organization. It allows tracking potty breaks, feeding time, medication, etc.; you could set reminders to ensure enhanced consistency during training sessions.
If you are looking for a tech-forward dog training app to help you organize your routines, Pup to Date is likely your best bet. Sticking to schedules during training will help your pup develop muscle memory over time and rely on more than just instructions to remain well-mannered.
Pup to Date Pricing
The Pup to Date app is one of the finest pieces of pet tech software. You only need to make an in-app purchase and pay a one-time fee of $5.99 to track as many events as you wish. It remains crucial to understand that the Pup to Date app is mainly software that can help to streamline regular training sessions, especially when using a dog training app.
---
6.

Pocket Puppy School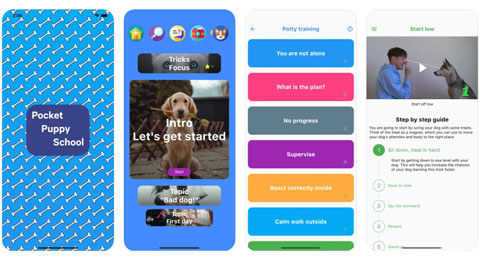 Pocket Puppy School offers training focused on knowledge, exercise, routines, boundaries, and strengthening the dog-owner bond. The app provides daily tasks where equal input from you and your pup is necessary. Most importantly, it allows you to pick up from where you left during your last session, and there are lots of helpful videos, examples, and images.
The app makes it fun to teach your furry buddy how to wait, sit, behave politely, and more. You can also access informative courses to help address problems like excessive barking or potty problems. The Pocket Puppy School app is intuitive and allows you to access your training modules on any gadget, including your smartphone and desktop.
Pocket Puppy School Pricing
Pocket Puppy School has no premium subscriptions. The app is dedicated to providing free information about basic dog training. It is one of the few apps that are completely free.
---
7.

EveryDoggy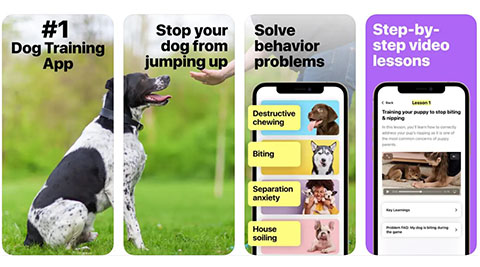 EveryDoggy is another handy app that covers more than just basic dog training. You get about 70 guided sessions where you can master how to enhance your canine's socialization skills, address or prevent behavioral issues, learn to walk on a leash, and more. Other areas targeted in the guides include separation anxiety, excessive barking, and house soiling.
Moreover, EveryDoggy courses don't come with work and no play. You can also access over 80 tricks and games designed to strengthen your bond with your furry friend. The android version will not give you the best user experience, but it works flawlessly on iOS.
EveryDoggy Pricing
You can sample the EveryDoggy app through the 7-day free trial. If you wish to continue using the app, you must pay a $14.99 monthly fee, $29.99 for a 3-month plan, or $39.99 for the annual subscription.
---
8.

GoDog
GoDog focuses more on obedience training than mastering tricks and games. If you are looking for a dog training app that can simplify mastering basic commands and even help address behavioral issues like biting, chewing, excessive barking, and jumping, GoDog could be ideal for you. You can also find courses to help your canine remain calm when home alone or in a boarding facility.
Generally, the courses provide all-rounded information, and it's almost as though you are working with a personal trainer one-on-one. You can also check out some helpful health features and set reminders for upcoming health-related events.
GoDog Pricing
GoDog has a library of information-packed articles you can access at no charge from the knowledge base. However, training-specific content costs a small fee.
The pricing for individual courses ranges between $1.99 and $2.99 each. On the other hand, GoDog premium subscription costs $4.99 weekly or $39.99 annually. Before you opt for the paid packages, you can sample the app through the 3-day free trial.
---
9.

Doggy Time
Another helpful dog training app that is somewhat similar to Pup to Date is Doggy Time. The main difference is that this app is mainly designed to help with potty training. It allows you to keep track of breaks based on when your pup has had food, drinks, poops, pees, and accidents. Having all the information at hand makes it easier to pick the best time to set potty reminders.
Also, Doggy Time allows tracking of other events, including dog training sessions, medications, vaccinations, walks, grooming appointments, and more. It is helpful for pet parents looking for an affordable way to train their furry friends on how to stick to a specific routine.
Doggy Time Pricing
The Doggy Time app has numerous handy features, including push notification alerts and the option to manage the schedules of multiple dogs. While there's a free version of the app, you need to pay a $4.99 one-time fee to unlock advanced features and enjoy an ad-free user experience.

FAQs: How to Choose the Best Dog Training App
About 38.4% of households in the United States have dogs. While you can find a skilled dog instructor in just about every neighborhood, the training fee, travel and finding time can be a challenge. If you are looking for a simpler way out through dog training apps, here is more information to help you make an informed choice.
Which Is the Best Dog Training Method?
Whether you opt for a dog trainer or a training app, it is best to use positive reinforcement. Reward your pup with a tasty treat, praise, or his favorite toy when it does something right. The idea is to encourage it to keep obeying instructions or behaving in a specific manner. Using punishment is less effective, unkind, damages your bond and can cause aggression.
Will Training Apps Help Address Behavioral Issues?
Dog training apps like GoDog and GoodPup have an intuitive interface that allows you to take step-by-step lessons with your pup. These can be very useful for improving you and your dog's skills. The key to successful training is rewarding the behavior you want, timing of reward and consistency in your instructions. Minor behavior issues may be helped by following the app lessons but we would always recommend using a qualified and registered behaviorist in person for more in depth behavioral problems.
Why Is My Dog Ill-Behaved?
Generally, what people classify as "ill" behavior is just typical canine mannerisms. Dogs love chewing on things, digging holes, and howling to announce their presence. Fortunately, canines are intelligent creatures and can learn what is expected of them. You can start training immediately after your puppy arrives home with you.

Final Thoughts
Well-behaved dogs bring us a sense of pride, joy, and companionship. On the other hand, a canine that exhibits behavioral issues and disobeys you can be a constant source of stress. A little instruction can make your pup more sociable, ensure its safety, and even make dog boarding and trips to the vet easier.
We have listed 9 top dog training apps designed to make training fun and effective. While some of these apps are not entirely perfect, they don't leave you with much of a wish list. They are user-friendly and are great information sources, especially for pet parents who desire to take their canines wherever they go.
---