9 Best Dog Treats For Bad Breath in 2023 – Reviews & Top Picks

A kiss is your pup's way of showing you they love and appreciate you. When you come home after a long day, your pooch is waiting with tail wagging and kisses on the ready. It's enough to warm your heart. That is, of course, until you catch a whiff of that lovely dog breath.
Many factors can contribute to gnarly puppy breath. It can be so bad that you won't want to get within ten feet of a pooch smooch, and heaven help anyone sitting next to a panting pup. Thankfully, there are some things you can do…or in this case give… your pungent pal to help with bad breath. The answer is treats!
The only downside to this brilliant plan is choosing treats that actually work. As usual, though, we have you covered. We have gone the distance and found the nine best dog treats for dogs with bad breath. Our reviews below cover effectiveness, taste, ingredients, safety, and all the other details you need to know. Plus, there are some extra tips at the bottom to help you stop mutt mouth in its tracks.

A Quick Look at our Favorite Picks in 2023
Rating
Image
Product
Details

Best Overall

Milk-Bone

Effective
Promotes healthy gums
Easy to digest
Check Price

Best Value

Arm & Hammer

Vitamins and baking soda
Whitens teeth
Easy to digest
Check Price

Premium Choice

Oravet

Prevents plaque and tartar
Easy to digest
Low calorie
Check Price

Pedigree

Helps control tartar and plaque
Easy to digest
Tasty mint flavor
Check Price

Old Mother Hubbard

Freshens breath
Natural ingredients
Easy to digest
Check Price
The 9 Best Dog Treats For Bad Breath
1.

Milk-Bone Oral Care Brushing Chews – Best Overall
Our overall best choice to fight bad breath is the Milk-Bone chews. Unlike traditional Milk-Bones, these chewy twists have bumps and ridges to clean your pup's mouth right down to the gums. Designed to simulate a toothbrush, this brand will fight bad breath, help control plaque and tartar, and keep gums in good shape.
This healthy option has 12 essential vitamins and minerals and is low on calories making this a great once a day treat. What's more, this product has a healthy dose of calcium to keep bones and teeth strong. You also have a choice between a 9, 25, 35, or 38 pack in small/medium, large, and mini to accommodate all breeds and sizes.
Beyond that, the chews come in a chicken flavor that dogs love, yet they don't contain any artificial flavors or colors. Plus, they are gentle on the stomach and easy to digest. Overall, this is our favorite choice for a dog treat breath freshener.
Effective
Fights bad breath, plaque, and tartar
Promotes healthy gums
Vitamins and minerals
Easy to digest
Soft chew
Extra kisses for everyone
---
2.

Arm & Hammer Bad Breath Dog Treats – Best Value
Arm & Hammer FF7614x Twisters Dental Treats are a mint-flavored treat that comes in a twist shape to help remove tartar and plaque on your pal's teeth. The medium size chew comes in an eight pack that is available as a single pack, four-pack, or a large canister and is recommended for all dogs except toy size pups.
This brand is infused with baking soda to help reduce odors, plus it's vitamin-enriched to promote tooth and gum health. As an additional bonus, the baking soda helps give your pup a white smile.
Arm & Hammer uses natural ingredients, and the construction of the design is great for aggressive chewers. It is 100 percent safe, and the chew is easy to digest as a one a day snack. By far, this is the best dog treat for bad breath for the money as it is also an affordable option. The only other factor you should consider is that this brand uses artificial colors in their formula.
Effective
Fights plaque, tartar, and bad breath
Vitamins and baking soda
Whitens teeth
Easy to digest
Good for aggressive chewers
Not for small "toy" breeds
Contains artificial colors
---
3.

Oravet Dental Hygiene Dog Chews – Premium Choice
As we covered the most affordable option, we also wanted to review a premium choice. Although Oravet Dental Hygiene Chews are more costly, it is the only option that contains delmopinol (at 0.7%) in its formula. This is a human-grade ingredient that prevents tartar and plaque build-up in the mouth.
This cube-shaped treat is a one a day chew that comes in four sizes in either a 10 or 24-pound bag. The design is made to help clean teeth while the ingredients prevent future bacteria from growing and causing odor-causing plaque and tartar.
Your pup will love the flavor of this treat, plus it is a low-calorie option and contains other healthy vitamins. The treats are individually wrapped so you can take them on the go, as well. A few things to keep in mind, however, is the chews will stain carpets and other fabrics, so the use of a towel or other barrier is recommended.
Also, if you have cats in the home you will need to be extra vigilant as small amounts of this treat can have serious health effects for your feline. Otherwise, this is a great premium option for your pooch.
Affective
Prevents plaque and tartar
Easy to digest
Individually wrapped
Contains vitamins
Low calorie
Not recommended for homes with felines
Stains fabrics
See: The top treats for training your pup!
---
4.

Pedigree Dentastix Dental & Bad Breath Dog Treats
Moving right along, we have Pedigree Dentastix Dental Treats, an X shaped long treat that is designed to reduce plaque and tartar build-up on your pup's teeth. This chewy option uses the X shape to clean down to the gum line, although it does not help with gum health.
You do have a few size options with this brand, however, the shape is recommended for larger dogs to be fully effective. You can also choose from a 6, 28, or 36 pack for your convenience. The treat is a tasty mint-flavor your pup will love, as well.
Keep in mind this is another one a day option for your pup's oral health. The formula contains vitamins and calcium to support tooth and gum health, although you should note it is higher in calories than other options. Also, be aware that this is not a good option for dogs under six months old. Other than that, this is an effective, easy to digest, option.
Effective
Helps control tartar and plaque
Contains calcium and vitamins
Easy to digest
Tasty mint flavor
Not recommended for young dogs
Recommended for large dogs
---
5.

Old Mother Hubbard Natural Dog Treats
The number five spot goes to this natural breath freshener from Old Mother Hubbard. This brand uses all-natural ingredients including chicken, apples, carrots, spearmint, parsley, and fennel. Not to mention, it does not contain artificial preservatives.
An important factor to note with this option is it is meant to freshen your pooch's breath, yet it does not fight plaque or tartar build-up. You can give this to your pup multiple times per day as it is more of a treat than an oral care option, plus it's easily digestible.
That being said, Old Mother Hubbard does a credible job of improving your pup's breath. It contains its fair share of protein and calcium, although it is light on other vitamins our other choices have listed. You can purchase these treats in either a 20-ounce or 3.3-pound bag, and they come in mini, small, or large for any breed or dog size.
Finally, be aware that this chew is a harder biscuit treat that is oven-baked. If your pup has sensitive teeth, they may have an issue with the harder texture of this brand. On the other hand, the mint flavor is a favorite among the canine crowd.
Effective
Freshens breath
Natural ingredients
Protein and calcium
Easy to digest
Harder biscuit
Not as many vitamins
Does not help with plaque or tartar control
---
6.

Purina DentaLife Oral Care Dog Treats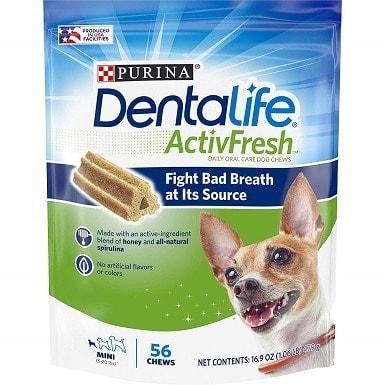 Purina DentaLife Oral Care Dog Treats are long triangle-shaped treats that work to eliminate bad breath from the source. This brand uses honey and spirulina to reduce plaque and help freshen breath. Spirulina is listed (along with the honey) as the active ingredient, yet we are not sure of the concentration as it only gives values for those two ingredients.
Another important factor to note is the other ingredients within this formula. You can find preservatives and chicken by-product meal listed in the formula. Although Purina states there are no artificial colors or flavors, some of the other ingredients are suspect.
These treats come in mini form in either a 56 or 90 count bag, and the treats are easy to chew. The chicken flavor is appealing to dogs, yet it does not do a credible job of freshening their breath. Beyond that, the chews are harder to digest, and they are not recommended for young dogs or dogs with liver issues.
Fights tartar and plaque
No artificial colors or flavors
Good flavor
Easy to chew
Questionable ingredients
Not as effective at breath freshening
Hard to digest
Not for young dogs
Not recommended for dogs with liver issues
---
7.

Ark Naturals Dog Dental Chews
Moving on, we have Ark Naturals Dog Dental Chews, a brushless toothpaste treat that helps reduce tartar, fight plaque, and freshen your furball's breath. This is a long green treat with ridges to help clean teeth while the white soft center acts as toothpaste to promote oral health.
The chew is recommended for medium dogs between 20 and 40 pounds and comes in a one, two, or value pack. You will need to give this treat twice a day to be effective, although consider that this option is higher in calories than others.
One good feature of Ark Naturals is the natural formula containing alfalfa, cinnamon, vanilla, and clove. What's more, it does not contain any corn, soy, wheat, or artificial colors or preservatives. The one drawback is the taste is not always appealing to pups.
Also be advised that these treats are not easily digestible, and can cause gas. Not to mention, the chew themselves have a very unpleasant odor. Finally, although they are somewhat effective at freshening your pooch's breath, they should not be used in pregnant, breeding, or young dogs.
Natural ingredients
Fights tartar, plaque, and freshens breath
Effective
Dogs don't like the taste
High calories
Hard to digest
Causes gas
---
8.

Benefit Biscuits Natural Dog Biscuits
Second to last we have the Benefit Biscuits that come in one size and a small seven-ounce bag. These hard treats can be difficult for your pup to chew, and is better for freshening breath than fighting tartar build-up and plaque.
That being said, this brand uses an all-natural vegan formula. There is no corn, soy, or wheat in the ingredients, plus it is non-GMO with no artificial flavors. Unfortunately, the mint and rosemary flavor does not tempt many pups, and it is very difficult for them to digest. It can cause stomach issues in some pets, as well.
Besides that, you should be aware that they do not have any real effect on pooch breath, and they are high in calories. Finally, these chews are recommended for larger dogs, and it is unclear how often you should give this treat to your pet.
All natural formula
Safe vegan ingredients
Biscuits are hard
Difficult to digest
Not effective
Not recommended for medium and small dogs
High calories
---
9.

Pet Naturals of Vermont Breath Bites
Pet Naturals of Vermont Breath Bites concentrate on breaking down leftover food in the mouth and stomach to combat bad breath. This bite-size chew comes in a single, two, three, or four-pack and contains spirulina, champignon mushroom extract, and yucca.
Unfortunately, this method is not effective at reducing plaque and tartar which is the main cause of bad breath. Also, the chicken liver flavor is credited to be natural, although based on the ingredients, that does not seem to be the case.
That being said, there is no wheat, corn, or soy included in the formula, yet the soft chews are not a favorite among canines. They are difficult to digest if they can get them down, and in some cases, they can make gas worse.
You should also give these treats to young, pregnant, or breeding dogs. Furthermore, you need to be very cautious with this brand and follow the directions exactly. For example, smaller pups require half a treat and can become ill if given too much. Finally, Pet Naturals of Vermont Breath Bites are not recommended for pets with liver disease or past liver problems.
Not effective
Hard to digest
Overdose possible
Not for dogs with liver issues
Not natural
Dogs don't like them

Buyer's Guide: Picking the Best Dog Treats For Bad Breath
Important Things To Know
There are several important factors every dog owner should know when it comes to your pup's bad breath. First, the odor is caused by bacteria build-up in the month in the form of plaque and tartar. Although yucky mouth is one side effect, your pet could also develop other serious side effects such as tooth loss, painful gums and mouth, and even the spread of infection to other parts of their body.
That being said, dealing with bad breath is an issue onto itself, and can occur even if your pet's mouth is otherwise healthy. If you take good care of your ankle biter's teeth and mouth, these treats can make a big difference to your pooch's kissability.
When it comes to a breath-freshening chew, one of the most important features to look at is the ingredients. If the brand of best dog treats for bad breath does not have a plaque and odor-fighting formula, you might as well give your friend regular treats. Take a look at these ingredients that work well for fighting funky Fido breath:
Baking Soda: Baking soda has long proven itself to be a great odor fighter. It is why this ingredient is featured in many human tubes of toothpaste. Any dog treat with baking soda is a good sign of odor-fighting action.
Calcium: Helps strengthen teeth and bones. The stronger your pet's teeth, the more effective cleaning will be which will help eliminate odor.
Delmopinol: A human-grade option that is proven to prevent the build-up of tartar and plaque. When you clean your pet's teeth, plaque can start to appear again within a few hours and tartar can build-up within three days. This ingredient will slow the bacteria growing process down.
Spirulina: Spirulina is a tricky one. Although research has shown it to reduce plaque and tartar, it should be used in its organic form, otherwise, more serious side effects can occur. With that being said, try to determine if the ingredient is natural, and stay away from this option if your pup has liver issues. Also, note that this ingredient has been proven to reduce the risk of mouth cancer.
Shape: Even though this is not an ingredient, it still makes a big difference in reducing plaque and bad breath. Ridges, X shapes, and other similar designs help scrape and clean teeth while getting rid of harmful bacteria.
Although other formulas that contain things such as mint can be beneficial, the ingredients above are the most effective and important elements in a bad breath fighting treat. Best case scenario, your pal's chew should contain a combination of the essential ingredients plus a tartar fighting design.
Tips When Shopping
As mentioned above, fresh breath treats should be given to your pooch in conjunction with good oral health care. As we are sure that is the case, here are a few other things to consider when choosing the right chew:
Size: Most of the options above are only effective if your pup chews on them for at least ten minutes. If your dog can devour the treat within two minutes, you should look for a more durable option.
Flavor: If you know your pal hates chicken liver, that is not going to be the best choice. This is true especially for mint, as some pups can't tolerate the taste.
Digestion: This is going to come into play if your pet has food restrictions or sensitivities to specific foods. Keep an eye on features like wheat-free or soy-free, otherwise, you may end up with bigger issues than bad breath.
Specific Dog Factors: Some products are not recommended for pregnant pups, or pets under six months. Make sure you find a product that is right for your pal.
Does your pup wolf down everything without taking a breath? Check out our reviews on the ten best dog bowls for overeaters and help your pup have a better digestive system.
If all else fails, you could invest in a few of these, sure to help kick that harsh dog breath!
Conclusion
We hope you have enjoyed the reviews above, and they have helped you find a suitable breath freshener for your furry-friend. Keep in mind, like most dog products the treats should be given with supervision, and you should always follow the directions from the manufacturer.
If you are looking for the creme de la creme, however, try the Milk-Bone Oral Care Brushing Chews which are the best option available. Need something a little more affordable? Try the Arm & Hammer Twisters Dental Treats. They are the best option for the money.