10 Best Escape-Proof Dog Harnesses in 2023 – Reviews & Top Picks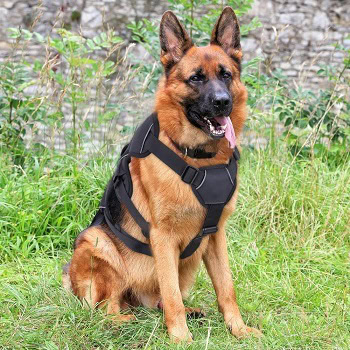 When you have a dog that has figured out how to get out of their harness, it can be difficult to find one that will stay in place. Dogs are smart, which is one reason that we love our dogs so much — in addition to them bringing us joy and companionship, of course. But when your dog has made a game of escaping from the harness, it can be frustrating because no matter how smart your pooch is, they don't understand the importance of staying safe.
In this reviews list, we've rounded up 10 of the best escape-proof dog harnesses that offer different features and options so you can find the one that suits you and your dog. The buyer's guide offers a few tips and considerations to keep in mind when looking for the perfect harness.
---
A Quick Comparison of Our Favorites in 2023:
Rating
Image
Product
Details

Best Overall

OneTigris Tactical Front Clip Dog Harness

Fully adjustable
Waterproof
Can be customized with pouches and badges
Check Price

Best Value

HDP Big Dog No Pull Dog Harness

Cheap
Durable
Polyester material
Check Price

Premium Choice

Kurgo Tru-Fit Smart Harness

Car and walking harness
Protects major organs
5 adjustment points
Check Price

Gooby Step-in Escape-Proof Dog Harness

Great for small dogs
Flexible and comfortable
Lightweight
Check Price

SCENEREAL Escape Proof Dog Harness

Made for medium to large dogs
Five-point adjustment
Two leash attachments
Check Price
The 10 Best Escape-Proof Dog Harnesses:
1.

OneTigris Tactical Front Clip Dog Harness – Best Overall
The OneTigris Tactical Front Clip Dog Harness is a lightweight, durable, nylon harness. It is the best overall escape-proof dog harness because it offers comfort for your dog and peace of mind for you when walking together.
It is designed for adult, large breed dogs, although you can also opt for a smaller size that is suitable for medium breeds, and the harness can be customized in several ways. First, and most importantly, the harness has adjustable neck and chest straps. These can be tightened and loosened to provide a snug fit that isn't too constricting or tight. There's also an extra V-ring attachment, which allows you to easily connect a leash.
For close control, for example, if another dog is approaching and your dog is showing signs of aggression, there is a front control loop too. There is webbing down the sides, allowing you to connect pouches so that your dog can carry their own water and other supplies. You can even add your own choice of patches and badges, and you receive a OneTigris patch with your purchase.
The design is very good, and the harness is comfortable, if a little tricky to put on, but the leash and harness clips could be more durable.
Fully adjustable
Waterproof
Can be customized with pouches and badges
Excellent quality overall
A little tricky to master
Clips are made of plastic
---
2.

HDP Big Dog No Pull Dog Harness – Best Value
The HDP Big Dog No Pull Dog Harness is not only the best escape-proof dog harness for the money, it offers a genuine way to stop large breed dogs from pulling uncontrollably, without causing them to choke. It can also be used as a highly effective harness for senior dogs, spreading the pressure across the entire chest and reducing discomfort caused in your dog.
The harness has extra padding, too, which serves to further increase comfort for your dog. There's also a built-in handle that can be used in surprise and emergencies. The harness is relatively easy to master and is made from durable polyester that has a little give in it. Choose a harness that is suitable for medium, large, or extra-large dogs, and between red, pink, or navy color.
While this harness works very well to prevent escapes, its design spreads the load across your dog's chest, which makes it more comfortable when the dog pulls, so it is unlikely to prevent pulling.
Cheap
Additional handle for emergencies
Spreads pressure across the chest
Durable polyester material
---
3.

Kurgo Tru-Fit Smart Harness – Premium Choice
The Kurgo Tru-Fit Smart Harness is more expensive and looks more basic than most other harnesses of this type. However, don't let its looks fool you. Although it is primarily used as a car harness to ensure that your dog, you, and your passengers remain safe while in the car, it has been designed using a Nesting Buckle System, which is the same type that is used by climbers to ensure their safety.
It has five adjustment points, which means that you can ensure comfort and stability for your dog, and the chest pad reduces stress against the major organs, even in the event of a physical accident. The design of the harness also means that it can be used out of the car. Attach a leash and it will serve as a highly effective walking harness. This dual purpose not only makes it convenient and negates the need to take additional harnesses out on trips to the park, but it also makes the price look a lot more favorable.
Although there are various sizes available, you will need to check your dog's measurements to ensure that the harness fits properly.
Car and walking harness
Protects major organs in a physical crash
5 adjustment points for convenience
Only fits perfectly proportioned pups
Expensive
---
4.

Gooby Step-in Escape-Proof Dog Harness
This harness is specially designed for small breed dogs to prevent them from escaping. The design makes it so the harness tightens along the back when pressure is applied, which reduces space and prevents your dog from wiggling free.
It is made from neoprene and is flexible, which allows it to mold to your dog's body. The shoulders are padded with compressed foam, and the leash ring and hexagonal attachments are made from POM plastic, which is lightweight yet strong.
Another nice feature is that you can adjust the firmness around the chest so when the leash is off, the harness stays in place. On the downside, neoprene isn't as durable as other materials, so it may wear down faster.
Great for small dogs
Harness tightens with pressure
Flexible and comfortable
Padded shoulders
Lightweight
---
5.

SCENEREAL Escape Proof Dog Harness
The SCENEREAL is ideal for dogs who are medium to large in size. It offers a customizable fit with five points of adjustment and is made from polyester, with a soft neoprene lining and breathable mesh. There are two options for your leash attachment: The first is a metal ring at the front of the handle, and the other is a padded nylon loop behind the handle.
The padded handle is large and makes it easy to lift and control your dog when needed. We like the extra padding to the chest and belly, which helps prevent injuries from friction. The option to adjust this harness is nice, but the slick texture of the straps makes it difficult to do so.
Made for medium to large dogs
Five-point adjustment
Extra padding
Breathable mesh
Two leash attachments
Large padded handle
---
6.

Mihachi Dog Harness
This is another harness ideal for medium to large-sized dogs to prevent them escaping. It is made from polyester and is lightweight and washable. The underside is mesh, which allows for extra breathability, making it more comfortable for your dog to wear. The handle is attached to the body of the harness, going from side to side rather than front to back on the dog. It is reinforced with plastic, so you can easily lift a heavier dog without fear of breaking the strap.
There are five adjustable metal buckles, and there is padding on the chest, belly, and leg. The harness is easy to adjust and has loops with reflective thread incorporated into the edges to improve nighttime visibility. A negative to the Mihachi is that it may be too long for dogs with shorter torsos, which is why it is better for larger breeds.
Not ideal for short torsos
---
7.

rabbitgoo Dog Harnesses
Designed for large dogs such as German Shepherds and Golden Retrievers, this harness is ideal for training and is durable enough for everyday use for working and service dogs. It has many similar features as most harnesses. There is a large padded lifting handle, a metal leash adjustment ring, and a small webbing loop at the back to use when you want extra control.
It has extra padding with breathable mesh on the undersides, as well as the chest. There are five areas of adjustment, and the buckles are easy to open and close. The downside is that the buckles and adjustments are made of plastic, which may not be as durable for a larger breed of dog. There are areas where reflective trim is sewn into the harness and areas of reinforced stitches, such as the handle.
Ideal for large dogs
Extra padding
Reinforced handle
Breathable mesh
Customizable
Reflective
Plastic buckles and adjustments
---
8.

FIVEWOODY Tactical Dog-Harness
This tactical harness is made of 900D nylon with reinforced stitching, which makes it ideal for service and working dogs who need to wear a harness every day. It is fully padded and features breathable mesh to keep your dog comfortable for as long as it is worn, and it has reflective stitching for extra safety at night.
The adjustments are made from metal, though the buckle is not. It is easy to fit to your dog, and there are 1-inch MOLLE strips sewn on both sides that allow your dog to carry extra gear. There are two metal leash attachments that have been tested at 1,500 pounds of pulling force: one on the chest for the casual walker and a no-pull control on the top for training purposes.
The FiveWoody is ideal for small to medium dogs, though the chest pad is somewhat bulky for smaller-chested dogs.
Quality materials
Reinforced stitching
Padded and breathable
Molle strips
Able to tolerate strong pull
---
9.

ThinkPet No Pull Harness
The ThinkPet is made from high-density 1000D nylon material, with an inner padded mesh that allows for breathability and increased comfort. The clips and rings are made from metal, and the buckle has a lock to prevent it from coming undone. The straps have reflective stitching to improve nighttime safety.
The handle is padded, though it is rather small, making it difficult for someone with large hands to get a firm grasp. We like that you can attach the leash to the chest or the back, depending on if you need more control or not. The harness is lightweight and easy to put on the dog, but it is difficult to adjust properly and doesn't fit as snugly as others on this list.
Small handle
Difficult to adjust
Poor fit
---
10.

Best Pet Padded Dog Harness
This harness is designed for larger breeds and active dogs, as the design makes it too long for a small dog with a shorter torso. The clips are made of aluminum, so they won't rust, and the buckles are made of plastic. The negative to this is that the buckles are not very strong and may not hold up for a long period of time.
We like that the harness is padded in multiple areas with a breathable mesh. There are reflective areas as well, though we feel that there could be more reflection to increase safety. The handle on the top is small and difficult to grab onto. The biggest drawback to the Best Pet harness is that the material where the leash ring attaches to the top is not durable and won't hold up to a dog pulling hard.
Finally, this harness is pretty pricey and not as high quality as others in this price point.
Padded
Breathable mesh
Fits large dogs
Aluminum clips
Pricey
Poor reflection
Weak buckles
Leash attachment weak
Small handle
---
Escape-Proof Dog Harness Buyer's Guide
Finding a harness that your dog won't escape from can be a tricky task. Each one is made differently, and one that works well for someone else's dog may not be so great for your own dog's body style and temperament.
First, think about why your dog is escaping and adjust your training from there. For example, if your dog does not like being on a leash at all, then you may want to work on training techniques that allow your dog to become more comfortable and calmer. In the meantime, find a harness that can't be easily escaped from, keeping these features in mind:
Connectors/buckles
You want one of the best escape-proof harnesses that offer quality-made connectors that stay in place. If the buckle comes undone while on a walk, your dog may take advantage of the malfunction. A connector made from metal is more durable and may last longer, though it will add weight to the harness. Certain plastic connectors work well and can be durable enough.
Attachment Points
Having multiple options of where to attach the leash is a nice feature. Most will offer a leash attachment on the back, which is good if your dog is a strong puller. An attachment to the chest works well if your dog is better at walking alongside you during walks. You will want the attachments to be metal and held in place securely so nothing will break.
Handles
Handles offer you more control over your dog at certain times. Let's say that you come across another dog while walking, and your dog hasn't mastered the skill of leaving other dogs alone. You can grab the handle on the back of the leash and direct your dog where you want them to go. Make sure the handle is large enough for your hand to fit and that it has reinforced stitching so it can hold the weight of your dog if you have to lift them.
Padding
You will notice that most harnesses have padding at least on the chest piece, though some will offer padding in other areas. This helps protect your dog from friction and makes the harness more comfortable. If you have a dog that pulls and tugs frequently, the extra padding is a great feature.
Materials
You will want a harness made from quality materials that offer durability and comfort. Harnesses made from cheap materials can be chewed through more easily and will wear down faster. Any reflective stitching will keep both you and your dog safe if it is dark outside.
Tips for using a harness:
Make sure you get the correct size. Follow the sizing chart and recommendations of the manufacturer.
Put the harness on when your dog is standing to get a secure fit. If you adjust it when they are sitting, it will be too loose when they stand or walk because the chest circumference increases when in a sitting position.
Make sure all straps are snug and that you can fit at least two fingers between your dog's body and the harness.
Have your dog wear the harness on short walks, and make adjustments as needed before going on a walk farther from home.
Final Verdict:
We know that it can be frustrating to find an escape-proof harness, which is why we put together this review list for you. Our top pick is the OneTigris Tactical Front Clip Dog Harness, made of quality materials that can withstand high pullers and is comfortable for your dog to wear. The best value is the HDP Big Dog No Pull Dog Harness, which is an affordable, lightweight, and easy-to-use harness that also has a comfortable fleece lining. The premium harness is from Kurgo Tru-Fit Smart Harness and offers durability for daily use and is a great option for active dogs.
We hope that our reviews list helps you find the best escape proof harness so you can enjoy time with your dog without worrying that your dog could break free.