10 Best Fish Tanks for Beginners in 2023 – Reviews & Top Picks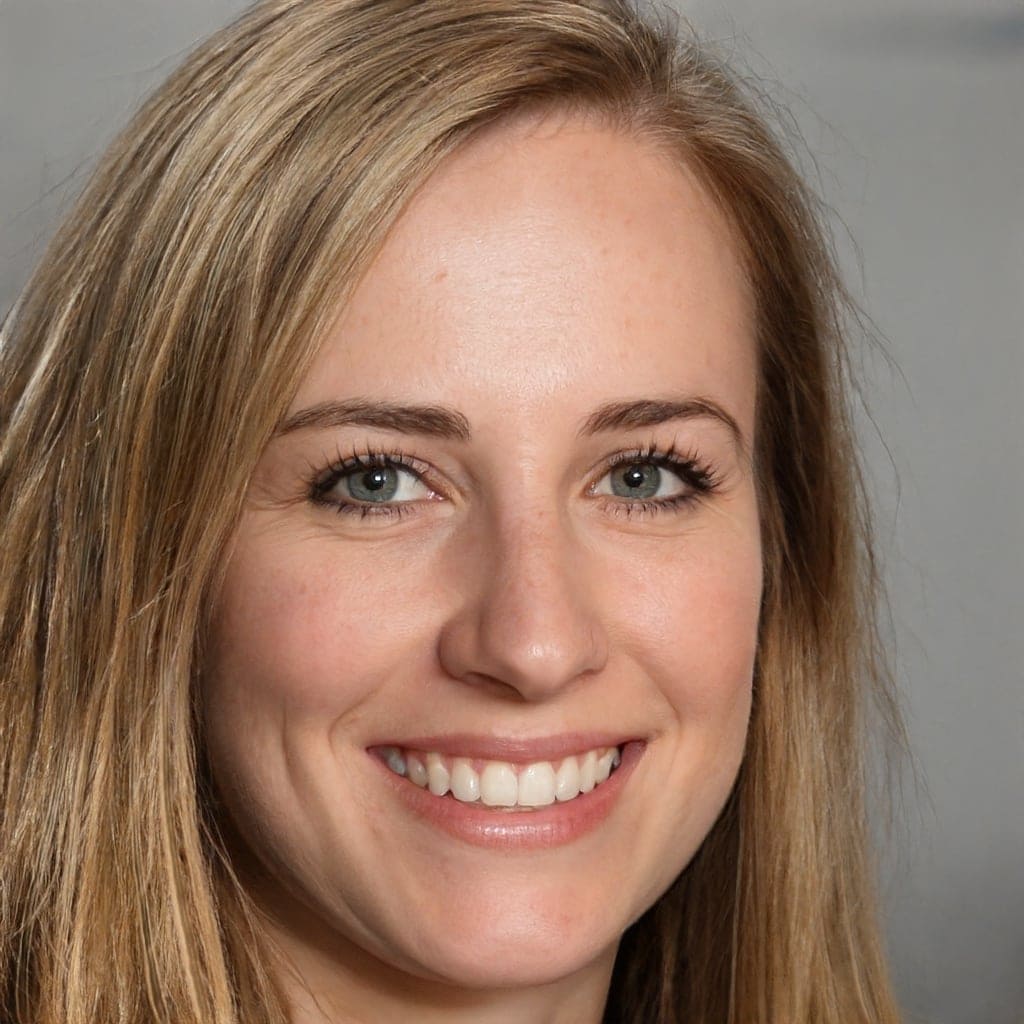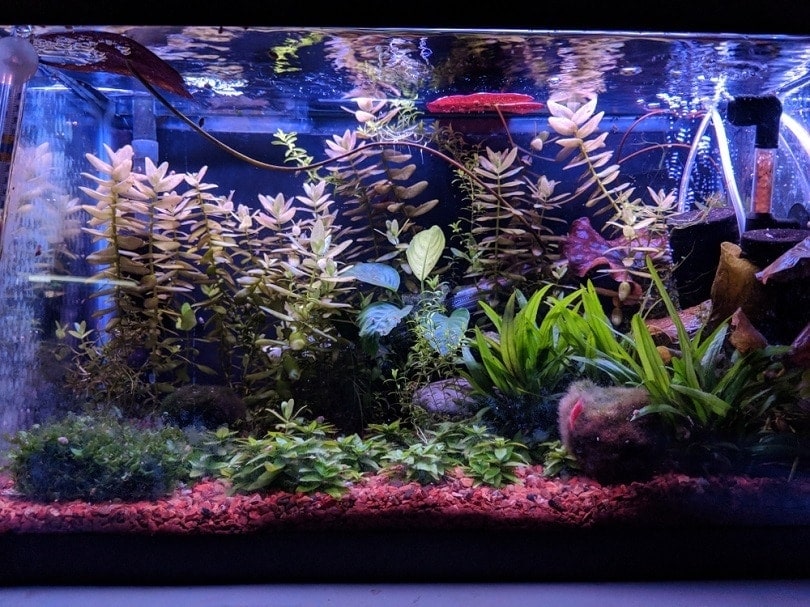 If you're new to the world of fishkeeping, you may be overwhelmed by the number of products on the market, which seem to change on an almost daily basis.
One of the best places to start is with an aquarium kit—the most cost-efficient way to get all or most of the products you'll need to start without 10 trips to the pet store.
But not all aquarium kits are created equal! We've compiled reviews of our favorite aquarium kits, including our best overall pick, best value pick, and best premium kit.

A Comparison of Our Favorites for 2023
Rating
Image
Product
Details

Best Overall

Tetra ColorFusion Half Moon Aquarium Kit

Lightweight
180-degrees of seamless viewing
Submersible air curtain
Check Price

Best Value

Koller Products Tropical Aquarium Starter Kit

Lightweight
Impact-resistant design
360-degree seamless viewing
Check Price

Premium Choice

Fluval Spec Aquarium Kit

Three-sided viewing
Included 3-stage filtration system
Good shape design
Check Price

Aqueon LED Fish Aquarium Starter Kit

10-gallon tank
Comprehensive kit
Low price point
Check Price

Marineland Portrait Glass LED Aquarium Kit

Tall
narrow design
3-stage hidden filtration
5 gallons of tank space
Check Price
The 10 Best Fish Tanks for Beginners
1.

Tetra ColorFusion Half Moon Aquarium Kit – Best Overall
The Tetra ColorFusion Half Moon kit is our pick for the best overall aquarium kit for beginners. This 3-gallon tank is lightweight acrylic and features 180-degrees of seamless views at a reasonable price point. Acrylic is much lighter and clearer than glass and it does not have the visual distortion sometimes seen with glass tanks. The tank measures just over 12 inches at the longest point and the half-moon shape means the tank can conveniently sit flush against a wall.
This kit comes with a filter, filter cartridge, lid, air pump and tubing, and submersible air curtain with built-in LED lights. The filter and air curtain ensure adequate filtration and oxygenation while the lights automatically rotate through a rainbow of colors. The lights and bubbles together create a lovely effect and if you have the space, this tank can be a calming addition to a workspace. The lid is clear plastic and features a small, open feeding window.
The size of this tank makes it perfect for beginners who are interested in keeping goldfish, bettas, or small fish like guppies and tetras. For goldfish, this tank can comfortably hold 1-3 small fish but may require frequent water changes.
Complete starter kit including filter and air pump
Lightweight, shatterproof acrylic is clearer than glass
180-degrees of seamless viewing
Submersible air curtain with built-in, color-changing LED lights
Halfmoon design can sit flush against a wall
Reasonable price point
Acrylic scratches easily
Goldfish may outgrow this tank quickly
Feeding window may allow curious pets to reach into the tank
---
2.

Koller Products Tropical Aquarium Starter Kit – Best Value
The Koller Products Tropical Aquarium kit is the best aquarium starter kit for new fishkeepers for the money because of its low price point and energy efficiency. It is available in 2-, 3-, and 6-gallon kits. This tank includes 360-degree seamless viewing of your fish through clear, lightweight plastic that is designed to be impact-resistant. At its widest, the 3-gallon tank is just over 10 inches wide and almost 15 inches tall.
This kit includes a low-profile, black hood with built-in color-changing LED lights. The lights can be set to one of 7 available colors or can be allowed to rotate through its colors. The hood is heavy enough to deter most other pets from attempting to open the tank. The included filter sits on the tank through a pre-cut notch, allowing the lid to close fully.
Since this kit is available in three sizes, it is a good option for new fishkeepers of many types of fish, including goldfish, Corydoras, tetras, and bettas. Goldfish may outgrow the 2- and 3-gallon tanks quickly, but the 6-gallon design allows room to grow before needing to graduate to a larger tank.
Lightweight, clear plastic
Impact-resistant design
360-degree seamless viewing
Energy efficient
Low price point
Color-changing LED lights built into included tank hood
Plastic scratches easily
Hood does not latch so small children can easily gain access
Goldfish may outgrow the smaller sizes quickly
---
3.

Fluval Spec Aquarium Kit – Premium Choice
The Fluval Spec Aquarium kit is our favorite premium aquarium kit for beginners. The design is sleek and can be an artistic addition to many types of spaces, including offices, kitchens, and hallways. The 5-gallon glass tank measures 20.5" x 7.5" x 11.6" and features views from three sides and a clear, low-profile lid with a cut-out on top for ease of access.
The frame of the tank is edged with aluminum and the included over-arching light is aluminum wrapped. The LED light can be set to white or blue light, making it ideal for both day and night use. The white light can help stimulate plant growth. This kit includes a 3-stage filtration system, helping to improve water quality. The filter is hidden in a separate section at the back of the tank.
This 5-gallon design is large enough for many types of fish, but it's an excellent option for small goldfish because goldfish often prefer long, narrow tanks. The high price point of this kit makes it more of an investment than many other kits.
Long, narrow design is a good fit for many types of spaces
Three-sided viewing
Included 3-stage filtration system has a hidden compartment
Design is modern and sleek
Good shape design for goldfish
High price point
Glass may create some visual distortion and is not shatterproof
Lid opening may allow access to children and pets
Strong LED light may stimulate algae growth
---
4.

Aqueon LED Fish Aquarium Starter Kit
If you have more space for a starter tank, the Aqueon LED Aquarium kit is a great place to start. This 10-gallon glass tank is approximately 20" x 10" x 12" and comes in a kit containing everything you need to get started except décor and fish.
This kit comes with a filter, filter cartridge, lid with built-in cool-toned LED lights, a heater, a stick-on thermometer, mesh fishnet, aquarium setup guide, and a sample of fish food and water conditioner. The filtration of this kit is somewhat strong, so may not be a good choice for poor swimmers like bettas and many invertebrates. The addition of a heater in this kit, which reaches up to 78˚F, makes it a great starting point for keeping a semi-tropical tank. In fact, the fish food sample in this kit is specifically for tropical fish!
The tank's size means you can either start with more fish or give your fish adequate room to grow without having to upgrade to a larger tank for a long time, giving you plenty of time to get settled into the fishkeeping hobby. This set is a great price point for the number of items and size of tank you receive.
10-gallon tank provides lots of space
Comprehensive kit includes a heater
Low price point for the number of items
Great kit for beginner tropical tank including tropical fish food sample
Includes aquarium start-up guide
Hood is higher profile than others on this list
Filter may be too strong for poor swimmers
Larger size may not fit all spaces
Glass is much heavier than acrylic
If you're new to the world of goldfish or are an experienced goldfish keeper that loves to learn more, we recommend you check out our best-selling book, The Truth About Goldfish, on Amazon.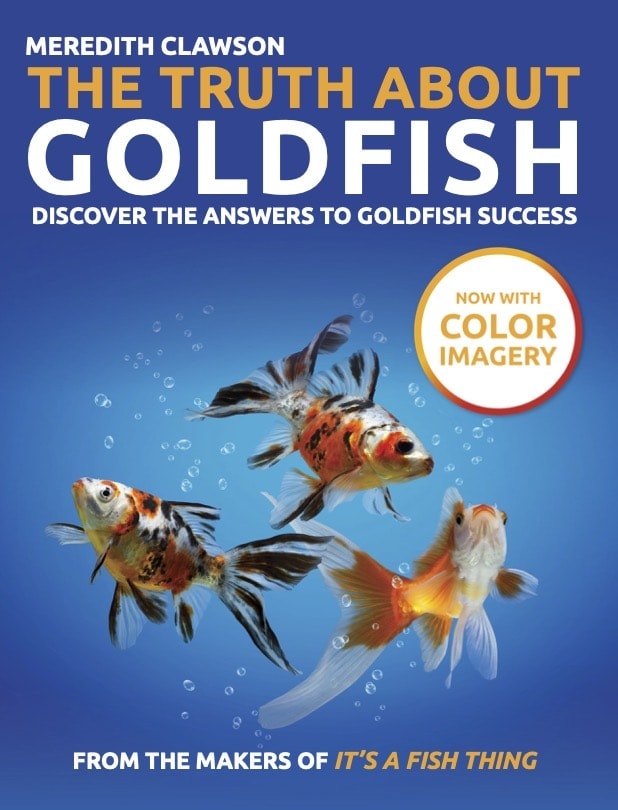 From diagnosing illnesses and providing correct treatments to ensuring your goldies are happy with their setup and your maintenance, this book brings our blog to life in color and will help you to be the best goldfishkeeper you can be. 
---
5.

Marineland Portrait Glass LED Aquarium Kit
The Marineland Portrait Glass Aquarium kit is a nice tank option if you have more space for height than length and can invest in a kit at a moderate price point. The tank measures approximately 11" x 11" x 17" and features three sides of viewing space with a black background on the back wall. This is a 5-gallon tank with rounded edges and an included base.
The kit has a filter with 3-stage filtration, all hidden behind the back of the tank, keeping the filter setup out of sight. The LED light can be set to white for daylight or blue for moonlight. The light is hinged so it can easily be moved out of the way to access the tank. The unique tank lid is made of glass that slides on and off instead of having to be lifted from the tank.
Tall, narrow design can fit smaller spaces
Three sides of viewing with rounded edges
Special tank base is included
3-stage hidden filtration
5 gallons of tank space
Moderate price point
Includes fewer features than other kits on this list
Light has to be switched on and off
---
6.

GloFish 29236 Aquarium Kit
The GloFish Aquarium kit is a good, low price point choice for smaller fish and invertebrates. The kit comes in 1.5- and 3-gallon options and is made from plastic with a clear plastic tank hood. The 1.5-gallon tank measures 7.25" x 8.5" x 11.5" and sits on a black pedestal base. The tank is made from seamless plastic and includes a solid black background.
This kit includes a 2-stage filtration system and an easy-access hood that opens on a hinge and has built-in LED lights. Like most GloFish tanks, it features blue LED lighting to bring out the bright colors of GloFish, but will also create the same effect with goldfish, guppies, tetras, bettas, and other types of colorful fish and invertebrates. This lighting effect makes this tank creates special interest and the tank is small enough to sit on a desk, in a hallway, or even a bathroom.
Low price point
Hinged, clear lid
Two sizes available
Seamless plastic with solid black background included
2-stage filtration
Blue LED light built into lid brings out bright colors of fish and décor
Fewer accessories than other tanks on this list
Plastic scratches easily
Small size only allows for very few, small fish
May require frequent water changes due to small size
---
7.

Hygger Horizon LED Glass Aquarium Kit
The Hygger Horizon aquarium is an 8-gallon, curved front tank made of glass. The kit comes at a high price point, but the unique appearance of the tank will create an interesting conversation piece in your home. The kit measures 19" x 11.8" x 9.6".
This kit includes an adjustable, removable LED light with different settings for colors, brightness, and time. The light adjusts up to 19 inches and can be used on another tank if you choose. The kit also includes a 2-stage filtration system with a waterfall-like output. The filter output combined with the overhead LED lighting creates a natural, pond-like appearance. The background of the tank features a built-in, faux rock wall.
This tank does not have a lid, so it may be a poor choice for homes with children and pets. Between the faux rock background and the open lid, this tank only holds around 6 gallons of water.
Interesting conversation piece
Natural-looking water flow and lighting
Built-in faux rocks
Removable, adjustable LED light includes multiple settings and colors
2-stage filtration
High price point
Open top design may not be a good fit for homes with children and pets
Open top and faux rocks reduce holding capacity by approximately 2 gallons
Tank may take up a lot of table or shelf space
---
8.

Marina Betta Starter Kit
The Marina Betta Starter kit is a ½-gallon plastic aquarium that measures approximately 6" x 6" x 6". There are different background options to choose from and the tank sits on a raised base. The tank allows for three viewing sides and has rounded edges and a solid white lid.
This kit includes the tank with background, a small amount of gravel, betta food, and water conditioner. Due to the small size and lack of filtration, this aquarium is not a good option for fish long-term, although snails and other invertebrates may do well in it. Ensure anything you put in this aquarium does not require active filtration.
Different background options
Three viewing sides
Lightweight and great for very small spaces
Too small for long-term fishkeeping
No filtration or water flow
No lighting
Plastic scratches easily
Minimal space for plants or decor
---
9.

Coralife LED Biocube Aquarium
The Coralife Biocube is a tank with bells and whistles, and the price tag to match. It is available in 16- and 32-gallon sizes, both of which are a cube. The 32-gallon tank is approximately 21" x 21" x 21". This tank is made of acrylic and features rounded edges and three seamless sides for viewing your fish.
This kit features a hinged hood with built-in LED lights that can be set on a day/night timer that also creates a 30-minute sunrise and sunset to avoid surprising your fish with bright light. The analog display makes setting the lights easy. This tank has a compact filtration system built into the back and can be used for freshwater or saltwater setups. The LED lights will support plant and coral growth.
Some reviewers of this product note that it has unexpectedly cracked without known damage and that the filter canister can be difficult to access. Replacement parts are available for this tank, but they are very expensive.
Can support freshwater or saltwater setups
LED lights can support plant and coral growth
Hinged lid with built-in LEDs
Analog display for setting lighting timers
Bulky tank design
Reports of cracking
May be difficult to access the filtration system
Very high price point
Acrylic scratches easily
Expensive replacement parts
---
10.

Penn Plax Betta Fish Tank
The Penn Plax Betta tank kit is a plastic, rectangular tank that measures approximately 8.5" x 6" x 9.5". It features rounded edges and four sides for viewing your fish. It has a raised black base and clear hood. This kit includes a 3-stage filtration system, a filter pad, and a one-colored LED light built into the tank hood.
Some reviews mention difficulty getting the suction cups on the filter to stay stuck to the interior of the tank. The filtration does have a slow output, which makes this a good option for bettas, small fish like neon tetras, and invertebrates. However, this tank only holds 1.5 gallons of water, so it should not be a long-term solution for most fish. Many fish are happiest and live the longest with more space. This tank has minimal space for plants and décor to improve your fish's comfort. For long-term use, this tank is best suited for small shrimps and snails.
Viewing from four sides
Clear plastic tank
LED light and filter included
5-gallon size is far too small for most fish long-term
Suction cups for filter may not stick well
Minimal space for plants and décor
Filtration is very slow so it may not remove enough toxins from the water
LED light doesn't have color or timer settings

Buyer's Guide: Selecting Your First Tankmate
What makes an aquarium starter kit a good product?
A comprehensive kit that will get you started on the right foot. Many kits come with coupons too!
The number of items you receive in a kit should be a consideration. If you could purchase the individual items for less, then you likely aren't looking at a well-priced kit.
How long do the products in the kit last? An aquarium starter kit isn't going to do you much good if the tank springs a leak or the filter stops working within two months. Quality of the kit matters just as much as the number of items and price point.
Invest in a kit with a solid warranty or return policy. Even quality products can be a dud sometimes! If you just happen to get the kit with loose parts that break quickly, or an incorrectly sealed tank, then being able to return or replace parts will save you time and money.
If you're purchasing a more expensive kit, make sure it has replaceable parts and that solid warranty. If the filtration system on your $200 aquarium kit breaks, do you want to replace the part or the kit?
Things to consider when looking for an aquarium starter kit:
Are you planning to keep fish or invertebrates? Cherry shrimp are going to need far less space and a weaker filter than a goldfish.
How much space is available in your home for your new aquarium setup? If all you have available is desk space, then a smaller kit and a plan for smaller or fewer fish or invertebrates will serve you better than trying to shove a larger tank into a space where it may not sit flat or is prone to getting bumped.
What's the activity like in your home? Do you have children that may scratch an aquarium? Then glass is probably a better option for you. Do you have a cat that may try to paw at the fish or a dog that's known to jump into every puddle they see? Then you should look for a sturdy, closed-top tank.
How much time do you have to invest in your aquarium? If you can only maintenance and clean your aquarium every week or two, then more powerful filtration and fish that add minimal bioload to the tank will work better for you than six goldfish and a pleco with a weak filtration system.
What's your budget? An aquarium is an investment no matter the cost, so knowing your budget up front will help guide you to the right products!
Do you have a safe space for your setup? If you're planning to set a tank on a high shelf, which kit is going to give you the most electrical cord to prevent water from dripping into the socket? If you're planning to put your setup near a busy walkway in your home, do you have a solid piece of furniture that won't get knocked over?

Conclusion
What aquarium kit do you think is best for you to get started in the world of fishkeeping? Fishkeeping is an exciting and rewarding hobby but can be overwhelming at times. These reviews will make it easier for you to find the perfect fish tank for beginners for your life.
The beautiful and fun Tetra ColorFusion Half Moon Aquarium Kit is our favorite overall aquarium kit, but we also found the Koller Products Tropical Aquarium Starter Kit to be a great value. If you're in the market for something more expensive and artistic, then our premium kit pick, the Fluval Spec Aquarium Kit, is a great starting point for you!
Start by determining what kind of space you have available, what type of fish you want, and how many fish you want, then find the aquarium kit on this list that fits your needs best. You'll be ready to bring your new fish home before you know it!
See also:
---