10 Best Flea Collars for Dogs in 2023 – Top Picks & Reviews

As everybody knows, dogs are man's best friend. They are playful, loyal, and loving creatures that brighten up just about every household. They serve to love you and protect you. Sometimes, they need protection in return.
As dog parents, guarding our dog against harmful diseases and pests should be the number one priority. Fleas and ticks are one of the worst pests; they are small and go easily undetected. Their impact isn't small, giving your dogs all kinds of malicious diseases that may have terrible long-term effects. If you don't want to use tablets or spot treatments, using a flea collar is the next best route.
Finding the right flea collar for your pup can be difficult. You need the right size, may not prefer chemicals, or have a dog with sensitive skin. We have done the hard work of figuring out which are the ten best dog collars currently on the market, so all you need to do is find the one that matches the needs of you and your dog.
---
A Quick Comparison of Our Favorites in 2023
Rating
Image
Product
Details

Best Overall

Only Natural Pet EasyDefense

All-natural solution
Vet approved
Water-resistant
Check Price

Best Value

Hartz UltraGuard Pro Reflecting

Up to seven months of use
Budget-friendly
Water-resistant
Check Price

Best for Large Dogs

Bayer Seresto Flea and Tick Collar

Eight months of protection
Ergonomic design
Vet recommended
Check Price

Hartz UltraGuard Flea & Tick

Budget-friendly
Protects for seven months
Fresh smell
Check Price

Adams Plus Flea & Tick

Water-resistant
Budget-friendly
Seven months of protection
Check Price
The 10 Best Flea Collars for Dogs
1.

Only Natural Pet EasyDefense Flea Collar – Best Overall
Plant remedies have been around since the beginning of time, the original medicine and prevention method. It may be surprising, but these same remedies can apply to dog collars. With the Only Natural Pet Collar, your dog isn't just protected from fleas and ticks, but also mosquitos. The collar uses the potent scents and oils from thyme, geranium, and peppermint to help it live up to its name "Only Natural." It is free of any toxins or pesticides. It creates a soft smell, an aura of protection around the dog. Many describe it as pleasant or botanical, making it unobtrusive for the surrounding humans while warding off unwelcome fur guests.
This collar is veterinarian-approved, made from nylon with infused botanicals. It is durable as well as water-resistant for wherever your pup finds himself. It offers protection for up to four months and may take up to 30 days to get rid of any previously acquired infestation.
All in all, we think this is the best flea collar for dogs available this year.
Sized for any dog
All-natural solution
Vet approved
Comfortable for any dog
Protects against fleas, ticks, lice, and mosquitoes
Pleasing botanical smell
Water-resistant
Only useful for four months
Adjustment period needed for some
---
2.

Hartz UltraGuard Pro Flea & Tick Collar – Best Value
An effective collar to aid your canine's fight against pests, it also happens to be the best flea collar for dogs for the money. Made by the company for full-body protection for up to 7 months against bothersome fleas and ticks. It works by stopping the life cycle of a flea. By doing so, it prevents the infestation from continuing or spreading. The Hartz UltraGuard Pro collar is water-resistant, continuously being useful in any weather.
Another positive addition to this collar is the reflective property. Equipped with the Reflect-X Shield, it reflects up to 450 feet away, adding an extra dimension of protection during the night for your best bud. Useful for any size of a dog, adults over 12 weeks old, as well as seniors. The combination of reflection and flea and tick prevention means that your dog has protection anywhere he goes when equipped with this collar.
Water-resistant
Up to seven months of use
Budget-friendly
Reflective up to 450 feet
Prevents flea life cycle
Cannot use on dogs under 12 weeks
No buckle fastener
---
3.

Bayer Seresto Flea and Tick Collar – Best for Large Dogs
Certain collars are made especially for small dogs, and some made for large dogs. Often, protecting against fleas and ticks is even more of a concern for those that have larger dogs since they don't get out and about more than smaller house dogs. If you are looking for a high-quality collar that is almost guaranteed to do the trick for your dog, the Seresto Flea and Tick Collar by Bayer is the way to go.
Due to its more ergonomic make and effectiveness, it is more expensive than the other brands we have featured on our list. It offers eight months of protection and comes with a vet recommendation. As soon as you put it on your dog, it gets to working repelling and killing fleas within 24 hours and halting re-infestations in two hours. Within 48 hours, it begins to repel and kill any harbored ticks and stops re-infestation within six hours.
Eight months of protection
Special for large dogs
Ergonomic design
Vet recommended
Begins to work within 24 hours
Odorless
Water-resistant
---
4.

Hartz UltraGuard Flea & Tick Collar for Small Dogs
Another useful option from Hartz, this collar works quickly to kill fleas and ticks and continues to be useful for up to even months. Hartz created this collar, specifically keeping the needs of small dogs in mind. It is easy to adjust and can be placed onto a dog's neck up to 20 inches around for a secure fit. They know that dogs can live a messy life and have made the collar water-resistant to provide continuous protection everywhere. It can be paired with the regular collar for a more comfortable fit as well. When you first use this collar with your pup, keep an eye out for any adverse side effects they may experience, especially if they have sensitive skin.
Budget-friendly
Protects for seven months
Water-resistant
Fresh smell
Cannot use on puppies six weeks or younger
---
5.

Adams Plus Flea & Tick Collar
The Adams Flea and Tick Collar is another budget-friendly option to consider when shopping around. It works to protect the entire body of your pup by spreading the active ingredient through the furs and oils of the dog. It works from hair to hair to end up covering the whole body, working on contact to cause the immediate death of any life stage of ticks and fleas. It is water-resistant, keeping it in working condition even after a bath or a trip into the rain. The collar continues to be effective for up to seven months. The design is long to allow it to fit on any size dog, puppy to large adult. Simply fit it to the dog and trim any extra off.
Water-resistant
Active ingredient spreads
Budget-friendly
Seven months of protection
Initial protection slower for longer hair
---
6.

Salvo Flea & Tick Collar
The Salvo Flea & Tick collar is another excellent option for small dog breeds. It is middle-of-the-road when it comes to price; however, two collars are included with the purchase of a single tin. Each of these collars provides six months of protection for your pup, so one tin gives you an entire year safeguarded from flea and tick infestations. These collars fit on dogs with necks up to 20 inches. Salvo engineered these collars to work with an insecticide-release technology. This tech allows the active ingredient to steadily and consistently work its way over the body of the dog by working with the natural oils on a dog's hair and skin. For maximum protection, have your pup wear it continuously.
Waterproof
Two collars included
Six months of protection each
---
7.

Arava Flea & Tick Prevention Collar
Getting your dogs the Arava Flea & Tick collar is like getting them their own spa to carry around with them. Since it is an all-natural product, it works well for dogs of all ages. Made in Israel and infused from beneficial minerals taken from the Dead Sea, this collar offers your dog's protection they need to keep harmful pests away. It does not work to kill fleas and ticks already infesting your pup. It works by creating an aura of odor around the dog made from essential oils that the collar soaks in before shipping. Some of these include Peppermint, Cinnamon, Geranium, Lemongrass, Cloves, Thyme, Cedar, Citronella, and more that have been proven to repel harmful insects.
All-natural
Smells pleasant
Works for all ages
Does not rid previous infestations
---
8.

Virbac PV-TIC 60+ Preventic Flea Collar
Ticks can be one of the most frustrating of all of the harmful outdoor pests that may infest your dog. The Virbac PV-TIC collar fits onto the dog's necks up to 25 inches around and is adjustable. It should only be used for dogs that are over 60 pounds for protection. They latch onto your pup's skin and suck blood until they are full, transmitting harmful diseases in the process. This collar is one of the only ones that not only kills ticks but forces them to detach from the dog in the process. With the collar on before any infestation, it helps to keep them safe from any transmittable diseases that may come through their bit. It is water-resistant and fitted quickly by buckling it into place around the dog's neck and cutting off any excess length.
Specifically meant to kill ticks
Water-resistant
Easily adjustable
Only for dogs over 60 pounds
---
9.

Petsmont Flea Collar
The flea collar made by Petsmont is a wonderful natural alternative to some of the more harmful, synthetically made toxic pesticides used in other dog collars. This collar is even hypoallergenic and made with a plant-based formula. This formula is what gives it its adequate, long-lasting protection for your dog. Each purchased package contains two dog collars. Each of these collars provides six months of protection, equalling a whole year of security in one package.
The collar is adjustable and comfortable, made to fit small lap dogs to larger guardian pups. The formula is a blend of essential oils that includes Peppermint, Cedarwood, Lemon Eucalyptus, Lavender, and Geranium oils. It does not contain Cinnamon oil, Eugenol, or Clove oil, as dogs with sensitive skin may find these irritating.
Vet recommended
Hypoallergenic
All-natural
Six months of protection each
Does not kill previous infestations
Powerful smell
Difficult to fit for extra-large dogs
---
10.

Primova Dog Flea and Tick Collar
The Primova collar is made to be one-size-fits-all from large to small. It is enhanced with essential oils to offer a safer form of protection for your dog. It works to effectively repel fleas, their eggs, larvae, and even lice. The formula is made to last for up to eight months, keeping harmful chemicals off the skin and fleas even farther away.
Primova made their dog collar waterproof to continuously protect it, no matter what the weather was like or the number of baths it needs. It is a grease-free collar as well that surrounds the pup with a pleasant smell of citronella. The collar is made to be easily adjustable to fit all dogs with a neck size of 25 inches and smaller, simply trimming any extra off to keep it from bothering the dog. The collar even comes with a free flea comb to enable the owner to check for fleas as the collar begins to work.
Hypoallergenic
Waterproof
Eight months of protection
Free flea comb
Contains clove oil
Slides off easily
---
Buyer's Guide: Finding the Best Flea Collar for Dogs
When it comes to purchasing products for your dogs, it is not only challenging to figure out the best ones to buy, but it can be challenging just to figure out what you need for your dogs. Now that you are aware of some of the best flea collars on the market this year, you may want some guidance for how to pick one out. Below we provide you with a buyer's guide telling you a little more about how flea collars function, the benefits of using them instead of other preventative measures, and what to think about when these need to be on your next shopping list.
How Do Flea Collars Work?
Flea collars are quite simple in their methodology. They work with compounds, whether chemical or natural, to create overall protection, either hovering around the dog or actually on the dog's hair and skin.
The flea collars release whatever compound the collar was made with intermittently. This function is what gives the collar a certain lifespan, anywhere from four to eight months.
There are two main kinds of collars that help to protect your dog. The first type functions more as a preventative measure. It releases scents or chemical compounds into the air around the dog, generally undetectable by humans and the dog itself. This release stops fleas, ticks, lice, and even mosquitos from being attracted to the dog and repels them.
The primary con to this first type of collar is that it does not help if the dog already has an infestation of fleas, ticks, or any other similar pest. It may be natural and thus have less adverse potential side effects, but it is not the way to go if you need to stop an infestation from becoming worse.
The second type of flea collar is a killing collar. Once unwrapped and fixed on the dog, these collars start to work within the first two days. They release their chemical compound onto fur around the collar. The natural oils from the skin of the dog take the compound throughout the rest of its body. These chemicals kill on contact. Once they touch any flea or tick, including any life stage of these pests, they immediately poison them, and the parasite dies.
The unfortunate facet of these collars is the potential side effects that come with effectively coating your dog in unnatural chemical compounds. Although these collars have to get tested for safety, there are still risks involved when using them. If your dog has very sensitive skin or specific health problems, ask your vet about using a particular collar to protect your dog.

Benefits of Using Dog Flea Collars
Although the benefit of using a flea collar may seem obvious to some, others might not grasp all of the beneficial aspects involved. Not only do flea collars help to protect from flea infestations, but they also put up a shield against several other harmful pests like mosquitos, ticks, and lice.
There are benefits when it comes to using flea collars over other preventative measures as well. Using spot treatments can be frustrating due to the frequency involved. Many of them need to be applied every month without fail to offer continuous protection. Others may need to be applied weekly. When using flea collars, you have options to consider that offer protection for anywhere from four to eight months reliably.
If your dog has sensitive skin or allergies, flea collars are even more worth consideration. There are some products, including some of the ones we have listed above, that are hypoallergenic. We often think of dogs being hypoallergenic regarding the human's allergies to their skin or shedding, and dogs may also have allergies. Keeping harsh chemicals or certain compounds off of their skin may stop them from developing skin infections or harmful amounts of excessive scratching.
Finally, using a flea collar instead of having your dog take tablets is generally judged as a safer option. It is difficult for scientists to determine precisely how extensive the internal effects of ingesting certain chemicals are on a dog. To mitigate this risk, keep the solution on the outside.
Considerations When Buying a Flea and Tick Collar for Dogs
Functionality
Before buying a collar, be sure to measure around your dog's neck. This ensures that when you invest in one, it will be sized correctly for your pup. The functionality of a flea collar comes down to the make of the collar. This refers to the size, length, weight, and even the odor that the collar may give off. If you have an aversion to strong odors, be sure to check that the collar does not have these. Unfortunately, many of the natural solutions have strong smells to be effective. They fade quickly but keep it in mind.
Active Ingredients
If your dog has any allergies or sensitive skin, be sure to check what the active ingredients are on the flea collar. By checking the ingredient list beforehand, you alleviate the potential of causing your dog stress or pain upon fitting the collar. Also, consider how safe the active ingredients are for both humans and your dog since it will rest on its fur and skin for months at a time.
Durability
Dogs get into a lot of messy situations. This can be funny at times, watching them wiggle their way through a hedge or wind their leash around their owner's legs. However, you don't want the investment of a collar to end up being a dud within the first few weeks because your pup is especially hard on it. Read reviews to make sure that the collar lasted for as long as the advertisement says it should.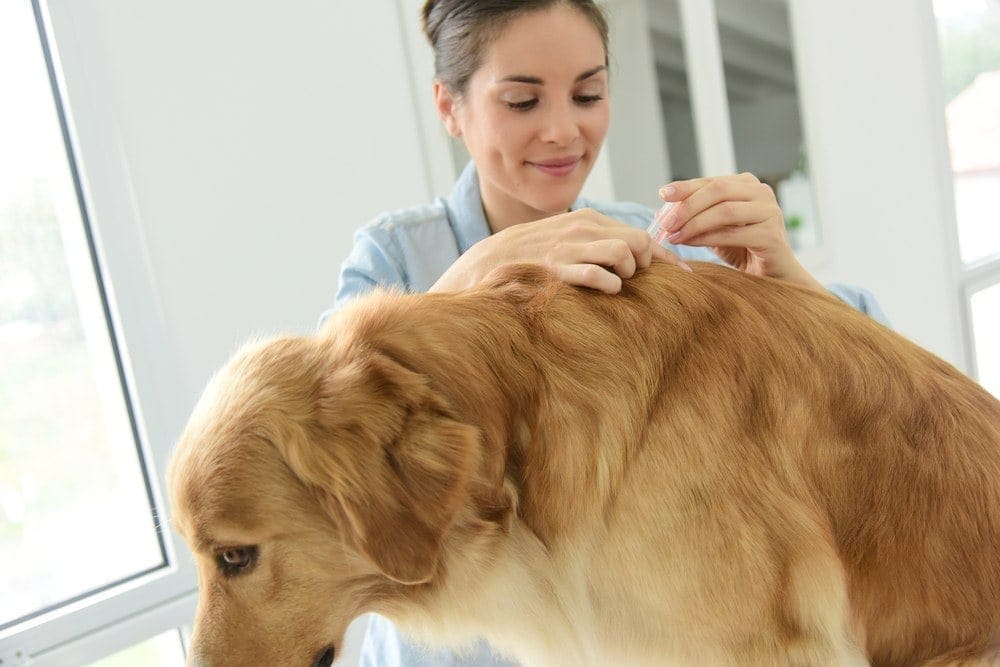 Water Resistance
Since a flea collar works by releasing chemicals or other compounds into the air or across a dog's skin, it would be pretty useless if they washed off in the rain or after a muddy bath. Make sure to check that the collar you have an interest in buying is at least water-resistant if not waterproof. This stops one roll on wet morning grass from ruining the collar.
Efficacy
Efficacy refers to the collar's capability to prevent the parasites that it says it can. There are many proposed solutions and flea collars on the market. Those with high efficacy do a great job deterring pests from occupying space on a dog's body. It also refers to the extent of the protection the collar offers. For example, does it only protect from fleas, or does it help deter lice, mites, ticks, and mosquitoes as well? Does it stop only certain stages of the life cycles of these pests, or will it kill anything it touches?

Conclusion
Starting with the best of our reviewed products, the Only Natural Pet EasyDefense Flea Collar, we have provided a list of highly effective flea collars meant to give you a guide through the vast number of products currently available. When it comes to protecting your dog, taking time reading reviews to purchase the best product isn't done begrudgingly. However, saving your time and still finding an incredible product is even better. Figure out what your preferences are and if your dog has any specific needs, such as allergies to individual compounds or the size of his neck, and you are well on your way to getting rid of bothersome pests for good.
---
Featured Image Credit: Leo_65, Pixabay