The 5 Best Flushable Cat Litters – 2022 Expert Picks & Reviews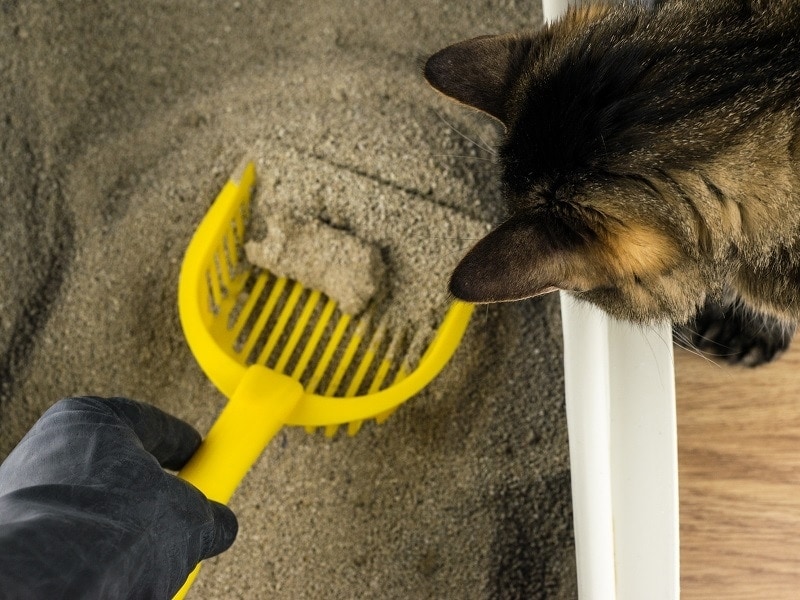 Did you know that using flushable cat litter can be an excellent eco-friendly solution to your cat's toilet duties? Not only does it help in reducing your kitty's pawprint on the environment, but it also provides the highest qualities essential to preserving feline health.
Luckily, several cat litter manufacturers share the same eco-consciousness and have developed flushable kitty litter products. So, we've searched through the current flushable litter market to find the best of these litters for you to choose from.
Check out our flushable cat litter reviews and learn some useful tips from our buying guide below.
A Quick Comparison of Our Favorites in 2022
Rating
Image
Product
Details

Clumping Flushable Cat Litter

World's Best Cat Litter

Septic-safe
Quick clumping
Naturally-scented

Flushable Cat Litter For Odor Control

Scented Clumping Cat Litter

100% Natural
Soft on paws
No added scent

sWheat Scoop Natural Cat Litter

Flushable
Long-lasting
100% renewable resource

Weruva It's A Tea Potty! Natural Cat Litter

Clay-free
Minimal dust
Hypoallergenic

Naturally Fresh Walnut Cat Litter

Low dust
Easy cleanup
Excellent odor control ability
The 5 Best Flushable Cat Litters
1.

World's Best Cat Litter Scented Clumping Litter Formula
Made from whole corn kernels, the World's Best Cat Litter Scented Clumping Litter is naturally free of silica dust. Its granules are all lightweight, so carrying a large batch of them should be easy on your back.
This litter also features a 100% all-natural-scented lavender oil, which adds a fresh floral fragrance to the litter box and helps regulate the odors from your cat's waste. It doesn't have any synthetic chemicals or perfumes, so the litter is hypoallergenic.
With many cat owners relying on the World's Best Lavender-Scented litter, it has become a renowned litter formula and can easily be considered as the best clumping flushable cat litter. Its excellent clumping and odor-controlling features make it ideal for homes with two or more cats.
Flushability
The manufacturer claims the flushable ability of the World's Best Cat Litter. The litter has been designed to flush and work with well-maintained septic systems.
In our experience, the World's Best Lavender-Scented Cat Litter has indeed simplified the daily chore of maintaining litter box hygiene. We found that we only had to scoop out the little clumps of litter along with the solid waste and then put them into the toilet bowl.
To keep pipes clog-free, simply flush 1 to 2 clumps at a time in the toilet. We spoke with people who have used and flushed this lavender-scented flushable cat litter for years now, and none had ever experienced having to call for the help of a plumber. The flushing simply works, saves time, and prevents the need for plastic bag use for litter disposal.
Odor Control
The lavender-scented litter does an excellent job of controlling the odors from cat urine and feces. Not only does it control the scent, it provides a beautiful floral smell in its place, but it isn't overpowering.
Dust/Tracking
As mentioned, this flushable litter's granules are lightweight. This means they can get kicked out of the litter box more easily, and it can be a bit messy, so we recommend a litter mat for your cat to wipe his paws upon exit of the litterbox. You might also observe a bit of dust, but it is not that significant. More importantly, it contains no silica or clay dust since it's only composed of whole corn kernels and all-natural ingredients.
Biodegradable
Naturally-scented
Lightweight
Outstanding odor control
Quick clumping
Easy scooping
Flushable
Septic-safe
No silica or clay dust
Pet, people, and planet-friendly
Can track a bit
Can be a little dusty
---
2.

Garfield Cat Litter Natural Fast Clumping — Odor Control
Made of both corn and cassava, the Garfield Cat Litter – All-Natural Fast-Clumping Formula is a biodegradable and flushable litter. It features fine grains that are safe for sensitive paws and enable the litter to clump as fast as possible.
Many cat parents appreciate the fact that they no longer have to worry about clump breakage when using this Garfield Cat Litter. It also has no added fragrance, making it suitable for felines that are super sensitive to scents.
This flushable kitty litter's light color allows you to notice any changes in your kitty's urine coloration easily. This feature can help track feline health issues, which is why many veterinarians approve and recommend this brand.
Flushability
The makers of Garfield Cat Litter have tested and ensured the flushable ability of this litter. They've optimized this litter to be septic-system-safe.
It's important, however, to know how to dissolve cat litter first before flushing it. To avoid any clogging issues, let the clumps soak and dissolve in the toilet bowl before flushing them. Also, avoid flushing clumps that are already older than 12 hours. This means you have to scoop out the clumps from the litter box more regularly, at least twice daily.
Finally, be sure to flush only a couple of clumps at a time, and not more.
Odor Control
The Garfield All-Natural Fast-Clumping Cat Litter offers an effective odor control thanks to its corn and cassava ingredients. These plants have properties that can encapsulate odors naturally. So, this cat litter is quite a great candidate for being one of the best cat litters for odor control while being flushable at the same time.
Dust/Tracking
The sophisticated manufacturing process implemented in making the Garfield Cat Litter virtually eliminates dust. Thus, this litter is ideal for cats and even for humans with respiratory problems.
Tracking, however, could be a problem with this litter, considering its fine grains. To get around this problem, we recommend using a litter box with higher walls and placing a litter mat at the box's entrance.
Long-Lasting
The Garfield Cat Litter can help you save a few bucks in the long run. A 10-lb pack of this litter can last 30 days for one cat.
Biodegradable
100% Natural
Instant-clumping
Forms hard clumps
Natural odor control
No added scent
Soft on paws
Flushable
Multi-cat ready
Allows for easy detection of abnormal urine color
Veterinarian-backed
May have a little wheat dust
---
3.

sWheat Scoop All-Natural Flushable Cat Litter
The sWheat Scoop All-Natural Cat Litter is — as you might guess from the name — wheat-based. The ingredients have all been farmer-grown, ground up, and then packaged for you to use.
sWheat Scoop's All-Natural formula offers even stronger clumping compared to the Fast-Clumping variant. It clumps well and hard after only 5 to 10 minutes of untouched urine or wet granules.
Like the Garfield Cat Litter above, this sWheat Scoop Cat Litter doesn't contain dyes or perfumes. So, it's good for sensitive and picky cats that don't like to linger around extra strong and artificial scents. This litter is also biodegradable, so it won't pose a threat to the environment.
The company sWheat Scoop partners with the Best Friends Animals Society (BFAS), and sWheat Scoop donates one additional pound of litter to BFAS for every new sWheat Perks member sign-up. These donations, along with sWheat Scoop's financial support to BFAS, help save kittens who have been abandoned or are in need.
Flushability
sWheat Scoop has confirmed that its litters are flushable. The manufacturers simply state that you shouldn't rush your flush.
I've had an experience in using this litter, and it has somehow surprised me that the hard clumps can actually break down and be safer to flush if you just allow it to soak for a while. So here's how you should do the flushing (based on the manufacturer's instructions and my actual experience): Scoop a few litter clumps at a time and put them into the toilet. Then, you should let the clumps sit for 20 minutes to allow them to break up. Once they've broken up, it will be easier for them to move along with the water in your septic system. After 20 minutes, you can then flush.
Odor Control
The sWheat Scoop All-Natural Litter offers a stronger odor elimination feature than its other formulas. It control smells as long as you scoop the clumps and solid waste daily.
Dust/Tracking
This litter doesn't stick to cat paws, so cats do not track it to all the other rooms in your house. You may, however, notice some wheat dust upon pouring the litter from the bag into the litter box. Still, it's not as harmful as clay or silica dust.
Long-Lasting 
The sWheat Scoop All-Natural Litter is also cost-effective. One bag of 36 pounds lasts longer than typical clay cat litter products, so it can help you save a few more bucks.
All-natural
Biodegradable
100% renewable resource
No dyes or perfumes
Noble ion technology helps neutralize odors
2x stronger clumping than sWheat Scoop Fast-Clumping Litter
2x stronger odor elimination than sWheat Scoop Fast-Clumping Litter
Flushable
Long-lasting
Prone to tracking with its fine grains
---
4.

Weruva It's A Tea Potty! Hinoki Wood & Tea Cat Litter
Made of Hinoki wood and green tea, this Weruva Natural Cat Litter doesn't negatively impact our planet. It's certified clay-free and even grain-free, which means that it contains no wheat, no soy, and no corn. Thus, it's quite a hypoallergenic litter suitable for super sensitive kitties.
Weruva Cat Litter ensures that even its pouches are BPA-free and recyclable, further reducing their environmental footprint.
Weruva Cat Litter products are family-owned for over ten years now. The family owners are proud to responsibly source only sustainable raw materials to keep their products eco-friendly.
Flushability
The manufacturers claim that the Weruva Tea Potty Litter is flushable, though they haven't instructed how to flush the litter properly into the toilet, unlike the other companies.
This litter has relatively larger pellets compared to the smaller and more refined grains of the other flushable litters on our list. But, when we experimented with flushing small amounts of this litter, we found no problems at all. We were still cautious not to flush a large batch all at once. Also, when it's time to change the entire litter box, we recommend disposing of the litter into the trash instead of flushing everything down.
Odor Control
One of this litter's main ingredients is Hinoki wood, which has the natural ability to suppress the growth of mold and bacteria. This means it also helps in controlling odors. This litter's green tea component contains natural antioxidants, including catechins. Catechins also help in suppressing bacterial growth and the odors they emit.
Dust/Tracking
The Weruva Tea Potty Litter has very minimal dust thanks to the pellet structure that feels more compact than other litters' small grains.
The pellets only cause very minimal tracking, if any. Occasionally, though, you might find a few pieces just outside of the litter box, especially if they got stuck on the fur of very long-haired kitties. Sometimes, a few little pieces can also get stuck on the pads of your cats' feet, but they're minimal compared to other litters with even smaller granules.
Long-Lasting
The Weruva Cat Litter lasts quite long, too, depending on the number of cats and frequency of litter box use. A 6.7-pound bag of Weruva Tea Potty Litter can go for 10 to 30 days, while an 11.7-pound bag can last from 17 days to as long as 50 days.
All-natural
Eco-friendly and sustainable raw materials
Natural odor control with fresh green tea aroma
Clay-free
Grain-free
Minimal dust
Minimal tracking
Clumps easily for scooping
Flushable
Clumping is not as tight as clay
Not recommended for a self-cleaning litter box
---
5.

Naturally Fresh Walnut-Based Alpine Meadow Cat Litter
Quick Overview
Available in 4 sizes
Made from the fibrous material of the walnut shell
Great for multiple cat households
Flushable
100% Natural
Silica dust-free
From what we have experienced, both the odor control and Alpine Meadow cat litter's clumping actions are perfect if you're a parent of multiple cat kids. It's also flushable to save you from dumping the wastes into the bins. Let's dig a little deeper.
Neutralizes Odor Effectively 
Many applause for Alpine Meadow for the epic odor elimination. This walnut-based cat litter did not disappoint us, even better, it does a better job at trapping the smell than most cat litter we used from clay to pine to corn litter.
Fresh Scent 
We have tested many scented cat litters and found that only a small portion of the available brands can extract the chemical smell out of their product. Alpine Meadow is one of them. Not only are we pleased with the smell, but our cats also seem to be comfy when they are in the box.
You should always make sure your cat is comfortable with their cat litter. Because if they aren't, they won't bother covering their dumps. Or worse, they might find another place to do their deeds, and it could be anywhere from your rug to your couch.
Low Dust
Even when we poured Alpine Meadow into the litter box or replaced the litter, the dust was relatively low. Besides a small amount of tracks on the floor directly outside the box, no dust was found left around the house. If you or your kitties are sensitive to dust, we think this product can be a great help.
Super Absorbant
As advertised, Naturally Fresh stated that Alpine Meadow absorbs three times better than conventional clay litter. We could see it absorb relatively well because less of this litter is used for the same work as other cat litters.
With regards to the texture, the clumps went solid after roughly 20 minutes, letting you get rid of them with ease. You can scoop them out in one go because they stay clumped.
Drawbacks
The clumps don't break down easily to flush down the toilet. As we mentioned, the clumps formed up nice and tight. But they are so tight that they hardly break down at all, so we could only flush them one by one down the toilet.
Excellent odor control ability
Fresh scent
Low dust
Easy cleanup
Related Read: 10 Best Cat Litters in 2022 – Reviews & Top Picks

What Kind of Cat Litter Is Flushable?
1.

Confirmed flushable by manual testing
Many flushable cat litters have been tested and found to be flushable and safe for septic systems. These tests are typically conducted manually by third-party companies. You should see a verification tag on the label or package when looking for these kinds of litters.
If, however, there are no such disclosures of third-party tests, you may check the ingredient section on the packaging. Most natural ingredients are flushable, but you also need to confirm if they're non-clumping.
---
2.

With non-clumping ability
If you're looking for a flushable cat litter, it should be a non-clumping type, except for silica cat litter — the silica particles will expand within the pipes upon contact with water and will clog your pipes. Because of this expanding property, silica litter is not flushable.
Some clumping litters, however, are made of biodegradable and septic-safe components. (They can still be flushed down the toilet, but only in small amounts at a time to avoid clogging). These components include natural plant-based materials such as corn, cassava, wheat, recycled paper or natural paper fibers, pine, other kinds of wood, and even green tea.
Frequently Asked Questions (FAQs):
1.

Is flushable cat litter safe for plumbing?
The quick answer is yes. As long as the litter you're using is tested and guaranteed as flushable, then it is safe and poses no problems for your plumbing. Note, though, that you also need to be careful with the process of flushing. Always follow the special instructions indicated in the packaging of flushable cat litters, if any. The general rule is to let the litter soak and break down for a while before flushing and to flush only a few pieces at a time. This way, your plumbing should work just fine.
---
2.

Flushable cat litter brands
There are only a few brands that offer flushable ability across all of their litter formulas. Here's a quick list of the best:
All of the World's Best Cat Litter products are made of naturally absorbent corn and have been tested and proven flushable and septic-safe. Another brand that's committed to environmental preservation and the manufacture of flushable cat litters is ökocat. All its products are biodegradable and flushable, as well.
The brands sWheat Scoop, Garfield, and NextGen Cat Litters are also on the list because they have made sure that their products are eco-friendly and safe for flushing.
---
3.

Is Purina Tidy Cats litter flushable?
Purina Tidy Cats have many litter variants, including the 4-in-1 Strength Clumping, the Instant Action Clumping, the LightWeight Glade Tough Odor Solutions Clumping, and the 24/7 Performance Clumping cat litters. You might notice that these are all clumping litters, meaning that they are not flushable.
Tidy Cats also has a non-clumping variant, but even this formula is not designed for flushing down the toilet.
---
4.

Is Feline Pine flushable?
The Feline Pine 100% Natural Pine Original Non-Clumping Formula is not designed to be flushable, but some users have tried flushing small amounts, and they seem to have no problems. The label on this litter, however, clearly advises against flushing. Instead, it says you should dispose of the litter in the trash.
Feline Pine also has a clumping variant. As a rule of thumb, clumping litters are not safe for flushing because of their ability to expand in water. So, the Feline Pine clumping litter is not flushable, nor is the non-clumping version (which is not guaranteed by the manufacturers as safe for flushing).
---
5.

Is paper litter flushable?
The general rule is that any litter that contains clay or silica and other non-biodegradable components is not good for flushing. So, pure paper cat litters, without any of these components, may be flushable — but it's not always the case. To be sure, you should always refer to the label itself to see if the paper litter is truly suitable for flushing. We do not recommend testing litters that are not labeled as flushable for yourself. Trust the labels or contact the manufacturers.
Why Should You Use Flushable Cat Litter?
Flushable cat litters are worth using for two main reasons: simple disposal and environmental friendliness.
Simple Disposal
Flushable cat litters are very convenient for cat owners to use. There's no need to pack the scooped pieces into a bag and dump it into the trash bin outside.
The added convenience of simply flushing the used litter along with the feces becomes even more relevant if you're living in an apartment. It can be a little burdensome and time-consuming for you to drag bags of trash (with cat poop at that) down the stairs — and it's no more convenient with an elevator. Just being able to dispose of the litter by flushing can save you all that hassle.
Environment-Friendly
Other than convenience, using flushable cat litters have environmental benefits. You don't have to use plastic bags that can quickly fill up landfills. Flushing your cat's litter down the toilet simply treats the litter the way human waste is treated.
Cons of Using Flushable Cat Litter?
While using flushable cat litter may have many benefits, it also has its share of disadvantages.
Aren't designed for septic systems
Most cat litters are just not designed for septic systems. Surely, flushable cat litters could be an exception. But, septic systems haven't been optimized in certain states and localities to break down certain materials, including litter and feline fecal matter.
Is flushable cat litter septic safe?
If your home has its own septic system, it can make things a little more complicated. Your septic system may not have the same characteristics and design as the one used by manufacturers to test their product for flushable ability.
Keeping that in mind, there's no flushable cat litter that works equally well for all kinds of households. Specifications matter most of the time, so you should check with your builders or those that maintain the septic systems in your community if it's okay to flush cat litter down your own toilet.
Introducing parasites into the waterways
Another disadvantage of using a flushable cat litter (and flushing it) is the possibility of introducing parasites into the waterways.
Some cat poop may contain the harmful parasite called Toxoplasma gondii. Scientific studies tell us that such parasites may pass through human waste treatment sites without being destroyed after processing. So, they could get washed out to the sea, continually harming marine life and even infecting people.
You see, most water treatment plants aren't designed to handle cat poop — only human waste. Adding in cat waste and litter can double the burden of such treatment plants. If left untreated, pollutants such as these parasites can pose a serious danger to our water systems.
Which Is a Safe Flushable Cat Litter?
A number of manufacturers have done their best to introduce environment-friendly and safe flushable cat litters. These products are composed of biodegradable ingredients such as corn cobs, wheat, paper, pine, and cedar.
Small amounts of these substances can pass through pipe systems and even non-septic toilets safely. But, it's still possible for these materials to cause clogging if dumped continuously and in large amounts through the pipes.
And that is why flushable cat litter manufacturers are vigilant at instructing you to scoop only small amounts into your toilet at a time. Most of them advise waiting for at least 20 to 30 minutes (sometimes even more) to allow the litter to soften and break down before flushing. This procedure should make the process safer for your pipes, but it could be inconvenient for some.
The Reason You Shouldn't Flush Cat Litter
Despite the benefits of using flushable cat litter, there are cases in which you simply shouldn't.
If You Are Living in Coastal Homes
Aside from affecting our modern waterways, flushing cat litter may adversely impact our oceans — as we mentioned above. The impact could be much worse if you live in a coastal home, i.e., somewhere along the coastline.
In that case, your drainage system is most likely connected to the sewer. If you're flushing the cat litter down the toilet, the waste will most likely end up in the sea. This would eventually put marine life in danger, getting exposed to the parasites that may be in your cat's waste.
State/Federal Government Regulations
Because of the above reasons, certain states like California have imposed rules against flushing litter. It's best to follow such federal government regulations if you're living wherever they're being implemented.
If you're tired of all the smells and stains that come with pet parenting, you should check out the Hepper Advanced Bio-Enzyme Pet Stain & Odor Eliminator Spray. Okay, it's our product, so we may be biased – but we love it so much, we just have to share it! It permanently removes even the very worst smells and stains, and we offer a 100% satisfaction guarantee.
Problematic Plumbing System
Regardless of the abovementioned local policies, you may still think twice about flushing down litter if you have a problematic plumbing system in the first place. Instead, you may think of an alternative solution such as disposing of those biodegradable litter particles in a compost pit and allowing nature to process them for at least a year to a year and a half.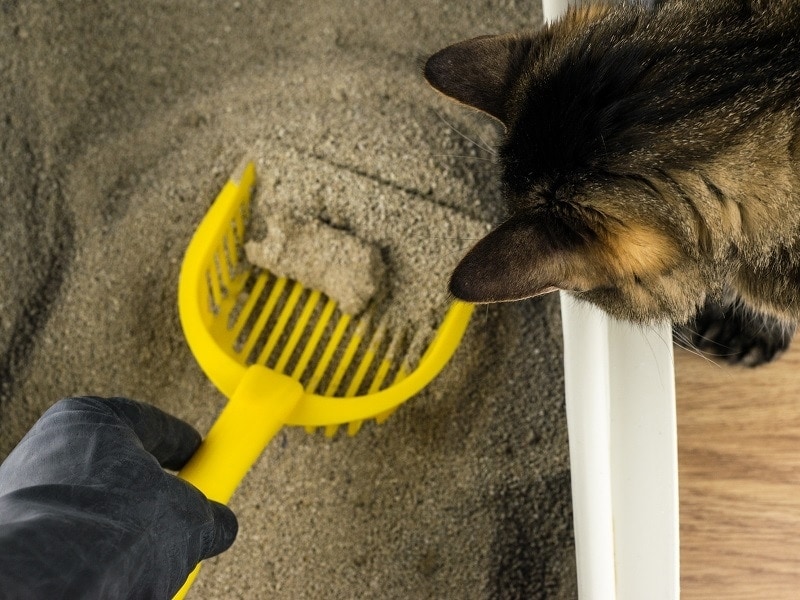 Our Verdict
Among all the cat litter products that we've reviewed above, the World's Best Cat Litter – Scented Clumping Litter Formula for Multiple Cats wins as our choice for being the best flushable cat litter.
It's 100% natural, biodegradable, and septic-safe.
It works with well-maintained septic systems.
It's quick-clumping and easy to scoop.
It contains no silica or clay dust.
It's best at controlling odors with the natural scent of lavender.
It's a pet, people, and planet-friendly litter.
Indeed, this flushable litter has all the essential qualities you'll need to make your cat's litter box experience more comfortable while saving yourself a ton of work in cleaning up your cat's waste. Most of all, it helps in preserving the environment. Wouldn't you like to give the World's Best Lavender-Scented Cat Litter a try?
Remember to read the flushable cat litter manual carefully before using it. Consider your decision and find the flushable cat litter brands that suit you. And let us know in the comments below if you've had successes (or suggestions) about any flushable cat litters on the market!
---
Feature Image Credit: gaikova, Shutterstock