10 Best Harnesses for Corgis in 2022 – Reviews & Top Picks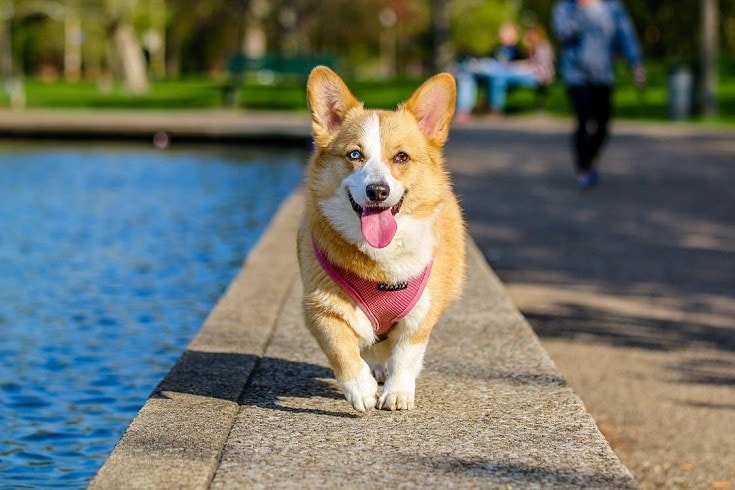 Few breeds can boast of their royal connections like the Corgi. Just ask Queen Elizabeth. She has owned more than 30 of these adorable herding dogs since receiving her first at age 7.1 These outgoing pooches love to run, but controlling them on a leash is sometimes hard. That makes walking them with a harness an easier task for you.
A harness will distribute the weight more evenly across the long back of a Corgi. That can help prevent injuries if he gets too excited on his daily walk around the neighborhood. If you've looked for one, you know that there are so many choices and styles that may leave you wondering which is the right product for your dog.
Our guide will explain what you need to know from the materials to the type of clips. We'll also discuss the ins and outs of our favorites with reviews that will show you the pros and cons of each product to help you make an informed decision for your Corgi.
---
A Quick Glance at the Winners of 2022
Rating
Image
Product
Details

Best Overall

PetSafe Easy Walk

Quick-release fasteners
Color-coding on back and check straps
Four adjustment points

Best Value

Red Dingo Classic

Four width choices
Decent color selection
Heavy-duty

Premium Choice

Ultra Paws One

No irritation
Fits comfortably
Several adjustment points

Kurgo Tru-Fit

High-quality construction
Soft
triangular-shaped front chest piece
Five adjustment points

Chai's Choice Reflective

Well-made
Reflective
Handle on top
The 10 Best Harnesses for Corgis
1.

PetSafe Easy Walk Dog Harness – Best Overall
The PetSafe Easy Walk Dog Harness ticks off a lot of the boxes we like to see in these products. The nylon material is lightweight, which can make it easier for your Corgi to get used to wearing it. It has a front clip with four adjusting fasteners to get the ideal fit. That's a big plus, given the unique body shape of this breed. The design gives you plenty of control over your dog, too.
You get your choice of eight colors. They come in two shades to make it easier to tell which strap goes where. We love that feature, especially if your pup gets as excited as ours does when it's time for a walk. We also liked the fact that the sizing includes several in-between ones.
One-year warranty
Quick-release fasteners
Color-coding on back and check straps
Four adjustment points
Lack of padding near the shoulder region
---
2.

Red Dingo Classic Dog Harness – Best Value
The name of the Red Dingo Classic Dog Harness says it all. The design is the traditional type that fits around your Corgi's neck and belly. The strap along the back is heavy-duty if you had to use it to pick up your dog. It has a D-ring on the rear to alleviate pressure on your pet's neck if he pulls. The harness comes in ten colors with your choice of four widths.
For the price and the choices, we thought it was the best harness for Corgi for the money. The lifetime warranty is welcome, too. The design is a bit tougher to get on a rambunctious dog. While it fits securely, escape artists might find a way out of it.
Four width choices
Limited lifetime warranty
Decent color selection
Harder to put on your dog with two fasteners
Not secure for all dogs
---
3.

Ultra Paws One Pulling Dog Harness – Premium Choice
The Ultra Paws One Adjustable Pulling Dog Harness is appropriately named. What else can you say about a product that has plush fleece at the major pressure points? The only problem we saw with this feature was that a chewer would likely remove it if you didn't keep an eye on him. That said, the design is all about getting the right fit, with two strap adjustments and four for the padding.
The harness has a floating O-ring attachment to give your Corgi the freedom to move in whatever direction he wants. The product comes in only three sizes, with a relatively wide range for each one. Surprisingly, there is no warranty on it.
No irritation at pressure points
Fits comfortably
Several adjustment points
Padding too accessible for chewers
Difficult to get on uncooperative pets
---
4.

Kurgo Tru-Fit Smart Harness
The Kurgo Tru-Fit Smart Harness is a decent choice if you need something big and sturdy for your Corgi. It can do double-duty as a safety belt in the car, too. It has a soft, triangular-shaped front chest piece with a D-ring on the back. It's relatively large and sits close to the pet's head, which some dogs might not like. However, it is well-made with quality materials. The buckle is steel to hold your pet securely.
The harness comes in five sizes with generous ranges for each. Unfortunately, there is only one color choice available. While it seems like it would do the job, we couldn't help but think it was bulky and perhaps too hot to wear on a summer day.
Lifetime warranty
High-quality construction
Five adjustment points
Only one color choice
Heavy chest padding close to the pet's chin
---
5.

Chai's Choice 3M Reflective Dog Harness
The Chai's Choice 3M Reflective Dog Harness is another excellent choice if you need something big and sturdy for your Corgi. The product is well-designed, with padding at the typical pressure points. It has reflective tape for those night-time walks, which we liked. There is also a handle on the top, which was another welcome feature. It has a front O-ring for optimal control.
On the downside, the harness is bulky. Reluctant pets might not like the close-fitting design. However, for the right dog, it is a suitable option. It comes in nine color choices and five sizes. Unfortunately, there is no warranty on the product.
Well-made
Reflective
Handle on top
Expensive
Too bulky for some pets
No warranty
---
6.

Puppia Soft Vest Dog Harness
The Puppia Soft Vest Dog Harness almost looks like a t-shirt at first glance. It is made of polyester with mesh for air circulation. It has a quick-release clip, which makes putting on and taking it off a breeze. There are two D-rings on the back. The construction is well-done. This harness will fit your pet securely if just because of the size of it. Escape artists won't get out of this one.
While it seems comfortable, some dogs might not like something this bulky on their chests and backs. To us, it's more like a fashion item than a functional piece. The harness comes in eight colors and four sizes. It's worth noting that there is a significant gap between the small and medium sizes.
Easy to put on and take off
Well-made
Attractive design
Hot for summer use
Sizing not accurate
---
7.

Blueberry Pet Spring Prints Dog Harness
You'll either love or hate the color choices of the Blueberry Pet Spring Prints Dog Harness. They definitely put this product in the fashion category. The design is also different and not typical of what we see in these items. However, it does keep the pressure off your Corgi's necks if he is a puller. It is made of nylon and polyester so that it is machine washable, too.
The harness has a double D-ring on the back for a secure fit. However, it is not user-friendly, which can make putting it on a reluctant pet difficult. It comes in only two color choices and three sizes. There is also no warranty on it.
Good pressure distribution
Secure attachment
Adjustable
Limited color choices
Lack of padding at shoulders
---
8.

RUFFWEAR 30501 No Pull Dog Harness
The RUFFWEAR 30501-407M No Pull Dog Harness is an excellent choice for the Corgi that pulls a lot. The padding throughout the design will prevent irritation and keep him comfortable with suitable pressure distribution. It has four adjustment points to ensure a decent fit. You can attach a leash either on the front or back.
The harness is well-designed for both the owner and pet. It includes an ID pocket to put your dog's tags, which we appreciated. It's reasonably chew-proof, which is a good thing, given the size of the chest strap. It is bulky, which some pups might not like. If your Corgi slips his leash a lot, you should look for something more secure for him.
Difficult to get on some dogs
Hot in warm weather
Not as secure as some products
---
9.

Rabbitgoo DTCW006L Dog Harness
The Rabbitgoo DTCW006L Dog Harness looks like a secure product that your pet won't remove easily. There are four adjustment points to ensure a decent fit. However, the design is bulky. We think that it is likely uncomfortable in the summer, even with the mesh padding on the chest and back straps. We can see this product fitting some breeds better than others.
The harness is weatherproof, which we liked. It also had reflective stitching. However, we wondered how helpful it is, considering that it's so thin. The product also goes over the dog's head, which we can see as a problem for some pets. It comes in seven colors and four sizes.
Two adjustment points at chest and neck
Weatherproof
Bulky design
Hot in warm weather
Difficult to put on
Not machine washable
---
10.

Voyager Step-In Flex Dog Harness
The Voyager 213-TQ-M Step-In Flex Dog Harness misses the mark as the best product for a Corgi on several scores. While it lacked the bulky straps of some that we reviewed, the design makes it difficult to put on your pet. The padding is on the belly of the dog. For a short-legged breed, it's not the optimal choice. We did like the reflective webbing on the back straps that seem useful, at least.
The harness has two D-rings on the back for a secure attachment to your leash. It comes in four sizes. However, the extra-small one seems big with a 14-inch chest circumference. While the padding is soft, we noted some potential irritation points on the straps.
Affordably priced
Plenty of color choices
Padding on the belly of the dog
Poor design
---
Buyer's Guide: Finding the Best Corgi Harness
Using a harness on your Corgi offers several advantages. If your pup likes to pull on his leash, a harness will give you better control over him. After all, he may have short legs, but he certainly is energetic and athletic enough to keep up with you. You'll likely find that using one may improve his leash manners. It's also an excellent solution if you have a little Houdini on your hands.
Things to consider when buying a harness include:
Material
Style
Clip Type and Position
Other Options
Let's begin our discussion by delving into these features in more detail.
Material
Nylon is a popular choice for a dog harness with good reason. It's affordable with plenty of colors and design choices. It's also lightweight while not compromising on durability. We like the fact that it dries quickly if you two get caught in the rain, or you want to wash it.
You'll also find mesh harnesses. These types often have padding at pressure points, which can make it more comfortable for your Corgi to wear. He may even resist it less. The downside is that it may be hot, especially if it covers large areas of your dog's body.
Another common material is neoprene. Essentially, it is a synthetic rubber. It will help trap your dog's body heat, which makes it a smart choice for winter walks. It is also waterproof. You'll see it on specialty products like doggie life vests.
Style
Harnesses come in all shapes and sizes, each offering varying degrees of control and weight distribution. The standard type fits around your dog's neck and chest with a strap going across his back. They're easy to put on your Corgi. Most are adjustable, too, so that you can get the ideal fit for your pooch. It's an excellent choice for smaller breeds.
A variation of this harness sits at the mid-chest level instead of the neck. It's often called a no-pull type. It's a reasonable option if your dog pulls so hard that he gags or chews on his leash. He'll feel the force in his chest and not his neck. If he tugs at it a lot, it can cause irritation from rubbing against his skin repeatedly. This kind gives you a decent handhold if you need to get a hold of your Corgi.
Other styles include assist harnesses that will allow you to help your dog get on his feet safely without hurting his back. You'll find products that function like safety belts if you take your Corgi on rides in the car frequently.
If you struggle to get a harness on your pup, you might consider getting a step-in type. You'll find them easier to put on your pet than standard ones. If he's a puller, it will keep the pressure off his neck and distribute it to his shoulder and upper chest, instead.
Clip Type and Position
Harnesses typically have either metal or plastic clips or fasteners. The essential thing is that it doesn't rub against your pet's body and cause irritation. You'll also see products with them in different positions. You may see them in the front, back, or both.
Having it in the front allows you to control your Corgi better, which is helpful if he is easily distracted on his walks. The clip in the rear prevents him from pulling and teaches that he's not going to get far if he does. After all, the Corgi is an intelligent dog. He'll make the connection quickly. The double option gives you a choice. However, the rear fastener is the main one.
Other Options
Harnesses are like any other accessory you can buy for your Corgi. That means that you can buy products that make a fashion statement, too. We like the personalized options you can find so that you can put your pet's name and your phone number on it in case he gets loose. You'll also see multi-functional harnesses. We noticed some products that had cooling packs in them for use in warmer weather.
Getting the Right Fit
Of course, the best harness in the world won't help if it doesn't fit your Corgi properly. You must take three measurements: the circumferences of his neck and chest, along with the length of his back. Many products also have a suggested weight, based on the durability and strength of the product. Many of these figures are ranges with recommendations if your pet falls in between sizes.
We recommend looking at the sizing chart for the particular harness you want to buy. The design and style of these products mean that the manufacturers will have various ranges. A medium for one company might not agree with one from another. For the neck measurement, it's also essential to allow for some wiggle room. We suggest 2 inches or two fingers under the collar portion.
Conclusion
As you can see, there are plenty of choices for a harness for your Corgi, whether you're looking for something practical or a fashion statement. The best one boils down to comfort and a secure fit. That is what the PetSafe Easy Walk Dog Harness offers for Corgi owners. The design puts you in control of his walks. The four adjustment points make sure it fits right and stays put. The Red Dingo Classic Dog Harness offers a traditional fit, extended warranty, and a range of color and style options, earning our pick for best value.
---
Featured Image Credit: muhannad alatawi, Pexels