6 Best Heated Cat Beds – 2023 Reviews & Top Picks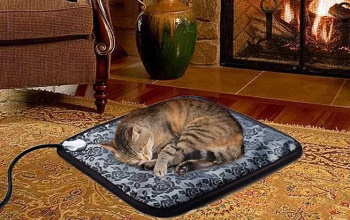 We all want the best for our pets. They are our companions and for many, a member of the family. Heated cat beds appeal to a cat's instinct to find a place to cuddle or a sunny spot to soak in the warmth. It's worth taking your time to purchase the right one. After all, some cats sleep up to 20 hours a day. It pays to invest in a bed that will provide optimal comfort.
Heated beds are also excellent for recovering pets. The warmth encourages circulation, which can help speed the healing process. They're also comfortable, especially on a chilly night. Many manufacturers market these products for senior and arthritic cats. However, we bet that any cat would enjoy snuggling up in one of them.
Our round-up includes detailed reviews that represent the wide range of products available. You'll find beds in a variety of price points, from under $30 to north of $100. We also discuss the essential features to consider when buying a heated cat bed for your pet. We offer advice and tips on making the best choice for your feline companion.
A Quick Comparison of Our 2023 Winners
Rating
Image
Product
Details

Best Overall

K&H Pet Products Heated Cat Bed

Well-constructed
Excellent heat retention
Machine-washable cover
Check Price

Best Value

Homello Pet Heating Cat Pad

Two waterproof layers
Wool fill
Chew-resistant cord
Check Price

Premium Choice

K&H Pet Products Thermo Cat Bed

Third-party-tested for safety
Machine-washable
Soft cover
Check Price

RIOGOO Pet Heating Cat Bed

Comfortable cover
Water-resistant layer
Auto power-off function
Check Price

EACHON Heating Cat Pad

Quick heating
Waterproof and fireproof cover
Affordably priced
Check Price
The 6 Best Heated Cat Beds
1.

K&H Pet Products Thermo Heated Cat Bed — Best Overall
The K&H Pet Products Thermo Heated Cat Bed is an electric bed designed to keep your pet cozy with dual thermostat control. The temperature gets up to 15℉ warmer than the ambient air, which is comparable to the temp increase of sunlight shining through a window. The bed is a bolster type, which offers excellent heat retention. Your kitty will definitely stay warm!
The product comes in one color choice and two sizes. The cover is machine-washable, which you should air-dry to avoid shrinking. The overall design and construction of the bed are top-notch. However, it doesn't have an opening. That's fine for the warmth, but it can also make it difficult for your pet to climb out of the bed because the bolsters are 6 inches high.
All in all, we think this is the overall best heated cat bed you will find this year.
Well-constructed
Excellent heat retention
Machine-washable cover
1-year limited warranty
---
2.

Homello Pet Heating Pad for Cats — Best Value
The Homello Pet Heating Pad for Cat is one of the best heated cat beds for the money. It covers all the bases for safety with a chew-resistant cord, two waterproof layers, and PVC fireproof material. It looks like a product that you might buy for yourself, with a similar type of temperature control. The top layer is Oxford canvas, with two additional wool layers for heat retention.
The pad itself is well-made, although we didn't like the placement of the cord on top of it. It's also a bit short, which might limit where you can put it. However, this bed is still an excellent choice for arthritic pets because they can just lay down on top of it. It comes in one color choice and three sizes. The manufacturer provides a 1-year limited warranty.
Two waterproof layers
Wool fill
Chew-resistant cord
Obtrusive cord and control
Short cord
---
3.

K&H Pet Products Thermo Cat Bed — Premium Choice
The K&H Pet Products Thermo Cat Bed is a deluxe product that will pamper your pet. It is a bolster bed with a three-layer design that retains heat well. The heater is compact and removable for year-round use. We liked that it functions only when your kitty is in the bed. The microfiber cover and pillow are machine-washable, which we always appreciate in these products.
The opening is short enough for senior cats to get in and out of it with no issues. We liked that the manufacturer had the heating element independently tested for safety. It gets up to 102℉, which is the normal temperature for a cat. It comes in only one size and color. It might be a bit large for some pets, at 23 inches long. The electrical cord is also a bit short, at only 5.5 feet long.
Third-party-tested for safety
Machine-washable
Soft cover
1-year limited warranty
---
4.

RIOGOO Pet Heating Cat Bed
The RIOGOO Pet Heating Cat Bed has a seven-layer design that does an excellent job of retaining heat. It is polyester and is quite soft. The thermostat gives you control over a wide temperature range. However, going up to 130℉ seems a bit of overkill for a pet. We liked that you can set an auto shut-off up to 12 hours. That makes the product energy-efficient too.
The product comes in one color and four sizes. It has a chew-resistant cord, which we consider a must-have feature for heated beds. The cover is removable and machine-washable too. Unfortunately, it feels a bit thin, as if it's not going to last for the long haul. This is also a concern if you have cats that like to knead.
Comfortable cover
Water-resistant layer
Auto power-off function
1-year warranty
---
5.

EACHON Heating Pad for Cats
The EACHON Heating Pad for Cats has a six-layer design with a cover that is both waterproof and fireproof. The cord is chew-resistant, with a UL-certified adapter. Unfortunately, there are only two temperature options of either 86℉ or 113℉, with nothing in between. We feel that the latter is a bit too hot for a pet.
The cover is not machine-washable, which is a problem, given its light color. The product comes in only one shade and one size. On the positive side, it is affordable and heats up quickly. The manufacturer also offers a 6-month warranty.
Quick heating
Waterproof and fireproof cover
Affordably priced
Only two temperature options
Not machine-washable
---
6.

Zobire Heated Cat Bed
The Zobire Heated Cat Bed succeeds on one score that many products of this type fail to do: It has a soft, machine-washable cover made of fleece. The pad is also UL-certified for safety. That's a good thing because the cover is not waterproof or water-resistant, while the inner layers are. Curiously, there is no temperature control. When it's plugged in, it heats to a borderline hot temperature of 110℉. The power cord is too short but it is chew-resistant.
The product comes in only one size and color. The latter isn't a deal-breaker because it is a pleasing neutral shade. However, the covering is plastic, which a determined pet could easily chew through, making it a safety risk. Unfortunately, the pad is also thin. It wouldn't offer much comfort in a drafty room, despite the temperature that it can reach.
Soft cover
Machine-washable
Short power cord
Cover not water-resistant
No temperature control
Buyer's Guide: How to Buy the Best Heated Cat Bed
Buying a heated cat bed is different than buying one without this feature. That also means you need to take your time and do more research to make an appropriate purchase. First of all, it costs more, and there are additional components that you must also research. Also, a regular bed probably won't hurt your pet, but one with these additional electrical components might.
That means you have to consider your purchase from two perspectives. One is the comfort and construction of the bed. After all, you want it to last to get optimal ROI. Also, you have to look at it from your cat's view. You want to get a product that your pet will use and fulfill its needs, especially if your kitty is arthritic. Features to consider include:
Size
Style
Materials
Fill
Heat source
Guarantee/warranty
Size
The bed needs to be long enough for your pet to step into it. We all know that cats turn around a bit and groom before they settle down to nap. If you're not sure how long your kitty is, break out the tape measure and find out for sure. We'd also suggest getting their height too. Some models are enclosed, so they need to be high enough to accommodate your cat.
Keep these figures in mind when checking a bed's dimensions. Some products have thick padding on the sides that can cut down on the usable space inside of them. Usually, you'll see how many inches of foam there are in the descriptions because it is one of the main selling points. You can use these figures to gauge how large the bed is to see if it's big enough for your pet.
Style
Beds run the gamut from simple floor pillows to elaborate four-poster styles. Pads make it easy for your pet to step onto it as long as they aren't too thick. If your cat has a tough time walking, these are excellent options. Many models are bolstered, typically on three sides. They are warmer because they can contain the heat better. We suggest looking at the height of the opening to make sure it's not too high for your kitty.
Several models have legs that elevate the bed off the floor. That helps your cat stay warm by keeping them away from drafts. They also tend to look more decorative, making them a suitable addition to a living room. Others have frames that resemble a person's bed, offering the same advantages of heat retention as bolstered products. That can also improve its energy efficiency.
Cats like to hide. One popular style is an enclosed bed. That design makes wise use of the heater and helps make your pet feel more secure with the walls around them. We've seen products in which you can switch between a flat or hooded bed. These are ideal if you live in a four-season climate. You can match the style to the weather for optimal comfort year-round.
Materials
The essential traits of the best heated cat bed are heat retention and comfort. It does little good to buy one if it doesn't stay warm. Of course, a comfortable product is a must-have. The chances are that if it feels soft to you, your pet is going to enjoy it too. You'll find a wide range of options, from faux fur to suede and canvas. Some products are waterproof or at least water-resistant, which always helps.
We prefer beds with removable covers that are machine-washable. There are some that you should only hand wash or spot clean. Just because you can remove it, though, doesn't necessarily mean you can put it in the dryer. Some manufacturers recommend air-drying to prevent shrinking. We put a premium on this feature, given that it can extend the life of the bed.
You'll see beds that include recycled materials so your purchase is an environmentally-friendly one. Of course, the cover type will influence the price. Bear in mind that many synthetic fabrics are quite soft and comfortable and are often more affordable than cotton or wool.
Fill
Many beds include some type of foam, whether it's polyfoam, memory foam, gel, or orthopedic. The industry doesn't have a precise definition for the latter. Its use implies that it's suitable for senior or arthritic pets. Our main criterion is that the bed retains its shape and provides insulation. A specific heated cat bed is a wiser purchase if it can do both.
We've seen many products in which you can't wash the entire bed. That makes the cover material a significant feature. If you can't wash it, you probably won't get the best return on your investment.
Heat Source
Three of the most popular heat sources are self-warming, electric, and external. The first one uses a combination of fill and a Mylar film to reflect the heat for optimal comfort. You'll see these as flat pads and bolstered beds. They are often the most affordable options. Placement of these beds is a vital consideration because it'll take a few minutes before your cat's body heat warms them.
Electrical products typically have a thermostat to control the temperature setting. A cat's normal body temperature is between 101.0-102.5℉. You'll also find products that are essentially just an electric pad to put in an existing bed. They offer an excellent compromise for four-season climates. You can remove the heater during the summer for an all-season choice.
You'll see heated beds with different temperature control options. Some have adjustable settings or a number of set temps. Others have an auto shut-off feature, which we find desirable. On the other end of the spectrum are products that heat with no adjustment available. You simply plug it in when you want heat and unplug it when it's not necessary.
Finding a bed that your cat truly enjoys can be a challenge. Our Hepper Nest Bed features an enticing, portable design that encourages cats to explore and curl up in. Created with a comfy bowl shape to offer maximum support and a self-warming fleece insert, you'll have a hard time getting your cat up from their daily naps. 
Other Features
Beds are no exception when it comes to pet accessories that probably appeal more to the buyer than the cat. You'll find a wide range of colors and patterns. Suffice it to say that they won't matter much to your pet. However, they offer options for matching the bed to your décor.
Safety is a significant concern with products that use electricity. Most manufacturers include chew-resistant cords on their pet beds. However, we suggest paying attention to their construction. Plastic isn't much of a deterrent. We prefer products that have metal coverings over the cord to provide better protection against chewing.
Guarantee/Warranty
Most sellers will at least offer a 30-day money-back guarantee for defects. Some include a warranty. We prefer the latter, as long as the terms and conditions are clear. After all, we think that it's necessary if the bed has an electric heater. Bear in mind that you'll probably have to register the product within a set time from your purchase.
Conclusion
After going through our reviews, our choice for the best product is clear. The K&H Pet Products Thermo Heated Cat Bed is a well-constructed bed that's sure to keep your pet warm. The heat retention provided by the polyfil and orthopedic foam is excellent. The heater and cover are removable, which is always a plus. While it's pricey, it still is a worthwhile investment because of its durability and design.
The Homello Pet Heating Pad for Cat is an electric product with a simple design that makes it easy for pets to use. The layered design retains heat well to keep your kitty toasty warm. While it's not machine-washable, it's simple to clean. It's well-made, even if the power cord is a bit short. The manufacturer provides a 1-year limited warranty on the product.
---