11 Best High Protein Dog Foods – 2023 Reviews & Top Picks


Back in the days of the wild, primal dog, their diets consisted mosalltly of meat. While they are naturally omnivorous, it is no surprise a wholesome diet for our four-legged friends should contain a lot of protein. Some dogs need higher content than others. If you are reading this, chances are you have a pooch looking to put a little more muscle-building pizzazz in their food bowl.
We have handpicked the best high protein recipes on the market. These candid reviews can help you select the tastiest, nutrient-packed bag for your dog with your budget in mind. Take a quick look at our top picks to help your search. We're sure you'll find a fit.

A Quick Comparison of Our Favorites of 2023
Rating
Image
Product
Details

Best Overall

Taste of the Wild High Protein Dog Food

Live probiotics for smooth digestion
All-natural
For all life stages
Check Price

Best Value

Pedigree High Protein Dog Food

25% more protein
No sugars or artificial flavors
Affordable
Check Price

Premium Choice

Ollie Baked Chicken and Carrots

High protein
Whole, healthy ingredients
Plenty of fiber for digestive health
Click Here to Save 50!

Ketona Chicken Recipe Dog Food

46% protein content
All-natural
85% fewer carbohydrates
Check Price

Purina Pro High Protein Dry Dog Food

Weight management
Suitable for pregnant and whelping
Good for seniors
Check Price
The 11 Best High Protein Dog Foods
1.

Taste of the Wild High Protein Dog Food – Best Overall
When it comes to the most innovative and scientifically developed dog foods on the market, Taste of the Wild never disappoints. This recipe has protein ingredients from roasted bison and venison as the primary source. It also has quinoa, millet, and chia seeds for an extra dose.
The food includes proprietary probiotics designed to live in the gastrointestinal tract (GI) for optimal effectiveness. It is easy on the stomach and highly digestible. It's an all-natural selection with no added corn, wheat, or other fillers. The ingredients are globally gathered from trusted and traceable sources.
Taste of the Wild 9669 High Protein dog food is our number one choice in top-notch protein, among other benefits. They are continually staying in tune with a dog's digestive system and promoting products that reflect this. This specific recipe is also for dogs for all life stages.
One big rave to note is that the Taste of the Wild brand was listed in a study by the FDA, linking the brand to canine dilated cardiomyopathy. While this particular recipe was not listed, the brand itself was.
Live probiotics for smooth digestion
All-natural
For all life stages
Exotic meats with ancient grains
No fillers
FDA linked to canine dilated cardiomyopathy
---
2.

Pedigree High Protein Dog Food – Best Value
If you are on a budget, the Pedigree 10171525 High Protein Adult Dry Dog Food is the best high protein dog food for the money. This particular bag is made of red meat, particularly beef and lamb, and has 25% more protein than average.
To top it off, there is no added sugar or artificial flavors. This recipe is for active dogs who need the extra boost in nutrition. If your pet doesn't enjoy the taste of the beef and lamb, they also have a chicken and turkey choice.
This dog food is nearly a third of the price as ouprtr first and has all the crucial components that make a well-balanced diet. The only hang-up here would be if you have a dog with food allergies or sensitivities. Make sure to check out the complete list of ingredients.
25% more protein
No sugars or artificial flavors
Affordable
Not for food-sensitive dogs
---
3.

Ollie's Baked Chicken with Carrots – Premium Choice
Our #3 premium choice high protein dog food pick is Ollie's Baked Chicken with Carrots recipe. If you've not yet heard of the Ollie brand, Ollie is a meal subscription service for dogs that makes only healthy, all-natural dog food recipes. Dog food comes in either fresh (like something you'd whip up in the kitchen) or baked (resembling kibble) textures and is full of good, tasty things your dog will love. And while this is a meal subscription service, it is pricier than other dog food brands, but keeping your pup in top health could be well worth it.
Their Baked Chicken with Carrots recipe packs a whopping 26% crude protein, with most of that protein coming from the real chicken listed as the first ingredient. The rest comes from the whole dried eggs, chicken liver, and chickpeas. Other than the protein-packed ingredients, this recipe also features carrots for a boost of fiber (and to keep eyes healthy), oats for omega fatty acids that keep skin and coats looking great, and sweet potatoes for even more fiber, as well as essential antioxidants and vitamins.
One thing to know is that peas and legumes have been linked to heart health issues in dogs; more research is needed into this link, but because this recipe contains chickpeas and pea flour, it's important to consider whether the risk is worth it.
High protein
Whole, healthy ingredients
Plenty of fiber for digestive health
Pricier than other dog foods
Contains chickpeas and pea flour
---
4.

Ketona Chicken Recipe Dog Food
If you don't mind the steep recurring costs, the Ketona Chicken Recipe Dry Dog Food is another good premium option. It is grain-free, reportedly having 85% less carbohydrate content than other similar brands. It has a stunning 46% protein value.
Instead of being packed with grains to heighten the protein content, it is full of USA farm-raised, non-GMO, antibiotic-free chicken. Ketona prides itself on providing traceable additives so you know you are getting food of the utmost quality.
While this is an excellent selection for a protein-rich, all-natural diet, it may not be for every dog. Based on their age and medical issues, it could be too much for individual digestive systems. However, if you have an active, pregnant, or lactating canine, this could be just what they need.
46% protein content
All-natural
85% fewer carbohydrates
---
5.

Purina Pro High Protein Dry Dog Food
The Purina Pro Plan 381497 High Protein Dry Dog Food is an affordable option that could work into your budget. It is designed to add muscle mass without making your dog gain weight. The first ingredient on the bag is real chicken, along with other proteins.
While it seems to have the necessary nutrients for weight management and higher protein content, it is not a good choice for all dogs. This one uses fillers and is not grain-free. That can be a trigger for many allergies or food sensitivities. So, unfortunately, if your dog suffers, this isn't the right one.
It would be perfect for a senior dog who experiences easy weight gain but is losing muscle mass. This is also great for pets who may be pregnant or whelping.
Weight management
Suitable for pregnant and whelping
Good for seniors
Not grain-free
Not for sensitive dogs
---
6.

Diamond Naturals Dry Dog Food
This Diamond Naturals 9423_30DND Dry Dog Food is a fabulous choice for a high protein diet when your dog needs something hypoallergic as well. It is totally grain-free, made with wild-caught salmon and potato.
It's full of clean ingredients, superfoods, antioxidants, and probiotics. They have no corn, what, or other fillers. It has no artificial flavors or harmful additives.
While it's meant for allergic reactions, some complaints of dry, itchy skin and hot spots came about. Some dogs may also not like the strong smell or taste. Having a pet who has issues with their digestive tracts or skin would benefit from this food the most.
Could cause dry, itchy skin
Strong smell
---
7.

Purina Beneful Adult Dry Dog Food
This Purina Beneful 178001186049 Adult Dry Dog Food is a savory dish with 26% protein content. It has a mixture of dry and tender kibble bites. It has two combination types of meat: beef and chicken– with chicken being the number one ingredient.
It also includes real sweet potatoes and spinach providing natural flavors with no artificial additives. This gives your pet with all the vital nutrients they need while upping the protein. While it does seem to have natural ingredients, the Purina doesn't mention weight control, so be careful of high-calorie content.
This food is recommended for healthy, active adult dogs. If your pet needs a specialized diet or a meal that meets specific requirements, consult with your vet before purchase.
26% of protein content
Dry and tender bites for savory taste and texture
Weight control
Not for specialized diets
Not grain-free
---
8.

Blue Buffalo High Protein Dry Dog Food
The Blue Buffalo 800039 Wilderness High Protein Dry Dog Food is a great consideration for your dog at any life stage. While it meets the nutritional needs of small breeds, you can feed this recipe to puppies, adults, and seniors alike.
It has all red meat with no chicken additives, so if you find your dog is sensitive to those proteins, you won't have to worry. Blue Buffalo has what they refer to as "LifeSource Bits". It is a specific combination of antioxidants, vitamins, and minerals designed by holistic animal nutritionists to create a well-balanced, healthy food.
While it says red meat, do be careful if your pet has a fish allergy. Fish meal is the second ingredient on the bag, but it is not mentioned in the company's description of the food. Having a dog prone to fish related allergies will not benefit from this selection.
LifeSource Bits
For any life stage
Not good for allergies
Only for small breeds
---
9.

Crave High Protein Wet Dog Food
Crave 10166678 High Protein Wet Dog Food is a turkey-based, grain-free diet. It claims to have no chicken by-products, soy protein, or artificial ingredients. It has a hearty aroma that seems to appeal to the canine sensory. It can be used as a standalone food or in combination with dry dog food.
Though Crave makes it a point to say they have no chicken byproduct, don't mistake this as non-chicken dog food. It includes chicken liver and chicken hearts. Therefore, if your dog has a sensitivity to this, you would be better off choosing another option.
Solely wet food is never recommended for a dog with dental problems, as it can cause further buildup or decay. This recipe is not a low-calorie selection, so if you want a food that also has weight management, this won't help you out. It's recommended for healthy adult dogs.
Grain-free
Tasty aroma
Use as standalone or mix with dry kibble
Could trigger food sensitivities
Not low-calorie
Not suitable for dental issues
---
10.

Solid Gold Protein Dry Dog Food
This Solid Gold High Protein Dry Dog Food is for dogs of all breeds and all stages of life, making it an easy transition that you can stick with. The main ingredients are beef, eggs, and peas with an added ocean fish meal. The total protein is 41% in this recipe.
In comparison to their other foods, it does have higher calorie content, but reduced carbohydrates. It still may be suitable for a dog needing weight management if adequately proportioned. It is full of nutrients and live probiotics to aid in digestion.
While it does have one of the highest protein contents on the list, it is not a grain-free or allergy-friendly recipe. If your dog has dietary restrictions, you'll have to pass this one by. If it doesn't end up working out, Solid Gold has a 100% satisfaction guarantee.
41% protein content
Live probiotics
Satisfaction guarantee
Not grain-free
Not allergy-friendly
Has meat byproducts
---
11.

Iams Proactive Health High Protein Dog Food
IAMS PROACTIVE HEALTH High Protein Adult Dry Dog Food is another food on our list that's compatible with all life stages and all breed sizes. This recipe is directly beneficial for high energy, physically active dogs. It has a higher fat content to help your active pup stay at a healthy weight.
It may not be as good for a dog who is not as lively, as it may cause obesity long-term. The leading ingredients are chicken, turkey, and egg for thorough nutrition. It is not a grain-free selection and may cause allergy sensitivities in certain dogs.
It also contains byproducts, which may cause your dog discomfort. Thoroughly read the ingredients to ensure your pet is compatible before purchasing. If so, it is an affordable and overall healthy choice.
For all life stages
For physically active dogs
Can cause obesity
Meat byproducts
Not grain-free
Not allergy-friendly

Buyer's Guide: How to Choose the Best High Protein Dog Food
A dog should indeed have quite a bit of protein in their diet, but there is more to it than that. You will want them to be an ideal candidate first. If you aren't careful, you may feed extremely high calorie or carbohydrate content to a dog that doesn't need it. That can lead to obesity and other health issues that they wouldn't have otherwise
What Types of Dogs Need High Protein Diets?
Protein is a staple in every dog's dietary needs, but only certain ones will require a more abundant dose. So, which dogs are beneficiaries?
Overweight Dogs
Overweight dogs benefit from having a higher protein, lower carbohydrate dog food. This way, they can build up their muscle and bone strength without packing on extra pounds. You must ensure the carb and calorie content is lower, so you aren't doing more harm than good for your chubby buddy.
Weight gain is negative, especially the older they are. It can lead to many other issues such as breathing problems, diabetes, hypertension, liver disease, and osteoarthritis. All these issues may be entirely avoided with appropriate food portions.
Puppies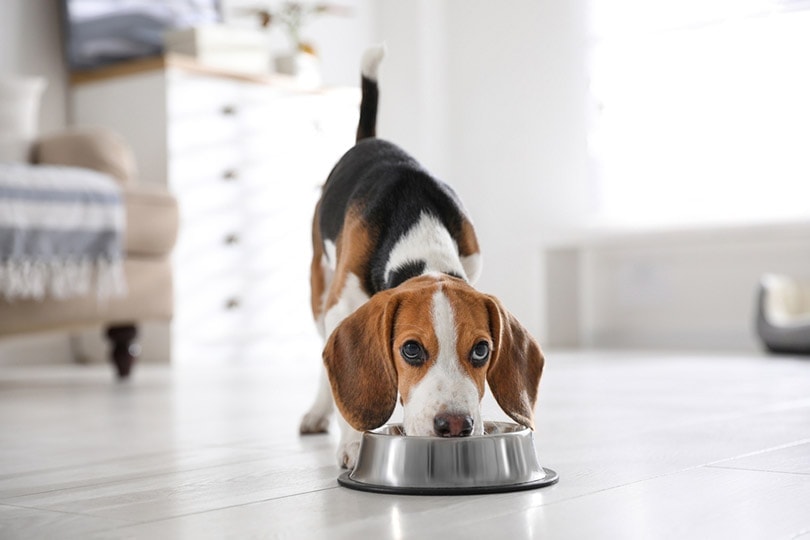 Puppies are developing in every sense of the word. They need proper levels of proteins, carbs, omegas, vitamins and minerals, and calorie content. Proteins help the youngling to develop an appropriate muscle tone, bone mass, and body weight.
Protein also plays a direct role in cell and nerve growth and functionality. It also helps prevent or heal sickness and aid in bodily injury. Until they reach maturity, between one and two years of age, they will thrive with high protein content.
Most puppy chows already have the necessary protein in the food. That is why it is essential to feed your dog based on their current life stage to give them the most balanced nutrition you can.
Seniors
Seniors need adequately high levels of protein to keep their muscles and tissue strong. However, also use caution. A diet too high in protein can do more harm than good. This is primarily dependent on any medical issues they may have.
You need to be aware of high-calorie content causing obesity. These two things can be linked. It will negatively impact the dog and can cause weight gain if the calories aren't evened out.
Athletic Dogs
It's natural for a more active dog to burn a lot more calories. Because they are getting rid of so much access energy, replacing those nutrients is critical. You won't have to worry about high carbohydrate or calorie contents in this situation because they need the extra boost.
Dogs that fit this category are typically working or sporting dogs. They could be K9 police dogs, hunting dogs, or racing dogs. They will need the protein to maintain appropriate body weight and lean muscle mass.
Pregnant or Lactating
Mother dogs can have a litter of just a few and over a dozen puppies. It depends on the breed and the size. Pregnant and nursing mamas need all the extra nutrition they can get. They aren't just eating for two, they are eating for a whole litter.
A mama will need the extra protein, and she will also require a very nutrient-rich diet to replace what she is losing. If you don't ensure a well-balanced diet for her, she will lack and become unhealthy.

Final Verdict
When it comes to the leader in protein, Taste of the Wild 9669 High Protein Dry Dog Food maintains the position. It has nutritious, wholesome grains in addition to real meat. It is appropriate for every life stage, so you won't have to keep switching foods. It also has a reasonable price so that you won't go overboard on spending.
If you want the most cost-effective yet protein-packed choice, Pedigree 10171525 High Protein Adult Dry Dog Food will do the trick. It has a wonderful list of healthy ingredients while not over-charging you to keep your dog's dietary needs met.
Ollie's Baked Chicken and Carrot recipe is great if you want high-quality whole ingredients and quite a bit of protein. It may be slightly pricier than others, but if it meets the requirements, every penny can be justified.  The company is highly regarded for its mission to keep pets their healthiest—and that is important!
This is a wrap on the best high-protein foods. We hope your purchasing experience is a breeze now that we've given you ten top selections to match various needs.