11 Best Kitten Toys – 2023 Reviews & Top Picks
Everyone loves to watch a kitten play. From laser pointers to teaser toys, kittens with their newfound curiosity can be endlessly entertained by toys. Luckily, there are tons of options (inexpensive ones, too) that you can order today from home.  The problem is, which one should you pick? With our kitten toy reviews, you will be able to tell quickly which toy is best for your kitten. Read on to discover all the different kinds of and best kitten toys out there and our best picks for your furball.
A Quick Comparison of Our Winners (2023)
Rating
Image
Product
Details

Best Overall

Hepper Boa Snake Cat Toy

Infused with irresistible catnip
Handmade of safe, natural materials
Features a humorous and interactive design
Check Price

Best Value

Frisco Bird Teaser Cat Toy

Inexpensive
Engages kitten's active play
Comes filled with catnip
Check Price

Premium Choice

Frisco Foldable Crinkle Play Cat Tunnel

Tunnel play for curious cats
Ball on the inside for more fun
Crinkly sound some cats will love
Check Price

Frisco Basic Plush Mice Cat Toy

Lifelike mice encourage cat play
Filled with catnip
Inexpensive
Check Price

Frisco Cat Tracks Butterfly Cat Toy

Non-skid bottom
Very entertaining
Perfect mental and physical stimulation for kittens
Check Price
The 11 Best Kitten Toys
1.

Hepper Boa Snake Cat Toy – Best Overall
| | |
| --- | --- |
| Dimensions: | 4″ X 4″ |
| Material: | Linen, cotton, polyester |
| Catnip?: | Yes |
This handmade Hepper Boa Snake Cat Toy is the perfect companion for any kitten or cat. It doesn't slither around like a real snake, but it does get kitties active due to its soft chewable exterior and intriguing texture. This toy is infused with catnip, making it an irresistible playmate that is easy to toss around and hunt. Made of all-natural materials, you don't have to worry about your furry family member being exposed to chemicals or toxic components that could negatively affect their well-being.
The outer shell is strong to accommodate even the roughest of players. The base of the snake is wider than the ends to provide plenty of chewing and clawing surface for cats of all sizes to enjoy. Even young kittens can enjoy the pliable surface without fear of hurting a tooth or nail.
While this snake is safe for kittens, its tongue can get chewed off, which can pose a choking hazard if your cat tries to eat it. Also, this toy cannot be washed due to being filled with catnip.
All in all, we think this is the overall best kitten toy.
You might have guessed, this is our own product – but we love it so much we just have to share it, and hope you get to own one too!
Handmade of safe, natural materials
Features a humorous and interactive design
Infused with irresistible catnip
The small tongue on the snake can be chewed off
Cannot be washed
---
| | |
| --- | --- |
| Dimensions: | 19.7 x 4.5 x 1.2 inches |
| Material: | Polyester |
| Catnip?: | Yes |
Wand toys are a classic in the kitten toy world, and this Bird Teaser also fits the bill. It's our choice for the best kitten toy for the money. With an 18.5-inch rod and a 22-inch-long string attached to a crinkly bird filled with catnip, your kitten is set for hours of fun. You can hang it in the air or drag it across the floor to provoke your cat's hunting instincts, and he will likely jump and chase the little birdy all over the place.
Unfortunately, sometimes you get what you pay for when you pay so little for a cat toy. Many cat owners have experienced the toy breaking, either with the toy coming off the string or the feathers flying off the bird.
To conclude, we think this is the best toy for kittens for the money.
Inexpensive

Engages kitten's active play

Comes filled with catnip
---
3.

Frisco Foldable Crinkle Play Cat Tunnel – Premium Choice
| | |
| --- | --- |
| Dimensions: | 47 x 11 x 11 inches |
| Material: | Polyester |
| Catnip?: | No |
Cats and kittens love to crawl through tight spaces. This Foldable Crinkle Play Tunnel from Frisco is about 4 feet long, making it perfect for spoiling one kitten or multiple cats in one household. Kitties can crawl through the tunnel and pop up through the hole in the top to jump on unsuspecting "prey." Inside the tunnel, there's a ball hanging from the tunnel's ceiling to add to the fun. When you are done with playtime, the tunnel folds up for easy storage. Or, leave it out for your cat to nap in.
Because the tunnel crinkles, it may scare a timid cat. Evaluate ahead of time if your cat might be scared by the crinkly noises it makes. Also, the tunnel only comes in one color: brown.
Tunnel play for curious cats

Ball on the inside for more fun

Crinkly sound some cats will love
Only comes in one color

Some cats are scared of the sound it makes
---
4.

Frisco Basic Plush Mice Cat Toy
| | |
| --- | --- |
| Dimensions: | 2.5 x 4 x 1.3 inches |
| Material: | Polyester |
| Catnip?: | Yes |
Another classic kitten toy is these Basic Plush Mice that are filled with catnip. Kittens and cats go crazy for these pretend mice, with their polyester outer fabric in a variety of colors, short little tails, and Canadian-grown catnip on the inside. This toy is best for older kittens that are at least 6-8 months old because that is the age that kittens start to grow more interested in catnip. To keep the catnip fresh, store the toys in a cool and dark place after you are done with playtime. You can purchase this toy in a 3 or 5 pack.
Kittens turned their noses up at these mice when they didn't feel there was enough catnip inside the mice. If your cat loves catnip, they may be disappointed with these mice. 
Lifelike mice encourage cat play

Filled with catnip

Inexpensive
---
5.

Frisco Cat Tracks Butterfly Cat Toy
| | |
| --- | --- |
| Dimensions: | 9.8 x 3.5 x 9.8 inches |
| Material: | Plastic |
| Catnip?: | No |
Your kitty will have hours of fun with this tower of fun. There are three levels of spinning balls, each a different color, with two springy butterflies on the top to bat at. When your cat discovers that they can push the balls around, they will spin them around from standing, sitting, laying down, maybe even upside down!
The bottom of the toy has padding to prevent skidding when the play gets going. While this seems like a great toy for kittens and cats alike, most cat experts agree that this toy is probably more interesting for kittens overall. Some people may have a difficult time assembling the toy, too.
Very entertaining
Perfect mental and physical stimulation for kittens
Non-skid bottom
Some assembly required
Not all cats love it
This toy also appears in our list of 10 Best Cat Toys!
---
6.

Frisco Scratch & Roll Scratcher Cat Toy
| | |
| --- | --- |
| Dimensions: | 15 x 2 inches |
| Material: | Plastic and cardboard |
| Catnip?: | Yes |
Those who have kittens who love scratching might be interested in purchasing this toy for their furball. It's a round pad with corrugated cardboard for your kitten to scratch up to their pleasure. Catnip is provided for sprinkling on the cardboard if your kitty needs encouragement to scratch the pad. Not only that, there's a little ball contained around the rim of the toy that spins around for your cat's enjoyment and your entertainment.
Occasionally, like all catnip toys, some cats are just not interested in the toy. Other kittens were able to get the ball out of the toy, so always supervise while in use.
Cats love to scratch it 

Little ball adds more entertainment
The ball can come out at times
---
7.

Frisco Colorful Springs Cat Toy
| | |
| --- | --- |
| Dimensions: | 2.8 x 1.4 x 3.2 inches |
| Material: | Plastic |
| Catnip?: | No |
For some reason, cats and kittens love this spring toy. Even though it looks nothing like something a cat would hunt in the wild, it definitely moves like one! Once your kitty gets used to this toy, all you need to do is give it a little squeeze and your cat will be alert and ready to play. When the spring toy gets batted around, it continues to move, making it a very stimulating toy for your cat. You can spring-load it and shoot it across for your kitty to chase after, too. Plus, it's easy for your cat to pick up with its mouth and carry around.
Some cats will not be interested in this toy. Other, more destructive cats may break through the plastic that it's made of easily.
Springy toy moves like a small animal

Easy for a cat to play with and pick up with its mouth

Inexpensive
Some may not like the plastic material
---
8.

Frisco 2-in-1 Laser & LED Light Cat Toy
| | |
| --- | --- |
| Dimensions: | 5.5 x .5 inches |
| Material: | Plastic, aluminum |
| Catnip?: | No |
Kittens are perplexed and endlessly entertained by this little laser light. Just shine it onto the floor or wall near your cat and he will try to chase it all over. This little gadget has 3 modes, which include a pulse, strobe, and steady mode. Plus, it's a flashlight. There's no need to wait to use this toy when you get it: it comes with batteries and replacement batteries. Once you introduce this toy and your kitten hears the jingle of the keychain, she will come running for her next exercise/play session.
Many customers loved this product, but some found the on/off button annoying to work with. It doesn't click on and click off, but you have to press it down to keep it on. Others found that the batteries did not last long enough.
Easy way to get kitty exercised

3 modes

Extra batteries
On/off function is inconvenient

Batteries run out quickly
---
9.

Frisco Refillable Catnip Cat Toy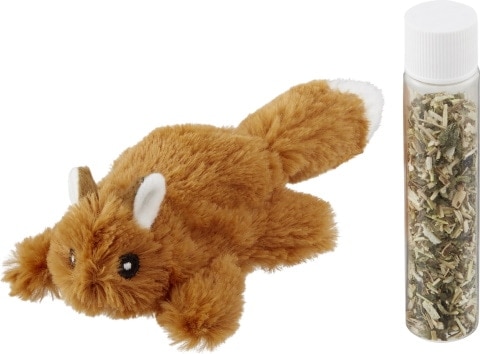 | | |
| --- | --- |
| Dimensions: | 6.6 x 3.5 x 1.8 inches |
| Material: | Polyester |
| Catnip?: | Yes |
This little squirrel is about to be your kitty's favorite new toy. Whether your kitten loves catnip or doesn't care for it yet, the Refillable Catnip toy can suit any needs. Because it's refillable, you can take all the catnip out or even refill it with more with the vial of catnip that's provided. Once it's ratty and dirty, just take the catnip out and throw it in the washing machine for a cycle.
Pay attention to the dimensions of the product, as some people expected a much larger product when they purchased it. Also, some people are convinced the catnip is not high-quality enough, as some cats do not really care for it.
Perfect size for kittens

Refillable catnip pouch

Comes with a vial of catnip
Smaller than some expected

Catnip of questionable quality
Related Read: 10 Best Catnip Toys for Cats – Reviews & Top Picks
---
| | |
| --- | --- |
| Dimensions: | 16.75 x 0.3 x 0.3 inches  |
| Material: | Plastic and polyester |
| Catnip?: | No |
Frisco is coming at you again with another teaser cat toy. The design is super simple; just a plastic stick with a piece of fabric attached to it, however, cats love this thing. You can twirl it up high or squiggle it across the floor for chasing. Some cats love this toy so much that they carry it to their owners for playtime, and some even sleep with it!
The fabric on the ribbon is not durable enough for some kitten's play, and it can definitely be chewed up or torn apart. Also, be sure to watch your cat while playing with this toy, as it is a strangling hazard.
Inexpensive

Simple toy that offers lots of entertainment
Strangling hazard

Material might not stand up to hard play
---
11.

Frisco Step-In Cat Scratcher Toy with Catnip
| | |
| --- | --- |
| Dimensions: | 15 x 13 x 4.5 inches |
| Material: | Cardboard and recycled materials |
| Catnip?: | Yes |
It's an instinct for cats and kittens to lay in boxes, and this toy takes advantage of that trait. Cats need to scratch things to take care of their nails. If your kitten is not too interested in the scratcher yet, you can sprinkle some catnip in it, which is included with the toy. If your kitten is scratching things that he shouldn't, consider buying this nice box to keep you both happy.
Unfortunately, no cardboard refills are available for this product right now. The bottom may or may not have a bottom on it, so sprinkling catnip in it may result in a mess. You should probably place something on the bottom of the box so it doesn't make a mess for you.
Box shape that kittens love to lounge in

Scratching surface
No replacement scratchers

Catnip can make a mess
Buyer's Guide: How to Choose the Best Kitten Toys
While kittens don't necessarily need toys to survive, we love to spoil our young cats with new toys that they will love. If you didn't find what you were looking for with our list of best kitten toys, maybe our buyer's guide for kitten toys will help you find what you're looking for.
Here are some factors you will want to keep in mind in your continued search for kitten toys.
Price
Most kitten toys are pretty inexpensive, so you won't have to worry about paying a lot for one (or several). The less you pay, generally, the lower quality of the toy in structure and materials. This may not always be the case, but if you want something that's more guaranteed to last a long time, you might want to try to find something that costs more.
Durability
Cats and kittens can be hard on toys. If you got a brand-new kitten, you might not yet know what their playstyle is. However, once they get bigger, you will be able to tell. Buy a sturdier toy for an aggressive-play cat. If your cat is more likely to gently paw at toys, she might be able to handle something a little less tough.
Mental and Physical Stimulation
Some cats are just lazy and want to eat a lot and lay around all the time. That's fine with us until it begins to affect their weight. When left alone all day, other cats might wreak havoc on your house out of boredom and need something else to keep them busy. Both of these problems can be solved with cat and kitten toys. Pick toys that you can either manipulate and play with your kitten, and/or some toys they can entertain themselves with. That way, your kitten can stay out of trouble and remain healthy.
Supervision
Always make it a point to supervise your cat when they are playing with toys, especially teaser toys with long strings. That's because cats can end up hurting themselves during play if we are not there to stop it. Small objects can be broken off and cause choking hazards, or cats can strangle themselves with long pieces of rope or fabric.
You might also be interested in: 10 Best Kitten Treats – Reviews & Top Picks
Conclusion
We hope our best kitten toy reviews have helped you decide on your next kitten toy. As a refresher, we will review our top picks. The Hepper Boa Snake Cat Toy won our hearts for the best overall pick with its high entertainment value. If you're looking for something a little less expensive, try the Frisco Bird Teaser, which was our pick for the best value.
---
Featured Image Credit: Chewy