5 Best Cat Litters For Kittens – 2023 Top Picks & Reviews

We all want our kittens to have the best, but most of us will do plenty of research before putting down our hard-earned money. When it comes to a suitable litter for kittens, it can be difficult to find good information, and there are so many choices that it can be hard to narrow down the list. We've chosen five popular brands of kitty litter to review for you so you can see the differences between them. We'll tell you the pros and cons of each one so you can see the difference between them. We've also included a short buyer's guide where we discuss what makes a good kitten litter so you will know what to look for if you continue to shop.
Kittens are naturally curious; they explore their environment, and just like toddlers do, they like to have a taste of everything. After all, kittens are just discovering food sources other than the mother's milk they have relied on for survival and nourishment. During these critical times of a kitten's development, it is crucial to take some precautions and that includes the litter you choose. But don't worry, we have done the hard part of the research for you, join us while we look at the material, dust, clumping, cleaning, and more to help you make an informed purchase.
A Glance at Our Favorites in 2023
Rating
Image
Product
Details

Best Overall

NonScents Non-Clumping Corn Cat Litter

All-natural
Dust-free
Biodegradable
Check Price

Best Value

CatSpot Litter Coconut Cat Litter

All-natural coconut fiber
No chemicals
Dust-free
Check Price

Premium Choice

Feline Pine Cat Litter

Natural pine scent
Absorbs quickly
Low dust
Check Price

Naturally Fresh Walnut Cat Litter

Biodegradable
3 times more absorbent than clay
Natural walnut shells
Check Price

Purina Tidy Cats Non-Clumping Cat Litter

Low tracking formula
Multiple sizes
Multiple sizes
Check Price
The 5 Best Litters for Kittens
1.

NonScents Non-Clumping Corn Cob Cat Litter Odor Control – Best Overall

NonScents Non-Clumping Natural Corn Cob Cat Litter Odor Control is an all-natural product based on corn cob as a litter. This brand is 100% biodegradable and creates no dust. There are no added fragrances or colors, and the non-clumping litter is extremely absorbent, making it a very safe alternative for your kitten.
While we were using NonScents, we didn't like the strange odor it has, and after a few days, the box began to have an odor of urine despite our efforts to keep mixing it. We also had a few cats that refused to use this litter no matter how much we tried to coax them.
Fragrance-free
Dust-free
Biodegradable
Smells strange
Some cats wouldn't use it
---
2.

CatSpot Litter, 100% Coconut Cat Litter – Best Value
CatSpot Litter, 100% Coconut Cat Litter, is our pick as the best litter for kittens for the money. It uses an all-natural coconut fiber to create a highly absorbent non-clumping litter that absorbs urine nearly instantly and is four times as absorbent as clay. It will dry up feces as well, reducing odors significantly over clay. There are no chemicals, fragrances, or dyes that could cause health problems for your cat or cause them to avoid it. There is very little dust when you are pouring it from the bag and when the cats are digging, and it's extremely lightweight, weighing almost nothing.
The downside to CatSpot Litter, 100% Coconut Cat Litter, is that it can be messy. It's so lightweight that it is easy to dump too much out of the bag. Even though this brand absorbs moisture extremely well, urine can build up on the bottom of the litter box and begin to smell bad. Stirring will help the coconut absorb the urine and prevent smells.
4 times as absorbent as clay
All-natural coconut fiber
No chemicals
Lightweight
Dust-free
---
3.

Feline Pine Cat Litter – Premium Choice
Feline Pine Cat Litter is our premium choice litter, and as you may have guessed from the name, it uses all-natural pine wood to do the work. It's highly absorbent and will quickly soak up urine, locking odors inside. It contains no artificial colors or fragrances, but the natural will gives off a pleasant pine scent that helps mask litter box odor. This lightweight litter is also easy to pour, and most of our cats enjoyed using it.
The only real downside to Feline Pine Cat Litter is that if you forget to stir it, the urine can build up on the bottom, creating a nasty odor. So it requires you to get into the habit of stirring it to keep it fresh.
To conclude, if you're looking for premium picks, we think this is the best cat litter for kittens this year.
Easy to pour
Natural pine scent
Absorbs quickly
All-natural ingredients
Low dust
---
4.

Naturally Fresh Walnut-Based Pellet Cat Litter

Naturally Fresh Walnut-Based Pellet Non-Clumping Cat Litter is another alternative to clay that uses natural walnut shells as an absorbent litter. It creates less dust than most clays and is low tracking, with only an occasional footprint leading away from the litter box. It's lightweight and is easy to dump into the box.
The primary downside to using Naturally Fresh is that the walnuts are quite dark in color, and it can be difficult to see and remove the feces. It also makes it hard to see the urine, so you might not see that it's time to mix it up. While we agree there is less dust than with most clay litters, there is still a lot of dust when hanging the litter or when the cat is digging.
3 times more absorbent than clay
Low tracking
Natural walnut shells
---
5.

 Purina Tidy Cats Non-Clumping Cat Litter – Best Value Non-Clumping
Purina Tidy Cats Non-Clumping Cat Litter is another clay-based formula that does not produce much dust, especially for a clay-based litter. Purina designed it to be low tracking, and while we did see pawprints leading away from the box, we felt it didn't track as bad as some other brands making similar claims. One of the nicest things about this litter is that it's available in multiple sizes allowing you to purchase from 10-40 pounds of litter at a time.
The downside we experienced while using Purina Tidy Cats was that we didn't feel that it controlled odor as well as other brands on this list, and it's non-clumping, so you need to keep stirring it if you want better odor control. We also felt that the packaging is flimsy on this brand, and it often rips where it can make a mess before you finish the bag.
Low tracking formula
Multiple sizes
Low dust
It doesn't control odor well
Flimsy packaging

Buyer's Guide: How to Find the Best Litter for Kittens
Let's look at a few things you should consider before purchasing your next litter.
Clumping versus Non-Clumping
When choosing a new litter for kittens, one of the first things you will need to consider is their safety. Clumping litters are convenient because they are easier to scoop out if you are a beginner and tend to control odors better. However, they represent a hazard for a growing kitten and it is advised to stick to non-clumping and natural materials.  Growing kittens are always learning, they are learning about their environment, there are learning about food sources, they are learning to play, and they are learning to use the litter box. Learning to use the litter box to do their business also involves learning that litter is not food. During this critical period on a kitten's development, they go from relying on their mother for food, grooming, and even to stimulating them to defecate to having to do it all on their own. So, the chances of kittens ingesting litter either out of curiosity, to learn if it is a food source or not, or accidentally while grooming their paws are very high. For this reason, it is better to stick to all-natural materials that are chemical-free and relatively safe if ingested. The big issue with kittens and clumping litter is that they have very narrow intestines are at a greater risk of blockage if they ingest clumping litter. The safest way to go about this is to assume that kittens will ingest at least some litter and to stay clear of any clumping, artificially fragranced, too dusty, silica, or any chemical that may harm your kitten.
If you prefer clumping litter, it is best to wait until the kittens have a well-stablished litter knowledge, they know food from non-food and have grown in size, this is until they are at least 16 weeks old.
As the name suggests, clumping litter is a product that absorbs moisture and holds it forming a clump. You can scoop out these clumps easily with your pooper scooper and place them in the trash. The downside to clumping litter is that it is usually dustier. Many clay litters are clumping, and there are a few new brands of litter using types of grass to create a clumping alternative to clay. Clumping litter is not recommended for growing kittens unless you have time to always observe them and make sure they do not ingest it.
What is a Non-Clumping Litter?
Non-clumping litter, as the name suggests, does not clump when it contacts water. Instead, it tries to absorb the moisture quickly, which helps to trap and lock in odor. Many of the new modern-style litters on this list are non-clumping, and they can work quite well. Corn, crystal, walnut shell, pinewood, and more are all non-clumping litter types. The downside to non-clumping litters is that you need to stir them frequently to get as much surface area of the litter contacting the urine as possible for maximum absorption. If you don't stir it frequently, the urine will drop to the bottom of the pan, where it can create a bad odor. Most people who complain about these litters, including us, don't mix it frequently enough to absorb all of the urine properly. However, most non-clumping litters are kitten safe and the constant stirring is well worth it. We recommend sticking to all-natural and chemical-free materials.
Types of Litter
Corncob is a great choice for litter because it's highly absorbent and soft. It's also easy to find in most pet stores and is usually reasonably priced.
Coconut fiber is another excellent non-clumping litter, and it's among the most absorbent of any on this list. It's extremely lightweight, so it's easy to jump into the litter box and easy to store until you need it because you don't need to lug around large bags.
Pinewood can be a great choice of substrate for many people, especially someone with an odor control problem. While you will still need to stir your pinewood frequently, it has a pleasant smell of Christmas trees that you might enjoy and will help mask the odors from your litter box.
Walnut shells are a great low-cost alternative to clay that is absorbent and lightweight. These crushed shells are often softer than many other litter types, but walnut shells can also be quite sharp and could cut or injure your sensitive kitten's paws as it digs in the litter box to cover its business.
Clay is by far the most popular type of litter that you can find, and while kittens have been using it since the beginning, many people feel that it is too dusty for a kitten whose nose is so close to the surface. Inhaling too much dust can lead to breathing problems. Clay also gets muddy when it's wet and can stick to your cat's feet, allowing your kitten to track dirt through your home.
Crystal litter is becoming more and more popular and is a highly absorbent silica gel. This product works quickly to absorb moisture, locking in odor. It also dries out the feces reducing odor even more. Unfortunately, we found that crystal litter can have as much dust as clay, and the crystal dust is silica gel, so we recommend avoiding crystal at least until the cat is an adult.
There are several types of grass litters on our list of reviews, and they usually clump for easy clean-up. There is also a good chance you can flush grass litter, making litter box maintenance even easier, but you will need to check your packaging to make sure.
What Makes a Good Kitten Litter?
For curious growing kittens, a non-clumping all-natural litter is the best option. Kittens are very small with tiny airways and fresh lungs, so we highly recommend choosing a litter that doesn't create much dust. This litter shouldn't contain any chemical fragrances or artificial colorings that might cause an unpleasant reaction in your pet. Avoid litters that get muddy when wet to avoid tracking it into your home. We also recommend avoiding litter that is difficult for your cat to dig in. Digging is normal, and the kitten might look for another spot if it can't dig.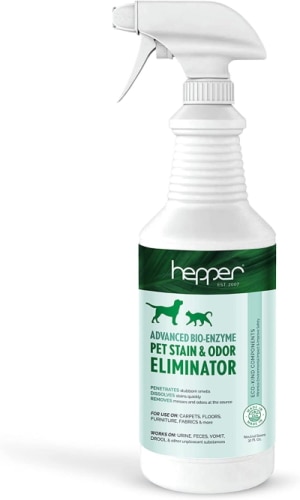 Even after the litter is changed you may be left with smells and stains around the house – but with the Hepper Advanced Bio-Enzyme Pet Stain & Odor Eliminator Spray, you can take care of it all. It's our product, and we love it so much, we just have to share it! It permanently removes the very worst smells and stains, and we offer a 100% satisfaction guarantee! Click here to get yourself a bottle.
Conclusion
When choosing the best kitten litter, we highly recommend our pick for the best overall. NonScents Non-Clumping Natural Corn Cob Cat Litter Odor Control is kitten safe and contains no artificial colors or fragrance. It uses all-natural corn cob that is soft, biodegradable, and absorbent. Another smart choice is our pick as the best value. CatSpot Litter, 100% Coconut Cat Litter is extremely absorbent and is one of the most effective litters for eliminating moisture. It's extremely lightweight, but our cats were able to keep most of it in the box, and it didn't track around our home, making it our favorite non-clumping brand.
We hope you have enjoyed reading over these reviews and found a few litters you would like to try out in your home. If we have helped you improve your kitten's bathroom arrangements, please share these five best litters for kittens on Facebook and Twitter.
See also: 9 Types Of Cat Litter: What Are The Differences? (With Pictures)
---
Featured Image Credit: Africa Studio, Shuttertsock