Are you looking for the best litter for kittens? Having trouble training your young kitties into using the litter box?
No matter how much your kittens look like their mom and dad, these youngsters have quite different litter needs from their more mature cat parents. These little felines can be incredibly curious and extremely playful, so, picking the most attractive as well as the safest cat litter for kittens can be a little tricky.
Nevertheless, we have come to find out which product deserves to be entitled as the best cat litter for kittens right now. Guess what we've found? To find out what makes it the topmost choice against other kitten litters, read our series of reviews below.
Excited to dig into the reviews? Well, first of all, we'd like to lay down some foundation so we could breeze through our contenders for the best cat litter for kittens below. We believe that it's important to familiarize ourselves with the qualities of an excellent kitten litter before attempting to compare our options.

Best Cat Litter For Kittens Comparison Chart in 2021
Rating
Image
Product
Details

SmartCat All Natural Clumping Litter

99% dust-free
Rock-hard clumping
Made of 100% natural grasses
Check Latest Price

CatSpot Litter

Flushable
Biodegradable
Made of 100% coconut shells
Check Latest Price

100% Coconut Cat Litter

Absorbs urine naturally
Safe for cats at any age
Made from 100% recycled pine
Check Latest Price

Feline Pine Cat Litter

Lightweight
Consistent clumping action
Contains BioChar
which fights off odors
Check Latest Price

OurPets Switchgrass Natural Cat Litter with Biochar

Hard-clumping
Low tracking formula
No added fragrance
deodorants
or chemicals
Check Latest Price

Precious Cat Dr. Elsey's Kitten Attract Scoopable Cat Litter

Made of 100% coconut shells
Reviews of 9 Best Kitten Litters
We've listed five litter products here that could work pretty well with your kitties. Garnering a high cat satisfaction rate as well as a high owner recommendation, each of these litter products could offer a tailored solution to your cat parent problems. Check out each one so you would know what kind of kitty litter is best for kittens.
1. SmartCat All Natural Clumping Litter
Overview:
Available for 3 size: 5lb, 10lb and 20lb bag
Made of 100% natural grasses grown in the USA
Contains no silica or clay dust
99% dust-free
Provides a healthier and cleaner litter box environment for your kitties
Great training for kittens
What we love most about this product is the fact that it's all-natural and quick clumping at the same time. It's quite the combination we've been looking for easy to scoop as it clumps within just a few minutes and yet it's still safe for our little kittens to use.
Plus, cats love it quite a lot. In fact, it could also be a great candidate for being the best litter for kittens training. With a creamy sand texture and a visually pleasing and unique cream color, this litter is for your kittens to fall in love with.
As for value for money, we think you'll really have a lot of savings by using this kitten litter. It's really long-lasting. In fact, one pack of 20 lbs can already last up to 3 months for one kitten.
As we've already mentioned above, it's all-natural and made from grass. So, it's actually biodegradable and at the same time hypoallergenic for your kitties. Plus, it has no added fragrance, chemicals, or dyes, which means it's really among the safest cat litters for young kittens.
Now, you may have taken note of our point above about clumping litters not being good for kittens at 3 months of age. We'd say it's helpful to be cautious.
Also, in terms of safety, it's better to err on the side of safety than on all the other sides. Of course, when your kitty has gone past that age of litter eating, then this SmartCat All-Natural Clumping Litter should be super safe for your young felines to use.
With an excellent clumping technology that "out-clumps" even clay litter, this SmartCat litter creates rock-hard clumps that don't break even when smashed. That allows you to enjoy a hassle-free scooping experience with no crumbly and smelly clumps to deal with.
Also, your kitty would love the clean finish, he'll feel pretty confident about leaving his box mess-free and would be attracted to use it properly every day.
This SmartCat litter, by the way, weighs 1/2 the weight of traditional clay clumping litters. So, we recommend using a high-sided litter box as the litter might get kicked out of the box easily. Now, despite being light in weight, this litter is actually strong in performance as you might have witnessed, or have just witnessed in the video above.
Another thing we appreciate about this SmartCat litter is that it's flushable, and that's because of its biodegradability. Just keep in mind that there are regulations about litter flushing in some localities.
Anyway, in case you're flushing this litter, just do it in small batches.
Easy To Clean
Since this litter is clumping, scooping and cleaning the soiled litter should not be a problem.
Maintain 3" to 4" of litter in the box
Scoop the clumps daily (but after 20 minutes to allow litter to set and clump)
If you let the litter dry properly, the litter clump will "pull away" from the sides of the box
Pros
Made of 100% natural grasses
Biodegradable
Flushable
99% dust-free
Has a creamy sand texture
No added fragrance, dyes, and chemicals
Rock-hard clumping
Lightweight
Cons
Can attract bugs
Needs to be locked in a tight container
Tracks a little bit
---
2. CatSpot Litter, 100% Coconut Cat Litter
Overview:
Available for 2 sizes: 2 bags and 3 bags
Made of 100% coconut shells
No silica or clay dust
99% dust-free
Excellent for baby kittens at any ages
Would you like to explore other biodegradable kitten litter options and this time, in the non-clumping category? If so, you might want to try this biodegradable and flushable CatSpot Litter. It's made from 100% coconut shells, so it has no harmful allergens or chemicals in the mix.
Containing no silica or clay dust that could harm your kitty's lungs, this litter is most likely the strongest contender for being the best non-clumping cat litter for kittens.
In fact, many cat owners would say this litter is excellent for baby kittens as it's also guaranteed to be suitable and safe for cats "at any age".
Being hypoallergenic, it's far from triggering kitten illnesses. It's really great because it has no added chemicals and no harmful toxins. And, being non-clumping, it does not contain the nasty chemicals that clumping litters do. So, it's also far from causing your kitty an upset stomach in case he ingests some of the litter by accident.
Just a trivia here: this non-clumping CatSpot Litter is also great for ferrets, dogs, rabbits, rats, or any other pets.
This CatSpot Litter is unscented, i.e., it has an all-natural smell with no added fragrance, so it would be least likely for your kitty to back off from using the litter. In fact, it could work just excellently in attracting the kitten into using the litter box appropriately.
If you're wondering how a non-clumping litter can pull off urine absorption, here it goes. Coconut can hold as much as "560% of its weight in liquid". So, this means the litter box can stay clean and dry. Take note that one, 5-lb bag of CatSpot has the same absorbency as 20 lbs. of clay litter.
Because of its nature, this coconut litter can be a little dusty, although coconut dust is non-toxic and is therefore still cleaner compared to the litter granules from other formulations.
Also, while it doesn't stick to cat paws, it can track a bit around the litter box. Finally, it can be a little messy because it's so lightweight.
As we've been saying, this CatSpot 100% Coconut Litter is non-clumping. From the name itself, it doesn't form clumps upon contact with urine. Now, won't that be a problem? Well, not really, since coconut's highly absorbent nature makes it super effective in handling your kitty's pee.
All this means, aside from being super safe for the youngest kittens is that it's non-scoopable and you'll have to clean it differently.
Easy To Clean 
Maintaining this CatSpot litter is not a problem at all.
Fill a clean litter box with 1.5 to 2 inches of litter
Once you've removed the solids, you have to stir the litter thoroughly so that the urine is spread through the coconut shell granules
Every 15 days, you have to dispose of the whole used litter and start fresh with a clean box and a clean batch
Remove the solids daily (or more often) to keep the box fresh – depending on how often your kitty visits the litter box
Use it as a yard soil amendment or you can just throw it properly into the trash bin as usual
Pros
Made from 100% coconut shells
Biodegradable
Flushable
No harmful chemicals or allergens
No silica or clay dust
Suitable for kittens at any age
Unscented has an all-natural smell
Can hold 5x its weight in liquid
Lightweight
Cons
Can attract insects or spiders
Can be a little dusty
Can track a little bit
---
3. Feline Pine Cat Litter
If your kitten isn't that fond of coconut litter, then you may consider the Feline Pine Non-Clumping Cat Litter. Made from 100% pine, this litter contains no harsh chemicals, so it's great and safe for cats at any age.
It also keeps the dust to a minimum to prevent allergies due to dust exposure, keeping you and your cat asthma-free.
What we really appreciate about Feline Pine is that it doesn't cut down new trees just to create the litter pellets. They're recycled from lumber mill byproducts, i.e., sawdust, and then compressed into tiny pellets. That's quite eco-friendly.
Also, we could say this litter is back-friendly, as it's just lightweight and therefore easy to carry. Loved by many satisfied cat owners, this product is also a good contender for being the best non-clumping litter for kittens.
When it comes to kitten safety, the Feline Pine litter has its share of convincing offers — no added harsh chemicals, no synthetic fragrances, and no added corn and wheat, so it's really hypoallergenic.
Plus, it doesn't bother your kitty about any messy cloud of dust and its non-clumping. So, there's no real danger here about choosing the Feline Pine litter for your kittens to use.
Even this litter's odor control mechanism is based on the natural odor-fighting power of 100% natural pine — there's no need for added scents here. Those tiny kitten nostrils would be satisfied with how the pine pellets absorb urine and as well as its corresponding odors.
This Feline Pine litter works just as we've described pine litter products in general during our discussion on the best cat litter for odor control.
Just as we've mentioned a second ago, pine litter pellets are great at absorbing urine. The pellets, act like tiny sponges that get rid of your kitten's pee, just as nature designed it to. It's this absorption ability that makes it efficient for odor and mess control.
Concerned about the costs? Fascinatingly, the Feline Pine Litter offers great value for money. For one cat, a 40-lb bag of litter can last up to 3 months!
Easy To Clean
One reason why this litter is long-lasting is that it requires a lower minimum litter depth at the box than most products.
Pour 1 inch of Feline Pine into the box to get started
Do the usual daily scooping and disposing of the solids
To maintain freshness, just shake the box a little and you would see the remaining intact pellets on top, while the rest of the disintegrated sawdust goes right into the bottom of the box
So, when should you change the entire litter box? The answer is: as soon as you see that most of the pellets have already turned into sawdust. Easy to remember, right?
Pros
Made from 100% recycled pine
Eco-friendly
No harsh chemicals and synthetic fragrances
Hypoallergenic
Safe for cats at any age
Lightweight
Absorbs urine naturally
---
4. OurPets Switchgrass Natural Cat Litter with Biochar
Now here's another grass litter to contend with the first kitty litter we've reviewed above. Introducing OurPets Switchgrass Natural Cat Litter with Biochar.
Like the SmartCat All-Natural Litter, this litter from OurPets is made of natural grass and is also biodegradable, lightweight, and clumping. Hence, we can say that the two can have a one-on-one fight for being the best clumping cat litter for kittens.
One advantage of this OurPets litter is that it has BioChar, a sustainable and odor-fighting type of activated charcoal. Plus, the litter's base ingredient is switchgrass, a kind of natural grass that's hardy and does not require the use of pesticides and fertilizers during growth.
So, we could say that this litter is quite harmless for cats of any age to use.
Another thing that makes this product unique is its special, natural coating around the pellets. Thus, it produces only minimal dust and saves your kitty and yourself from the troubles of allergies. No wonder many cats and cat owners alike are highly satisfied!
We believe we've already covered a lot of reasons why this OurPets litter is also safe for kittens. To make it even clearer, though, we'll reiterate the fact that no pesticides were used during the growth of this litter's base component — the switchgrass.
Moreover, it doesn't have any added chemicals that could be toxic to baby kittens. There are no synthetic fragrances, even. So, both your sensitive sense of smell and that of your kitty are safe in here.
You might as well say this could be the best cat litter for indoor kittens as the ingredients work together to keep the home clean and fresh. Furthermore, the OurPets Switchgrass Litter's low dust formula promises a dust-free environment for everyone in the house.
If you've been avidly reading previous reviews, you would have been familiar with how activated carbon helps to control nasty odors from our kitties' poop and pee.
BioChar traps and holds the waste odors within the pellets. What results are high moisture and odor absorption that could prove trustworthy for a mess-free litter box experience?
Do you think only clay-based litters can pull off a tight clumping action? Think again and consider how this Switchgrass Natural Cat Litter can exhibit a strong and consistent clumping action.
Thanks to the synergy of its two major components: Switchgrass and BioChar, scooping the clumps could turn up to be an effortless feat.
Like most kitty litters, the basic instruction for using this OurPets product involves an initial filling of the litter box with 3 inches of litter.
As the kittens use the box, just do a dutiful daily scooping of the clumps as well as solid waste
There's not a specific period here for changing the entire litter, but you can do so every 2 weeks max
Store the litter in a cool, dry place to avoid unnecessary clumping with the spilled water
In case you have pregnant women around the house, be sure to remind them to exercise caution and if possible, avoid contact with any soiled litter as well as cat feces.
Pros
Made of natural grass
Biodegradable
Lightweight
Clumping
Contains BioChar, which fights off odors
Consistent clumping action
---
5. Precious Cat Dr. Elsey's Kitten Attract Scoopable
Being one of the more famous brands, Dr. Elsey's would like to present the third contender here for being the best clumping cat litter for kittens. It's the Precious Cat Kitten Attract Scoopable Cat Litter.
What sets it apart from the first two clumping cat litters in this list is the fact that it's non-biodegradable. And, that's basically because of its sodium bentonite clay component. Hence, cat owners could testify how hard clumping this litter is.
Quite surprisingly though, this litter has no added fragrance, deodorants, or chemicals — just like the first four litters we've reviewed here. It also has a low dust formula, by the way, which is something we appreciate noting that this is a clumping clay litter.
But, what really makes this Kitten Attract litter is explained right in its very name — it has a "kitten-specific natural herbal attractant" that draws kittens toward the litter box out of curiosity. So, if you're still training and dealing with playful kittens, this litter can be the real deal!
Allow us to expound on what we've just said about this litter attractant. The herbal ingredient that Dr. Elsey's litter contains proves great for drawing those naughty, litter box avoiders. So, this might actually be the best cat litter for training kittens.
Moreover, this Kitten Attract Litter boasts of having the ideal granule size and texture suited for our kittens' tender paws. Plus, its low tracking formula eliminates problems concerning paw-sticking litter granules!
No added chemicals and yet this cat litter can offer superior odor control — thanks to its superb clumping mechanism. Because of its efficiency at attacking odors, this Kitten Attract litter could also be a great candidate for being the best cat litter for multiple kittens.
So, how long does this litter last? Well, just about the average of most long-lasting litters. You can use a 20-lb pack for as long as 1.5 months if you have only one kitten.
Easy To Clean 
Cleaning up with this Kitten Attract litter is pretty straightforward.
Fill a clean, dry litter box with 3 to 4 inches of Dr. Elsey's litter
Once your kitty starts using it, don't forget to scoop the waste matter twice daily
Refill the box with fresh litter as necessary or more specifically, with enough litter to maintain the initial depth
Once a month, throw the entire box's contents into the trash. Clean up the box and then refill it with a fresh batch of litter.
Pros
Hard-clumping
No added fragrance, deodorants, or chemicals
Contains a herbal attractant to attract kittens to the litter box
Low tracking formula
Cons
Only suitable for more mature kittens, ages 8 weeks to 1 year
---
6. Purina Tidy Cats Non-Clumping Cat Litter – Best Value Non-Clumping
Purina Tidy Cats Non-Clumping Cat Litter is made of natural clay and is formulated such that it suits multiple-cat households.
One of the best things about this Tidy Cats litter is that it's compatible with self-cleaning litter boxes. If you have a self-cleaning box, you can save plenty of maintenance time by making use of this litter. And that's pretty convenient.
I also appreciate the fact that this litter offers great absorption. This would keep your cats dry and comfortable. So I think they'd be very much happy with this non-clumping litter.
I'm happy to share that Tidy Cats' non-clumping litter has a deodorizing system that can neutralize ammonia odors. This means your home can stay fresh all day. This litter's odor-controlling powers can also be attributed to its mild, pleasant scent. Some users even compare it to smelling like Paris in Springtime.
All in all, the Tidy Cats litter provides the long-lasting odor-controlling ability. I've changed my litter just the other day to this one,  and I've found that it's pretty effective in terms of keeping smells under control.
Purina Tidy Cats' Non-Clumping Litter has been designed for low tracking. This feature is actually one of the most favorable things about non-clumping litters — they are composed of particles that are relatively larger than clumping litters. So generally, they track much less.
In my experience, I didn't notice much dust when pouring the Tidy Cats non-clumping litter into my kitty's litter box. So far, I could say that this product is virtually dust-free non-clumping cat litter.
This non-clumping litter offers easy litter box maintenance. In fact, I could say that it's practically maintenance-free for up to a week. After that period, you can throw out the entire batch of used litter.
I was fascinated to discover that one ten-pound bag of this litter lasts a week for two cats who share just one litter box. That's pretty cost-saving.
Pros
Cheap
Great odor control
With a mild, pleasant scent
Low tracking
Low dust
Cons
A little hard to pour into a litter box
Clay-based
---
7. Naturally Fresh Walnut-Based Pellet Non-Clumping Cat Litter
Made from the fibrous material of walnut shells, the Naturally Fresh Walnut-Based Pellet Non-Clumping Cat Litter is an all-natural and 100% biodegradable litter. If environmental-friendliness is important to you, I think you might love this product.
What I really like about this natural non-clumping cat litter is that it has no harmful ingredients. It also works great with the Tidy Cat Breeze System, which means it's also pretty convenient to use.
Moreover, the walnut shells from which this litter is made are homegrown in the U.S.A. This means that the resulting litter particles are of the highest quality.
This Naturally Fresh litter has much to boast in terms of odor control. The product has, in fact, been laboratory-tested to neutralize litter box odors. Guess what — it has been found to perform 7x better than corn, pine, wheat, and even clay litters. I think it's a great candidate for being the best non-clumping cat litter for odor control.
Because of the walnut ingredient, this litter can produce dust colors that are quite brownish. Hence, you might find a few dust particles scattered near the litter box, and it may not be the most pleasing sight to see.
This litter is also lightweight, which means it can track. To be honest, dust control and tracking are among the areas which I am not most confident about when using this litter. I could adjust, however, by adding an anti-tracking litter mat by the entrance of my kitty's litter box.
This walnut-based cat litter lasts quite long, even up to 30 days. Of course, you have to make sure you're keeping everything in the litter box as clean as possible during those 30 days.
When it's time to change the litter, be sure to sanitize the litter box. Again, the key is for you to do this every month so you can keep a fresh and healthy box for your cat.
Pros
Excellent odor control
Absorbs urine well
All-natural
100% Biodegradable
Eco-friendly
No added chemicals
Cons
Brownish dust colors
Tracking
---
8. PetSafe ScoopFree Premium Crystal Non-Clumping Cat Litter
Composed of super-absorbent crystals, this PetSafe ScoopFree Non-Clumping Litter works with the PetSafe ScoopFree Reusable Litter Tray and with any other traditional litter box. Indeed, I find it super easy to use.
And it looks like I'm not alone in being amazed at how this PetSafe litter works. The PetSafe brand itself has been trusted to improve pet behavior (i.e., in terms of using the litter box) for nearly 30 years now.
If you're using the Litter Genie, this PetSafe litter saves on your refills. No urine clumps are going into the Litter Genie, so there's no need to empty it as often. I think that would really beneficial for your wallet.
PetSafe offers three options for its crystal litter formula: original, sensitive, and lavender. It looks like the company is prepared to serve all kinds of kitties, whether they prefer some scent or they're too sensitive for that. And I think that's a plus.
This non-clumping crystal cat litter works quite effectively at odor control. Its secret lies in its power of absorption. In fact, it can absorb urine and dry out solid wastes. The result? An odor-controlling effect that works 5x better than clumping clay litters.
Personally, I really like how this litter absorbs moisture on contact. This, in turn, removes odors quickly instead of simply masking them.
When I tried using this litter, I've observed only less tracking outside of the litter pan. Unfortunately, tiny crystals can produce dust. So, be very careful when pouring the litter as it can harm your lungs.
Cleaning this litter is really simple. You just have to scoop out the solids every day. Then, mix the crystals around so that the rest of the liquid waste gets absorbed by the particles. Stirring also prevents having oversaturated areas and undersaturated ones.
This litter won't last as long as the walnut-based litter we've looked at above. Instead, it really needs to be changed out — I mean the entire litter box contents — every 2 weeks. Within that period, the litter crystals will reach their maximum absorption capacity.
Pros
Excellent absorption
Superb odor control
Easy to clean
Less tracking
Cons
Dusty
Not as long-lasting as other types of litter
---
9. NonScents Non-Clumping Natural Corn Cob Cat Litter Odor Control
If you're looking for another non-clumping litter that's also biodegradable, this Natural Corn Cob Cat Litter by NonScents could also be a great choice. In fact, it's made from sustainable corn, which is a renewable resource. Thus, you can feel really good about using this litter. It adds no harm to the environment.
Another thing that cat parents love about this product is that it relies on the concentrated power of corn. It delivers such a strong natural odor-controlling performance without the weight.
Being a NonScents product, this litter doesn't use any irritating perfume or any other added fragrances. Thus, it's perfect for kitties who dislike using artificially-scented litters.
This unscented non-clumping cat litter uses an odor-control technology that doesn't need to hide or mask out bad smells behind stronger scents. It simply works by hunting down those odor-causing compounds and germs and then destroying them in a blow.
With this one-of-a-kind technology, the nasty smells are trapped deep inside the litter particles, and they stay there, no longer to disturb your peaceful nap inside your home.
Corn, from which this litter is made, is naturally free of silica dust. So there's no need to worry about inhaling harmful dust particles out of this litter. It's simply safe, and I think it's also the best non-clumping cat litter for kittens.
Unfortunately, this litter is lightweight, which goes on to say that it's very much prone to tracking. In fact, I've observed that kittens track it everywhere. The particles can even cling to fizzy blankets.
Still, I'm just glad that this litter does its job of absorbing urine and odors. And it's much safer than those big lumps than other litters produce.
If non-clumping litters are generally easy to clean, this product makes your job even easier. It's been tested and proven flushable and septic-safe. Indeed, sewer systems will work just fine with this litter, allowing you to save time by simply flushing the used litter, and thus keep yourself from making trips to the trash.
Pros
Natural
Biodegradable
Renewable source
Flushable and septic-safe
Unscented
Great odor control
No silica dust
Safe for kittens

What Kind of Litter is the Best for Kittens?
The short answer is that you may consider the natural cat litters to be the champions in the kitten division. Now, several natural litter products are actually beneficial for young kitties.
Grass litters: can have a good clumping ability, which makes them great for keeping the litter box environment clean and healthy.
Pine pellets: are usually non-clumping, so they're suitable for baby kittens.
Coconut shell litters: are super absorbent and have no odors that can dismay your kitty.
Walnut shell litters: are fibrous, so they absorb urine and its odors well.
Tea potty litters: have the fresh smell of green tea, which could be useful in attracting kittens.
Tofu-based litters:  absorb urine well and are generally safe to ingest.
How To Choose The Perfect Litter For Kittens?
1. Choose non-clumping litter for younger kittens
When it comes to choosing the best cat litter for kittens, safety is our number one priority. As we've discussed above, it's best to use a non-clumping litter for young kitties at 3 to 4 weeks of age.
Moreover, for kittens that are less than 3-4 months of age, you should avoid using corn, wheat, crystal, and clay litters. There have been reports of pets dying of aflatoxin-infested corn-based litters. Meanwhile, wheat litters can be too dusty.
Crystal and clay litters, on the other hand, are not safe to ingest and could cause gastrointestinal upset, or worse, bentonite toxicosis.
2. Choose a litter that helps with training your kittens
Some kitten litters contain natural herbal attractants. But what for? Well, if your kitten is still having trouble learning how to use the litter box, these kitten attractants draw the kitten to the box, which is very much useful when it comes to litter training.
The smell of the herbal ingredient draws your kitten to use the litter to relieve himself, making it almost effortless for you to get the kitty started with his business.
3. Dust-free and avoid harsh fragrances
In one of our previous articles, we've already mentioned how important it is to choose dust-free litters — both for the health of your cats and the cleanliness of your home.
More importantly for kittens, though, we'd like to re-emphasize that these little feline buddies are pretty sensitive. We don't want them to develop litter dust allergies and, of course, asthma. So, to keep your kittens from getting sick of inhaling dust particles, be sure to consider choosing kitty litters that have little to no dust.
Frequently Asked Question (FAQ)
1. Is clumping clay cat litter safe for kittens?
Clumping cat litter has many benefits, but new cat parents have repeatedly asked me about its safety, especially for kittens.
My position about this is simple: just avoid using clumping clay with your youngest kitties, especially if you're still training them on using the litter box. ASPCA recommends the same thing.
The biggest threat lies in the possibility of ingesting clumping litter. In case that happens, it can seriously hurt your kitty's tummy and other internal organs. I'd recommend using non-clumping litter instead.
Once your kitten reaches 4 months old, you can gradually introduce clumping litter. Still, it would be best for you to observe your cat in case he attempts to eat his litter. Other than posing dangers when ingested, clumping clay litter, in particular, can also be too dusty. If your cat is hypersensitive or allergic to dust, it's better to avoid this type of litter.
A case study entitled "Suspected Bentonite Toxicosis in a Cat from Ingestion of Clay Cat Litter", published in the journal, Veterinary and Human Toxicology has once reported on a cat that was lethargic and weak. He was severely anemic and was actually known to ingest cat litter that contained bentonite clay. After several tests and continued use of bentonite-containing cat litter, it was found that the cat suffered from bentonite toxicosis.
2. Can I use the clumping litter for kittens?
Generally speaking, clumping litters are not ideal for kittens. You see, young kitties are quite playful and more curious. So, they might accidentally ingest some litter. Now, take note that clumping litters, especially those made of bentonite clay can expand from 15 to 18 times its original size once it gets wet.
This property is actually an advantage if we're talking about the litter box as it allows the litter to form rock-solid clumps upon contact with urine. Inside a kitty's sensitive digestive tract, however, it could create a blockage that results in at least an upset tummy or worse, an adverse complication in his digestive system.
3. When can kittens use clumping Litter?
For more mature kittens ages 3-4 months to 1 year, it's already possible to introduce clumping litters. Just keep in mind that for any kitten of any age, the litter should be hypoallergenic and non-toxic. You can also use this same logic for kittens over 1 year of age.
4. When do kittens start litter training?
Kittens usually begin their journey of learning how to use the litter box at age 3 or 4 weeks. Naturally, one of their first instincts would be to watch their mother do it and then pick up on how they've seen it done.
It is by instinct, too, that kittens begin to show motions of digging up when they feel like eliminating. So, you don't really have to train kitties on the process of using the litter box in the same way you would a puppy. You just have to guide them into locating the litter box.
5. Do kittens need special litter?
The short answer is YES.
Kittens and human babies have a similar way of exploring and learning from their environment through their mouths. That's why you have to make sure that the litter they're using is non-toxic, with no harsh chemicals or fragrances whatsoever.
6. Is corn litter safe for kittens?
Corn-based litter seems to be pretty healthy for cats. After all, it's natural, biodegradable, and generally sewer-safe.
Concerns, however, have been raised by a significant number of pet owners as cases of severe illness or death rose from the inhalation or contact of the aflatoxin mold in their cats' corn cob litter.
While they're tested before packaging and sale, corn cob litters may provide a suitable environment for the mold to flourish during the storage period in humid warehouses or while the litter is sitting in the moisture-rich litter box. Thus, using corn litter may pose significant health risks to your beloved kitties.
7. Is Crystal litter safe for Kittens?
The short answer is NO, but allow us to explain a little.
Crystal litter or silica gel litter is composed of water, oxygen, and silica dioxide sand. It's virtually dust-free and would least likely provide a growing environment for mold and bacteria — unlike the corn litter we just discussed above.
Crystal litters, however, are harmful and even life-threatening when ingested. So, for the sake of your kittens' safety, it's best to be wary of crystal litters.
8. How does non-clumping litter work?
Non-clumping cat litters have particles that do not clump together. They remain as separate pellets or large grains even if they are soaked in urine.
Each particle works to draw the liquid waste into its internal structure. To aid the litter particles in the process of absorption, you may have to stir them in the litter box. This way, the urine is distributed among the pellets.
Most non-clumping litters can absorb liquids as much as 4x their weight. But, they'd stop drawing in urine once their absorption capacity is reached. When this happens, it's time for you to change the entire litter box contents.
9. Can you mix clumping and non-clumping litter?
You can try, but it's just hard to make it work. Well, I understand that you want to experience the best of both worlds. Non-clumping litters have bigger pellets that prevent tracking while clumping litters offer the convenience of easy scooping.
But, if you mix up these two kinds of litter, you'll come to a compromise. Most likely, the mixture wouldn't clump well — only loosely. The clumps could even fall apart when you try to scoop. If clumping is important to you but you want to minimize dust at the same time, you can mix in some baking soda on the clumping litter. It seems to cut down on the dust.
Perhaps, the only way to use both the clumping and non-clumping litters is to place them in separate boxes.
10. How to clean non-clumping litter?
With non-clumping litter, there are no clumps to scoop. Of course, there will still be solid wastes to take out daily. As for the urine, however, you only have to allow the non-clumping litter to perform its work of absorption. You can aid this absorption process by stirring the litter occasionally.
The best way to minimize problems when cleaning non-clumping litter is to put a liner at the bottom of the litter box before pouring out a new batch of litter. This will prevent the pooling of urine at the bottom of the box, thereby minimizing the odors that you have to deal with when it's time to throw the used litter out.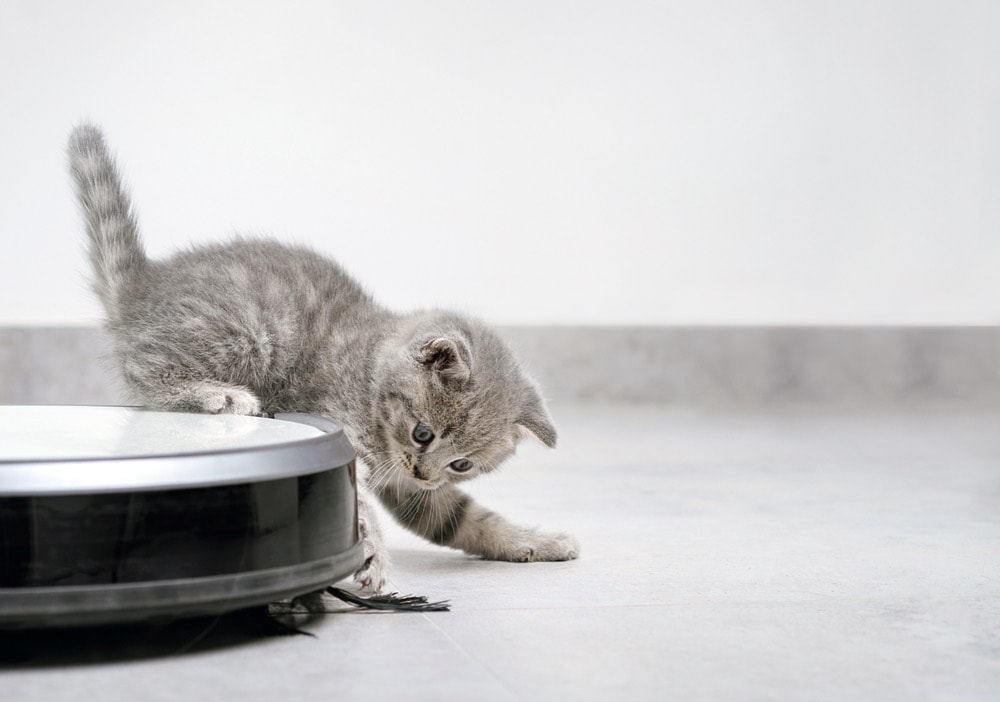 Our Verdict
After everything has been said and done, we've come to our final pick for the best cat litter for kittens: SmartCat All Natural Clumping Litter. Our reasons for choosing this litter comes down to the following factors:
It's made from 100% natural grass.
From the name itself, it's all-natural and hypoallergenic, with no added fragrance, chemicals, or dyes.
It's among the safest cat litter for kittens.
Even if it's clumping, it's biodegradable and flushable.
It naturally controls odor.
Forming rock-hard clumps that even "out-clumps" clay litters, it is very easy to clean and scoop
It contains no clay or silica dust and is 99% dust-free.
It gives you value for money as it's a long-lasting kitty litter.
Finally, its unique cream color and creamy sand texture make it both visually appealing and awesomely attractive to your kittens
So, wouldn't your kitten be smart and naturally curious enough to try the best cat litter for kittens?
---
Featured image credit: Africa Studio, Shutterstock