6 Best Low Sodium Dog Foods – 2023 Reviews & Top Picks

Sodium is an important mineral that's essential for nerve and muscle function in both humans and dogs. Beyond that, it helps to make food taste a lot better, too.
It's that second point that can cause issues. Many dog food manufacturers fill their foods with sodium to make dogs more likely to eat it, but too much sodium can lead to a whole host of health issues (and feeding your pooch human food doesn't help, either).
Finding a high-quality dog food is difficult under the best of conditions. The healthy options all look drab and miserable, but the last thing you want to do is give your dog something that will make his health problems worse.
In the reviews below, we'll show you which foods we recommend as part of a low sodium diet for dogs. These are foods that are filled with important vitamins and minerals, are high in protein, and most importantly, don't taste like cardboard.
Disclaimer: The foods reviewed here were chosen because they have certain characteristics that might help with some of the causes or consequences of this medical condition. However, they are not a medical treatment or a substitute for medical treatment. Keep in mind that each medical case is different and what works for some pets may not work for others. Your veterinarian is the right person to advise you on the best diet for your pet's individual case.

A Quick Comparison of Our Favorites (2023 Update)
Rating
Image
Product
Details

Best Overall

Wellness Complete Health

Weight control recipe
Lamb is first ingredient
Has probiotics to aid digestion
Check Price

Best Value

Natural Balance Dry

Limited to a single protein source
Rice is gentle on the stomach
Taurine for heart health
Check Price

The Honest Kitchen Whole Grain

Uses human-grade ingredients
All vegetables are organic
Dogs digest it well
Click to Save 30%

Use code HEPPER30

Taste of the Wild

Uses fish for protein
High in omega fatty acids
Filled with probiotics
Check Price

Hill's Dry

Lots of fiber
Uses vitamin-packed foods
A generally healthy food overall
Check Price
The 6 Best Low Sodium Dog Foods
1.

Wellness Complete Health Low Sodium Dog Food – Best Overall
In addition to having a low sodium count, Wellness Complete Health Natural is a weight-control formula as well, so it should help keep the flab at bay.
The first ingredient is real lamb, and beyond that, it's filled with nutrient-rich foods like flaxseed, blueberries, and spinach. That gives your dog plenty of fiber and promotes a healthy, shiny coat, while also giving her immune system the support it needs.
The manufacturers add in a lot of other healthy ingredients as well, including biotin for strong hair and nails, glucosamine, and chondroitin for joint health, and probiotics to aid digestion.
Our biggest problem with the Wellness Complete Health Natural has nothing to do with the food itself; rather, the issue is with the bag. The larger sizes aren't resealable, so you'll need a separate container or it will go stale before your dog can finish it.
That's surely a minor complaint, though, and certainly not enough to knock it from the top spot.
Weight-control recipe
First ingredient is real lamb
Includes superfoods like flaxseed, spinach, and blueberries
Added vitamins like glucosamine and biotin
Has probiotics to aid digestion
Larger bags aren't resealable
---
2.

Natural Balance Dry Dog Food – Best Value
Unlike the Wellness Complete Health Natural above, Natural Balance L.I.D. only takes its protein from a single animal source — lamb, in this case. This reduces the likelihood of your dog having digestive issues from eating a mix of animals. The downside, for this food at least, is that there isn't as much protein as in some other foods.
Another good thing about limiting the protein sources is that it keeps the price low, too. This food is very budget-friendly, and we feel it's the best low-sodium dog food for the money.
The other primary ingredient is rice, and there is a mixture of that inside. It contains brown rice, brewers rice, and rice bran, all of which are fairly gentle on the digestive system while contributing some fiber. Notice we said "some," as this isn't a high-fiber food. We also liked the inclusion of taurine, which is necessary for maintaining healthy heart function.
Natural Balance L.I.D. is very good food that retails for a very competitive price. However, it's just not quite as good as Wellness Complete Health Natural, which is why it slots in one spot below it here.
Limited to a single protein source
Reduced risk of digestive issues
Good value for the price
Rice is gentle on the stomach
Taurine for heart health
Limited amount of fiber
Less protein than other foods
---
3.

The Honest Kitchen Whole Grain Dog Food – Premium Choice
From a purely nutritional standpoint, you're going to be hard-pressed to find better food than The Honest Kitchen VR Organic. The only reasons why it's third on our list are because it's extremely expensive and some dogs won't eat it.
This is a dehydrated food, so while the box may only be 10 pounds, it can make 40 pounds of food when mixed with water. Don't expect it to look like any sort of dog food you're used to, though, which may be off-putting for both pet and owner.
All of the ingredients inside are human-grade, and there are no animal by-products, preservatives, or cheap fillers inside. Even better, all of the veggies are organic, so you don't have to worry about pesticides or other chemicals getting in your dog's system.
By only using natural ingredients, The Honest Kitchen makes their food much easier for your dog to process. This increases the number of nutrients he'll absorb while limiting the waste that comes out the other end.
If this all sounds good, it should, because you'll pay a premium for all those benefits. Is it worth it? We think so, but we can't deny that the two foods above it may be a better value.
Makes a lot of food
Uses human-grade ingredients
All vegetables are organic
No animal by-products, preservatives, or fillers
Dogs digest it well
Some dogs refuse to try it
Very expensive
---
4.

Taste of the Wild Pet Food
Fish is one of the best foods you can eat, and that's true for your mutt as well. Taste of the Wild TWDT1576 uses fish (mainly salmon) as its meat source, so in addition to lean protein, it also provides a lot of omega fatty acids. These are essential for healthy skin, a shiny coat, and a well-functioning immune system.
The problem is that this food is also heavy on the potatoes. Some pooches have difficulty processing potatoes, so you may be signing yourself up for increased flatulence and fuller dog waste bins by feeding your pup this food.
There's still quite a bit of salt inside for a low-sodium food. The salt levels aren't high, per se, but if you're looking for a low-sodium food because of some sort of health issue, it might be more than you're comfortable with.
It's balanced out somewhat by the inclusion of nutrients like taurine, vitamin E, and zinc, as well as by a wide range of probiotics.
Taste of the Wild TWDT1576 has a lot of positive traits that would otherwise make it a competitive choice for our top spot. Its flaws (most notably the sodium levels) keep it from rising any higher than 4th, however.
Uses fish for protein
High in omega fatty acids
Includes vitamins like taurine and zinc
Filled with probiotics
---
5.

Hill's Science Diet Dry Dog Food
Nothing says "delicious" like using the words "science" and "diet" together in a sentence, so don't be surprised if your dog doesn't think Hill's Science Diet 8839 isn't the most appetizing thing he's ever tasted.
As the name suggests, the manufacturer seemed to focus on what's best for a dog's nutritional needs. That's why it includes a ton of fiber from sources like sorghum and beet pulp, as well as vitamin-packed foods like broccoli, carrots, and cranberries.
As a result, your dog should be very healthy — if he'll eat it, that is. Many dogs won't touch the stuff, and you may find yourself needing to add a topper or mixing it with wet food, which may defeat the purpose.
Looking at the ingredients list, it's likely the manufacturer that the manufacturer recognized this and tried to correct it after the fact, as you'll see items like pork fat and chicken liver flavoring in there. These may make it taste a bit better but at the risk of possibly causing an upset stomach.
While we can't deny that Hill's Science Diet 8839 is probably good for your dog, there are other options on this list that are just as healthy and that tastes a whole lot better.
Lots of fiber
Uses vitamin-packed foods like broccoli and cranberries
A generally healthy food overall
Many dogs don't like taste
Includes questionable ingredients like chicken flavoring
May need to be mixed with wet food
---
6.

Earthborn Holistic Natural Dog Food
Earthborn Holistic Natural certainly presents itself as a healthy kibble, but a closer look at the label reveals a food that doesn't have much going for it.
The first ingredient is chicken meal instead of real chicken, and there's whitefish meal further down the ingredients list. That's not ideal, and there's relatively little protein inside as a result. It's heavy on the potatoes as well, which as we've seen isn't great from a digestive standpoint.
The lack of real protein is curious given the price. Many times, manufacturers use meals instead of actual protein sources to cut costs, but this food is still fairly expensive. It's not clear from looking at the ingredients what might be driving the price up.
It does have lots of antioxidants inside, though, which should be good for your pup's immune system. Also, while your dog won't necessarily care about this, the packaging is BPA-free and recyclable, so you can feel like you're doing your Earth-friendly duty by buying it.
Overall though, we'd recommend buying food that has more to offer than Earthborn Holistic Natural.
Filled with antioxidants
Earth-friendly packaging
Uses protein meal instead of real protein
On the pricey side
Lots of potatoes, which can cause digestive issues
Low protein levels

Buyer's Guide – Choosing the Best Low Sodium Dog Food
What's the Problem with Sodium?
As mentioned above, sodium is actually a vital nutrient, as it plays an important role in electrolyte balance and nerve and cell function. Too much of a good thing, however, can lead to some serious health problems.
Sodium causes water retention, and all that liquid buildup in your dog's body can make it harder for his kidneys to do their job. If your dog suffers from congestive heart failure or liver and kidney problems, sodium and fluid retention are even more dangerous.
By reducing the amount of sodium in his food, you allow his kidneys to process what's already in his system, and he can eliminate some of the excess salt via urination. This won't "solve" the problem, per se, as you'll need to keep his sodium intake down, but it can help reduce his symptoms.
How Do I Know If My Dog Needs Low Sodium Dog Food?
Simply put, your vet will tell you.
All dogs need at least 0.3% sodium in their food to function properly, and many foods have quite a bit more than that. That's not necessarily an issue, as a healthy dog can simply increase his water intake and pee it all out, but dogs with heart, liver, or kidney issues may have trouble getting rid of the excess.
If you've noticed your dog retaining water, take him to the vet for a checkup. Issues like high blood pressure may also be telltale signs of a sodium problem.
Overall, though, we don't recommend diagnosing a sodium problem yourself, and never try to eliminate it completely. Follow your vet's lead on this one.
Where Else Could My Dog Be Getting Sodium From?
We hinted at this above, but a major issue for dogs with sodium problem is eating human food. We know, we know — giving Rex table scraps is a lot of fun for both you and him. Human food has a lot more salt than dogs need, though, so you may be doing more harm than good by sharing your dinner with him.
Also, check his treats. Dog treats are designed to be delicious rather than nutritious, so they may go overboard on sodium as a result. You might need to switch to another brand or eliminate treats entirely (don't tell him it was us that suggested doing that, though).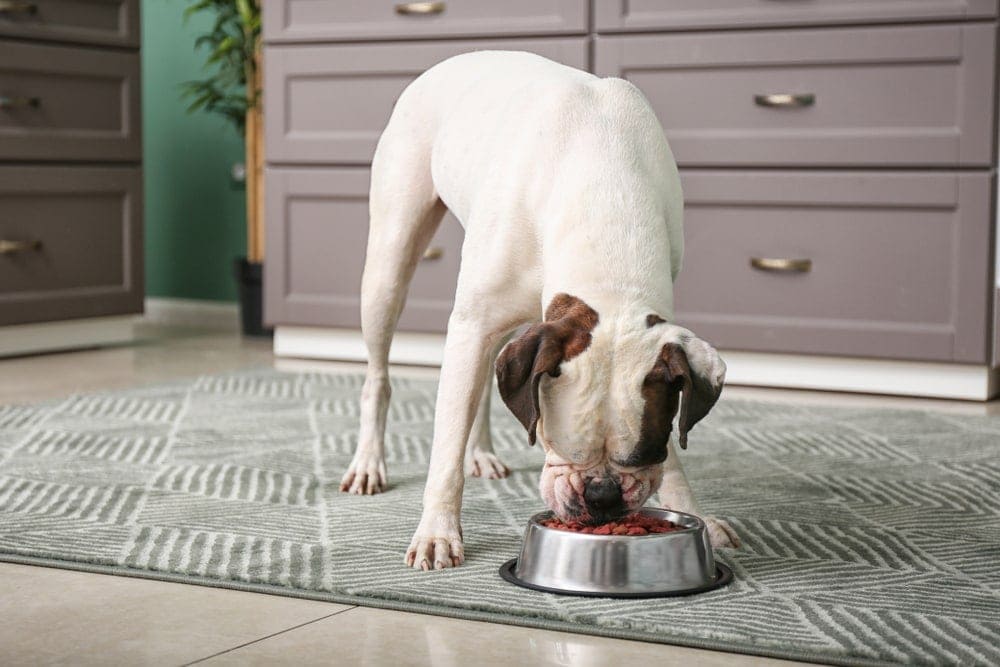 How Can I Tell If My Dog's Not Getting Enough Sodium?
Again, ask your vet.
It's very hard to feed your dog too little sodium, and so unless you're making his food yourself, it's not typically something you need to worry about. However, certain conditions can make it difficult for your dog to retain sodium, and these can have a catastrophic impact on your dog's health, so get him to the vet immediately if you notice any of the following signs:
Lethargy
Weakness
Confusion
Seizures
Vomiting
Coma
Hopefully, you don't need us to tell you to rush to the ER if your dog's in a coma — but then again, some dogs seem to spend half their lives in a coma.
How Worried Should I Be About This?
Generally speaking, sodium isn't something to concern yourself with. Most dogs can handle it just fine.
If your vet tells you that it's an issue, though, you should take that very seriously. Switching to low-sodium dog food is essential, as is limiting any other food your pup consumes.
It's not something to lose sleep over, but neither is it something that's ok to ignore, either.
Finding a Low-Sodium Dog Food
One mistake that many pet owners make when switching to a low-sodium food is ignoring everything other than the salt content. While that's obviously important, you also need to make sure your dog is getting all the other vitamins and nutrients he needs.
The foods listed above (especially our top picks) offer a balanced nutritional profile that will ensure your dog stays as healthy as possible. That means they have plenty of protein from natural sources, a good amount of fiber, a reasonable amount of fat, and plenty of vitamins, minerals, and antioxidants.
Don't neglect flavor, either. Just because your dog is on a diet doesn't mean he should be miserable. Many low-sodium foods are just as tasty as regular options, so if your dog turns his nose up at one, keep shopping until you find a food he likes.

Conclusion
Any dog on a low-sodium diet will appreciate Wellness Complete Health Natural. It uses real lamb, so it tastes great, and the weight-control formula will prevent your mutt from packing on the pounds. Beyond that, it's also filled with superfoods like cranberries that provide a ton of vitamins and antioxidants.
If you're on a limited budget, try Natural Balance L.I.D. It only uses a single protein source, so there's less risk of digestive issues, and that also helps keep costs down. The manufacturer even adds nutrients like taurine for heart health, so your dog should thrive while eating it.
Shopping for new dog food because your pet has health problems isn't fun, but we hope our reviews have at least made it easier. Our top picks should keep your pooch healthy and happy, without exacerbating his existing issues.
Oh, and we know you mean well, but you should probably stop feeding him French fries, too.
See also:
---