10 Best Maine Coon Cat Toys in 2023 – Reviews & Top Picks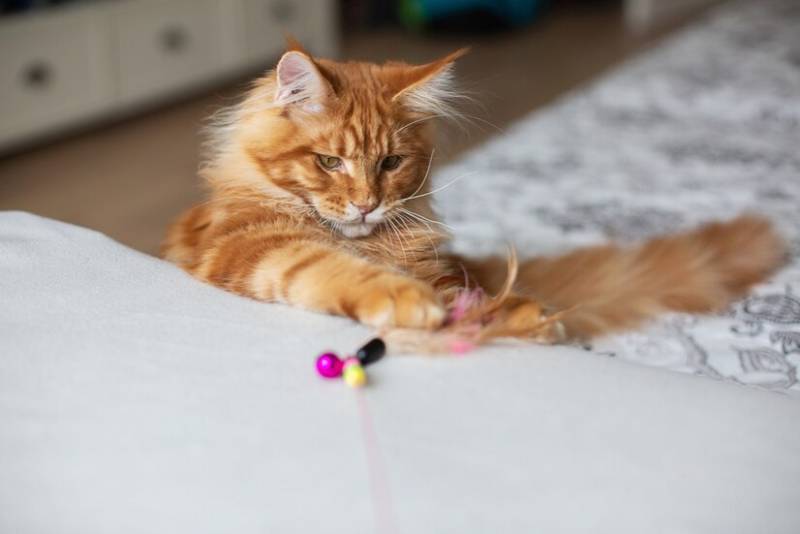 Maine Coons can be very playful and enjoy a large variety of cat toys. Something as cheap and insignificant as a cardboard box can pique their interest, but other times they want to play with something purchased.
If you're looking for new toys to keep your Maine Coon busy, we rounded up the best selections on the market we think there are. Hopefully, you can put one or two of these in your shopping cart and get the ball rolling.
A Quick Comparison of Our Favorites in 2023
Rating
Image
Product
Details

Best Overall

Hepper Hi-Lo Cat Scratcher

Dedicated playspace
Provides tactile exploration
Modern and stylish
Check Price

Budget Buy

Hartz Just Cat Toy Variety Pack

Colorful
Lots of options
Affordable
Check Price

Frisco Peek-a-Boo Branded Pack

Great for multi-cat households
Interactive and solo play
Lots of options
Check Price

SmartyKat Scratch Scroll Cat Scratcher

Excellent for kittens
Enhances play
Great for claws
Check Price

KONG Pull Partz Cat Toy

Provides mental stimulation
Crinkle sound
Durable
Check Price
The 10 Best Maine Coon Cat Toys
1.

Hepper Hi-Lo Cat Scratcher – Best Overall
| | |
| --- | --- |
| Material:  | Plywood, cardboard |
| Type:  | Scratcher |
When it comes to the best Maine Coon cat toys, our Hepper Hi-Lo Cat Scratcher stands as a unique and essential addition, despite not being a traditional toy. Crafted with precision and designed with large cats in mind, this scratcher rises to the top of the list for several reasons. Its solid birch plywood frame, finished with a non-toxic gloss, ensures both sturdiness and safety – qualities necessary for accommodating the size and strength of Maine Coon cats.
What truly sets the Hi-Lo Scratcher apart is its innovative three-position configuration – high, low, and lower. While not a typical toy, this feature offers a dynamic playground that caters to Maine Coons' distinct playstyles and body sizes. The dense B-flute cardboard surface provides an engaging scratching experience that satisfies their natural instincts while promoting healthy exercise. This scratcher is a must-have for Maine Coon cats, offering enrichment, engagement, and a dedicated space that resonates with their unique needs.
Dedicated playspace for Maine Coon cats
Provides tactile exploration for large cats
3-position setup to keep cats engaged
Built with non-toxic, durable materials
Modern and stylish design suits any home
---
2.

Hartz Just Cat Toy Variety Pack – Budget Buy
| | |
| --- | --- |
| Material:  | Plastic, polyester |
| Type:  | Variety |
There are so many different tiny options for your kitty to choose from here. If you're looking for a steal of a deal, try out Hartz Just Cats Variety Pack. It's perfect for keeping your cat busy for hours on end.
This variety pack comes with 13 total pieces—including catnip, balls, and mice. Each toy is brightly colored to spark attention. Your cat can enjoy batting these toys around entirely alone without the need for interaction.
But it also might be fun to get in on the game. If you're just looking for a cheap set of toys to keep your cat busy for a few months, we really think that it's just the ticket.
Colorful
Lots of options
Affordable
---
3.

Frisco Peek-a-Boo Branded Pack
| | |
| --- | --- |
| Material:  | Varies |
| Type:  | Variety |
Frisco Peek-a-Boo Branded Pack has the most components to keep your cat busy. It has all of the perks of our number one, combining a three tier tower to chase around. It comes with interactive toys like wand teasers. And it has a three-way tunnel so your cat can explore or cuddle up inside.
There's so much variety in this whole pack; there is probably going to be something that sparks each one's attention. So instead of buying cat toys individually that you know each one of your cats prefer, you can save your time and get a variety pack for optimal play.
Great for multi-cat households
Interactive and solo play
Lots of options
---
4.

SmartyKat Scratch Scroll Cat Scratcher – Best for Kittens
| | |
| --- | --- |
| Material:  | Sisal fabric, Carpet |
| Type:  | Scratcher |
If you've ever been around a kitten, it's easy to see the constant need for stimulation and scratching their claws. We think this very well-made cat-scratching post will outlive the continuous abuse of your kitten's claws.
This cat scratching post has an intricate design, and sits stably on the floor so your kittens can play underneath or on top of it. Your cat will love the feeling of these textures on its claws. It even has a teaser to promote healthy play.
This scratching post has both sisal fabric and carpeted surfaces to appeal or to your kitten. These different textures will promote healthy scratching and be more likely to prevent your actual materials and upholstery from being torn up. It is essential to get these sorts of toys early in life for cats because it teaches them good scratching habits and gives them an outlet for this much-needed instinct.
We were very impressed with the composition and durability of this product. We think it will definitely withstand the test of time against even the most vigorous scratchers. Did we mention it's also aesthetically pleasing? We can't brag it up enough!
Excellent for kittens
Enhances play
Great for claws
---
5.

KONG Pull Partz Cat Toy
| | |
| --- | --- |
| Material:  | Polyester, Synthetic |
| Type:  | Puzzle |
The KONG Pull-Partz Bugz Cat Toy will be a hit, keeping your cat occupied with both mental and physical stimulation. Your cat can spend time bouncing, biting, or clawing this toy. The crinkle sounds make the play more enticing, and they can get the reward of pulling off the individual stuffed bugs.
Not only does this give your Maine Coon a physical workout, it gives them a mental sweat too. They have to problem-solve to figure out how to remove the pieces. While that can keep them busy for extended intervals, it can also alleviate a lot of pent-up mental energy.
Some cats prefer puzzle toys more than others. If you find that this is something that really grabs your cat's attention, there are tons more options to choose from on the market that are equally fantastic.
Provides mental stimulation
Crinkle sound
Durable
---
6.

Frisco Butterfly Cat Tracks
| | |
| --- | --- |
| Material:  | Plastic |
| Type:  | Ball on track |
Frisco Butterfly Cat Tracks were also a huge hit among our felines. They can chase a ball around for hours so it isn't skipping about your home. This is a three-tier design, so your cat can really get the most out of playtime. And if you have a multi-cat household, this is also an excellent way to promote healthy play.
This toy has a very sound structure, and we think it'll stay together for a very long time. It is made of heavy-duty plastic coming with three balls on separate chairs and a butterfly teaser wand. You can also make a choice—blue or pink! So you definitely get your money's worth out of it very quickly.
We were impressed with how seamlessly the balls want to run in a circle, not getting caught or hung up on the internal portions of the toy. It's very easy for your cat to bat the balls around without injury or getting stuck.
We feel like they would satisfy a strong urge to play while staying stationary, working for both young kittens and older cats with less mobility.
Promotes healthy exercise
3-tier
Non-skid
---
7.

Valonii Rechargeable Motion Activated Cat Laser Toy
| | |
| --- | --- |
| Material:  | Plastic |
| Type:  | Laser |
If your Maine Coon likes lasers, but you don't feel like holding the button all the time, elect this cat toy to do it for you. A small cat robot gives a red laser signal so your cat can play and chase for hours. This promotes healthy play and is suitable for both individual and multi-cat households.
In the box, you will find a laser head, laser base, USB cable, and a user guide. It's very straightforward to start, and you can customize it to fit your needs.
This laser light comes with lots of settings to function. It has sensors that you can set to shut off automatically after a certain period of inactivity. Depending on your cat's mood, this laser light has two available speed modes to amp up or slow down.
This product comes with a 12-month warranty, which we love to see in products. It's perfect for that very active cat with a super hyper prey drive. Does that sound like your Maine Coon?
Self-operating
Customizable
Requires power
Not for all cats play styles
---
8.

PetLinks Lil Critters Mice Cat Toy
| | |
| --- | --- |
| Material:  | Fabric, catnip |
| Type:  | Mouse |
If your Maine Coon loves batting mice around, Petlinks Lil Critters Cat Toys might be the cutest ones you can find. This particular set of mice works best for cats who are very attracted to catnip, which is not all of them—so it won't entice every kitty.
Otherwise, these natural-looking little mice are durable and fun to bat around. They feature jute rope for the legs and arms and a nylon body, satisfying different texture cravings. The catnip is completely organic and farm-grown. It has no pesticides or chemicals, so you don't have to worry about exposure for your kitty.
The whole design is well-made, lasting through moderate to rough play. So, if you have a Maine Coon that's particularly into batting around paw-perfect toys, this is a terrific option!
This product is basic, simple, and perfect for daily play.
Well-made
Organic catnip
Simple
Not enticing to some cats
---
9.

SmartyKat Chickadee Electronic Sound Cat Toy
| | |
| --- | --- |
| Material:  | Cloth |
| Type:  | Bird |
Maine Coons are fierce hunters, so it's no wonder they love toys that mimic real prey. This will really get them going, making sounds that captivate your cat's attention. In addition to the playful sounds, it also contains organic catnip to get your Maine Coons attention.
We really love that this entire product is made of 100% post-consumer recycled materials. This particular product is entirely free of chemicals and other harsh substances that could make your cat very sick.
We think this is extra fabulous for sensitive Maine Coons with excitable play drives. It will give them lots of entertainment. Plus, the catnip portion is totally refillable—so once it loses its potency, you can fill it up with fresh greens.
What we love most is its 90-day guarantee for manufacturer defects. We love to see a company take pride in its product!
Satisfies prey drive
100% recycled and organic materials
90-day guarantee
---
10.

Potaroma Flopping Fish
| | |
| --- | --- |
| Material:  | Fabric, plastic |
| Type:  | Mechanical |
Sure. The Potaroma Flopping Fish lacks a few key things, but overall, it's a ton of fun. This fish is designed to mimic a live fish. So, if your Maine Coon loves a good clamp and kick session, this might be a new favorite in no time.
This fish comes with a charger for easy repowering. It connects with a USB cable, compatible with most phone charging cubes. The fish has a red-light feature, showing active charge. When it finishes, the light automatically shuts off.
This fish is almost as long as your cat, topping out at 10.5 inches! It might be a little big for kittens and some cats might not be crazy about the large size. The movements mimic a real fish, which will promote healthy play again and again.
When this toy works, the cats are all about it. However, the remote seems to have a lot of issues, which can be frustrating.
Sparks prey drive
Chargeable
Remote malfunctions
Large size

Buyer's Guide: Choosing the Best Maine Coon Cat Toys
Your Maine coon might have preferences as to what toys they prefer. Some cats enjoy scratching, others enjoy hunting, and some just enjoy being lazily active.
No matter your cat's play style, you can get interactive or standalone toys to keep them busy all day long. But there are a few things to keep in mind before you buy.
Type
Several types of toys are on the market to keep your cat busy.
Here are the most popular picks:
Balls
Stuffed
Tunnels
Puzzles
Treat dispensing
Each cat will have its own preference. Once you know your feline, you can probably make the distinction quickly. If you're starting out, buying a variety pack of toys might be the best option so you can get a good feel for which they gravitate toward.
Material
Sometimes, cats can have different texture preferences. Also, some cats might be more destructive than others, requiring a stronger material. Regardless of the type of material your cat needs, you'll see several different styles of toys.
Safety
Some toys can have sharp pieces, batteries, or other toxic components that can make them dangerous if unattended. You want to make sure that you know all of the features of the cat toy to know if your cat needs supervision during play.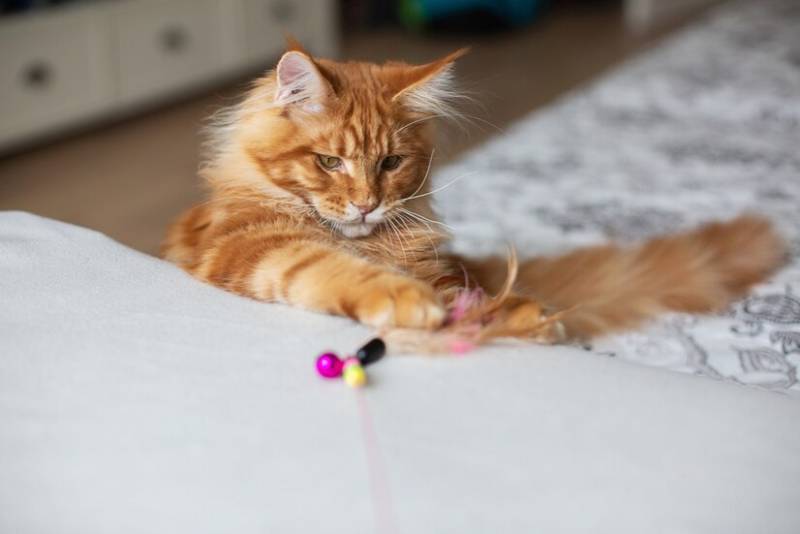 Allergies
Just because something is marketed as a cat toy doesn't mean it's always necessary for every cat. Certain cats have allergies to specific dyes, fragrances, materials, and so on.
If you're familiar with a certain kind of allergy your cat may have, make sure you avoid this potential ingredient or material in the cat toy you purchase.
Importance of Exercise
Exercise is incredibly important for any cat, including your Maine Coon. You can get them toys and encourage all sorts of different stimulating play. By nature, Maine Coons make stellar hunters so they will have a sense of stalking about them.
Conclusion
We stand by our favorite— Hepper Hi-Lo Cat Scratcher for its engaging scratching experience and health benefits. It offers a modern touch on cat furniture that blends seamlessly with any home. We think it can definitely encourage solo play or keep a couple of cats busy.
Hartz Just Cats Variety Pack is perfect if you want to save a few bucks, this little pack gives your cat tons of fun stuff to do. If your Maine Coon loves chasing colorful toys around the house, This product definitely provides a variety to explore all the different kinds of exercise.
Frisco Peek-a-Boo Branded Pack is a great investment if you're looking to give your cat tons of new things to try out. Coming with a 3-channel tunnel, small toys they can bat around, and teaser wands, you really can't beat the quality for the price—even if it's more expensive.
Regardless of which one of these toys caught your attention most, we hope we at least lead you to one purchase your Maine Coon can enjoy.
---
Featured Imae Credit: pavliukv, Freepik