10 Best No-Pull Dog Harnesses in 2023 – Reviews & Top Picks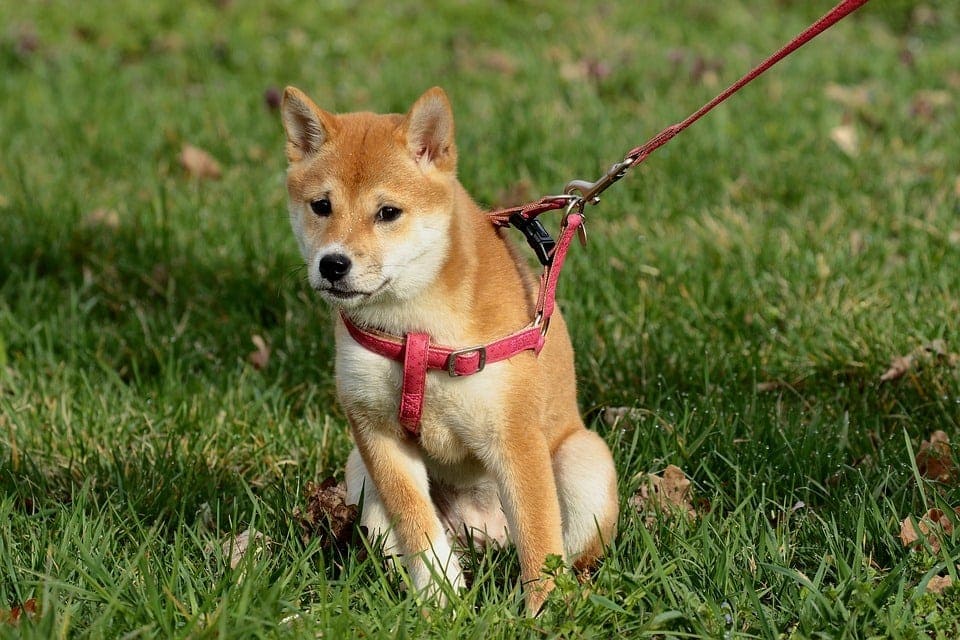 Finding the right dog harness can be difficult, especially if your pup's a puller. There are just so many different designs and features that it can become very overwhelming when searching.
That's why we've decided to put together this list of reviews for the best no pull dog harnesses. We want to help you determine which is the best fit for your pup and give you an idea of what you should be on the lookout for.
Not all no-pull dog harnesses are built the same, and it becomes very evident after you take a good look at them. But which is right for your dog?
In this review, we've taken 10 of some of the most popular dog harnesses around and ranked them from best to worst.

A Quick Comparison of Our Favorites in 2023
Rating
Image
Product
Details

Best Overall

HDP Big Dog No Pull Dog Harness

Great for senior dogs
Good job minimizing pulling
Does not choke or hurt
Check Price

Best Value

Sporn Mesh No Pull Dog Harness

Affordable for everyone
Veterinarian approved
Allows for dog's natural movements
Check Price

Premium Choice

Julius-K9 IDC Powerharness No Pull Dog Harness

Reflective strapping
Works great as a harness
Sturdy handle
Check Price

Frisco Padded No Pull Dog Harness

2 attachment points
Adjustable belly straps
Quick-release buckles
Check Price

2 Hounds Design Freedom No Pull Dog Harness

2 separate control points
4 points of adjustability
Plenty of sizes and colors
Check Price
The 10 Best No-Pull Dog Harness
1.

HDP Big Dog No Pull Dog Harness – Best Overall
When it comes to controlling your dog while on a leash, it can be particularly difficult to do with large breeds. If they've got their mindset on something, their size and power can be difficult to overcome—especially if they're willfully stubborn. Fortunately, there's one no-pull dog harness we can always count on to help keep the situation under control—the HDP Big Dog No Pull Dog Harness.
This harness is specially designed for use with large breed dogs and provides a gentle solution as opposed to choke chains or other methods. The HDP makes use of wide padded straps that stretch fully across your dog's chest and shoulders to provide even dispersion of weight. This makes the harness extremely comfortable to wear for the dog and more manageable for you.
But the secret behind this excellent harness is the cleverly positioned D-ring the leash connects to. It allows for full range of motion, preventing your dog from pulling and encouraging them to walk with a natural gait. The biggest mistake owners make with this harness—and thus the primary reason for negative reviews—is sizing. This is a no-pull system for large dogs. Smaller breeds won't properly fit inside the harness.
Does a good job minimizing pulling
Does not choke or hurt the dog in any way
Great for senior dogs
Unique D-ring provides a full range of motion
Bonus handle allows for a firm grip in tight situations
Made with easy-click buckles to firmly secure your pooch
Sizing can be a little awkward
Not designed for smaller breeds
---
2.

Sporn Mesh No Pull Dog Harness – Best Value
Let's face it, some of these no-pull harnesses can get to be expensive. And when that happens, it's discouraging that a standard collar and leash are so much cheaper. However, the Sporn Mesh No Pull Dog Harness bucks the trend when it comes to pricey harnesses. And we're calling this the best no pull dog harness for the money.
And it's not just its wallet-friendliness that we love about it, either. This quality harness is veterinarian approved and allows your pup to move unrestricted with natural movements. Best of all, it will prevent even the hardest pullers without any choking or potentially injuring movements.
It's also a one-piece construction which means getting your dog inside can be a little tricky. Sometimes, it's just easier to have the ability to buckle it together without weaseling your pooch into a one-piece—especially if they're excited to go walking and wiggling about.
However, unlike our top selection, this harness can fit smaller breeds. It comes in 4 different sizes from x-small, small, medium, and large/x-large. The best way to determine your pup's size is by a simple neck measurement and then following the sizing guidelines.
Affordable for everyone
Veterinarian approved
Allows for dog's natural movements
One-piece construction
No close control handle
---
3.

Julius-K9 IDC Powerharness No Pull Dog Harness – Premium Choice
There are tons of different models of no-pull dog harness available. However, there are none quite as exclusive as the Julius-K9 IDC Powerharness. This dog control system is like the Cadillac of no-pull harnesses. And it's easily our pick for premium choice. First, it's much more customizable than any other harness on this list. It comes in 8 different sizes with 7 unique color options including UV orange, aquamarine, or even USA flag print.
This particular harness was designed with the needs of service and rescue dogs in mind, so you know it's built tough. It has an inner lining constructed out of Eco-Tex so it's breathable and comfy enough for everyday wear. Even the buckles on this harness are top-notch. They're heavy-duty, break-resistant, and even freeze-proof!
The chest strap across the harness is also reflective and shines bright in low light situations. And aside from being built like a tank, the Julius K-9 also functions as a quality harness should. It provides a free natural range of motion for your pooch while maintaining a positive means of control. Honestly, the biggest issue we have with this harness is the price. But if you want a premium option, you're going to have to shell out the big bucks.
Many color and sizing options
Built tough with the needs of working and service dogs in mind
Freeze-proof buckles for colder climates
Reflective strapping
Works great as a harness
Sturdy handle for up-close control
Very expensive
Can be difficult to size
---
4.

Frisco Padded No Pull Dog Harness
If you're not looking for anything too special but will still get the job done, you might want to look into the Frisco Padded Nylon No Pull Dog Harness. Coming in 4 different colors and 4 sizes, the Frisco harness is probably exactly what you picture when you think of dog harnesses. It's a mesh chest piece with straps to keep your pup securely in place.
There are a few other features that we really like about this design. First, it's got two quick-release buckles on the side to quickly get your pup in (and out) of the harness. This is much easier and more convenient than other one-piece designs. Next, we like the adjustable belly straps. These allow you to get a more snug fit of the harness on your pup to prevent them from wriggling out.
And lastly, we like that there are two attachment control points: one on the chest and another on the back. The front point allows you to help steer your pup in the appropriate direction—which is helpful when first training them. The back point acts as a regular harness connection to provide a natural, but controlled walking movement for your dog.
No-frills design with mesh chest piece
Quick-release buckles
Adjustable belly straps
2 attachment points
No padding
Straps could be wider for more comfort
---
5.

2 Hounds Design Freedom No Pull Dog Harness
The 2Hounds Design Freedom No Pull Dog Harness is another harness with tons of different sizes and color options. With 7 different sizes and twice as many color schemes, there's bound to be one or every dog out there. It's bad at all, but it's also not the best around. We'd consider this to be your middle-of-the-road option.
The harness does a great job functionally in what it's supposed to do. It keeps your dog's movement natural while giving you positive control of them. The leash itself has two separate connection points, one for the chest and another on top of the back. This allows you to steer your dog while giving them maximum freedom. And the harness does have 4 points of adjustability to help fit your pup's body shape.
However, the adjustment points aren't that easy to adjust—especially if worn by an excited pup. And with the double connection leash, there's a chance your dog will get tangled up between the different straps if trying to fight or wriggle out of the harness. And lastly, we wish that this harness would provide us with a handle for close-up control.
2 separate control points
4 points of adjustability
Plenty of sizes and colors
Adjustable points aren't the easiest to operate
Double connection leash could entangle your dog
Could have more padding for maximum comfort
---
6.

Harness Lead Polyester No Pull Dog Harness
If you're looking for a unique harness, the Harness Lead Dog Harness has got you covered. Instead of a strappy, padded harness, it's made entirely out of rope. It's like a giant lasso with loops that weave around your pup, creating a system that helps to reduce and eliminate unwanted pulling.
The harness isn't necessarily one-size-fits-all, but they only have 2 particular sizes. There's small/medium and medium/large. However, they provide a sizing guide so you can choose the best fit for your pooch. It also boasts that there's no rough edging, only smooth nylon rope. But that doesn't mean we don't have our concerns. While there are no square edges, the surface area of the rope harness is much less than strapped versions, which creates higher pressure stress.
The harness doesn't have any buckles or clasps that will irritate your dog's skin. This can be awesome for some dogs. However, the lack of buckles and clasps will make putting this on excitable pups rather difficult—especially because you have to coordinate it properly so it will actually stay on your dog.
But the harness is quick and easy to clean. Simply machine wash and then hang it up to dry.
Unique aesthetic design
Machine washable and easily cleaned
No rough edges
Higher pressure areas on your pup's body due to rope design
Not easy to put on
---
7.

Copatchy No-Pull Reflective Adjustable Dog Harness
Not all pulling dogs are large breed dogs. Your small breed might be more curious than you anticipated. And finding a no-pull harness that's best for smaller breeds can be difficult. However, that's where the Copatchy No-Pull Reflective Adjustable dog harness performs best. It's a lightweight, easy-to-use harness that's perfect for smaller pups.
It comes in 4 different color schemes and 5 sizes—ranging from x-small to x-large. And while the sizes do reach up to x-large, you're going to want to avoid the bigger sizes. They're just too lightweight to be effective for bigger dogs.
The harness is full of sponge padding, but to help keep your dog comfortable, it's made out of breathable mesh material to ensure your little champion doesn't overheat. Another feature that we like here is the pull-back handle. This allows you to get a quick hold of your pup in case of an emergency control situation.
Breathable and lightweight
Filled with sponge padding for maximum comfort
Pull-back handle
Affordable
Despite larger sizes, way too lightweight for medium or larger sized dogs
Only one point of control
---
8.

Mighty Paw Padded Reflective No Pull Dog Harness
At first glance, this looks like a simple, rugged, no-pull dog harness. And while it does have its merits, it's far from the best option available. The Mighty Paw Padded Reflective harness is built with a very comfortable design that allows for natural shoulder movement while running or walking. And since it's weather-proof, you can even take your pup out for a light jog in a cool drizzle.
The harness is also equipped with adjustable straps that connect via quick-release buckles for ease of use. And there's a padded handle on the back of it just in case things go awry or close control is needed. So what places it so far down on our list?
First, while the design allows for maximum comfort, it appears to be designed solely for dog breeds with a certain size head. Even after tightening the straps, it's still easy for a dog to just walk backward right out of it. The head hole is just too big, and there are no neck-straps to adjust. Secondly, the quick-release buckles aren't too quick to release. You'll need a heavy hand to operate them, so if you're arthritic, you may want another model.
Very sturdy
Padded handle for close control
Buckles are very hard to operate
No adjustable neck strap
Head hole too big for smaller dogs
---
9.

PetSafe Deluxe Reflective No Pull Dog Harness
The PetSafe Deluxe Reflective No Pull Dog Harness is one we had high hopes for, but they fell a bit short. At first glance, the harness looks like a sturdy, well-built contraption. It's fully adjustable and has quick-snap buckles for easy installation and removal. Even the belly strap is colored differently to help you orient it onto your pup.
It's also got reflective markings running throughout the product.
However, upon closer look, there are some serious design flaws. While the straps claim to be neoprene-lined, there's no padding whatsoever. And it's a rough harness, a pulling dog will surely lose some hair and even get scratches from this harness.
Also, even when fully snug, it tends to shift around if your pup stops to bend over. And if your dog's an escape artist, this harness isn't going to be up to par. Another issue we found is that the belly adjustment strap is located right in your dog's armpit. That makes for a difficult and awkward adjustment.
We feel that the PetSafe Deluxe Reflective Harness could be improved with a few minor design changes, but the entire harness is not unusable as is.
Sturdy and well-built
Quick snap buckles
Not padded
Adjustment straps are awkwardly placed
Harness shifts completely during operation
---
10.

Kurgo Journey Reflective No Pull Dog Harness
When it comes to features, this Kurgo Journey Reflective No Pull Harness is chock full of them. However, this is another sad case of "great idea, poor execution". The Kurgo comes in 5 well-defined sizes ranging from x-small to x-large and in 3 different color variations.
And it's made of a lightweight, breathable mesh with wide padded straps. It also comes with two connection points for maximum control and a padded handle that you can use for close control. Heck, it's even decked out in reflective trim so you can easily keep an eye on your doggo during your early morning or evening walks.
So, what puts this model at the bottom of our list? The restraining mechanisms.
The clips and straps used to hold your pup inside the harness are nearly useless. In Kurgo's efforts to make the harness as lightweight (and rust proof), they've used lightweight aluminum for the clips instead of stainless steel or tough polymer. And while this does make them extremely lightweight, the clips break and bend very easily, rendering the entire harness useless. And the strapping material isn't good quality and frays very quickly as well.
If Kurgo were to address these two issues, there's no doubt that this catapult up our list.
Lightweight and breathable
2 connection points
Padded handle
Reflective trim
Restraining clips snap way too easily
Strapping frays
Built cheaply
---
Buyer's Guide: Selecting the Best No Pull Harness for Dogs
If you noticed while reading our reviews, there quite a few criteria that we looked at to determine the best choices for no pull dog harnesses. Let's take a look at them each in detail, so you'll know what you're searching for when shopping.
Size
Size is among the most critical points of comparison when looking for the right harness. If it doesn't fit your pup, it's unlikely to stay on, leading to a very likely escape. Every single harness is sized differently as well, so it pays to be hypervigilant when researching.
Each harness you look at should have a clear-cut sizing chart that tells you how to determine which is best for your dog. If you run across a harness that you really like but are still unsure of, the best thing you can do is email or contact the manufacturer with your dog's measurements. They'll be able to tell the exact size you need.
Weight and Durability
The actual weight of the harness is also extremely important to consider. You don't want to put an extremely heavy harness on a smaller breed of dog. They simply don't need it. However, you also don't want to put a super-lightweight harness on a large or giant breed. There's a good chance that they could tear right through it after a couple of uses.
Breathability
Breathability is a measure of how much air can flow through the harness and provide comfort to your pup. Most harnesses achieve this by utilizing mesh strapping or chest pieces to keep your loved one sufficiently cool.
This is particularly important if you're living in a warmer climate. You want to ensure that your dog's harness isn't causing them to overheat.
Points of Control
One of the main reasons the dog harness was invented was to offer a safe way of controlling your pup as opposed to harmful choke collars or traditional neck leashes. The problem was addressed by putting the main point of control on your dog's back just between their shoulder blades.
However, some harnesses are taking that a step further. Others now offer a chest connection. This helps to steer and direct your pooch without injuring them in the process. Another great control point found on high-quality harnesses is a close-quarters handle. This is a handle that extends along with the breadth of the harness that you can hold on to if you need to take close control of your dog.
Range of Motion
Lastly, you need to look for a dog harness that allows your pup to have a free range of natural motion. You don't want your pup to have to change their natural gait to fit into a harness. The harness should embrace and encourage a proper walking stance. Doing so also helps dogs resist the urge to pull.
Conclusion
Hopefully, these reviews and buyer's guide have given you some insight into what to look for when shopping for a new no pull dog harness. As a recap, our top pick is the HDP Big Dog No Pull Dog Harness. As most problems with pulling will come from bigger dogs, we like this harness because it caters directly to them. It's well-built and sturdy, but gentle enough to even help support senior dogs on their daily walks.
But we also want to mention our best no-pull harness for the money again: the Sporn Mesh No Pull Harness is a deceptively well-built harness for its price point. It's less expensive than a traditional leash and collar.
Investing in a quality dog harness is a big deal if you plan on taking your dog outside of the home. They not only help keep your dog close by and under control but safe as well. So, be sure to invest the time needed to choose the right one for your pooch.
---