10 Best Orthopedic Cat Beds in 2023 – Reviews & Top Picks

You may not notice it at first. Your cat may seem less active, spending less time looking out the window from its window perch. Then, it becomes evident that your pet is walking a bit slower. It has problems jumping up on the couch. You may find that it's stopping and going up the stairs at a sluggish pace. These are all the classic signs of osteoarthritis in felines.
No cat is immune to this debilitating condition. It's merely time taking its toll on your pet's joints. While osteoarthritis isn't curable, you can take measures to make your kitty more comfortable, such as getting an orthopedic cat bed. After all, sleep is vital to felines, some of which may snooze up to 20 hours a day. Therefore, it makes sense to invest in a high-quality product, given its importance for your pet.
Our guide will discuss the options you have, with information on the features to look for to make an informed choice. We've also included reviews of some of the best orthopedic cat beds available this year, with pros and cons for each one.
A Quick Comparison of Our Favorites in 2023
Rating
Image
Product
Details

Best Overall

FurHaven Quilted Orthopedic Cat Bed

Recycled materials
Excellent size selection
30-day limited warranty
Check Price

Best Value

Frisco Sherpa Orthopedic Bolster Cat Bed

Value-priced
Comfy cushion
Easy entry and exit
Check Price

Premium Choice

Petsure Orthopedic Cat Bed

Water-resistant liner
Sturdy construction
Non-skid bottom
Check Price

K&H Pet Products Orthopedic Bolster Cat Bed

Soft interior
1-year limited warranty
Well-made
Check Price

MidWest Orthopedic Bolster Cat Bed

Water-resistant
Odor-resistant
Check Price
The 10 Best Orthopedic Cat Beds
1.

FurHaven Quilted Orthopedic Cat Bed – Best Overall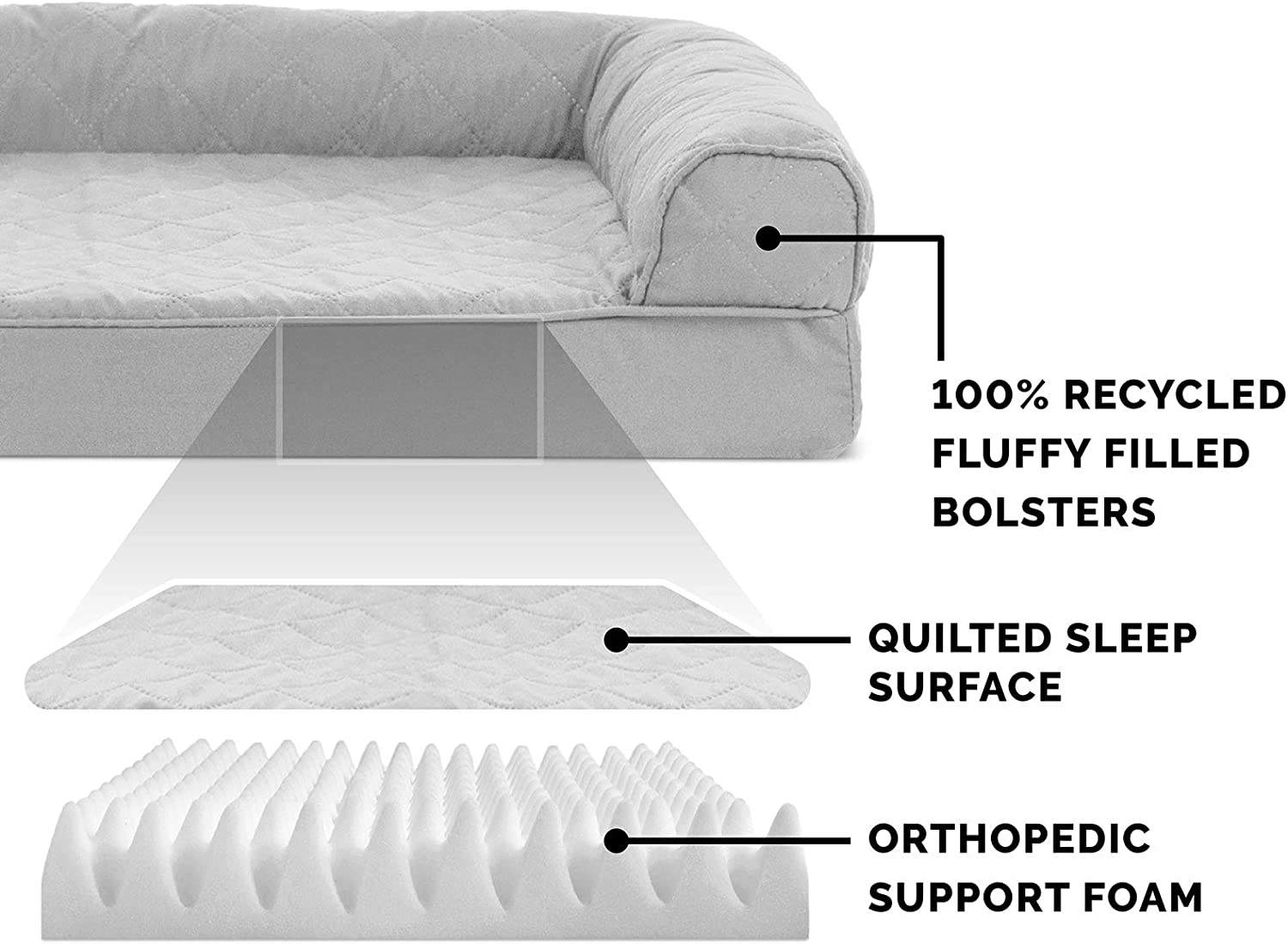 The FurHaven Quilted Orthopedic Cat Bed ticks off a lot of the boxes we look for in these products. It is CertiPUR-US certified foam, which puts it squarely in the dealmaker category. It is essentially a cat sofa, with an open front for easy entry and exit. The interior is quilted with orthopedic foam for comfort. It does an excellent job of redistributing the weight of your pet.
The suede-lined sides provide more than adequate support. The bed comes in a full range of sizes to fit any pet. It has a stylish design that will look attractive even in the family room. We liked the fact that it includes recycled materials, making it an eco-friendly purchase, too. The price is right, especially considering the 30-day limited warranty.
To conclude, we think this is the overall best orthopedic cat bed.
Recycled materials
Excellent size selection
30-day limited warranty
Removable cover
CertiPUR-US certified foam
---
2.

Frisco Sherpa Orthopedic Bolster Cat Bed – Best Value
The Frisco Sherpa Orthopedic Bolster Cat Bed is the best orthopedic cat bed for the money. It comes with a Sherpa-sided cushion and a chenille jacquard bed, both of which have removable covers. The filling is both memory foam and polyfill. It is well-made and provides adequate room for cats that like to stretch out in their bed. We liked that the entire bed is washable.
While it is affordably priced, the foam is neither certified nor chew-resistant. The latter might be an issue with cats that have their claws. The bed is attractive and comes in only one color. The cushion is a light gray, which can be problematic for dark-colored pets. Given its size and price, we think it would make an excellent travel bed.
Value-priced
Comfy cushion
Easy entry and exit
Not chew-resistant
Not CertiPUR-US certified
---
3.

Petsure Orthopedic Cat Bed – Premium Choice
The Petsure Orthopedic Cat Bed is a high-quality product designed with the pet owner in mind. It has a removable base cover containing a 2.5-inch memory foam layer. It also has a sofa shape for easy entry and exit. We liked the non-skid bottom that makes placing it in a room with hardwood floors possible. The sides are well-padded for optimal support.
However, given its price, we thought it was a shame that the bed wasn't CertiPUR-US certified. The thinness of the cover also was a red flag if your cat has claws. Overall, it's a well-made product that scores high marks for comfort and support. It comes in three colors and three sizes.
Water-resistant liner
Sturdy construction
Non-skid bottom
Spendy
Not CertiPUR-US certified
---
4.

K&H Pet Products Orthopedic Bolster Cat Bed
The K&H Pet Products Orthopedic Bolster Cat Bed offers a plush place to curl up for a catnap, with its velvet and microfiber interior that is sure to make a favorable impression on your cat. The sides are thick and soft. A 3-inch orthopedic foam and a foam base provide the support. It has a removable cover that is machine washable in the delicate cycle. The manufacturer recommends line-drying it.
We liked the design that makes it easy for your pet to get inside of it. The opening is smaller than we usually see with these sofa-style beds. It comes in two colors and four sizes. The manufacturer also offers a 1-year limited warranty.
Soft interior
1-year limited warranty
Well-made
Only the cover is washable
Not CertiPUR-US certified
---
5.

MidWest Orthopedic Bolster Cat Bed
The MidWest Orthopedic Bolster Cat Bed looks more like your run-of-the-mill model than one with this particular purpose. It consists of a foam bolster with a fleece lining over an egg-crate base. The latter allows for circulation, but the higher sides do not. The entry is also taller than we've seen with comparable products, making it a possible issue for arthritic cats.
On the positive side, the manufacturer covers the things that we don't always like about pet beds, with their odor- and water-resistant properties. The latter is a Teflon-coating, which we questioned for its safety. While it's easy to clean, the bed doesn't provide enough support to alleviate pressure points. It's also spendy for what it is.
Water-resistant
Odor-resistant
Inadequate support
Higher entry
---
6.

Brindle Waterproof Orthopedic Cat Bed
The Brindle Waterproof Orthopedic Cat Bed consists of two 2-inch layers of support and memory foam. It has a velour, removable cover, with a waterproof liner inside to protect the base. The top is soft and relieves pressure well. Unfortunately, it's only a pillow and not a complete bed with sides. It will provide some warmth with its thickness. However, it's not the same as a bolster model that allows a cat to curl up inside of it.
The bed is well-made, with a washable cover. It has a non-skid bottom, which is necessary with this type of item. It comes in three sizes and three colors. One standout feature is the 3-year warranty that the manufacturer offers. That says a lot about the quality of the product and its durability. Nevertheless, it is not scratch- or chew-resistant.
Waterproof
Non-skid bottom
3-year warranty
No side support
Doesn't retain heat
---
7.

American Kennel Club Orthopedic Bolster Cat Bed
The American Kennel Club Orthopedic Bolster Cat Bed looks like a regular sleeping spot with full padding on three sides for excellent support. The outer material is canvas, offering decent durability. The interior is a fleece-like material. The bed is one piece only, with no removable cover or pillow. Unfortunately, it is not machine-washable, either. It's too bad, given its light color.
The bed comes in three colors and only one size. The manufacturer recommends it for pets up to 25 lbs. The filling is polyfill. It's soft enough but is not an orthopedic product, nor is it CertiPUR-US certified. While it appears warm inside of it, we'd use it for a regular bed than anything else. On the positive side, it is affordably priced for an extra bed to have at home or for travel.
Value-priced
Excellent side support
Water-resistant
Only one size
Non-washable
---
8.

Best Friends by Sheri Orthopedic Bolster Cat Bed
The Best Friends by Sheri Orthopedic Bolster Cat Bed looks like the cat's meow, with its cozy interior that is sure to keep your pet cozy. The padding is thick at 3 inches. The back is taller than the sides for better heat retention. The material has a lot of loft to it for trapping air and making it even warmer. Unfortunately, it doesn't provide the support we'd expect in an orthopedic product.
On a positive note, the bed is easy to clean. You can throw it in the washer and pop it in the dryer on the delicate cycle to finish. It's also value-priced. While it keeps its shape all right, the sides flop over with any pressure. Its value rests with the warmth it provides and not the support. It comes in seven colors and two sizes.
Machine-washable
Dryer-friendly
Too high to get in and out of it
No anti-skid bottom
---
9.

PetFusion Ultimate Orthopedic Cat Bed
The PetFusion Ultimate Orthopedic Cat Bed starts right with a waterproof liner and replacement covers available for its bolster-type product. Unfortunately, water-resistant is a better descriptor. However, it is easy to spot clean it as long as you tackle the issue early. The design is attractive and provides decent side support. The opening isn't too high for senior cats.
On the downside, the cat bed is expensive, especially considering that it isn't CertiPUR-US certified. The small size measures 25 inches L x 20 inches W. The padding takes up 2 inches on all sides, cutting down the usable space considerably. The manufacturer offers a 36-month limited warranty on the bed. It comes in three sizes and four colors.
Eco-friendly materials
Replacement covers available
Pricey
Quality control issues with zippers
Inflammable
---
10.

Milliard Premium Orthopedic Cat Bed
The Milliard Premium Orthopedic Cat Bed is the second of two products on our roundup that are CertiPUR-US certified. This one has 4 combined inches of orthopedic and base foam to provide adequate support and pressure relief. Unfortunately, it's just a pillow that provides comfort but no heat retention. Nonetheless, it is soft and affordably priced.
The cover is removable and washable. That's a good thing, considering the bed comes in only one light color choice that is sure to require frequent cleaning. The product had a detectable odor, which isn't unusual for these types of items. It was a turn-off, nevertheless. While the manufacturer says the cover is waterproof, we thought it was water-resistant—only to a point.
No side support
Lack of heat retention
One color choice
Odor
---
Buyer's Guide: How to Select the Best Orthopedic Cat Beds
The quality of cat beds has soared in recent years. Manufacturers have realized that people often view their pets as members of the family. According to the American Pet Products Association (APPA), pet owners spent nearly $73 billion on their animal companions in 2018, an industry record-high amount. That means you'll probably have no problems finding quality products in a wide range of price points.
However, it's also essential to get what you paid for in an orthopedic cat bed. Remember that by the time your pet starts showing signs of joint pain, the disease has progressed quite a bit. Comfort and your kitty's well-being are at the top of the list for features for the right one. Some points to consider include:
Materials and construction
Support
Cover
Washability and care
Other features
Price
You'll likely find that shopping for a cat bed isn't unlike getting one for yourself. You'll see the same selling points and benefits. You may even recognize some national brands that have expanded into the pet market. The best thing about it is that it gives you an excellent grasp of what you can expect and how that will translate into a better quality of life for your cat.
Materials and Construction
This feature is by far the most important of any you'll consider. It's going to make the most significant impact on your pet's comfort. Orthopedic foam is more of a marketing term than an actual product designation. The proof is whether or not it alleviates pressure and provides adequate support. For example, a memory foam bed may be orthopedic, but that term can also apply to latex or polyfill, depending on the design.
An extra thick cat bed isn't necessarily orthopedic. It's all about the design. A quality product often has more than one layer, with memory foam on top and a support foam underneath to help it keep its shape. One way to determine if it's the real deal is to look for CertiPUR-US certification. That tells you the manufacturer made it without formaldehyde, flame retardants, or other hazardous materials.
The absence of flame retardants is particularly critical for cats. Research has suggested that long-term exposure can increase your pet's risk of thyroid disease. However, that makes the placement of the bed essential to keep it from any fire hazards, such as in front of a fireplace or kerosene heater.
Certification is one way to ensure that you're getting a well-made bed. However, you'll likely see it reflected in the price of the product. Other materials you may see include polyfill, microfiber, gel foam, and even recycled materials. Manufacturers often construct their beds with a base layer. Egg crate foam is a popular choice. A memory or orthopedic layer sits on top of it to provide the balance of the pressure relief.
Support
Adequate support is the primary benefit of choosing an orthopedic cat bed over a less expensive item. Its purpose is to relieve pressure on your pet's joints to ensure a comfortable night's sleep. It also speaks to the durability of the bed, especially if your kitty is on the heavy side. Look for well-constructed, padded sides on the product. However, make sure they aren't too high that could make it difficult for your kitty to get out of it.
Bear in mind that the padding will cut down on the room inside of the bed. We suggest checking the dimensions for both the bed and the interior space to make sure that you're getting the correct size. Ideally, the bed will allow your pet to get inside with its entire body with room overhead in the case of hooded styles. If in doubt, measure your cat to play it safe.
Cover
The cover material will also play a significant role in comfort. Softness and durability are the primary considerations. After all, you want it to feel comfortable to your cat. The second factor is a valid point if your cat still has its claws and likes to knead. Some pets get quite zealous about this sleep ritual and can make short work of flimsy materials.
Options you'll see include faux fur, Sherpa, polyethylene, among others. The top criterion is that it's warm and will help retain heat when your cat curls up inside the bed. Textured materials like chenille do an excellent job of trapping air and keeping things cozy. These conditions can make your pet more comfortable by encouraging blood circulation to speed healing. It also just feels good.
Washability and Care
We consider this feature a must-have, especially if you have a senior pet. It can extend the lifespan of the bed, making it a wiser investment. We suggest reading the care instructions before you buy a product. Find out what you can and cannot machine wash. Some beds have removable covers that make this task easier. We recommend also checking on the availability and cost of replacements to get more out of your purchase.
Many of the products we reviewed had washable and spot-clean parts to them. That makes the color availability more desirable so that it doesn't show any spots. Most of the beds we researched had a limited number of choices. We suggest getting a color that closely matches your cat's fur to make it less noticeable.
Other Features
Specialty and premium orthopedic cat beds often include other features that can almost make it seem like a spa experience—feline style. We've seen products with removable heaters for the winter and cooling pads for the warmer months. Some manufacturers even bill their beds as chew-resistant, which can probably cover cats with claws as well.
You'll find both water-resistant and waterproof items, too. Bear in mind that there is a distinct difference between the two terms. However, this feature is a double-edged sword. Products that are truly waterproof can retain moisture, which can cause mold and mildew if the cover or liner isn't completely dry.
Ideally, the product description will have an International Protection Rating (IP). This two-digit code tells you the degree that an item will keep out debris or moisture. You often see it on electronics, outdoor lighting, and outerwear. This number quantifies how waterproof something is. Our research found few if any pet bed manufacturers provide this spec.
Most cat beds have a non-skid bottom for optimal safety. Of course, that feature matters most if you're going to put the bed in a room with hardwood floors or tile. Some products have hoods, which makes the bed a hiding place for your kitty.
Price
The price range on orthopedic cat beds is surprisingly wide. We found budget-friendly ones under $25. On the high end, we even saw products costing hundreds of dollars. Most sellers will at least refund or replace defective products. You probably won't see many with warranties unless it includes a heating element.
Our advice is to consider how your cat uses its things. If it's rough on toys and scratches whatever it finds, it makes sense to spend a bit more on a bed that will last. Also, think about how often you replace it. If it's an annual purpose, you can justify shelling out more for an orthopedic cat bed that will pay for itself with better construction and durability.
Conclusion
No one likes to see their pet in pain. An orthopedic cat bed can help your cat get a better night's sleep and wake up feeling less stiff or painful. Fortunately, we found several products that can fit the bill nicely. The FurHaven Quilted Orthopedic Cat Bed claimed the number one spot in our roundup of reviews. Not only is it attractive, but it's practical and provides excellent support at an affordable price.
The Frisco Sherpa Orthopedic Bolster Cat Bed has an attractive design that makes it good-looking as well as practical. While it's not CertiPUR-US certified, it provides a comfortable space to curl up that will retain heat well. Its affordable price makes it an excellent choice for a second bed.