8 Best Outdoor Cat Beds in 2023 – Reviews & Top Picks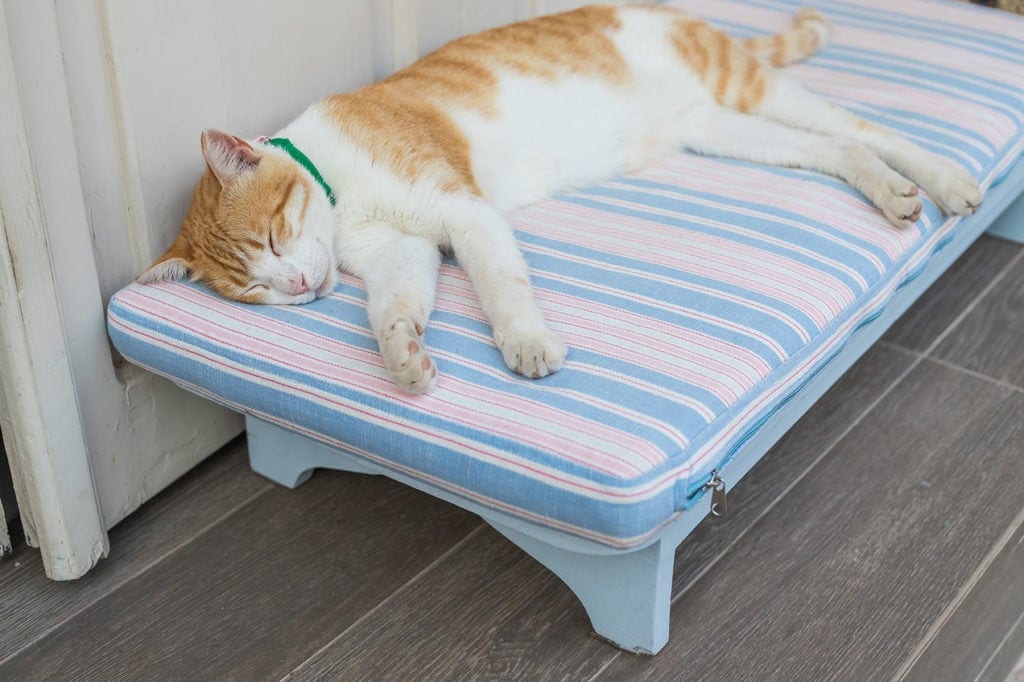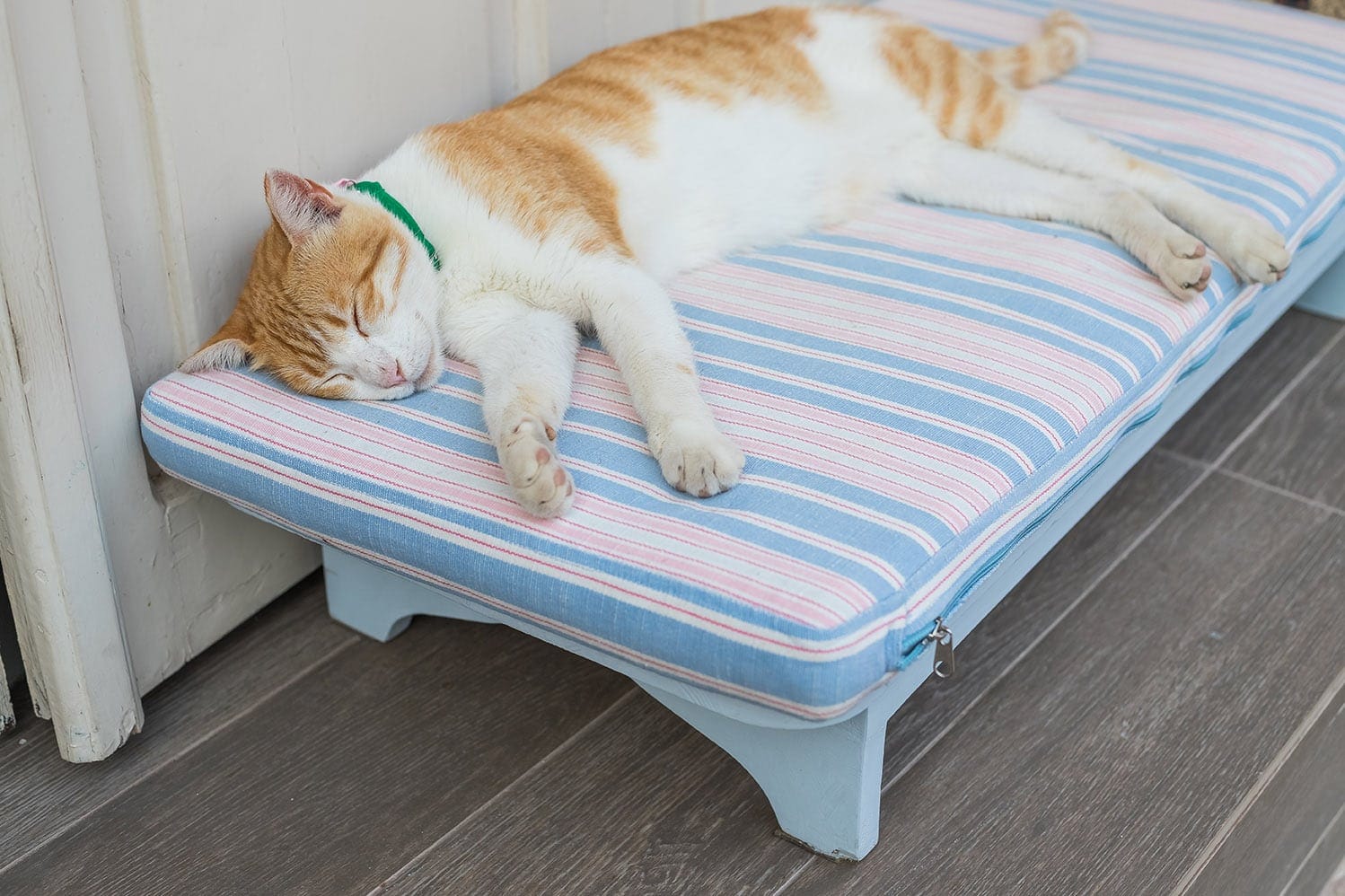 Cats thrive in the outdoors just as much as they do indoors. They live happy lives frolicking in the nature that surrounds your home, but when it's time for them to rest, you're wanting them to be comfortable and warm, especially when it gets cold outside.
There are good and bad things when it comes to buying an outdoor cat bed online. The good thing is there are so many options out there, but the bad is that you may not know which one best fits your needs. That's where we come in.
We're here to help you sort through all the noise of product descriptions and customer reviews. We will point out what's good and bad about each model of outdoor cat bed, so you know exactly which one you want.
Let's get started!

A Glance at Our Favorites in 2023
Rating
Image
Product
Details

Best Overall

Hepper Nest Outdoor Cat Bed

Lightweight
Simple design
Great for senior cats
Check Price

Best Value

Aspen Pet Self-Warming Bolster Cat Bed

Low walls
Warm and cozy
Accommodates all size cats
Check Price

Premium Choice

Hepper Pod Modern Outdoor Cat Bed

Nice height
Sturdy legs
A modern, sleek look
Check Price

K&H Pet Products Outdoor Bolster Cat Bed

Electric heat
Versatile for all ages
Turns on when laid on
Check Price

Dogzilla Rectangular Bolster Outdoor Cat Bed

High bolster
Tough fabric
Washable
Check Price
The 8 Best Outdoor Cat Beds
1.

Hepper Nest Outdoor Cat Bed – Best Overall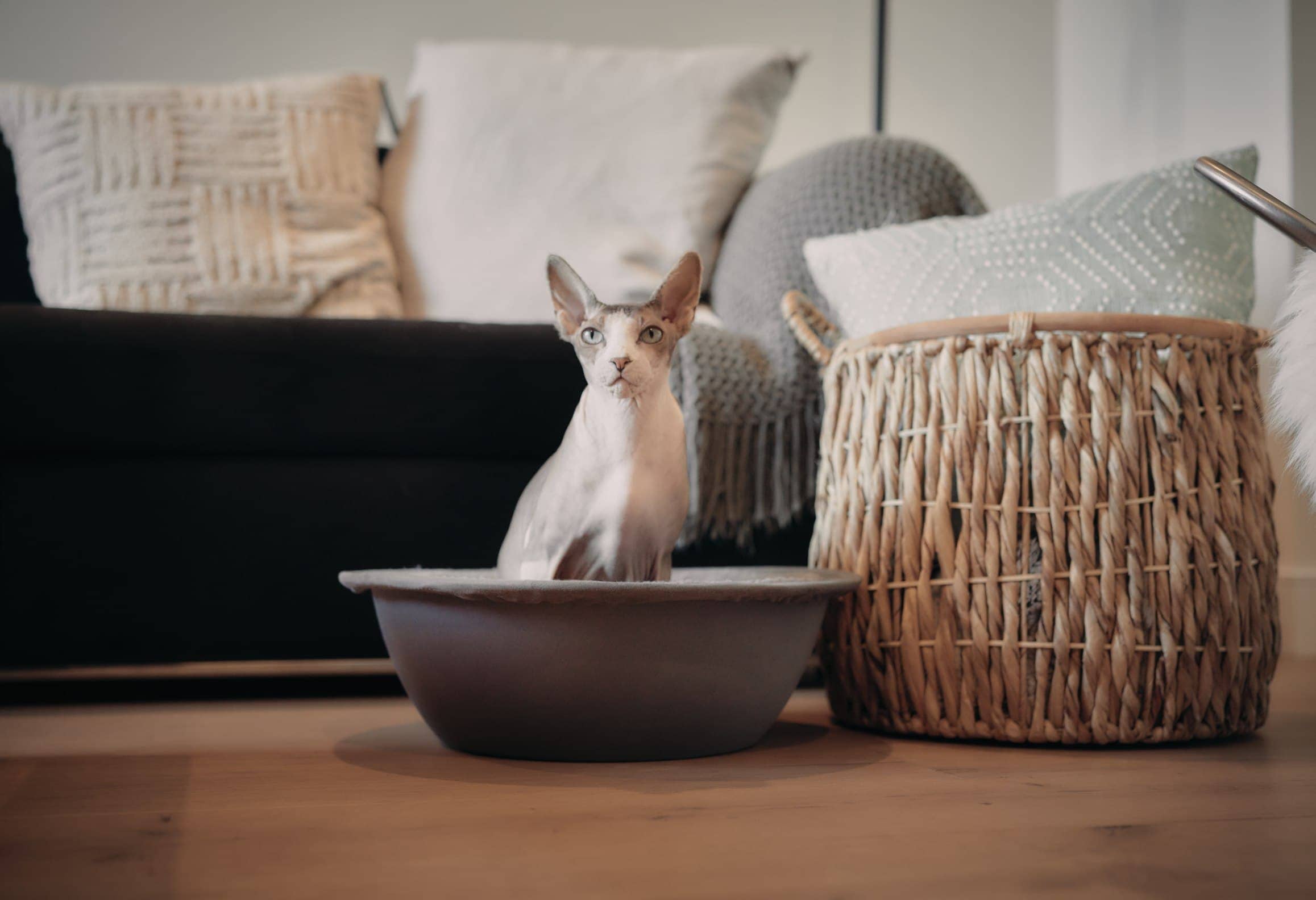 The Hepper Nest works indoors or outdoors, making it one of the best cat beds on the market today. Of course, we say that with a biased opinion! But honestly, we love our bed because it's easy to clean, looks great, and you can move it around wherever you like (even while your kitty is snoozing in it). When you need to wash the liner, just pop it off and throw it in the washing machine. The bed can fit all types of cats in any sleeping position. The bowl-shaped bed can not only fit one furry friend, but two!
The way the bed sits on the ground makes it easy for older cats to get in and out of. With this bed, it doesn't matter if your cat likes to stretch out long or curl up tight when he sleeps. Both types of sleepers can snooze in this bed. Most curling cats and cats who like to hide in tight spots will especially love this bed.
Some customers were dissatisfied with the product, saying that it was too expensive for what it is. However, many happy cats and cat parents say that it's worth it.
To conclude, we think this is the best outdoor cat bed of the year.
Great for senior cats
Fits one large cat or two smaller cats
Lightweight
Simple design
Machine-washable fleece liner
You might have guessed, this is our own product – but we love it so much we just have to share it, and hope you get to own one too!
---
2.

Aspen Pet Self-Warming Bolster Cat Bed– Best Value
Does your cat like to get nice and cozy? For a cat (or dog) bed at an unbeatable price, this Aspen Pet Self-Warming Bolster is the best outdoor cat bed for the money. Inside the fleece liner is a space blanket that reflects the heat from your cat back onto himself. With low walls, senior cats and little kittens will be able to hop in and out of it with ease.
This bed is perfect for curl or stretch sleepers who like to sleep in a colder climate, like in an enclosed porch or outside in the fall or winter months. The whole bed is washable, just be sure not to dry it in the dryer. With the unbeatable price, you will be able to have multiple beds all around the house, making it a great choice for someone with multiple pets.
What makes this bed not so great is its finicky fabric. The product description contains a warning that the fabric is not chew-proof, and you will need to seek medical attention if any part of it is ingested. If you know your cat is not prone to chewing, though, it could be a great, affordable option for an indoor/outdoor cat bed.
Warm and cozy
Accommodates all size cats
Stretch and curl-sleeper approved
Low walls
Floppy walls
Can't dry in the dryer
Fabric potentially hazardous
---
3.

Hepper Pod Modern Outdoor Cat Bed – Premium Choice
Look out, yesteryear's cat bed. Make room for the cat spaceship! In all seriousness, this minimalist-style Hepper Pod modern outdoor cat bed will look great in your backyard or porch. It's elevated off the ground and can fit two cats max. It's best for small cats but can accommodate larger cats if the top is taken off. The walls will protect your cat from the elements.
Sturdy plastic surrounds the outside of the bed and it sits on steel legs with no-skid pads that connect under the bed for extra support, making it a perfect, impervious outdoor cat bed. Cats can get in and out of this bed through a nice, large hole in the front. The Sherpa microfiber fleece lining will keep her nice and warm but not stuffy, since it's designed to have nice airflow.
One of the only downside to this Hepper Pod is its price. Some cat owners just won't be able to afford it. Another thing that bothers some cat owners is the walls not being completely sturdy. If a cat sits on top, the roof might cave in a little. As long as the cat lays inside, there should be no problems.
A modern, sleek look
Nice height
Sturdy legs
Warm interior
Walls to protect from elements
You might have guessed, this is our own product – but we love it so much we just have to share it, and hope you get to own one too!
---
4.

K&H Pet Products Outdoor Bolster Cat Bed
There's no need to worry about kitty staying warm when you've got this cat bed. Even in cold conditions, this bed stays nice and cozy through its electric heat. Control how hot it gets with the included thermostat. It reaches 102 degrees F, which is your cat's core body temperature. The great thing is, the pad only turns on when your pet sits on the bed. It does not run continuously.
One of the best things about this bed is the ability to wash it. When it's time to wash, simply remove the liner and wipe down the pad. The liner can go in the washing machine and air-dried. The bolstered walls are low enough for senior cats and kittens to climb in and out of.
Some customers wish this bed's bolsters were a little bit higher for cats who need a little extra security. If your cat scares easily, it might be bothered by the crinkly noise it makes when walked on. Others say the pad is too hard for their cats.
Electric heat
Versatile for all ages
Turns on when laid on
Soft fleece cover
Bolster not high enough
The pad might be too hard
---
5.

Dogzilla Rectangular Bolster Outdoor Cat Bed
A cat bed that sits outside needs to have tough fabric. Dogzilla Rectangular Bolster outdoor cat bed comes with tough, ripstop fabric that will not be easily destroyed. The size is perfect for cats, with higher walls that will make her feel cozy. You can feel good about purchasing this product too: the interior polyester filling is 100% recycled.
Even though the bedding is soft and the fabric is tough, many buyers were not satisfied with this bed due to its weak seams. Their pets could pull the seams apart if they were aggressive enough, or the seams would come apart in the washing machine.
Recycled polyester filling
Tough fabric
High bolster
Washable
---
6.

Amazon Basics Elevated Outdoor Cat Bed
Perhaps you live in a hot and humid climate, and your cat prefers a cooler place to lay her head down. Consider this Amazon Basics Elevated outdoor cat bed, with a cooling effect. It comes in two colors and five sizes. It's also inexpensive and lightweight.
The fabric stretched across the 7+ inch elevated bed is a mesh material that allows air to flow through. It's a great bed that will not end up with a puddle of water in it if it ends up outside in a rainstorm. With an included hex wrench and instructions, the bed will come together in a snap.
Possible problems with this product are that it does at times have quality control issues. Some had problems assembling the bed with the parts given, either the fabric was not big enough to stretch across the frame or the screws did not fit as they should have.
Engineered wood base and tower
Sisal coated post
Attractive design
---
7.

  Pet Mora Self-Warming Outdoor Cat Bed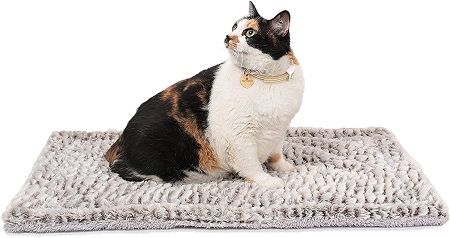 Pet Mora does a great job knowing what a cat needs in a cat bed. This crinkle-free pad self-heats when your kitty lays on it. With 5 layers of padding, fleece, reflecting material, and a cozy-soft feel, your cat will stay toasty warm and happy for every snooze.
Perhaps the best thing about this pad is its portability and flexibility. If your cat loves it, you can pack it up with you easily when you leave town. When it gets dirty, you can wash it in the washing machine and hang it outside to dry.
This pad works best indoors or inside some sort of shelter, as it is not waterproof. Some users say the "self-heating" element is false advertising and does not feel very warm to their cats, but it still makes a great pad.
Not waterproof
May not heat like advertised
---
8.

FurHaven Deluxe Orthopedic Outdoor Cat Bed
For a water-resistant pad that is an alternative to the cold, hard ground, this FurHaven Deluxe Orthopedic outdoor cat bed might be a good choice. It's got a removable cover that will stay dry when left outside. This bed comes in several different colors to meet your design needs: green, grey, teal, or chestnut. The pad inside the liner is an egg crate shape that feels nice on stiff and sore joints, making it a great choice for older cats.
This bed is extremely practical, which may suit some cats just fine. However, if you know you have a picky cat, look elsewhere for a bed. While this bed is impervious to water damage, it's noisy to step on and it's not very soft. When the pad is placed on a smooth floor, the pad can slip: there is no slip-proof underside. Also, the material is prone to damage from biting or scratching.
Waterproof
Orthopedic pad
Easy for senior cats
Comes in 4 sizes
Noisy
Not slip-proof
Flimsy cover that's not soft
---
Buyer's Guide: Picking the Best Outdoor Cat Beds
By now you have been able to see what kinds of outdoor cat beds are on the market. Each one has its unique features, some that are perfect for your needs and ones you can do without. Let us help you decide what matters most to you when choosing the best outdoor cat bed with this buyer's guide.
How Many Cats Do You Have?
Most cats love to snuggle into small, cozy places to sleep. Do your cats like to sleep together, or will they fight over the bed you buy? Bringing one cat bed into a home of multiple felines could create some problems. Keep in mind that you may be buying multiple beds in the future if all your cats love it.
When you have only one cat, you can afford to buy a smaller (and potentially cheaper) bed. But if you know your cats like to sleep together, you will want to make sure the bed that you buy can accommodate the size of both of your cats. Most beds can sleep 1-2 cats.
Cat Body Size
Is your cat a little tubby, or just a big-sized breed? Find out the weight of your cat. It's important to know this information, especially if you want to buy an elevated cat bed and you have a big cat. The company selling the cat bed tests their bed for weight restrictions. The product description should tell you what the maximum weight capacity is.
Cat Personality
Does your cat scare easily, or is she more comfortable with the world around her? Though most of these beds are open-faced, an easily-frightened cat may benefit from having an enclosed-style bed to help her feel more comfortable. If you buy her a cat bed without walls, you could invest in a cat shelter that the cat bed can go in.
Cat Age
Though kittens that can jump shouldn't have a problem jumping into a cat bed, older cats will need some extra help where you can offer it. If you have a cat that's old or getting older, consider buying a cat bed that is low to the ground or even on the ground.
Keep in mind that a cat that takes to a floor cat bed could have a cat bed last their entire life, while an elevated one might not last as long. To avoid buying a whole new bed for an aging cat, stick with a lower outdoor cat bed.
Sleeping Position
Cats usually favor one of two sleeping positions. If you know your cat well, by now you will have noticed which one she likes. Some cats will curl up into a ball and others prefer to stretch out. Some will even sleep on their back!
When you are shopping for cat beds, keep their favorite sleeping position in mind. Some cat beds are made for stretching cats while others are best for cats who like to curl up.
Return Policy
Sometimes, when cat owners get their cats a bed, they are surprised to find that the cat likes the box more than the purchased bed. Don't be surprised when this happens, because there's no way to tell which beds your cats will like. Cats can be finicky and like one bed for a month, then totally ignore it. If you suspect your cat might be flip-floppy on the cat bed, it may be worth getting a cat bed with a good return policy.
Price
There's a good amount of flexibility when it comes to pricing on an outdoor cat bed. There are expensive options and cheaper options, and you don't have to trade quality for the price all the time, either. Usually, though, when you buy a more expensive cat bed, it's more likely that the bed will last longer and is made of better materials.
Materials
When cat messes happen, you will want your cat bed to be washable. Most cat bed distributors know this and make sure their beds can at least be washed in the washing machine. Some can even be dried, but do make sure it's dryer-friendly before you throw it in. The dryer could ruin the fabric. If the cat bed liner is not washable, it usually can be spot-cleaned easily.
Does your cat like to scratch or chew? Then invest in a cat bed with bulletproof fabric. Not all cat beds are made to be scratch and chew proof.
Outdoor Climate
Since you are purchasing a bed for the outdoors, ask yourself a few questions. Will the bed be sitting in the rain or snow? Does your weather get extremely hot or cold? Certain cat beds are best for cold weather, while others are best for warm weather. Your cat will have different needs based on the season, so it might be worth getting two different beds for the extremes if both extremes apply to you.
Conclusion
We hope that our research helped you come to your next outdoor cat bed buying solution. With all of those customer reviews and tons of information out there, it's overwhelming and hard to decipher at times what features are most important to you, and that's where we come in to help.
By far the best outdoor cat bed out there is the Hepper Nest Modern Cat Bed. Because it's a little pricey, you might consider the Aspen Pet Self-Warming Bolster Cat Bed, which is a great choice for the money.
You love your cat so much, we're confident with this information and your cat care instincts, your cat will be very happy with the next outdoor cat bed that you bring home.
---
Featured Image Credit: Yulia YasPe, Shutterstock