10 Best Outdoor Cat Repellents – 2023 Reviews & Top Picks

While you may be fond of cats, chances are you aren't a fan of unwanted stray cats wandering into your yard. These nuisances can cause a host of problems, from digging up plants to attacking local wildlife and even transporting parasites and diseases. That's where outdoor cat repellents come in.
Available in a variety of types, outdoor cat repellents can help chase off outdoor cats quickly and humanely. The question is—what kind should you purchase? When searching for a repellent, there are several items to consider, such as how it repels, the area size you want to cover, brand, and value.
It can be a challenge to sift through the many choices and reviews you'll find online, so we've made your hunt for the perfect outdoor cat repellent easier by gathering our ten favorites below!
A Quick Comparison of Our Favorites of 2023
Rating
Image
Product
Details

Best Overall

Homarden Repellent Scat Cat Mat

Easy to use
Humane
Works extremely well for repelling cats
Check Price

Best Value

Ultrasonic Animal Deterrent & Lights

Best overall price
Uses sound, not chemicals
Super simple to set up
Check Price

Premium Choice

Yard Enforcer Motion-Activated Sprinkler

Most features available on the market
Easy to install
Safe and humane
Check Price

PetSafe SSSCAT Spray Deterrent

Simple
Safe
Requires little work on your part
Check Price

WINWISH Ultrasonic Animal Repellent

Easy setup
Uses light and sound to repel animals
Solar-powered
Check Price
The 10 Best Cat Repellents
1.

Homarden Cat Repellent Outdoor Scat Cat Mat – Best Overall
| | |
| --- | --- |
| Size | 16 x 13 in |
| Weight | 42 lbs |
| Non-Toxic | Yes |
| Harms Animals | No |
| Easy to Use | Yes |
Homarden's scat cat mat is the best overall cat repellent in our book. It's non-toxic for cats and garden plants alike, plus it is heat resistant. It also won't harm cats; it only causes a bit of discomfort for their paws—making it a humane option to repel outdoor cats. It's simple to use—just wrap it around poles or trees you want to keep cats from climbing or scratching. You can even use it indoors to deter your own cats from furniture they shouldn't be on!
This repellent comes with 10 mats that cover 13 feet and is made of flexible material.
Easy to use
Humane
Works extremely well for repelling cats
Reports of cats using it as a back scratch
Rare reports of mats falling apart in a short amount of time
---
2.

Ultrasonic Animal Deterrent with Sensor & Flashing Lights – Best Value
| | |
| --- | --- |
| Size | 14 x 5.83 x 2.99 in |
| Weight | 2 oz |
| Non-Toxic | Yes |
| Harms Animals | No |
| Easy to Use | Yes |
If you're on a budget, we find this product to be the best outdoor cat repellent for the money. It's so easy to use—just stick the product into the ground somewhere in your yard, and you're ready to go. Using an ultrasonic speaker, this repellent emits an unpleasant sound undetectable to human ears but is heard perfectly by cats and other animals. It uses a passive infrared sensor to identify motion. It's solar-powered, so it's environmentally friendly, plus it's weatherproof, so you don't need to worry about animals sneaking in during rain or snow.
Because it uses sound rather than chemicals, it's safe for animals and humans.
Great value
Uses sound, not chemicals
Super simple to set up
If you live in an area without a lot of sun, this may not work
---
3.

Yard Enforcer Motion-Activated Sprinkler – Premium Choice
| | |
| --- | --- |
| Size | 10 x 5 x 24.5 in |
| Weight | 1 lbs |
| Non-Toxic | Yes |
| Harms Animals | No |
| Easy to Use | Yes |
If it's a premium outdoor cat repellent you're after, this is the product for you. This motion-activated sprinkler doesn't just spray water; it uses a combination of water, motion, and sound to deter pesky visitors to your yard. It has three detection modes available—day mode, night mode, and 24/7 mode—so you can use it only as much as you need. It can detect smaller animals such as cats from up to 20 feet away using a passive infrared sensor. It also doubles as a regular sprinkler!
Installing it is effortless. You just need four AA alkaline batteries, then push it into the ground.
Most features available on the market
Easy to install
Safe and humane
Will also detect you on the lawn, so you might get sprayed with water
Bigger animals may be able to knock over
---
4.

PetSafe SSSCAT Spray Cat Deterrent
| | |
| --- | --- |
| Size | 3 x 2.6 x 10.6 in |
| Weight | 37 g |
| Non-Toxic | Yes |
| Harms Animals | No |
| Easy to Use | Yes |
This motion-activated spray will be perfect for those who know precisely the areas where unwanted cats are getting into. As soon as movement is detected, this product will release an unscented (and completely safe) spray that will annoy cats. It has a range of 3 feet and gets between 80 and 100 sprays a can. Just put in four AAA batteries, then place the can in any area your pests are visiting, and you're all set! You can also use it for indoor animals who constantly jump on counters, etc.
Plus, if any issues arise, you can contact PetSafe's customer care 6 days a week.
Simple
Safe
Requires little work on your part
Need to know exactly where outdoor cats have been to be effective
Some complaints of product not working reliably
---
5.

WINWISH Ultrasonic Animal Repellent
| | |
| --- | --- |
| Size | 46 x 4.17 x 2.24 in |
| Weight | 09 lbs |
| Non-Toxic | Yes |
| Harms Animals | No |
| Easy to Use | Yes |
This ultrasonic outdoor cat repellent comes with two charging methods—solar and USB cable. It requires three AA batteries (which come included) and repels cats and other animals with both sound and LED flashing lights. The lights come in white and red and can be set up to 14 flashes. With its 120-degree infrared sensor angle, it can detect motion from up to 30 feet away (depending on the size of the animal).
Set up involves six easy steps, and the WINWISH Ultrasonic Animal Repellent comes with a 6-month money-back guarantee, plus a 1-year warranty.
Easy setup
Uses light and sound to repel animals
Solar-powered
If anyone in the household is susceptible to seizures, this product could be harmful
---
6.

TALLANT Ultrasonic Outdoor Cat Animal Repeller
| | |
| --- | --- |
| Size | 1 x 3.4 x 14.8 in |
| Weight | 6 oz |
| Non-Toxic | Yes |
| Harms Animals | No |
| Easy to Use | Yes |
Another great motion-activated device to repel outdoor cats, the TALLANT Ultrasonic repeller, uses sound, strobe lights, and an alarm to drive those troublesome outdoor cats away. It is solar-powered but also comes with a USB cable for charging (takes about 7 hours to charge).
This waterproof motion detector is easy to install—point it at the area you want to be guarded, select one of five modes, and then stick it in the ground. It can register motion from 30 feet away and has a detection angle of 110 degrees. Once an animal runs away after activation, the detector will automatically return to sleep mode.
This product is chemical-free, making it safe for all.
Five modes
Easy to use
Waterproof
Flashing lights can be annoying
People reported the alarm not being as loud as expected
Some reports of range not actually being 30 feet
---
7.

Havahart Motion-Activated Animal Repellent & Sprinkler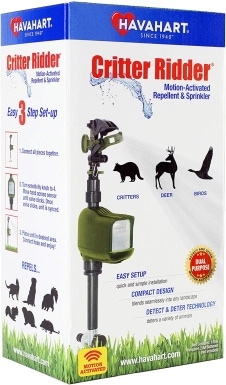 | | |
| --- | --- |
| Size | 6 x 6.5 x 22.25 in |
| Weight | 39 lbs |
| Non-Toxic | Yes |
| Harms Animals | No |
| Easy to Use | Yes |
This eco-friendly sprinkler repellent only uses 2–3 cups of water per spray. Its infrared sensor can sense motion from up to 60 feet away, and once detected, it will release a sudden surge of water to scare away the intruder. The design and green color enable it to blend into your yard's landscape.
The set up is relatively straightforward. Put together the pieces, then put in two AA batteries. Next, turn the sensitivity knob till you hear it click. Finally, stake it in your lawn and attach a hose. It offers four levels of detection sensitivity so you can pick what works best for you. You can also use it for a regular sprinkler.
Eco-friendly
Safe to use
Large motion detector range
You might get sprayed walking across the lawn
Reports of product breaking within short periods of time
Reports of the product being leaky
---
8.

Aspectek Upgraded Powerful Yard Sentinel for Cats
| | |
| --- | --- |
| Size | 6 x 6.9 x 4.7 in |
| Weight | 7 oz |
| Non-Toxic | Yes |
| Harms Animals | No |
| Easy to Use | Yes |
This product uses ultrasonic waves that it says are twice as effective as other products on the market. Its motion-detecting range is huge at 5,500 square feet, and it contains three modes—night, day, and 24/7. It offers a range of noise levels to deter different types of animals, plus a sonic alarm (of which you can adjust the volume).
You can keep this product charged with either four C batteries or the adaptor and extension cord that comes with it. It includes a 30-day money-back guarantee, plus a 1-year warranty.
Smaller than other products
Adjustable alarm volume
Different modes and noise levels
Needs to be attached to something, so may be a bit more work to set up
Reports of it being very loud and annoying
Some animals are just not deterred
---
9.

Nature's Mace Cat Repellent
| | |
| --- | --- |
| Size | 5 x 4 x 12in |
| Weight | 97 lbs |
| Non-Toxic | Yes |
| Harms Animals | No |
| Easy to Use | Yes |
This spray repellent claims to be backed by science and to have more active ingredients than other cat sprays. It is made with 100% organic ingredients and creates odors found in nature that work to turn animals away. This spray won't harm cats, plants, or humans, so it's safe to use. It covers up to 1000 square feet and works year-round in sunshine or rain. It's effortless—just spray it around the areas you want to keep safe!
This product is made in America by a veteran-owned, family-operated business.
Backed by science
Claims to use more active ingredients than other sprays
100% organic
Claims that it smells like rotten eggs
Did not deter some cats
---
10.

ASPECTEK Ultrasonic Outdoor Animal Pest Repellent
| | |
| --- | --- |
| Size | 24 x 7.28 x 3.74 in |
| Weight | 2 kg |
| Non-Toxic | Yes |
| Harms Animals | No |
| Easy to Use | Yes |
This product claims to be the first remote-controlled 6-in-1 pest repellent. With the most powerful infrared sensor available and a range of up to 5,000 feet, this ultrasonic repellent offers you the ability to drive away unwanted cats with either an inaudible (to you) sound wave or an audible noise featuring the sounds of predators. During the night, a strobe light is also activated.
It comes with a night, day, and 24/7 option so you can keep your yard safe whenever you choose. Because it is waterproof and comes with a super long extension cord, you can use the ASPECTEK pretty much anywhere.
Can be controlled by remote
Repels with sound and light
Large range
Strobe lights at night may affect those prone to seizures
Reports of product no longer working in 4 months or less
Some animals were not deterred
Buyer's Guide: Choosing the Best Cat Repellent
Cats make for wonderful companions, but when it's your neighbor's cats or stray cats who keep wandering into your yard and causing destruction, you'll want to find a way to deter their behavior.
Why Use a Cat Repellent?
Outdoor cats that come into your yard can cause damage to your property via digging and may even be aggressive towards your own pets. They can also use your yard as a toilet, leaving nasty surprises behind that may carry parasites dangerous to other animals or even yourself. Stray cats may also have diseases such as mange which can easily spread to other cats. And as natural predators, cats who roam into your yard can attack local wildlife such as birds or squirrels that you may be fond of. Clearly, you want to keep these nuisances away.
Cat repellents make keeping outdoor cats out of your yard easy. They are typically simple to use, and they won't harm cats, only deter them.
What Kinds of Cat Repellents Are Available?
There are a few different cat repellents out there that you can use, depending on your needs.
Cat Sprays
Outdoor cat repellent sprays are similar to those you would use to deter indoor cats from jumping on counters or scratching furniture. They are usually non-toxic and won't harm your garden or family. They typically work by creating an odor that is repulsive to cats. Simply spray in the areas you don't want outdoor cats to be.
Water Deterrents
Most cats don't like the water, which is why these sprinkler-like deterrents can be extremely useful. These cat repellents are motion-activated and will release a jet of water once motion is detected. Cats aren't harmed, just annoyed. This is probably the easiest way to keep outdoor cats away.
Ultrasonic
These use sound to discourage cats from coming into your yard. Also, motion-activated, they release a sound that is displeasing to cats but normally isn't distinguishable by the human ear. They may be solar-powered or battery-operated and may even come with flashing lights or an alarm.
What to Look for In a Cat Repellent
When it comes to finding the right outdoor cat repellent for you, you should take into consideration the below.
Location, Location, Location
Make sure you check repellents for whether they are to be used indoors or outdoors. Some are specifically made to keep indoor cats off items, while others are made to keep outdoor cats away. A few can be used both indoors and outdoors.
Coverage
Different repellents will work for different area sizes. Some may only work up to a few feet, while others may go up to thousands of square feet. Consider the area you're trying to protect and check the coverage specifications.
Long-lasting
If you decide to go with something that's motion-activated, you'll want to research how durable the product is. Is it waterproof or usable in all types of weather? Will it be easily knocked over by animals?
Safety
While you want outdoor cats to stay away, you certainly don't want to harm them. Make sure the products under consideration will be safe for cats (and any other animals, including your own).
Brands
Knowledge about the brand of a product is vital. Is the product brand known for being shady? Do they offer a guarantee or warranty? Have they been around for years, or are they new to the outdoor cat repellent market?
Value
Some products will be much pricier than others, but they may also do much more. Consider how much you're willing to pay to get rid of unwanted cats and how much value you're getting for your money before buying.
Customer Reviews
One of the best ways to research a product is to look at what people who have used it are saying. Check out both the good and bad, but beware of scammy reviews.
Final Thoughts
While there are many outdoor cat repellents available, there are a few that stand above the rest. We find Homarden Cat Repellent Outdoor – Scat Cat Mat to be the best overall due to the excellent reviews about how well it worked. The Ultrasonic Animal Deterrent with Motion Sensor and Flashing Lights is definitely the best value, particularly if it's a motion-activated repellent you want. Finally, the Yard Enforcer Motion-Activated Sprinkler offers a premium choice with its use of motion, water, and sound.
See also: