9 Best Puppy Foods for Maltipoos — 2023 Reviews & Top Picks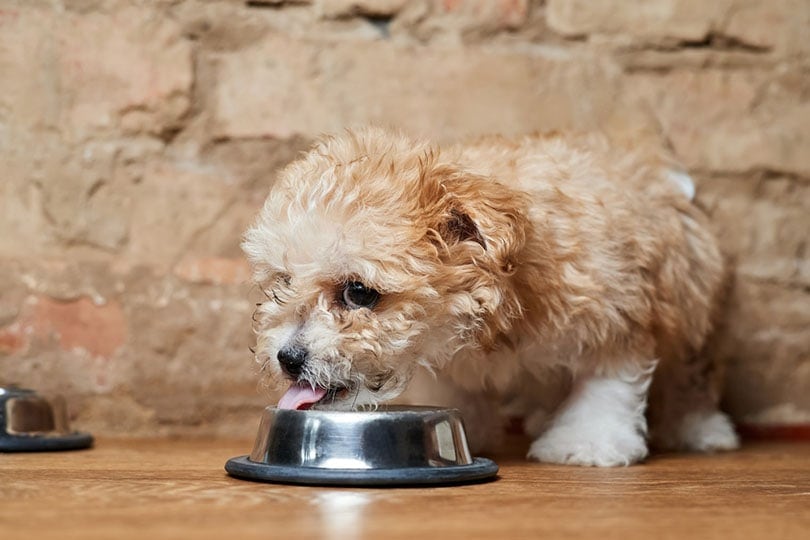 Maltipoos are small, sweet companion pets that seem to easily melt the hearts of kids and adults alike. If your little Maltipoo is like most, they love to eat whatever they can get their paws on. So, you likely want to choose the tastiest and healthiest dog food for them to enjoy during mealtime. There are many options on the market—some that are nutritious and delicious and some that aren't.
But it can be hard to distinguish the good stuff from the not-so-good stuff when choosing a food option that's perfect for your pooch. We feel passionate about feeding dogs the best that's available, which is why we've reviewed the highest quality foods on the market that we think would be ideal for your Maltipoo. We considered things like ingredients, kibble size, cost, overall quality, and puppy enjoyment. Here are nine of the best puppy foods that your Maltipoo is sure to love.

A Quick Comparison of Our Favorites in 2023
Image
Product
Details

Best Overall

The Farmer's Dog Fresh Dog Food

All-natural ingredient list
Suitable for all life stages
No additives or preservatives 
Click to Save 50%

+ Get Free Shipping!

Best Value

Rachael Ray Nutrish Bright Puppy

Made with real
whole-roasted chicken
Includes whole fruits and veggies like carrots
beets
and cranberries
Puppies can't resist the flavor
Check Price

Hill's Science Diet Puppy

Formulated specifically for easy digestion
Supplemented for optimal nutrition intake
Check Price

Iams ProActive Health Smart Puppy

No artificial ingredients to worry about
Contains all 22 nutrients found in mother's milk
Check Price

Royal Canin Small Puppy

Made specifically for small breed puppies
Aids in proper digestion
Check Price
The 9 Best Puppy Foods for Maltipoo
1.

The Farmer's Dog Fresh Dog Food — Best Overall
If you are looking for the ideal puppy food that is sourced from all-natural ingredients, uses USDA-approved proteins, and supports the needs of a growing pup, search no further than The Farmer's Dog Fresh Dog Food. This subscription-based company is one of the best fresh dog food providers in our eyes. You simply fill out a quick questionnaire about your pup and any food allergies or restrictions, and you will receive a personalized recipe list that caters specifically to your pup.
Puppies require hardy meals and The Farmer's Dog recipes are a cut above the rest. Real proteins are listed as the first ingredient in each of their four recipes, chicken, turkey, cow, and pork followed by nutrient-rich vegetables. Fresh dog food is more enticing to most dogs and since it is easy to eat, will promote better digestion. Another plus to the Farmer's Dog recipes is they are suitable for all life stages, meaning you will never have to transition your dog to a new food.
If you are looking to start your pup off on the right paw, this might be the brand to go with.
USDA proteins
All-natural ingredient list
Suitable for all life stages
No additives or preservatives
---
2.

Rachael Ray Nutrish Puppy Dry Dog Food — Best Value
Our dogs love the flavor of Rachael Ray Nutrish Bright Puppy formula! When the bag gets opened, they come running with drool dropping out of their mouths. So, we think this is the best puppy food for Maltipoos for the money. The only reason it's not number one on our reviews list is that it doesn't include the same specialty LifeSource Bits that our first pick does.
This puppy food has chicken that's been raised in the United States. It is slowly roasted to release moisture while locking in flavor that your Maltipoo will drool over. Real fruits and vegetables like carrots and beets are included to ensure healthy eyes and a strong heart. Brown rice provides clean energy to fuel playtime. A boost of vitamin C via real cranberries ensures a healthy immune system over time. You won't find any artificial flavors or colors in this blend.
Made with real, whole-roasted chicken
Includes whole fruits and veggies like carrots, beets, and cranberries
Puppies can't resist the flavor
Kibble pieces are a little larger than similar puppy foods
---
3.

Hill's Science Diet Puppy Bites Dog Food
Hill's Science Diet puppy food is formulated for easy digestion, so your pooch can spend more time playing and less time feeling bloated. It's made with a blend of chicken and barley and includes fish oil for healthy vision and brain development.
Vitamin E helps boost the immune system, and supplementation ensures that every nutrient requirement is met as your puppy ages. The tiny kibble pieces make it easy for even young small breed puppies like the Maltipoo to chew their food. But if feeding your puppy real fruits and veggies is important to you, this probably isn't the option that you should pick.
While it meets all the nutritional needs that your puppy has, it doesn't have as many whole fruits and vegetables as some of the other food options on our reviews list and instead, relies on vitamin supplementation for complete nutrition. Apples, broccoli, cranberries, and peas are at the very end of the ingredients list.
Formulated specifically for easy digestion
Supplemented for optimal nutrition intake
Lacks some of the whole fruits and vegetables that other options have
---
4.

Iams ProActive Puppy Original Dry Food
Formulated just for puppies to support quick growth spurts, Iams ProActive Health Smart puppy food features real chicken and the 22 specific nutrients found in mother's milk that young pups need to grow big and strong. Omega-3 fatty acids are also included to ensure strong brain development and optimal learning capacity. Beet pulp, dried egg, and carrots are just a few of the whole foods that you'll find in the ingredients list.
Dogs seem to enjoy the taste and smell of this formula, although young puppies may have a hard time chewing the larger kibbles, so soaking the kibble may be necessary for a time. This food does include corn as the second ingredient, which some people feel is more of a filler than a nutrient. However, there aren't any artificial ingredients!
No artificial ingredients to worry about
Contains all 22 nutrients found in mother's milk
Larger kibble may not be suitable for younger puppies
Made with corn and meat by-products
---
5.

Royal Canin Small Puppy Dry Dog Food
Small dog breeds generally have a shorter, more intense growing period than larger breeds. They also tend to live longer. So, they deserve a food like Royal Canin Small Breed puppy food that is designed just for dogs like your Maltipoo. It features real chicken meal, like many of the other options on our reviews list, as well as a slew of oils to ensure that your puppy maintains soft skin and a smooth coat.
This food is designed to aid in proper digestion and features specially formulated kibble pieces that help control tartar and plaque buildup over time. However, this food does contain wheat products, so puppies with gluten sensitivities probably shouldn't eat it.
Made specifically for small-breed puppies
Aids in proper digestion
Contains wheat products that may not agree with pups that have gluten sensitivities
---
6.

Blue Buffalo Life Puppy Dry Dog Food
With quality ingredients, small kibble pieces, and a flavor that puppies can't resist, the Blue Buffalo Life Protection puppy formula is an excellent choice for any Maltipoo pup. This food has real chicken and chicken meal as the first ingredients to ensure that your pooch gets all the protein they need as they grow. It also includes vitamins and minerals in the form of whole foods such as peas, eggs, tomatoes, and flaxseed.
Brown rice and barley provide the carbohydrates that your Maltipoo puppy needs to sustain their high energy levels throughout the day. Blue Buffalo Life Protection puppy formula also features a proprietary blend of vitamins and minerals called LifeSource Bits, designed to optimize immune health and bone growth. Your pooch can count on strong teeth and bones due to the added calcium.
Omega fatty acids are included for a healthy coat. The kibble pieces are nice and small, which makes it easy for little breeds like Maltipoos to chew them. Prepare to spend more for this dog food than you would on other similar options on the market, but the extra money will be well worth the fantastic health that your Maltipoo enjoys.
Made with high-quality whole-food ingredients
Features small kibble pieces for ease of eating
Excludes fillers like corn and soy
Pricey compared to other options on the market
---
7.

Blue Buffalo Wilderness Puppy Dry Food
This is a grain-free formula made with real chicken and formulated to mimic the diet that your pooch would eat in the wild, like their ancestors, wolves, do. Blue Buffalo Wilderness Grain-Free puppy food features nutrient-rich peas instead of wheat or corn for energy. It also includes sweet potatoes, alfalfa, and carrots for antioxidant power that will keep your Maltipoo healthy as they grow into adulthood.
Blueberries, cranberries, barley, kelp, and turmeric are all included to ensure a robust immune system. Even healthy herbs like parsley are included for extra minerals that your puppy will use to grow strong limbs, bones, and muscles. The tiny kibble bites shouldn't be a problem for even the smallest Maltipoo puppy to chew and digest.
A grain-free formula for optimal digestion
Filled with whole fruits and vegetables
Features tiny kibble pieces designed for tiny puppies
Some puppies may not like the whole food flavor
---
8.

Merrick Grain-Free Puppy Food
This tasty puppy food has deboned beef as the first ingredient, which is something that most of the other food options on our reviews list don't have. Merrick Grain-Free puppy food also contains fresh foods like sweet potatoes, peas, salmon, apples, blueberries, and flaxseed to help your puppy maintain a healthy weight while building optimal health.
This puppy food is formulated to provide more than 50% protein per serving, which will give your pup the nutrients that they need to grow quickly as a puppy. It also contains DHA, which is found in the milk of a puppy's mother and is responsible for building strong cognitive health. What this food doesn't contain are artificial ingredients. The only downside to this food is that it's not made specifically for small-breed dogs.
Contains deboned beef, which most puppies can't get enough of
Features tons of fresh fruits and vegetables instead of vitamin supplements
Does not contain any artificial ingredients
Not made specifically for small breeds
---
9.

Purina Pro Plan Focus Puppy Dry Food
What's special about Purina Pro Plan Focus puppy food is that it's formulated with lamb. It also contains rice for energy and features a taste that our puppies seemed to really enjoy. Purina Pro Plan is made with prebiotics to help ensure a healthy intestinal tract, and the included probiotics support a healthy digestive system. But the kibble pieces are surprisingly large compared to the other options on our reviews list. Aside from lamb, egg, and oatmeal, you won't find many whole-food ingredients in this formula.
Contains lamb
Has prebiotics and probiotics
Kibble pieces might be too large
Lacking whole food ingredients

Buyer's Guide: Choosing the Best Food for Maltipoo Puppy Dogs
You can never be armed with too much information when it comes time to choose a new puppy food for your Maltipoo. This buyer's guide should provide you with the insight and knowledge you need to make an educated decision about the type of food that you decide to provide to your pooch. Taking your time to choose a quality food will give you peace of mind and help ensure that your pup stays healthy enough to stick around for many years to come.
What Do Maltipoos Eat?
There are so many different ingredients used to make commercial dog food, it can be tough to figure out what you should be looking for when choosing a new food for your puppy. For instance, what kind of meat should the food include? Are grains good to feed your Maltipoo? Here are the main ingredients that should be included in your puppy's new food.
Real Whole Meat
It doesn't really matter what kind of meat is included in your dog's food—chicken, beef, lamb, bison, or pork—as long as the meat is in its whole form. It's fine if the food is supplemented with animal meal or by-products, but whole meat should be the biggest contributor to the food (the first ingredient on the list) because it's a clean source of protein that is easy for dogs—and puppies, in particular—to digest.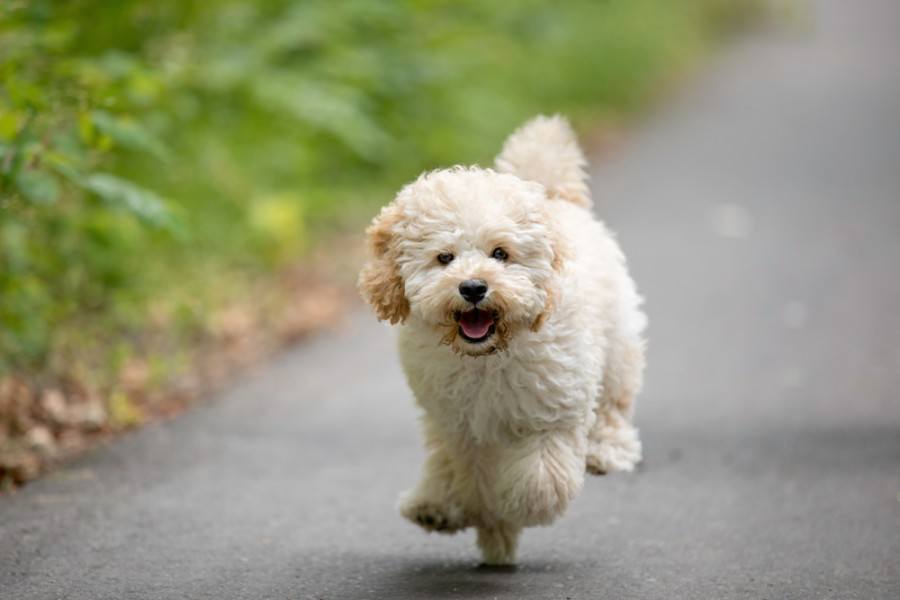 Whole Grains
Unless your puppy is sensitive to gluten, their food should include whole grains for energy. Maltipoos are active when they're young and need the extra energy to power through their days. Brown rice, sorghum, quinoa, barley, and even whole wheat are all acceptable options. Keep in mind that grains aren't necessary for your dog's good health. But they are a food source of energy that won't harm your pet's health in any way unless they can't digest gluten or grains well.
Fruits and Vegetables
Dogs can benefit from consuming fruits and vegetables just like humans do. While it's not healthy for them to eat onions, foods like carrots, peas, beets, sweet potatoes, alfalfa, and even blueberries are great sources of hydration, vitamins, minerals, and antioxidants, among other things that will help boost your puppy's immune system and keep everything from their cardiovascular system to their fur in optimal condition as their body works to grow into big and strong adults.
Fish Oil
Omega fatty acids are extremely important for the health of all dogs, and fish oil is filled with the stuff. These special fats support the good health of your dog's skin, heart, joints, and immune system. Fish oil may even help fight off the development of cancer. Your dog can't make omega fatty acids on their own, so they must get them from their food. So, make sure that your puppy's new food contains fish oil or flaxseeds, which is another natural source of these important fats.
Ingredients to Avoid
Just as there are important ingredients to look for when choosing a new food for your puppy, there are also ingredients that you should consider avoiding to ensure optimal health for them, both now and in the future. Here's what shouldn't be in your puppy's new food blend.
Artificial Ingredients
One of the most important things to stay away from when choosing a new food for your pup is artificial ingredients of any kind. Flavors and colors should come from natural sources that actually provide nutritional value. Artificial ingredients can be toxic and cause health problems as time goes on. They're nothing but fillers that don't add any value to the food itself.
Unnecessary Fillers
Many dog foods include unnecessary fillers near the top of their ingredient lists, which just leaves less room for nutritious ingredients like sweet potatoes and pea protein. Fillers like white rice and potatoes, soy, and corn aren't the best carbohydrate choices for your dog, so they're best left off the ingredients list altogether. Instead, look for foods that contain high-nutrient carbohydrates, such as sweet potatoes and whole grains.
Other Important Things to Consider
There are a few other things to think about when choosing a new puppy food to invest in, such as the size of the kibble. If the kibble pieces are too big, your puppy may not be able to chew the food properly, which could lead to digestion issues and choking hazards.
Most puppy foods feature small kibble pieces, but if the food isn't formulated specifically for small breed dogs, the kibble might still not be small enough. To ensure that the kibble will be the right size for your Maltipoo puppy, avoid food made for all puppy breeds and all stages of life, and stick with the stuff that's just for little breeds like your pup, as the kibble pieces are sure to be nice and small.
If you're concerned about whether your puppy has any food allergies to worry about, your veterinarian can run simple tests to find out before you decide what kind of dog food to invest in. They can also recommend a few quality options to consider, based on things like your puppy's age, history, and activity level.
The only two things that matter when it comes to choosing a new puppy food for your Maltipoo is quality and flavor. Of course, there are other things to consider, but if the quality is lacking and the flavor is unappealing, you can't expect your pooch to enjoy a happy and healthy life. They'll either be hungry all the time because they won't eat their food or be lacking in nutrition. Luckily, we've made sure that both nutrition and taste are the best features of the puppy foods that we've featured on our reviews list today.
Conclusion
We highly recommend The Farmer's Dog Fresh Dog Food, which is why it's featured as our number-one pick for being all-naturally sourced and can support your pup through all life stages. The best for budgets is Rachael Ray Nutrish puppy food because your Maltipoo is going to love the way that it tastes.
The truth is that any food on our reviews list should provide your puppy with the nutrition they need and the enjoyment they want until they're ready to switch to adult dog food. What's your favorite pick for Maltipoo puppy food?
---
Featured Image: marketlan, Shutterstock