8 Best Puppy Foods for Toy Breeds in 2022 – Reviews & Top Picks
Buying a dog food can be nerve-wracking at the best of times, as there are so many choices out there, not to mention conflicting information.
When you have a toy breed puppy, the decision seems even more essential; after all, a little food goes a long way for these dogs. That means you shouldn't just grab the first kibble you see. Instead, you should take the time to research the options and find a truly outstanding food.
In the reviews below, we'll share our favorite small breed puppy food that is currently on the market, so you can start your dog off on the right food.
---
A Quick Comparison of Our Favorites (Updated 2022)
Rating
Image
Product
Details

Best Overall

Wellness Complete Health

Filled with chicken
Well-rounded nutritional profile
Gentle on sensitive stomachs

Best Value

Iams ProActive Puppy

Great value for the price
High-quality ingredients
Pieces are small and easy to eat

Premium Choice

Holistic Select Small & Mini Breed

High in protein and fat
Includes premium foods
Added probiotics

Merrick Lil' Plates Grain-Free

Filled with chicken
Has nutrient-rich fruits
Grain-free formula

Blue Buffalo Freedom Small Breed

Free of questionable ingredients
Includes chunks of vitamins and antioxidants
High in protein
The 8 Best Puppy Foods for Toy Breeds
1.

Wellness Complete Health Puppy Food – Best Overall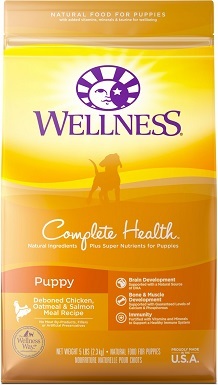 If you're looking for a kibble that will give your little pup the building blocks they need to grow up healthy and strong, Wellness Complete Health is a great foundation.
There's a large amount of chicken in here, which means there's a large amount of protein (29%, to be exact). The first two ingredients are lean chicken and chicken meal, which ensures that your pup will get a well-rounded nutritional profile from this food.
Chicken fat isn't far down the list, either; it's joined by ingredients like salmon meal, salmon oil, and ground flaxseed. All these foods are high in omega fatty acids, which are essential for immune support and brain and eye development.
The formula should be gentle on your dog's young tummy too, as it's full of ingredients like oatmeal, sweet potatoes, and barley. These are easy for dogs to digest, and the company has added chicory root extract to keep your pup regular as well.
If we had to quibble with anything in this food, it's the high salt content. However, puppies can tolerate sodium better than older dogs, so it's not a huge deal; just make sure your pup is drinking enough water.
That minor issue aside, Wellness Complete Health is the best puppy food for toy breeds that we've found, and it more than lives up to its name.
Filled with chicken
Boasts well-rounded nutritional profile
Gentle on sensitive stomachs
Large amount of protein
Packed with omega fatty acids
---
2.

Iams ProActive Puppy Toy Breed Food — Best Value
One thing you should realize up front is that a budget dog food isn't going to have the same quality of ingredients as a higher-end option, and Iams ProActive is no exception.
It has questionable ingredients, like chicken by-product and whole grain corn. However, it makes up for those by having high levels of protein, fat, and fiber, so your dog should have all the nutritional support they need.
There are high-quality ingredients as well, like carrots, fish oil, and chicken fat. You'll also see important minerals, like biotin, vitamin E, and niacin, listed on the label.
The kibble pieces are small enough that your toy pup can easily get their mouth around them, with little risk of choking.
The bottom line is that Iams ProActive isn't a high-end food; however, it's an excellent food for the price, which is why it's our choice for the best puppy food for toy breeds for the money.
Great value for the price
Has high-quality ingredients like carrots and fish oil
Pieces are small and easy to eat
High levels of protein, fat, and fiber
Includes questionable ingredients
---
3.

Holistic Select Small & Mini Breed Puppy Food — Premium Choice
You may not want to smell your pup's breath after they eat Holistic Select, as the first ingredient is anchovy and sardine meal, but a little doggy breath is worth putting up with for a food as high-quality as this.
It has a ton of protein and fat — 30% and 20%, respectively — and it gets those nutrients from premium foods like chicken meal, pumpkin, cranberries, and papayas. There's a ton of omega fatty acids in this food as well, thanks to the flaxseed, salmon oil, and chicken fat in the recipe.
Holistic has added probiotics to the formula as well, which should ensure that your dog stays regular. The fiber levels aren't as high as we'd like, but what's inside comes from quality foods like beet pulp and pumpkin.
It's not a cheap food, but it's well worth it, given all the nutrients. If you can deal with the high cost and foul smell, Holistic Select is about as good a food as you'll find anywhere.
High in protein and fat
Includes premium foods like cranberries and papayas
Added probiotics to keep puppies regular
Omega fatty acids
On the pricey side
Creates nasty doggy breath
---
4.

Merrick Lil' Plates Grain-Free Puppy Food
You'll find all sorts of great stuff in each bag of Merrick Lil' Plates, including chicken, a variety of fruits, and plenty of omega fatty acids.
The entire formula is grain-free, which makes it an excellent choice for dogs with sensitive stomachs. It also limits the amount of empty calories in the food, which will help prevent your dog from packing on pounds.
The fruits inside are all nutrient-rich, including superfoods like blueberries and apples. You'll also find antioxidants in the form of salmon oil and flaxseed oil.
The formula is heavy on the potatoes, which can be good and bad. The good is the amount of sweet potatoes, which boosts the fiber levels. The bad is potato protein, which makes the protein levels look better but is hard for dogs to digest. It's also full of white potatoes, which can give some dogs an upset stomach.
Merrick Lil' Plates is an excellent food and one your dog would be lucky to eat. It just can't quite edge out any of the foods above it on this list.
Filled with chicken
Has nutrient-rich fruits like blueberries
Grain-free formula
Packed with antioxidants
Filled with hard-to-digest potato protein
White potatoes may cause gas
---
5.

Blue Buffalo Freedom Small Breed Puppy Food
Another grain-free formula, Blue Buffalo Freedom is notable for what it lacks, namely, grains, gluten, animal by-products, and artificial flavors.
The manufacturer also mixed in their proprietary LifeSource Bits, which are chunks of antioxidants that are necessary for proper development. It's like adding a multivitamin to every meal.
It's high in protein, thanks to all the chicken. There's also turkey meal and eggs; the eggs might be hard for some pups to digest, though.
This kibble is good for your dog, but don't expect them to get too excited about it. Many pups don't like the flavor of the LifeSource Bits, and you may need to add a topper to it in order to convince your dog to wolf it down.
The pieces are on the larger side as well, so small pups may have trouble crunching them. You'll want to watch them to make sure they don't choke either.
Blue Buffalo Freedom is a good food, but it can't quite compete with most of the foods ranked above it on this list.
Free of questionable ingredients
Includes chunks of vitamins and antioxidants
High in protein
Many dogs don't care for flavor
Large pieces pose choking hazard
Eggs may cause digestive issues
---
6.

Eukanuba Small Breed Puppy Food
If you're just going by the numbers on the label, then you'd think Eukanuba Small Breed is one of the top kibbles on the market. If you dive deeper into the ingredients list, though, you'll begin to see a different picture.
The protein and fat levels are high, at 32% and 21%. However, the ingredients that the kibble uses to get there aren't great. You'll see things like animal by-products, corn, and wheat.
All those things make this a calorie-dense food as well. That's fine if your dog is active enough to burn it off, but if not, you can have a fat puppy on your hands in no time.
While Eukanuba took pains to ensure that there's plenty of fat and protein in here, it seemed to neglect the fiber. Your dog may have constipation issues with this food.
It's fairly budget-friendly, though, so at least you won't go broke feeding Eukanuba Small Breed to your dog.
High levels of fat and protein
Budget-friendly option
Low-quality ingredients
Calorie-dense option
Low amount of fiber
---
7.

Purina Pro Plan Focus Puppy Toy Breed Food
Purina Pro Plan Focus is one of the more popular options on this list; you can often find it at grocery stores, big box stores, etc. It's designed to give your puppy a healthy, high-powered brain. To that end, it has ingredients like fish meal and fish oil. However, those are fairly common additions to dog food these days and are not enough to counteract things like gluten meal, corn, and poultry by-product.
The kibble is small enough for little mouths to crunch easily, but it might actually be too small. It's hard for dogs to scoop up, especially brachycephalic breeds like Pugs and French Bulldogs.
While Purina Pro Plan is one of the easiest foods on this list to acquire, we feel that you're better off shopping around for something better.
Includes fish oil and fish meal
Small kibble is easy for toy breeds to crunch
Has questionable ingredients
Hard for some dogs to pick up
---
8.

Royal Canin Indoor Puppy Food
The packaging for Royal Canin Indoor is designed to make it look like a scientific-minded kibble, like something you'd need a prescription to buy.
The food inside doesn't live up to that implied promise, however. The first ingredient is rice instead of a lean protein. The first protein listed is an animal by-product meal and is followed by a variety of corn and wheat glutens.
It does have fish oil for omega fatty acids, but it also includes vegetable oil. This can also add omegas but is full of empty calories. You'll have to watch to make sure your dog doesn't get too fat on this food.
At 25%, the protein levels are fine but not outstanding; the same can be said about the fat levels. The fiber levels, on the other hand, are low. Despite all this, Royal Canin Indoor is an expensive food.
Fish oil for omega fatty acids
First ingredient isn't meat
Includes calorie-dense vegetable oil
Animal by-products
Packed with wheat and corn
Expensive

Buyer's Guide: Finding the Best Small Breed Puppy Food
Unless you've spent a great deal of time researching dog food ingredients and comparing labels, it can be incredibly hard to tell a high-quality food from a dud. Fortunately, in the guide below, we'll show you what to look for when picking out a kibble for your little pup.
Does a Toy Breed Dog Have Different Nutritional Needs Than Other Dogs?
Yes and no. At a basic level, all dogs need the same vitamins, minerals, and other nutrients to grow up strong and healthy. A very small dog needs all the same things in their diet that a giant mutt does.
However, toy breeds have different issues to deal with than other dogs. For one thing, a little bit of food goes a long way with them, which makes them prone to obesity. Since obesity is so horrible for dogs, you need to be incredibly strict with your portion control and try not to feed your dog too much kibble.
However, your toy puppy still needs a large amount of calories — in fact, they need more than bigger dogs do, as they lose more body heat. Just don't overdo it, and be quick to cut back on portion sizes if you notice that your dog is getting a little plump.
Also, many smaller dogs are prone to different diseases than bigger dogs are, so you may need to find a food that has the right mix of nutrients for the issues that your pup is predisposed to. For example, hip dysplasia isn't as big a deal in toy breeds as it is in larger animals; on the other hand, small dogs are often prone to eye issues, so omega fatty acids become even more important.
Another thing to keep in mind is the size of the kibble. Unless the kibble is specifically made for toy breeds, the pieces may be too large for your dog to pick up and chew comfortably. Huge chunks of kibble can also pose a choking hazard.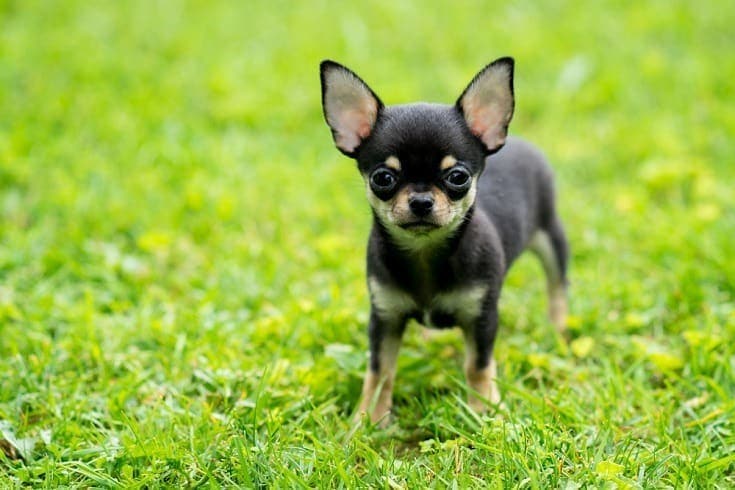 What About Puppies? Do They Have Different Needs Than Adult Dogs?
Yes. Again, they need all the same nutrients, but puppies need more of them.
Puppies need all those calories to support their growing bodies — just be sure to taper them off a high-calorie diet once they reach adulthood. They also need more fat and protein to grow up strong and healthy.
In fact, you'll probably need to feed your puppy more often than a full-grown dog. For the first 12 weeks, you can feed your puppy four times a day, then cut it down to three until they reach adulthood.
There are certain nutrients that puppies require in large amounts that adult dogs do not; as a result, most adult kibbles don't have the proper amount of these vitamins and minerals. That's why you should always feed your dog an age-appropriate food.
Remember that your dog's brain and other organs are developing rapidly, so you want to give them all the nutritional support that you can. In addition to important vitamins and minerals, make sure your dog gets plenty of omega fatty acids; these can be found in fish, flaxseed oil, and chicken meal.
If you don't give your puppy the nutrition that they need, they could suffer from all sorts of health issues as adults. Conversely, if you lay the groundwork for a healthy life while they're young, you could save yourself a bundle in medical costs down the road.
What Should You Look For in Small Breed Puppy Food?
The most important thing that puppies need is protein and a large amount of it. That means the first ingredient of a food should be a lean meat — chicken, fish, and turkey are all excellent choices. You also want to make sure that the overall protein levels are high — 25% should be the bare minimum.
Don't neglect the fat or fiber levels either. You want to see the total fat at 15% or more and at least 5% fiber. Omega fatty acids are also key, so look for fish, fish oil, flaxseed oil, or any sort of animal meal.
Fruits and veggies are also good to see on the ingredients list. As a general rule, if you know that it's healthy for you, it will likely be healthy for your dog too. Look for things like broccoli, kale, blueberries, spinach, cranberries, etc.
Is There Anything You Don't Want to See on the Label?
Yes. Watch out for cheap fillers like corn, wheat, or soy. These bring little to the table in terms of nutrition and are full of empty calories. Foods that are high in them will likely fatten your dog up without doing much to help them develop into healthy adults.
Animal by-products are made using the cheapest, lowest-grade meat possible. It's not something that you would ever dream of feeding your dog if you saw it, so why would you feed them a kibble that uses it?
Also, beware of artificial colors and flavors. There's no reason for these to be in a dog food; in fact, they're put in there for you, the owner. The idea is that if the dog food looks more enticing to you, you'll be more likely to buy it for your dog. At the end of the day, though, they're just unnecessary chemicals you're putting in your puppy — and they can cause all sorts of digestive issues.
Should You Feed Your Dog Wet Food Too?
You can but it's not necessary. A good dry kibble should have everything that your pup needs to grow up healthy and strong.
Wet food offers a few advantages, though. For one thing, it's full of moisture, so it can help stave off dehydration if your little puppy forgets to drink water throughout the day.
Also, it's extremely gentle on a dog's teeth. This becomes more important with senior dogs that may be struggling with dental issues. Growing puppies need the crunch that dry kibble provides to have strong teeth. There's nothing wrong with mixing in wet food with that kibble, though.
Wet food is good for picky eaters too. If you go through all the trouble of researching and buying the best puppy kibble on the market, the last thing you want is for your pup to refuse to eat it. If that happens, mixing in a little wet food will likely entice them to change their minds.
There are downsides to wet food, though. It's extremely calorie-dense, so it may fatten up your dog. It's also extremely expensive and can go bad in just a few hours if not properly stored.
What If the Food I Buy Doesn't Agree With My Dog?
Picking out a kibble isn't an exact science. There's no guarantee that your dog will eat it or that it will agree with their system if they do.
There may be some trial and error involved here. It may take a couple of tries before you find an option that your dog will eat and tolerate, so be patient.
Luckily, toy breeds don't eat much and you can buy small bags of kibble, so you shouldn't waste too much money figuring out what's best for your pup. Just be careful when transitioning to a new food; mix it in with the old food at first, then slowly reduce the amount of old food that you give them.
If your dog won't tolerate any food you bring home, then a trip to the vet's in order. They could be suffering from a disease or a parasite, and you may need to have a medical intervention.
Conclusion
We hope this guide helped you find the best puppy kibble small breeds will love! Filled with chicken and important omega fatty acids, Wellness Complete Health is our favorite kibble for toy breed puppies, as it truly lives up to its name.
For a more budget-friendly alternative, consider Iams ProActive. It's easy on the wallet, yet it nevertheless has a variety of important ingredients in every bite.
Choosing a kibble for your toy breed puppy isn't an easy thing to do, and we hope our reviews have made the process easier. Don't stress over the decision too much, though — as long as you feed your dog regularly and in moderation and give them plenty of TLC, they'll be better off than most animals on the planet.