8 Best Shampoos for Pugs – 2023 Reviews & Top Picks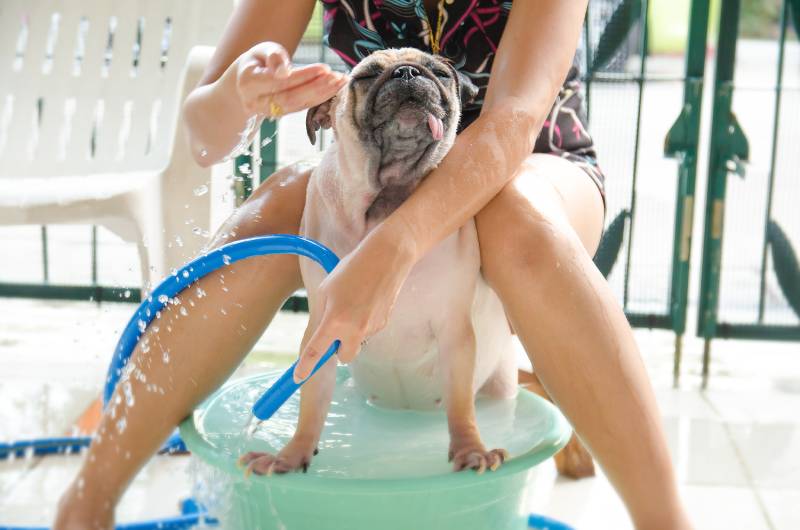 As a Pug owner, you know that their skin and coat require extra care and attention. They are high shedders, and their skin folds are prone to inflammation and infection if not kept clean and dry. Did you know that a Pug has 600 hairs per every square inch of their coat? That's so much hair to be shed! Therefore, using a shampoo that is formulated for your Pug's skin and coat is a must.
We rounded up the eight of the best shampoos for Pugs that help moisturize their skin and keep them clean. This reviews list also features a buyer's guide with considerations to keep in mind when you are looking for the best shampoo.

A Quick Look at Our Favorites in 2023
Rating
Image
Product
Details

Best Overall

Hepper Colloidal Oatmeal Pet Shampoo

Natural ingredients
Free from soaps, glutens, dyes, DEA, sulfates, and phthalates
Aloe vera and cucumber scent
Check Price

Budget Buy

FURminator Ultra Dog Pug Shampoo

No chemical dyes or parabens
Lathers well
Promotes healthy skin and coat
Check Price

Healthy Breeds Pug Dog Shampoo

Ideal for sensitive skin
Moisturizes
Relieves dry
itchy skin
Check Price

Puracy Natural Dog Shampoo

pH balanced
Made from plants
Fresh smell
Check Price

Earthbath All Natural Dog Shampoo

All-natural ingredients
No animal testing
Great for deep cleaning
Check Price
The 8 Best Shampoos for Pugs
1.

Hepper Oatmeal Dog Shampoo – Best Overall
Hepper's Colloidal Oatmeal Pet Shampoo is our top pick for the best shampoo for pugs. It is made with soothing colloidal oatmeal, so it does a great job of alleviating dry, irritated skin, a condition often associated with this breed. The cucumber and aloe scent does an excellent job at deodorizing and the pH-balanced formula hydrates your Pug's fur, especially within the folds and creases. It's made without the use of harsh ingredients. You will notice a lovely sheen and softness to your dog's coat after using this shampoo!
It is safe to use on both dogs and cats, making it a great product for multi-pet homes. We think that this is one of the best dog shampoos for pugs on the market this year!
All-natural ingredients
Pleasant, subtle scent
Leaves coat shiny
pH balanced
Some pet owners may favor an unscented shampoo
---
2.

FURminator Ultra Dog Pug Shampoo – Budget Buy
The FURminator is the best shampoo for Pugs for the money because it helps reduce shedding as well as remaining an affordable option. The ingredients include calendula and papaya leaf extract with mild surfactants. There is also omega-3 and -6 fatty acids from cranberry, as well as sunflower and safflower seed oils, which help moisturize the skin and coat. It is free of chemical dyes and parabens, and we like how well it lathers with use.
It promotes healthy skin and coat, but it has to be allowed to sit on the coat for five to 10 minutes, which could be difficult if you have a rambunctious dog. However, if used once per month, it will help with shedding and keep your Pug's coat and skin as healthy as possible. This shampoo did not make the number-one spot since it doesn't deodorize and degrease as well as expected, but it has a nice scent that isn't overpowering, and it does well to reduce shedding.
Affordable
No chemical dyes or parabens
Lathers well
Promotes healthy skin and coat
De-sheds
Leave on for 5 to 10 minutes
---
3.

Healthy Breeds Pug Dog Shampoo
This oatmeal and aloe shampoo is made by Healthy Breeds and formulated especially for dogs with sensitive skin, such as a Pug. It is a pricier product, but it does a great job of cleaning and moisturizing to restore luster and health to your dog's coat and skin.
The aloe and oatmeal help relieve dry, itch skin, while the rest of the ingredients work to clean without the use of harsh chemicals. It is made in the U.S.A., is alcohol-free, and contains no animal by-products. You can safely use it with other topical flea products, and you can use it as often as needed to keep your dog clean and fresh.
We like that the company offers a 100% customer satisfaction guarantee so that you can buy with confidence. The refreshing scent of pina colada is nice, and it leaves a light lingering scent on your dog's coat that isn't overwhelming.
Ideal for sensitive skin
Moisturizes
Relieves dry, itchy skin
No harsh chemicals
Refreshing scent
---
4.

Puracy Natural Dog Shampoo
The Puracy is a human-grade shampoo that is tested on humans to provide deep moisturizing and cleansing. There are no harsh sulfates, and it is pH balanced to prevent further skin irritation. The ingredients include coco glycinate from coconuts, biotin from oatmeal, and zinc. These three things cleanse, improve the health of the skin and coat, and neutralize odor so your dog will feel like a million bucks after the bath.
You won't find any perfumes, sulfates, or parabens in the formula, and it is certified cruelty free. We like that it is made from plants, minerals, and natural fragrances. The fresh smell from the shampoo is nice, and you will notice that your dog's coat will be shiny and soft after using this product.
On the downside, Puracy is somewhat pricey, but they offer a 100% satisfaction guarantee and will refund your money if you don't like this shampoo.
pH balanced
Made from plants
Fresh smell
Improves skin and coat
Neutralizes odor
Prevents skin irritation
---
5.

Earthbath All Natural Dog Shampoo
This company has been making natural bath products for dogs for over 20 years. It is developed and manufactured in California using only the safest and natural ingredients. They test their products with humans, not animals. The company is cruelty-free, with no animal ingredients used.
The Dirty Dog Shampoo is made with sweet orange oil, so it does a great job at deodorizing, removing stains, and degreasing your Pug's fur, especially within the folds and creases.
It is safe to use on all animals older than 6 weeks, and the company offers a money-back guarantee if you aren't satisfied with the results. On the downside, it does not leave any enjoyable scent of orange fragrance on your dog's coat.
All-natural ingredients
Made in California
Great for deep cleaning
Money-back guarantee
---
6.

4Legger Organic Dog Shampoos
If organic and biodegradable options are important to you, then you will like the 4Legger shampoo. There are no parabens, sulfates, or detergents in the formula, and it's also cruelty free. This shampoo does well with moisturizing your Pug's dry skin while reducing inflammation. The essential oils help deter fleas and minimize the effects of yeast and bacteria.
Some of the ingredients include coconut oil, aloe vera, lemongrass, and rosemary. The scent of the essential oils is somewhat strong when bathing but dissipates after the coat has dried, leaving a pleasant lemon scent. The company offers a refund within 30 days of purchase if you aren't happy with the product.
On the downside, the shampoo is pricey and doesn't moisturize the coat as effectively as other brands.
Organic
Biodegradable
Moisturizes skin
Reduces inflammation
Lemon scent
30-day refund
Pricey
Doesn't moisturize coat
---
7.

Burt's Bees Natural Hydrating Shampoo
Made with coconut oil, oatmeal, and honey to infuse moisture into your dog's skin, as well as the coat, this product leaves the fur silky soft to the touch. You can use it on puppies too, though it is recommended by veterinarians for dogs with dry and itchy skin.
Other positive features of the Burt's Bees is the pH-balanced formula, no dyes or fragrances, and being sulfate and cruelty free. It has no scent, which may be a positive or negative attribute, depending on your preference. Unfortunately, after the bath, your dog will have the wet-dog smell. It does a great job of cleaning the skin folds, though, and it doesn't take much product to get a good lather to cover the whole body. This is an affordable option for those who need a product for their dog's sensitive skin.
Ideal for sensitive skin
Cleanses well
Affordable
Safe to use on puppies
Softens fur
---
8.

Warren London Oatmeal Dog Shampoo
Warren London offers a dog shampoo that works nicely on Pugs because it is a hypoallergenic formula that soothes itchy skin while removing dirt and grime. The ingredients include coconut oil, vitamins, oat proteins, and almond oil. It is free from detergents and parabens to help keep your pet safe and healthy.
Let the shampoo sit on the coat for five to 10 minutes once you have lathered and rubbed it in to allow it to penetrate the skin and moisture effectively. The 17-ounce bottle is priced fairly but may be too expensive for some budgets. It does a good job of moisturizing the skin and coat, and the fragrance is not overpowering. However, it contains artificial dyes, so it is not an all-natural product.
Hypoallergenic
Soothes itchy skin
Removes dirt and grime
Paraben and detergent-free
Affordable
Leave on coat for 5 to 10 minutes
Contains artificial dyes

Buyer's Guide – How to Choose the Best Shampoo for Pugs
Since Pugs have sensitive skin and are high shedders, it is an advantage when you can find a shampoo that addresses these concerns. Hotspots are also common within their folds because there is not enough airflow, and moisture becomes trapped, which can develop into a yeast infection or other irritations. This buyer's guide will help you differentiate between the ingredients of shampoo so you can find the one that is formulated to help your dog.
Considerations
Ingredients
Synthetics:
Additives such as synthetic preservatives, parabens, sulfates, and artificial dyes and perfumes can cause further skin irritation or other health issues when used long term. A pH-balanced formula offers a gentle cleanser.
Natural:
All-natural ingredients provide the safest route, and you may opt for organic ingredients if that is important to you. Natural ingredients include essential oils, coconut oil, oatmeal, aloe vera, almond oil, and many others.
Be careful of certain essential oils because they can be irritating to some dogs. These may include tea tree oil and peppermint, to name a few. However, chamomile and lavender are two essential oils that are known to treat skin allergies. Each dog is different, and one dog may react to tea tree oil, while another won't have any issues.
Moisturizing:
Ingredients that moisturize the skin and the hair provide many benefits. They can help heal and restore the skin, which allows your Pug to feel better. Popular ingredients for moisturizing include coconut oil, oatmeal, and aloe vera.
Deodorizing:
Ingredients that deodorize will help remove tough odors naturally and effectively. Many will combat bacteria and fungus to help prevent infections from occurring. Common ingredients that deodorize are zine, rosemary, lavender, and aloe vera.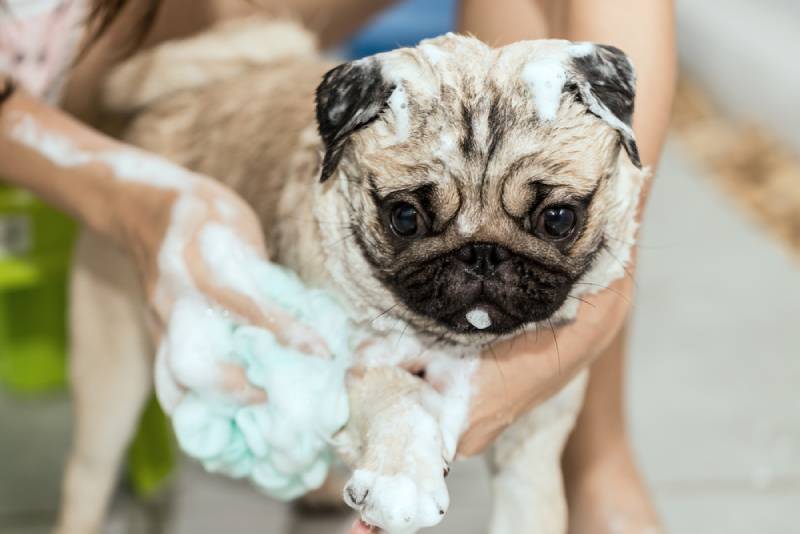 Price
Some specialty shampoos can be pricey, especially if you have to bathe your Pug weekly. However, you want a product that soothes irritated skin and doesn't cause further problems. Keep the price in mind if you are on a budget, but know the formula of the shampoo so you can stay away from products that are known to exacerbate skin allergies.
Guarantee
If you are unsure if a product will be effective, find one that offers a satisfaction guarantee. It will bring you peace of mind and ease any concerns you might have if it is an expensive product.
Bathing Frequency
Some shampoos shouldn't be used more than twice per month, while others can be used weekly. Bathing your Pug frequently can result in drying out the skin, but it may be necessary if your dog gets dirty often. Products that are not soap-based and formulated to be gentle on the skin will help prevent skin issues from occurring.
Tips to Keep Your Pug's Skin & Coat Healthy
Clean the creases on their face and body well, even if they don't like it. This prevents odors, hair loss, itchiness, and bacteria, and yeast from forming.
Rinse out the creases of all shampoo. If any residue is left, it could cause skin irritation.
Dry between the creases. You don't have to be forceful, but use the dry towel to pat dry between each crease.
Use warm water when bathing — not too hot nor too cool. It should be a comfortable temperature.
To help with de-shedding, you can buy special brushes that you fill with soap.
Brush your Pug regularly to remove loose hair.

Conclusion
Pugs make great companions, and their owners adore them to pieces. But sometimes it can be challenging to care for their sensitive skin and high-amount of shedding hair. This review list highlights seven of the best shampoos for Pugs.
Our top pick is the Hepper Oatmeal Shampoo that works well at deodorizing, degreasing, and removing stains from your dog's body and coat. An affordable option is the FURminator de-shedding shampoo because it helps remove excess hair to prevent constant shedding from your Pug. If the price isn't a concern, the Healthy Breeds shampoo is specifically formulated for sensitive skin and contains oatmeal and aloe to soothe dry, itchy skin.
We hope that providing this list it will help ease the frustration of finding the perfect shampoo that works well for your Pug. Once you find the ideal product, you will notice a difference in how your Pug behaves and a reduction in skin problems.
---