10 Best Shampoos for Sphynx Cats – 2023 Reviews & Top Picks

Bathing a Sphynx cat may seem unnecessary. After all, they're hairless! But while this may mean that there is no shedding or brushing to concern yourself with, baths are still necessary.
It's crucial for hairless cats to keep their skin healthy and protected. When cats with fur secrete oils from their skin, they get absorbed into the coat. When Sphynx cats secrete these oils, they have nowhere to go and can build up on the skin. This can make your cat not only feel greasy to the touch but also leave grease marks on your furniture and around your house.
To keep your Sphynx clean, regular baths are necessary. We rounded up the best shampoos that will get rid of that oily buildup and keep your cat's skin soft. Browse our reviews to find the right one for your cat's needs.
A Quick Glance at Our Favorites in 2023
Rating
Image
Product
Details

Best Overall

Hepper Waterless No Rinse Pet Shampoo

A simple and convenient way to bathe your Sphynx
No water is required
Soap and sulfate-free with no artificial colors
Check Price

Budget Buy

Burt's Bees Waterless Cat Shampoo

Natural ingredients
Nourishing formula
Easy to use
Check Price

M. Barclay Lather + Bathe Shampoo

Heals and nourishes the skin
Organic ingredients
Pleasant scent
Check Price

Espree Tear-Free Kitten Shampoo

Safe for cats of all ages
Tearless formula
Easy to rinse
Check Price

TropiClean Hypoallergenic Shampoo

Hypoallergenic formula
Safe for cats of all ages
Soothes and moisturizes skin
Check Price
The 10 Best Shampoos for Sphynx Cats
1.

Hepper Waterless No Rinse Pet Shampoo — Best Overall
| | |
| --- | --- |
| Size: | 8 ounces |
| Feature: | No-rinse |
Our choice for the best overall shampoo for Sphynx is Hepper's Waterless No Rinse Pet Shampoo. We like this product for the ease and convenience it brings to your cat's bathing. Sphynx may not have hair, but their skin requires cleaning to keep it hydrated, soft, and healthy. This shampoo allows you to bathe your cat with less stress and minimal hassle.
It's also soap and sulfate-free, made without the use of artificial colors, and is formulated in the USA. While you'll still need to wipe the shampoo off your Sphynx, no water is required, which is a plus for kitties who dislike getting in the bath or under your faucet.
Cats or humans sensitive to smells may favor an unscented shampoo. However, the light cucumber and aloe scent is subtle, natural and leaves your kitty soft a supple.
If you bath your Sphyxn frequently, Hepper's Waterless No Rinse Pet Shampoo is only available in an 8-ounce bottle, so you may require another bottle sooner than later.
All in all, we think this is the best Sphynx at shampoo on the market.
A simple and convenient way to bathe your Sphynx
No water is required
Soap and sulfate-free with no artificial colors
Made in the USA
Only one size bottle is available
---
2.

Burt's Bees Waterless Cat Shampoo — Budget Buy
| | |
| --- | --- |
| Size: | 10 ounces |
| Feature: | Waterless |
Just like its products that are made for humans, Burt's Bees Waterless Cat Shampoo is made with natural ingredients. This waterless shampoo is the best budget buy shampoo for Sphynx cats for the money, and it's easy to use on cats that hate being bathed. It's pH formulated for cats and uses apple and honey to nourish their skin.
This shampoo is sulfate- and cruelty-free. To use, simply spray your cat from the top of the neck down to the tail and massage in the product all over, concentrating on areas where you notice oil buildup. Then dry your cat with a soft towel. This is suitable for use on cats of all ages.
You may need something stronger and used with water if your cat is very dirty. While this shampoo is good for spot cleaning and removing excess oil, it doesn't replace a full bath if your cat needs one. Since it comes in a spray bottle, some cats associate this with discipline if they are sprayed with water when they misbehave. You can pour this shampoo into your hands and spread it on them if that's the case.
Natural ingredients
Nourishing formula
Easy to use
May not work well on very dirty cats
Spray action may trigger cats' anxiety
---
3.

M. Barclay Lather + Bathe Organic Shampoo
| | |
| --- | --- |
| Size: | 12 ounces |
| Feature: | Organic; healing |
The concentrated formula in M. Barclay's Lather + Bathe Organic Shampoo will moisturize and clean without drying out the skin. It's made with jojoba, safflower seed oil, and baobab protein, which not only clean but also nourish the skin. Licorice root and green tea provide anti-inflammatory and antioxidant properties. For cats with irritated skin or skin conditions, this shampoo could provide some relief.
Organic citronella and tea tree ingredients repel mosquitos and other insects. Aloe is added to promote the healing of the skin. While removing excess oil, this formula helps the skin become and stay healthy with repeated use. It's lightly scented with citrus and lavender. The smell is enjoyed by pet owners, and there are reports that this shampoo cleared up dry, rough patches on their cat's skin.
Heals and nourishes the skin
Organic ingredients
Pleasant scent
Expensive for the amount that you receive
Not suitable for kittens
---
4.

Espree Tear-Free Aloe Vera Kitten Shampoo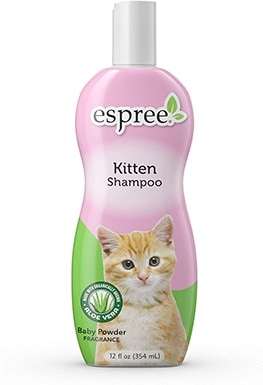 | | |
| --- | --- |
| Size: | 12 ounces |
| Feature: | Hypoallergenic, tearless |
This gentle Espree Tear-Free Aloe Vera Kitten Shampoo is perfect for cats without fur. The formula is natural and made with organic aloe vera. While it's safe for kittens, it can be used on cats of any age, including pregnant cats.
The tearless, hypoallergenic formula offers peace of mind to cat owners who are worried about irritating their cat's eyes during a bath. The shampoo doesn't offer much in terms of lather, but it leaves no residue and is easy to rinse off your cat's skin.
The scent of baby powder is added to leave the skin soft and fragrant. Some cat owners have said that they don't like the way that the scent mixes with their wet cats' fur. The Sphynx may not have this issue, though.
Safe for cats of all ages
Tearless formula
Easy to rinse
Scent may be unpleasant on cats with fur
---
5.

TropiClean Hypoallergenic Gentle Coconut Shampoo
| | |
| --- | --- |
| Size: | 20 ounces |
| Feature: | Oatmeal, hypoallergenic |
The TropiClean Hypoallergenic Gentle Coconut Shampoo is safe for use on cats of all ages. It's formulated for cats with sensitive skin. This pH-balanced formula does not contain any parabens or dyes.
The rich lather that builds with this shampoo is effective at removing greasy oil and cleaning skin without drying it out. It softens and moisturizes while it works, leaving behind a pleasant coconut scent. Aloe, oatmeal, and vitamin E are added to protect and soothe the skin.
The biggest complaint with this product is that it arrives leaking in the package. This was an issue that can hopefully be resolved.
Hypoallergenic formula
Safe for cats of all ages
Soothes and moisturizes skin
Bottle may leak or break in transit
---
6.

John Paul Pet Sensitive Oatmeal Shampoo
| | |
| --- | --- |
| Size: | 16 ounces |
| Feature: | Oatmeal |
John Paul Pet Sensitive Oatmeal Shampoo is another good pick for Sphynx cats. With a mix of aloe, chamomile, and hydrolyzed oat protein, it gently cleans your cat's skin without drying it out. It's formulated to soothe irritated skin and lock in moisture. This is a pet product from the Paul Mitchell line, which also makes products for humans.
This cruelty-free shampoo is always tested on humans before it's deemed safe for animal use. It is scented with sweet almond oil to leave behind a natural, lasting fragrance. The formula lathers well but is thinner than some other shampoos. It may quickly run out of the bottle, so be prepared once you start squeezing it out. Some pet owners with long-haired pets noticed that the texture of their fur became coarse after use. For a Sphynx cat, though, this won't be an issue.
Oatmeal formula
Good for sensitive skin
Cruelty-free
May not soften every pet's fur
---
7.

Earthbath Oatmeal & Aloe Shampoo
| | |
| --- | --- |
| Size: | 20 ounces |
| Feature: | Oatmeal, cruelty-free |
If your cat suffers from itchy skin, the Earthbath Oatmeal & Aloe Shampoo can address their needs. Made with biodegradable and cruelty-free ingredients, this shampoo uses oatmeal and aloe to heal skin irritation and moisturize dry skin. This is suitable for use on cats over 6 weeks old.
The formula of this shampoo is phosphate and paraben-free, so you can trust that it won't harm your cat's delicate skin. The pH balance of this shampoo is milder than baby shampoo. While it's made for pets, the CEO of the company uses it themselves! No animal testing or animal products go into the production of this shampoo. The vanilla and almond scent is light and pleasant.
The shampoo is thin and not that concentrated, so you may have to use larger amounts at a time than some other brands to get your cat clean.
Heals irritated skin
Mild formula
Pleasant scent
Thin consistency
May leave residue on the skin
Not concentrated
---
8.

Vet's Best Waterless Cat Bath
| | |
| --- | --- |
| Size: | 4 ounces |
| Feature: | Waterless |
The Vet's Best Waterless Cat Bath does not require rinsing and is perfect to use in between baths or as a regular cleanser for your Sphynx cat. The formula is recommended by veterinarians and is suitable for cats with sensitive skin. Natural ingredients, including aloe vera, neem oil, and vitamin E, are included in the recipe.
The oatmeal in this shampoo soothes and calms itchy, irritated skin by preserving its natural moisture content. The neem oil is full of fatty acids and vitamins to maintain the skin's overall well-being while naturally cleaning away oil buildup and dirt.
This is suitable for cats over 12 weeks old. It has a calming scent to relax your cat. Best of all, it won't affect any topical flea control products. The downside is that it's a small bottle. If you use a small amount for each bath, you may be able to get up to eight baths out of the bottle.
No rinsing required
Soothes and moisturizes skin
Relaxing fragrance
Sticky consistency
Small bottle size
---
9.

Particular Paws Oatmeal Shampoo
| | |
| --- | --- |
| Size: | 17 ounces |
| Feature: | Oatmeal |
The formula in Particular Paws Oatmeal Shampoo soothes dry, itchy skin. Using shea butter, oatmeal, and aloe vera, this anti-itch shampoo restores the pH balance of your cat's skin. It contains 100% natural ingredients. It's strong enough to scrub off dirt and oil but gentle enough to be used on kittens.
This shampoo is manufactured under the supervision of veterinary experts, so you can trust that it's safe for your cat's skin. Honey and chamomile improve skin texture and elasticity. The scent is fresh and clean without being overpowering. It can be used on dogs and cats with fur, but the skin-enhancing agents make it suitable for Sphynxes.
Mild, all-natural formula
Treats skin irritation and dryness
Pleasing scent
---
10.

Davis Degrease Shampoo
| | |
| --- | --- |
| Size: | 16 ounces |
| Feature: | Oil-removal |
The Davis Degrease Shampoo is perfect for removing that greasy feeling from your pet's coat and can effectively remove oil buildup on your Sphynx's skin. It's also great for oily ears. The shampoo starts as a soft paste and warms to an ivory liquid. Some cat owners like to put this in a spray bottle with water for easier application. It will work effectively in either form.
This highly concentrated formula will also remove dirt, motor oil, and other greases from your cat's skin. It leaves behind a lemony citrus scent.
Removes oil, dirt, and grime
Fresh scent
May need to be diluted before use
Buyer's Guide – Finding the Best Shampoo for Your Sphynx
Why Do Sphynx Cats Need Baths?
Oils secreted from a cat's skin are usually no problem because their fur will wick it away and distribute it evenly among the hair shafts. When you brush a cat, this also helps spread the oil and keep it from building up.
However, on cats without fur, like Sphynxes, you'll see the oil start to build up. This can cause skin rashes and irritation if Sphynx cats aren't bathed regularly. Regular grooming can help your cat avoid these issues.
How Often Should a Sphynx Cat Be Bathed?
This will depend on the individual cat. On average, Sphynx cats are bathed once a week to once a month. If your cat isn't producing large amounts of oil, you can maintain their skin by using a no-rinse cleanser or wipes for hairless cats in between bathing. When you notice a buildup of oil on your cat's skin or you see oily marks left on your carpet or furniture, you know that it's time for a bath.
If your cat has skin conditions that make overbathing problematic, like dry skin or rashes, they should be bathed every 2–3 weeks.
The longer that a cat goes without a bath, the more of a chance they have to develop blocked pores. These can lead to pimples and breakouts.
Can I Use My Shampoo on My Cat?
Cat skin has a different pH than human skin. Using human products on cat skin can lead to dry skin and other skin issues. Sphynx cats have particularly sensitive skin, and shampoos formulated for cats are the only ones that should be used on them.
Can't Sphynx Cats Just Groom Themselves?
Cats are fastidious groomers. They like to be clean and work hard at keeping themselves tidy. With Sphynx cats, why can't they just get rid of the oil themselves by grooming?
The main reason this doesn't happen is that Sphynx cats, like other cats, have rough, sandy-feeling tongues. When they lick their skin, they feel this roughness the same way that we do when they lick our skin. This isn't a feeling that they enjoy for long, so most Sphynx cats won't fully groom themselves or keep themselves oil-free.
What to Look for in a Shampoo
Sphynx cats have sensitive skin, so the gentlest formula that you can find without any harsh chemicals is best. Avoid heavy fragrances, phthalates, and parabens. The shampoo should include only a few ingredients and should be as natural as possible. It should remove excess oil without stripping the skin completely.
Wipes are available to help remove excess oil without having to give your cat a full bath. You can also use cleaning wipes to control the oil, but these should also be gentle on your cat's skin.
Size
The size of the shampoo bottle is also something to consider. You'll be using it regularly. Big bottles can last a long time but may be expensive. Since you will be using the shampoo so often, it should be something that isn't drying.
Additions like oatmeal, chamomile, and jojoba oil are moisturizing and soothing for cats' skin.
Strength
How dirty does your Sphynx cat like to get? If they are always exploring the basement or attic and reappearing covered in dust and cobwebs, the shampoo should also be strong enough to clean the skin in addition to dissolving oil. If your cat is relatively clean, a milder shampoo will work to keep the oil controlled.
Waterless or Water-Based
Waterless shampoos don't need to be rinsed. You can apply them to your cat's skin and wipe them off. While Sphynx cats should be bathed in water at least sometimes to make sure they are fully cleaned, waterless shampoos are options if your cat is truly against bathing.
Water-based shampoos are for cats that can be bathed regularly with water, as these formulas require rinsing.
How to Bathe a Sphynx Cat
You want to make this time as easy and stress-free as possible for both you and your cat.
Fill the tub or sink first.
The sound of running water can scare your cat and let them know that something is about to happen. They can also start to associate that sound with a bath and then hide. Bringing them into the room with the tub already filled will avoid them feeling anxious longer than necessary. It's also easier to corral them and put them in the water than corral them, start to fill the tub or sink, and then have to corral them again because they've managed to escape the bathroom.
Make it peaceful.
Turn off any loud televisions or radios. Keep the room calm and quiet. Some cats respond well to relaxing music playing quietly. Use a calming pheromone spray, or offer your cat treats to set them at ease.
Ease your cat into the tub.
Cats should be slowly immersed in the water, starting with their paws. This will help them get acclimated to the feeling. The water should be warm, but not hot. Gently wet your cat all over once they are standing in the water and then slowly work the shampoo into their skin. When your cat is thoroughly scrubbed, rinse them completely. This can be done with warm water from the showerhead or a small cup to scoop and pour the water over them.
Avoid the eyes.
To avoid getting soapy water or shampoo in your cat's eyes, use a washcloth on their heads instead. Dip the washcloth into the water, and rub your cat's face, inside and around the ears, and around the eyes. Rinse afterward, and be sure to dry the insides of their ears after the bath.
After Bathing
Dry your cat thoroughly with a soft towel. Reward them for this experience so they associate it with positive things. Since you'll have to do this repeatedly with a Sphynx, they should get used to it over time.
Use this time to inspect your cat's nails and see if they need clipping. Part of regular grooming for Sphynx cats includes nail clipping once their claws become too sharp. This can help them avoid leaving bloody scratches on themselves. Without fur, cat claws can do more damage to Sphynx skin.
The inside of your cat's ears should be dried and checked for signs of infection.
Sphynx cats can suffer from blackheads and acne as oil builds up on their skin and blocks their pores. After the bath, inspect your cat for these bumps. Exfoliate the clogged pores to help release the trapped oil. You can do this by applying a warm compress to the affected area and then using a dry washcloth to gently rub the skin.
Check your cat's eyes for signs of crust or buildup. Sphynx cats don't have eyelashes, so they are more susceptible to getting dirt in their eyes. Warm compresses to loosen any hardened gunk and then gentle wiping should take care of the issue.
Conclusion
Our best choice for Sphynx cat shampoo is Hepper Waterless No Rinse Pet Shampoo. Its light-weight formula is easy to use and suitable for sensitive skin. It removes oil buildup and softens skin. For cats that dislike water, the Burt's Bees Waterless Cat Shampoo is a solution. Just spray it on your cat, massage it into their skin, and towel dry. This is good for spot cleaning or cleaning in between water baths. We hope that these reviews have helped you determine which shampoo is best for your Sphynx cat to keep their skin healthy.
---