7 Best Solid Wood Cat Trees Made of Real Wood in 2023 – Reviews & Top Picks
If you're a true cat fanatic like us, you adore your cats more than some people and would do absolutely anything to see them happy. One of the ways we spoil our kitties is by buying them cat towers for them to play on and hide in. Cats enjoy high perches where they can lounge the day away. It also makes them feel safe to be able to have a space of their own that they can run to when they're feeling stressed out or overwhelmed.
While there are many different cat trees on the market, there aren't as many that are made from solid wood. Buying a cat tree made of wood ensures that it is going to last a long time and give you your money's worth. We have combed through the reviews on these types of trees and given you the best options out there for you to spoil your fur babies with.
A Quick Comparison of Our Favorites
Rating
Image
Product
Details

Best Overall

PawHut Solid Wood Cat Condo

Room for litter box
Multiple hiding spaces
Waterproof paint
Check Price

Best Value

Vesper Cat Furniture Tree

Affordable
Stylish
Den with cushion
Check Price

Premium Choice

Good Life Cat Tree House

Tall
Unique design
6 floors
Check Price

Best for Kittens

Feandrea Cat Tree Tower

Good height for kittens
Pretty design
Soft cushions
Check Price

Unipaws Wooden Cat Activity Tree

Modern design
Multi-levels
Eco-friendly wood
Check Price
The 7 Best Solid Wood Cat Trees – Reviews & Top Picks 2023
1.

PawHut Solid Wood 4-Floor Cat Condo – Best Overall
| | |
| --- | --- |
| Color: | Grey |
| Dimensions: | 30.75 x 30 x 55 inches |
| Weight: | 50 pounds |
It's hard to argue with the statement that the PawHut solid wood 4-floor cat tower is the best overall solid wood cat tree. This tower features four floors with tons of hiding spaces, room for a litter box, and a roof on top. This is good for both indoor and outdoor spaces and, considering its size, is a fair price. The wooden structure is painted grey and white with waterproof paint and the footpads help protect your indoor flooring. The biggest downfall to this is that it is very large and won't fit well in smaller apartments or living spaces.
4 floors
Room for litter box
Multiple hiding spaces
Roof
Waterproof paint
Interior/exterior design
Affordable
Not ideal for small living spaces
---
2.

Vesper Cat Furniture Tree – Best Value
| | |
| --- | --- |
| Color: | Walnut, oak |
| Dimensions: | 22.1 x 22.1 x 47.9 |
| Weight: | 40.5 pounds |
If you're looking for something a little more on budget, the Vesper Cat furniture tree is the best solid wood cat tree for the money. This cat tower is very affordable and still made from strong, sturdy materials. You get to choose between walnut and oak, and the outside is covered with resin for extra durability. The beautiful style looks great in any home, and there isn't any carpet for people who suffer from allergies. It also has a cozy den with a foam cushion inside.
While this tree is a good size, it's not the best for larger cat breeds. The sisal on the posts also comes off after a little bit of use.
Affordable
Stylish
Den with cushion
Painted with Resin
Two wood choices
Not suitable for larger breeds
Sisal comes off easily
---
3.

Good Life USA Deluxe Modern Design Cat Tree House – Premium Choice
| | |
| --- | --- |
| Color: | Oak |
| Dimensions: | 31″ x 42.5″ x 63″ |
| Weight: | 63.3 pounds |
We all get the urge to splurge when it comes to our cats. If you want something that is unique, sturdy, and lots of fun for the cats, then the Good Life USA deluxe modern design cat tree is an excellent option. This tree looks different from any other tree we've seen. Your cat will never get bored with this tower. It stands 63 inches tall, has six floors, multiple scratching posts, a hammock, den, and sisal columns. The den is a little small for some larger breeds and the hammock isn't the sturdiest part of the design, but it's still a really unique piece that cats would have a ball with.
Tall
Unique design
6 floors
Hammock
Den
Sisal columns
Expensive
Small den
Hammock isn't sturdy
---
4.

Feandrea Cat Tree Tower – Best for Kittens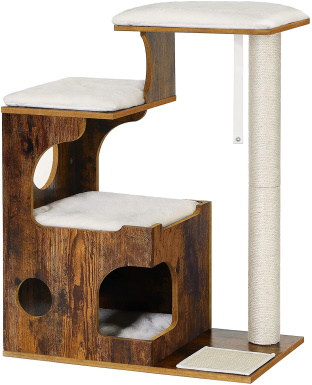 | | |
| --- | --- |
| Color: | Rustic brown and white |
| Dimensions: | 26 x 16.5 x 34.7 inches |
| Weight: | 32.8 pounds |
Not every cat wants to be up high in the air, especially young kittens who haven't quite got their climbing feet yet. The shorter height on this tree keeps young kittens safe until they have better control of their movements. The dark wood veneer looks beautiful in any home, and it comes with soft, white cushions for extra coziness. There is also a built-in sisal scratching post for their young claws. Unfortunately, this isn't recommended for cats weighing over 15 pounds. It can also be a bit of a challenge to assemble. You don't get quite as much wood for the price, but it's still an excellent option for young pets.
Good height for kittens
Pretty design
Soft cushions
Sisal scratching post
Pricey for size
15-pound weight limit
---
5.

Unipaws Wooden Cat Activity Tree
| | |
| --- | --- |
| Color: | Dark brown |
| Dimensions: | 27.2 x 26.5 x 6.5 inches |
| Weight: | 39 pounds |
Another unique design tree choice is the Unipaws cat activity tree. This offers a style that is a bit more modern than others on the market. The wood is also eco-friendly, and each platform can rotate. There is carpet on each level with climbing holes through each one. The holes aren't super wide, so heavier cats might not enjoy squeezing through the small spaces. The levels are a bit too far apart for young cats as well.
Expensive
Small climbing holes
Towers too far apart for small kittens
---
6.

Catastrophic Creations Climb Multi-Level Activity Center
| | |
| --- | --- |
| Color: | Chestnut, bamboo, onyx |
| Dimensions: | 56 x 11 x 69 inches |
| Weight: | 22 pounds |
One of the most interesting aspects of this tree is that there isn't a tree at all. This activity center is made from wood and natural materials and mounts directly to your wall to save on space. Each piece is handmade and a good solution for fixing furniture scratching. Aside from the high price, some reviews have said that that mounting everything into the studs is a challenge because everything has to be spaced perfectly and it requires power tools.
Saves on space
Helps fix furniture scratching
Good solution to fix scratching
Expensive
Requires power tools
Difficult to mount into studs
---
7.

Mau Lifestyle Uni Faux Fur Basket Bed Cat Tree
| | |
| --- | --- |
| Color: | White, brown, grey |
| Dimensions: | 23 x 20 x 41 inches |
| Weight: |  30 pounds |
This tower looks like you cut a tree down and put it right inside your home. It's a great product to bring the outdoors inside, but it is a bit pricey. There are only two levels, and the sisal only covers a small area for them to scratch. Each level is covered with faux fur as well, but it tends to come loose, and hairs get all over the house.
Natural look
Stylish
Decorative
Expensive
Only two levels
Small scratching surface
Fur comes loose
Buyer's Guide
Buying cat trees made from solid wood is a good investment. These pieces last a lot longer than other cat trees made from particleboard and other cheap materials. It also ensures that your kitties won't get hurt with jumping, scratching, and playing on their towers.
Cats love to sit up high, have places to hide, and surfaces to scratch. When you're looking for a cat tower, you want to pick something sturdy but still fun for them to use. The more levels, holes, and dens for them to crawl and jump through, the more mentally and physically stimulated they're going to be. The more they must do in their own space, the less likely they are to act out around your expensive furniture.
Conclusion
It's a bit of a shopping challenge to find the best solid wood cat trees made out of real wood online. We have gathered as many reviews as possible and put together a thorough list to help you make the best decision possible for your cat. We've found that the best overall cat tree is the PawHut cat condo. To save a bit of money, the best for your money is the Vesper cat tree. No matter which tower you go with, we know that they are going to hold up for years, and your cat is going to have the time of their lives on them.
See also: 10 Best Eco-Friendly Cat Trees – Reviews & Top Picks
---
Featured Image Credit: Irina_kukuts, Pixabay