11 Best Toys for Cats Home Alone – 2023 Reviews & Top Picks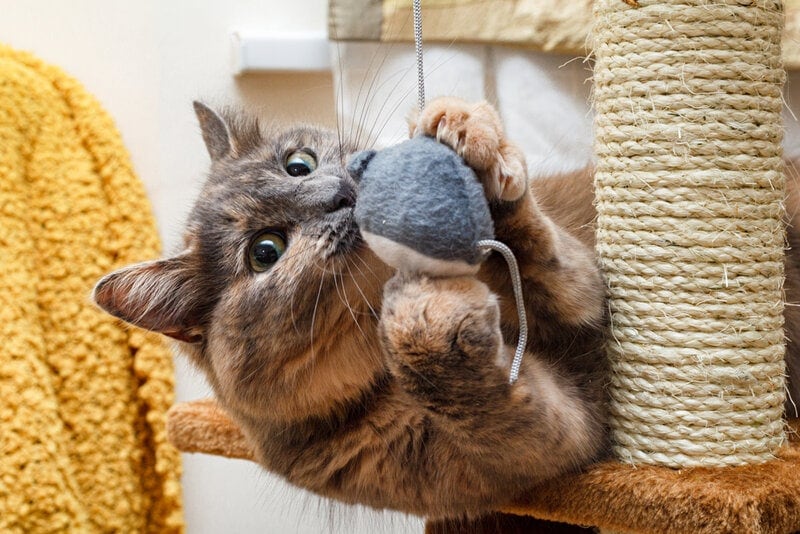 No one likes leaving their pets home alone. As pet parents, we worry that they will miss us or get bored while we are gone. We even worry about our independent cats and wonder if they'll have enough to keep themselves occupied when we are out.
Toys are one solution to the problem, but which toys are great for cats to play with independently? We've put together reviews of our top cat toys that will keep your kitty entertained while you are out. Now you can read through our picks and choose the best cat toys for your needs. This way, you can be confident your cat has plenty to do when you have to leave them home alone!
A Quick Comparison of Our Favorites in 2023
Rating
Image
Product
Details

Best Overall

Hepper Bamdoll Cat Toy

Contains catnip
Can be used as a chew toy
Crafted from natural materials
Check Price

Best Value

SPOT Springs Cat Toy

Durable
Pack of 10
Easy for cats to carry around
Check Price

Premium Choice

SnugglyCat Ripple Rug Activity Mat

Durable
Promotes activity
Multiple uses in one
Check Price

Feline Ruff Collapsible Tunnel Cat Toy

Multiple ways to play
Comes with a ball to bat
Large tunnel diameter
Check Price

Frisco Cat Tracks Butterfly Toy

Small footprint
Multiple ways to play
No potentially harmful small parts
Check Price
The 11 Best Toys for Cats Home Alone
1.

Hepper Bamdoll Cat Toy – Best Overall
Features: Humorous shape, strong materials
Size:9.4″ X 2.7″
Ease of Use: Easy
The soft Hepper Bamdoll Cat Toy is our best overall toy for cats who are home alone and is perfect for cats who love to play and keep entertained. This soft toy is handmade with strong and durable materials made to last a cat's rough play session. It's also crafted from natural materials such as linen, cotton, and polyester to appeal to your cat's sensory needs when it comes to playtime. To further entice cats, this cat toy contains catnip inside, encouraging your cat to play with it.
The cream color is stylish and offers your cat a modern toy that will not stick out when left around the house. This medium-size and lightweight toy is ideal for cats of all sizes and it cannot hurt them during playtime. The shape and slinky design of the Hepper Bamdoll are guaranteed to pique your cat's interest and encourage them to tussle and play with the toy and try to get the catnip inside!
You might have guessed, this is our own product – but we love it so much we just have to share it, and hope you get to own one too!
Crafted from natural materials
Durable
Can be used as a chew toy
Contains catnip
Cannot be washed or wet due to the catnip inside
---
2.

SPOT Ethical Products Springs Cat Toy – Best Value
Features: Easy to use
Size: 1" diameter, 4" length
Ease of Use: Easy
We think these little springs are the best toy for cats home alone for the money! You get 10 springs in the pack and they will keep your cat entertained for hours! Cats can roll, chase, and bat at these toys. They also can be tossed in the air and will bounce when they hit the floor. They are also small enough that cats can carry them around in their mouths for fetch and play. The only downside to these is that they can roll under furniture which can be frustrating to your kitty if you aren't around to retrieve it for them. However, since they come in a pack of 10, there will always be a backup toy available!
Easy for cats to carry around
Roll and bounce for hours of entertainment
Comes in a pack of 10
Durable
---
3.

SnugglyCat Ripple Rug Cat Play Mat – Premium Choice
Features: Scratch mat, hiding, sleeping, playing
Size: 47" width x 25" length
Ease of Use: Easy to medium
This playmat is a fun choice to encourage your cat's natural instinctive behaviors. They can climb, pounce, hide, and scratch, all with one toy! This mat has two pieces. You can use the Velcro touch points on the top mat to create a cozy cave or another area for your cat. The holes in the top mat allow them to dart in and out. When they get tired, the cozy carpet lining the bottom mat makes a great place for your cat to take a quick nap. This is a bit more pricey than some of the other choices on our list, but we think you will like the multiple-play options it offers.
Multiple uses in one
Durable material
Promotes activity
Large slits so bigger cats can fit as well
---
4.

Feline Ruff Premium Collapsible Tunnel Cat Toy
Features: Ball, tunnel, crinkle noise
Size: 12" diameter tunnel, 55" x 35" when the tunnel is opened
Ease of Use: Easy
For the pet parent who wants a multiple-use toy without having to spend quite so much money, this tunnel is a great option! It is wide enough for bigger kitties to fit in and has a large hole on the top for your cat to pop its head through. It also comes with a jingle bell ball on a string attached to one of the ends. This tunnel also makes a nice nap spot or hiding spot. The crinkle sound is fun for most cats as well, although if your cat startles easily they might not enjoy it. The biggest drawback is the size—this tunnel will take up quite a bit of space. However, it can be compressed into a small disk and put away when not in use.
Multiple ways to play
Large tunnel diameter for bigger cats
Cats love the crinkle sound the tunnel makes
Comes with a ball to bat at
Takes up a lot of space
Some cats might be frightened by the noise
---
5.

Frisco Cat Tracks Butterfly Cat Toy
Features: balls, butterfly, rollers
Size: 10" diameter for the base
Ease of Use: Simple
This simple but fun toy gives your cat multiple levels of entertainment with three layers, each with a ball to roll around. There is also a butterfly on a wire at the top of the toy that your cat will love to bat around. The tower has non-skid pads on the bottom to prevent sliding while your cat plays. This toy is a great value buy as well. The only potential downside is the butterfly may get damaged with heavy play. The good news is it comes with an extra, replacement butterfly.
Multiple ways to play
Small footprint
Sturdy
No potentially harmful small parts
Great value
The butterfly can get beat up quickly
This is also one of our top picks for 10 Best Toys for Exercising Your Cat
---
6.

Trixie Cat Activity Center
Features: Multi-use for treat hiding
Size: 16" length x 12" width x 3" height
Ease of Use: Medium
If you have a food-motivated cat (and really, which cats aren't food-motivated?), then this puzzle toy might be a great choice for you. There are five different obstacles you can use to challenge your cat, each with the potential for a treat reward. Unlike some other puzzle toys, this one is difficult enough to keep your cat engaged for a long time without being impossible. The main downsides are it is a little expensive and it requires you to place the treats in the toy before the cat can play.
Multiple obstacles to challenge your cat
Keeps your cat busy
Has a built-in reward system to keep your cat interested
A little expensive
Requires that you place treats before they can play
---
7.

YOFUN Smart Interactive Cat Toy
Features: Rolls, changes direction, lights up
Size: 2" diameter ball
Ease of Use: Medium
This chargeable ball can spin, roll, and change directions. Your cat will love to pounce on it and chase it around your house. It also lights up which will attract your cat's attention and keep them interested in chasing it. The ball will also work on multiple types of floor surfaces, including carpet, so your cat can play anywhere. The charge will last for up to 4 hours and the ball comes with a USB charger. The need to recharge the ball and the fact that it can roll under furniture are the two biggest drawbacks. Otherwise, this is a fun toy that will keep your cat busy.
Long-lasting battery charge
Great for cats to chase
Lights up to get the cat's attention
Must be charged after 4 hours of use
Can roll under furniture
---
8.

SmartyKat Feather Whirl Electronic Motion Cat Toy
Features: Wobbles, spins, feather to chase
Size: 3" diameter, 9" wand
Ease of Use: Easy
This ball and feather combo toy is a nice option for the curious kitty. Your cat can chase the ball as it spins and then bats at the feather that waves on top of the ball. It's a fun toy at a good price and will keep your cat entertained. There are a few downsides. This toy does require two AA batteries which are not included. If the feather becomes worn, you can purchase a replacement wand and feather attachment.
Fun for cats to chase
Feather wand for batting
Can purchase replacement wands
Requires batteries
Feathers can be destroyed by play
Related Read: 10 Best Interactive and Electronic Cat Toys – Reviews & Top Picks
---
9.

Petstages Tower of Tracks Cat Toy
Features: Multiple layers and balls
Size: 10" diameter, 5" height
Ease of Use: Easy
This tower toy is another good value. It has three levels and will keep your cat, or cats, busy while you are at work. They can push the balls and chase them around the tower layers. It also has non-skid pads on the bottom to prevent the toy from sliding on the floor while your cat plays. This toy does not include a wand toy at the top for extra engagement like our top pick, but it is still a good value toy.
3 levels and balls for play
Multiple cats can play at the same time
Non-skid pads
Cats might not like the sound of the balls
Does not have a feather or other wand toy at the top
---
10.

TRIXIE Miguel Plush Fold & Store Cat Tree
Features: Multi-use, good for scratching
Size: 5" length x 13.8" width x 25.6" height
Ease of Use: Easy
This is a great option if you want to spend a little more money on your cat's entertainment. This cat tree has a sisal scratchpad, hammock, tent area, and two balls for playing. It will keep your cat busy and provide them with a cozy place to nap when they are finished playing. It does take up a bit more space than the other options on our list but is a nice multi-use piece.
Multiple ways to play
Good for scratching
Can be used for playtime and napping
Expensive
Takes up a lot of space
---
11.

KONG Kickeroo Giraffe Pattern Cat Toy
Features: Catnip, large size
Size: 13" length x 4" width x 2" height
Ease of Use: Easy
This large, catnip-filled toy is a great choice for the cat who loves catnip and wants a larger toy to cuddle. It is big enough for your cat to grasp it and kick at it as well. They will like the soft, fuzzy tail, although it can wear out over time. The catnip also fades after a while, but overall, this is a good value pick.
Including enticing catnip
Inexpensive
Fun for cats to bat around, chew, cuddle, and chase
Catnip fades over time
Can get lost under furniture
The tail can wear out
Related Read: 12 Best Chew Toys For Cats – Reviews & Top Picks
Buyer's Guide: Selecting the Best Cat Toy For Home Alone Cats
Now that you have read our top picks, let's review some important things to consider when finding the right toys for your cat.
Features of Good Interactive Cat Toys
Good interactive cat toys have several features that make them a great choice for your needs. These include:
They keep your cat moving!
There is mental stimulation involved in playing with them.
They encourage natural cat behaviors (scratching, kicking, hunting, stalking, problem-solving).
There are no small parts or choking hazards that can be dangerous for your cat.
Your cat can play with them without your help.
Things to Consider Before Buying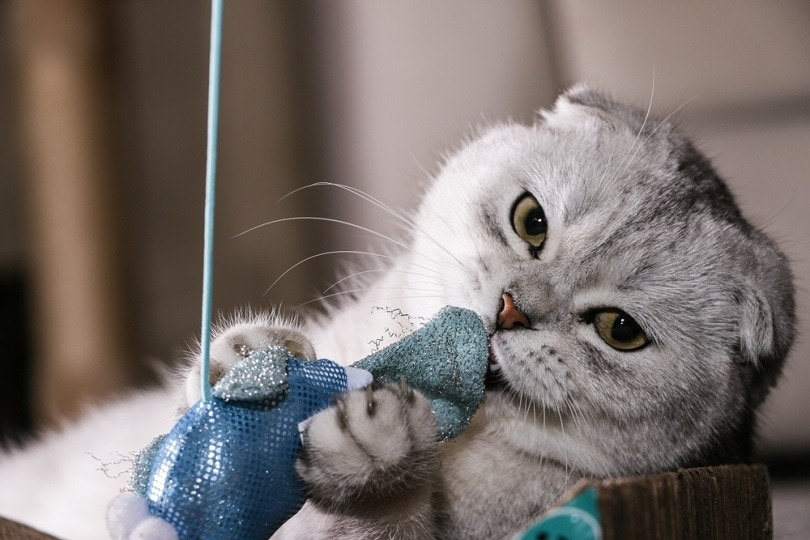 To make sure you are getting the best toy for your needs, you should consider the following:
How much space will the toy take up?
Does it make an odd noise my cat will be frightened by?
Can the toy get stuck under furniture?
Is the toy going to last or will I need to replace it right away?
Taking the time to ask yourself these questions will help ensure that you get the best toy for your needs and your cat's needs. After all, you want your cat to be happy and entertained when you are not home with them.
Related Read: 10 Best Cat Toys – Reviews & Top Picks
Conclusion
Now that you've read our reviews, you should feel confident that you can choose the right cat toy for your cat to use when you are away. For the best overall toy for cats that are home alone, the Hepper Bamdoll Cat Toy is a great option that has strong materials for the roughest play. For another great value, you can't go wrong with the SPOT Ethical Products Ethical Wide Colorful Springs Cat Toy.
See also: 15 Entertaining DIY Cat Toys to Keep Them Busy
---
Featured Image Credit: socreative media, Shutterstock