5 Best Ultrasonic Dog Repellers of 2023 – Reviews & Top Picks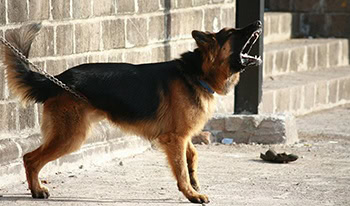 We know what you are thinking, and no, an ultrasonic dog repeller is not something SpongeBob plays with under the sea! Although the name may be a bit comical, the use is actually more serious. This handy little tool is a great way to not only help train your pet to stop barking, pulling, and other undesirable behaviors, but it will also stop you from being attacked by another dog.
We understand that not everyone out there is as immersed in canine culture as we are here. Some people are just not fond of our four-legged friends, while others are downright terrified. That being said, due to poor care, illness, and other factors, some dogs can be aggressive.
To help with your behaviorally-challenged pet and protect yourself from a bite, an ultrasonic dog repeller is a safe, humane, and effective way of curbing a dog's attention. In the article below, we have found the five best ultrasonic dog repellers available. We will share effectiveness, use, handleability, etc., so you can make the right choice. Plus, we have also provided some additional helpful hints, as well.
---
A Quick Comparison of Our Favorite Picks in 2023
Rating
Image
Product
Details

Best Overall

APlus+ Handheld

Durable
Safe
Has LED light
Check Price

Best Value

Frienda LED

Effective from 20 feet
100% safe
LED light
Check Price

Premium Choice

Dog Dazer

Effective
Can use up to 20 feet away
Low battery light
Check Price

Humutan

Solar powered
Weather resistant
Spotlight
Check Price

PetSafe

Weather resistant
100% safe
Effective up to 15 feet
Check Price
The 5 Best Ultrasonic Dog Repellers
1.

APlus+ Handheld Dog Repellent – Best Overall
Our pick for the best ultrasonic dog repeller overall is the APlus+ Handheld Dog Repellent. This is a 100% percent safe option that you can use with the touch of one button. Great for teaching your dog not to bark, dig, or chew on furniture, this handheld option admits an ultra-high pitch sound that will stop your toothy pooch in its tracks.
Although the sound is not apparent to you, you will also be able to stop any aggressive pups that are aiming to take a bite out of your ankle. The APlus uses a 9-volt carbon battery and an LED light. This option is made of durable ABS black plastic and is comfortable to hold in your hand.
You will be able to use this model from 20 feet away on most breeds—as well as cats—to train and protect yourself. There are two modes available. You can use the "train mode" to let off a high pitch noise, or you can use the "chase mode", which is the noise coupled with an LED strobe light to further get your pets attention. Overall, this is our favorite option for a dog repeller.
Durable
Safe
Effective
Has LED light
Two modes
Works from 20 feet away
More out of pocket treat costs for your well-behaved pooch
---
2.

Frienda LED Ultrasonic Dog Repeller – Best Value
If you need a more affordable option, the Frienda LED Ultrasonic Dog Repeller is the best ultrasonic dog repeller for the money. This yellow handheld option is a three-device-in-one training model that works great with most breeds plus cats.
The Frienda dog repeller has three settings for training your dog and protecting yourself from attacks. There is also an LED light on the model, so it can be used as a torch, as well. A convenient thumb button allows you to switch between the three settings, as needed.
The first setting is for the LED light only. The second setting is for the LED light and training. This admits a high-pitched sound along with the light. It is great for helping your dog with commands like stay or heel. The third button position is for the LED light and a stop barking noise which is higher-pitched than the training setting. This mode is meant to be used if your dog is barking or with an aggressive dog.
This dog deterrent has a range of 20 feet and takes a 9-volt battery. It is 100 percent safe for humans and animals, although, we should mention that the outer casing is not quite as durable as our first option. Overall, though, this is a great pick if you are on a budget.
Effective from 20 feet
100% safe
LED light
Three settings
Outer casing is not as durable
---
3.

Dog Dazer II Ultrasonic Dog Deterrent – Premium Choice
If you have a few more coins to spend, the Dog Dazer II Ultrasonic Dog Deterrent is a great option. As our premium choice, this repeller is slightly more expensive, although it is a durable handheld model. Made of lightweight, high-impact plastic, this great dog repeller is effective and useful.
Completely safe for your pet and other animals, you can use the Dog Dazer up to 20-feet away. It features a belt clip for easy use while jogging, biking, or walking with your pet; plus, it also has a low battery light so you know when it will not be as effective.
This option takes a standard 9-volt battery and is great for training and repelling unwanted guests. One thing you should know, however, is that this model does not have an LED light, nor does it have more than one setting. Otherwise, this is an effective ultrasonic dog repeller.
Durable
Effective
Can use up to 20 feet away
The belt clip and low battery light
Does not have a light
Only one setting
---
4.

Humutan Ultrasonic Dog Repellent
The Humutan Ultrasonic Dog Repellent is a device meant to be used as a stationary deterrent. This option can be used not only on dogs but cats, skunks, birds, and many other animals. It has a decorative pavilion design that is staked into the ground and uses solar power, although, you still need to use a 9-volt battery, as well.
This option has four modes. The "T" mode is to verify that the microphone and speaker are functional. The number "1" mode is a low range sound that will affect dogs up to 15 feet. The number "2" mode goes up to 30 feet, while the number "3" setting is up to 50 feet.
The Humutan is effective and 100 percent safe to animals. That being said, this device is meant to pick up any barking dogs within the setting you specify. Whether it is your dog or a passing pooch, it will emit a high-pitched sound effectively quieting them.
What's more, the repeller has a PIR motion sensor that detects movement within a 120-degree arc. As is the case, any animals or pets that come into that range will cause the device to emit the noise. Unfortunately, this can be irritating for dogs that are behaving themselves.
As a waterproof device, you can leave this option outside during inclement weather. Obviously, you are not able to use this while you are out walking your dog; plus, as mentioned, you do need to set the deterrent at the correct angle and only 110 degrees are covered. You do have a bright spot light, though, and you can mount the Humutan on the wall.
Four modes settings
Solar powered
Weather-resistant
Spotlight
No control over the sound
Low angle range
Cannot be used as a handheld unit
---
5.

PetSafe Ultrasonic Bark Deterrent
Our final pick is the PetSafe PBC00-11216 Ultrasonic Bark Deterrent. This is a backyard option that is made to look like a birdhouse. It has four different modes, as well. The first mode is for checking to make sure the microphone and speaker are working. The second through fourth are a range of high-pitched sounds that go from 15 to 50 feet in distance; plus, it has 180-degree radius.
Unfortunately, the PetSafe is only effective within 15 feet, and it can be set off by noises other than your dog barking. For example, car doors closing, loud rain, or birds chirping can also set it off. This will be irritating and confusing for your dog if they are behaving themselves.
You also want to note that this option takes a 9-volt battery, although it does not seem to last too long. That being said, you do have a low battery indication light. Beyond that, you should know that some dogs are not able to hear this particular sound, and it has no effect on them. What's more, the PetSafe can only be used for pups six months and older.
On a brighter note, this is a 100 percent safe device for you and your pet.  Nevertheless, as it does not have a light, it is not portable, and it is the least effective option. Overall, it is our least favorite choice for an ultrasonic dog repeller.
Weather resistant
100% safe
Only effective up to 15 feet
Will be set off by other noises besides barking
Battery does not last long
Does not affect all dogs
Does not have a light
---
Buyer's Guide – Choosing the Best Ultrasonic Dog Repeller
How to Use an Ultrasonic Dog Repeller
It is important to know right off that dog repeller is not meant to replace traditional training. Typically, this is a tool used for stubborn and mischievous dogs who enjoy having long conversations with their neighbors 10 miles away.
If you have a pup that consistently barks, digs, or chews up furniture and other belongings, and traditional training has not made a difference, using a dog deterrent sound could be a good option for you. Also, if there are aggressive or nippy mutts in your area, this is a good way to protect yourself.
Let's take a look at how you utilize one of these handheld options:
Settings: A lot of these and devices have different settings. You want to be sure you are using the correct setting. Low settings should be reserved for things like digging and chewing or other commands. Higher settings are meant for when your dog is barking (and they will be able to hear the noise over their own racket) or aggressive dogs that are coming your way. In higher stress circumstances, you can also use the high-volume along with an LED light if your device has that feature.
Stance: It is typical for the dog repeller to have an approximate range of about 20 feet. However, when doing basic chewing digging or even barking training, you want to be within at least six feet of your pup. Hold the device straight out in front of you with your arm extended pointing directly at your pet.
Training: When using this device as a training tool, you want to make sure that you are sandwiching the ultrasonic sound between commands. For example, use: quiet / hit the button / quiet so your pup understands and will understand the command in the future. Don't forget, you also want to follow up with positive reinforcement when your pup behaves as they should.
As mentioned, these tools are not meant to be used lightly and should never be used when your dog is behaving themselves. The sound is annoying and degrading to them—akin to nails on a chalkboard to us, so be especially careful not to set the sound off unless there is need.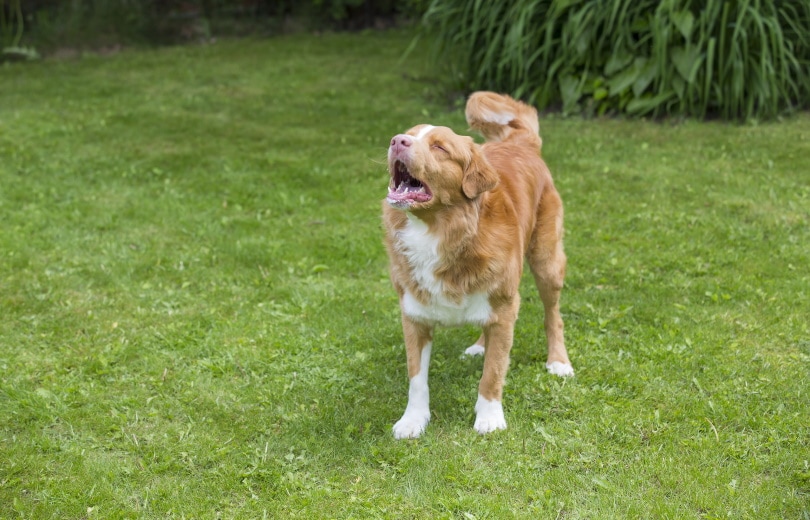 Shopping Tips – Finding the Best Ultrasonic Dog Repellers For You
As you have seen from our reviews above, there are two types of ultrasonic dog repeller that you can choose from. One is the handheld version, while the other is a stationary unit that can be placed in your yard. Both are good options that have different features depending on your need. First let's take a look at the handheld option.
Handheld Dog Repellers
A handheld option is great if you are a fan of long walks, jogging, biking or any other activity that is going to take you away from the home with your pet. Of course, this is also good if there is any fear of other dogs in your area.
The dog deterrent will be handy if you have a pooch that is a strong puller, likes to bark at other dogs, or is not a fan of other pups that they may try to take a swing at. When looking for one of these options, you want to find one that is durable and has a few features. If you are a fan of night walks, LED lights are a good option, too.
Stationary Dog Repeller
A stationary option is good if you have a pup that spends a lot of time outside and has a lot of friends. They can also be a good option if you have a neighbor with a pup that continually barks through the night or during the day. When looking for one of these options, however, you do want to make sure they are durable, and weatherproof. Solar-powered is also good but not always necessary.
The trick to these units is finding one that is going to be effective in a space that you need. For example, if your pup is running in a 30 square foot yard and you only have a 10-ft propeller, it is not going to do the trick. Also, you want to make sure that it is not going to annoy your dog when they are on their best behavior. Choose an ultrasonic deterrent that is not going to sound off every time a squirrel chirps or a door closes.
---
Conclusion
We hope you have enjoyed the reviews above, and they have helped you pick out the right ultrasonic dog repellent for your pet. These handy tools can make a difference if you are nervous of another dog, or you have a pooch that likes to talk throughout the night.
If you want to go with the best of the best ultrasonic dog repellers, try the APlus+ Handheld Dog Repellent. This is a safe and effective way of training your pet while also being protected. If you need a more affordable option, go with the Frienda LED Ultrasonic Dog Repeller which is a good device for a lower price.
---
Featured Image Credit: PDPics, Pixabay