10 Best Vacuums for Pet Hair – 2023 Reviews & Top Picks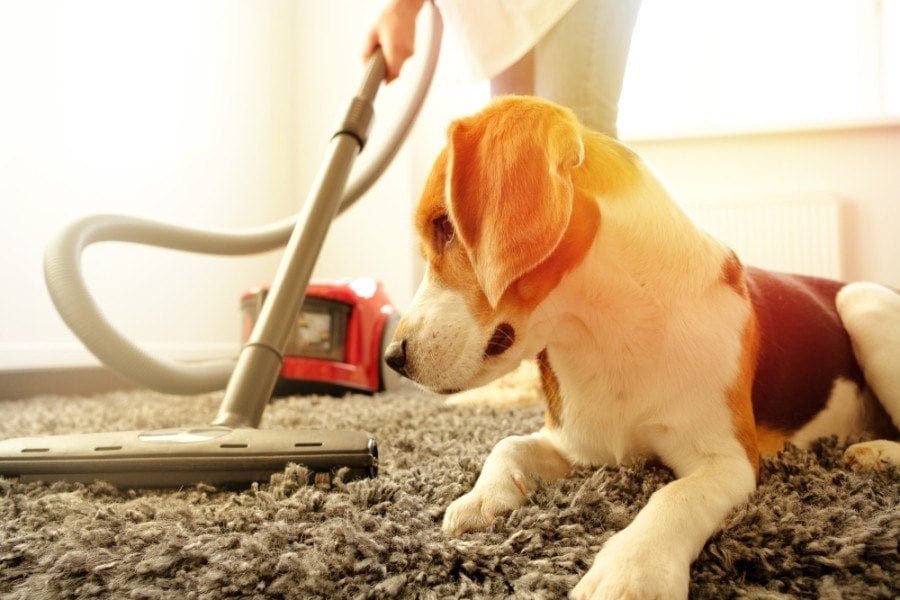 You love your pets, but you hate their fur everywhere in the house. You're tired of picking hair out of anything you cook or eat. It seems impossible to avoid. Been there. Done that. These devices do the heavy lifting to make sure that you can remove it and keep things reasonably clean.
Our guide tells you everything you need to know to make the best choice for you. After all, there are a lot of variables that can affect which one is suitable for your situation, the foremost being how much your pet sheds. Many animals blow their coat seasonally. It's a response to the effects of weather and temperature on their comfort level. Some, like Poodles, don't shed.
We've included the factors you need to consider. We've also added our roundup of reviews of some of the best and most popular products available. You'll find different ones to suit whatever task you have waiting. If you thought all vacuum cleaners were the same, think again. Each type excels at some jobs over others. Continue reading to learn how they measure up against the competition & find the best vacuum for pet hair for your needs.

A Quick Comparison of Our Favorites in 2023
Rating
Image
Product
Details

Best Overall

Pure Clean Robot Vacuum Cleaner

Appropriate for multiple surface types
Decent battery life
No-brush design
Check Price

Best Value

XPOWER Pet Dryer & Vacuum

Powerful operation
Lightweight
Two different speed settings
Check Price

Premium Choice

Dyson Animal Vacuum Cleaner

Cordless
Well-made
Smart operation
Check Price

iRobot Roomba Pet Wifi Vacuum

Alexa and Google Assistant integration
Self-charging
Self-adjusting height
Check Price

Bissell Pet Hair Handheld Vacuum

Extra-long cord
Lightweight
Value-priced
Check Price
The 10 Best Vacuums for Pet Hair
1.

Pure Clean Auto Robot Vacuum Cleaner – Best Overall
The Pure Clean Automatic Robot Vacuum Cleaner is what you need to make vacuuming up pet hair easier. How simple is sitting on the couch and controlling the sweeper by remote control? We love the no-brush design because that means it won't clog if there is a lot of hair and debris on the floor. The battery life is decent, too, at 90 minutes. The device can even detect edges so it won't fall.
The one downside of cleaners of this type is that they miss the corners and edges. This one overcomes that challenge with side brushes that do the job. It's lightweight and just short enough to slip underneath furniture without getting stuck. It's both easy to put together and operate. Overall, this product takes the drudgery out of vacuuming which makes it our top choice of the best vacuum for pet hair available this year.
Appropriate for multiple surface types
Decent battery life
No-brush design
---
2.

XPOWER B-2 Pet Dryer and Vacuum – Best Value
The XPOWER B-2 Pet Dryer and Vacuum gained our top honors for the best vacuum for pet hair for the money. Sometimes, you have to go to the source when it comes to controlling the problem. This product is one that you can use on your dog or cat directly. If your pet will let you do it, it's an excellent way to get the job done quickly without the hassle of vacuuming an entire room.
The vacuum isn't a hairdryer, per se. It will dry your pet's coat somewhat from the vacuuming action. Unfortunately, it's loud, even at the low setting. You must have a pet that is very tolerant to noise. However, it does work efficiently and will take up a lot of hair. For a product of its type, it's the best vacuum for pet hair for the money.
Powerful operation
Lightweight
Two different speed settings
---
3.

Dyson V11 Animal Cordless Vacuum Cleaner – Premium Choice
The Dyson V11 Animal Cordless Vacuum Cleaner succeeds on several fronts. You can use it both as a regular vacuum or a handheld for small jobs. It is powerful enough to pick up debris as small as 0.3 microns. The product is well-made, which is evident just from holding it. The Dyson V11 adapts automatically to the surface and the amount of debris. That accounts for the higher price tag.
The vacuum comes complete with four additional tools and a charging station. It is easy to use with a decent battery life. We loved the reminders on the LED display to get the most out of our purchase and its use. While there are occasional quality control issues, the product works as described. However, it is quite expensive and perhaps overkill in most cases.
Cordless
Well-made
Smart operation
Expensive
Quality control issues
---
4.

iRobot Roomba 675 Robot Vacuum
The iRobot Roomba 675 Robot Vacuum takes automation to the next level. You can use it with your Alexa device or app to make it even simpler to use. It's almost as if it could run itself. It is both self-charging and adjusting to the heights of your furniture to keep it running without issues. When it's getting low on juice, it goes back to its charging station.
The iRobot Roomba 675 is specialized for pet hair and allergens, which is a welcome feature if that's a problem in your household. There is more maintenance involved with it since it uses bags. It's also expensive, even with all the bells and whistles. While you can program it to stay out of some places, it has occasional hiccups when it comes to following your setup plan.
Alexa and Google Assistant integration
Self-charging
Self-adjusting height
Uses bags
Occasional programming flaws
---
5.

Bissell 33A1 Pet Hair Eraser Handheld Vacuum
The Bissell 33A1 Pet Hair Eraser Handheld Vacuum is an excellent choice for spot cleaning if you don't mind the fact that it's corded. That said, it is extra-long, which is an acceptable compromise. It also doesn't use bags, which is another feature we prefer. It is easy to empty. However, the container is too small in our opinion.
The suction power is decent. It will pick up even the finest of pet hairs. We liked the rubber nozzle on the tip of the device to make the job more efficient. It uses a HEPA filter, which helps with removing allergens. The Bissell 33A1's design needs some tweaks to redirect the exhaust to avoid scattering the dust around it. For its size, this vacuum is powerful.
Extra-long cord
Lightweight
Value-priced
---
6.

Shark NV752 Rotator TruePet Upright Vacuum
The Shark NV752 Rotator TruePet Upright Vacuum is an excellent addition to the manufacturer's lineup of cleaning products. It delivers with decent suction to clean any room quickly. It has a HEPA filter, which we consider a necessity if you have pets. We like the design, with its extra-large canister and lighted front to see what's ahead of you. We also loved the swiveling head to get under furniture easier.
On the downside, the Shark NV752 is huge, almost too large for smaller jobs or homes. It's also heavy and a bit hard to control because of its strong suction power. Despite what the packaging portrays, not all the attachments are included with your purchase. That part is deceptive, especially since the label is a major selling feature.
HEPA filter
Lighted front
---
7.

Bissell 2390A Pet Hair Eraser Cordless Hand Vacuum
The Bissell 2390A Pet Hair Eraser Cordless Hand Vacuum is the manufacturer's alternative to its corded model. It is larger and a bit too big. However, it has decent suction and makes quick work of picking up pet hair for spot cleaning. It includes both a crevice and upholstery tool for all-around vacuuming. It runs on a 14.4-volt lithium-ion battery.
The device is easy to use with its triple filtration system that protects the mechanism. We didn't like the fact that you can't buy just replacement filters. It's all or nothing on the assembly. However, we do appreciate the manufacturer's commitment to helping homeless pets. It works as described, even if it is a bit expensive for a product of its type.
Bulky for a handheld
Short run time
Lack of replacement filters
---
8.

Dyson Ball Animal 2 Upright Vacuum Cleaner
The Dyson Ball Animal 2 Upright Vacuum Cleaner is a beast. The suction is powerful and will clean any pet hair it finds. You can use it across a variety of surfaces to get the vacuuming done in one sweep with its self-adjusting head. That definitely makes it a timesaver. However, the design of the handle feels awkward, especially if you have to do a lot of maneuvering around furniture.
We do like the one-step cleaning of the canister to make it hands-free. It's a well-made product, albeit a bit heavy. It gets the job done, but it might be overkill for smaller homes because of its size. On the plus side, the vacuum comes with a 5-year warranty, which may justify the higher price tag for some. Unfortunately, it does occasionally tangle, which makes using it a bit of a hassle.
Powerful suction
HEPA filtration
5-year warranty
Expensive
Awkward hand feel
Tangles easily
---
9.

Eureka PowerSpeed Bagless Upright Vacuum Cleaner
The Eureka PowerSpeed Bagless Upright Vacuum Cleaner stands out as an affordable option for a product of this type. It's lightweight and easy to use. We also liked the fact that it's both bagless with a washable filter. That makes it even more of a value. It includes two attachments for crevices and upholstery, too.
On the downside, the suction power leaves something to be desired. You'll likely find that you have to go over spots again to pick up everything. Fortunately, it's lightweight to make it easier. The power cord is a bit short at 7 feet. It has five height adjustments so that you can use it on a wide variety of surfaces. It suffices as an economical choice.
Affordably priced
Lightweight
Washable filter
---
10.

EyeVac EVPRO-PW Pet Touchless Stationary Vacuum
The design and concept of the EyeVac EVPRO-PW Pet Touchless Stationary Vacuum had us scratching our heads at first. Instead of a vacuum as we think of it, this product is basically a fancy dustpan. It acts as a filter when plugged in, and it will also suck up the debris that you sweep toward it. It is bagless, which we think is a must-have feature with any vacuum.
The glaring downside for us is that you can only use it on hardwood floors. That severely limits its usefulness. However, it is easy to use. It also has an indicator to let you know when to clean it. If you're looking for an air filter and a vacuum, you might find it useful. We'd pass on this one because of its narrow niche.
Hardwood floor use only
Unattractive design

Buyer's Guide: Choosing the Best Vacuums for Pet Hair
We can't be too hard on our pets. After all, we lose hair, also, and it's just as annoying.  Of course, the problem with dogs and cats is that some breeds save it up for a season to shed their coats. That makes it more noticeable. It also is a tipping point when it comes to choosing the best vacuum for pet hair. We think it's a must-have for anyone who shares their home with an animal companion.
Pet hair poses some unique challenges. There is the amount of debris. That's dependent on the breed and the size of the animal. There is also the function of the vacuum. Fur is different from crumbs on the floor. Often, it's oily, especially if you have a dog like a Labrador Retriever. That means it may clump. You'll need a heavy-duty device to handle that task.
Long-haired breeds are also a problem since their long strands can get tangled in the roller of a sweeper. Sometimes, an all-purpose device works. Other times, you must get one that is specialized for the job. We think it's worth the investment if it costs more if just to give you the peace of mind of less pet hair around your house.
Things you should look for include:
Size of your space
Floor surface
Type
Allergies
Operation
General buyer considerations
We'll discuss each one in detail with tips to help you make the right choice for you.
Size of Your Space
The device that works best will differ, whether you live in a studio apartment or a four-bedroom home. It also comes into play when you consider its weight. Carrying around a heavy-duty and weighty vacuum across your house will get old really quick. The essential thing to remember is that the weight isn't necessarily an indication of quality. It's a better indicator of cost, which doesn't always go hand-in-hand.
Size matters when you think about how big the canister is and how often you have to change it. How big of a unit you buy, therefore, depends on the space you have to clean, and consequently, the ease of operation. Also, consider how much space you give your pets. If you have a large home and give your pet free reign, you have a bigger issue than if you confine them to certain areas.
Floor Surface
The surface you're trying to keep clean is a major consideration for the product you choose. Carpeting runs the gamut from Berber to shag. You need a vacuum that can handle the depth of the pile that it is, bearing in mind the added factors of pet hair. The chances are that you have at least two with a bare floor in your kitchen and a rug someplace else. All are a pet-hair magnet.
Keep in mind the room in which you're cleaning. Kitchens and adjacent rooms will have that added coating of grease that will also provide a sticky surface for hair. It becomes a slippery slope of attracting more dirt and debris. A vacuum with a strong sweeping action will do better with loosening the fur and dirt to keep everything under control.
Type
The choice of the type of vacuum is a personal one. It's also a function of the last factor. If you have a home with stairs, a canister is an ideal choice for managing this sometimes-neglected space. However, it's a poor option if you have a large living space, especially if it's heavy. It's also bulkier, which can make it more unwieldy.
Upright vs Handheld
An upright vacuum is a popular choice. However, it doesn't do corners well without attachments to take care of the job. The same criticism applies to stick vacuums, but they are often battery-powered, which makes them convenient to use but lack the power of the upright ones. Handheld models are not meant for big jobs. Let's face it. Your dog or cat is going to shed everywhere.
Robotic
Robotic vacuums are more hype than actual cleaning power. They also skirt corners where hair and debris will likely accumulate. They are fine for spot cleaning but won't clean your entire home of pet hair. We think that they're best as a backup or an adjunct to a better cleaning method.
Allergies
We get it if you want a pet despite your allergies. That's why there are vacuums with HEPA filters. They can filter finer materials out of the air to make you more comfortable. Bear in mind that that fact adds to the cost of having one. You also have to remember to order them so that your vacuum works properly. Otherwise, failure to do so may end the life of your vacuum earlier and decrease its value.
Nevertheless, we consider these products worthwhile. After all, they work on other allergens, too, such as ragweed and pollen. Think of your purchase as an investment for your respiratory health.
Operation
Ease of use is an often-overlooked consideration when buying any device or appliance. It's only when you've used it for a while do you realize its shortcomings. So, many vaccums are in the dealbreaker category. Think of things like what accessories are included with the device. Some may cancel out its shortcomings. Also, find out whether it's a rechargeable device so that you can use it without the hassle of a cord.
We also like to look at other seemingly minor things like how easy it is to clean and the placement of the ON-OFF switches. You may find it more convenient to use a bagless vacuum when dealing with pet hair. With all the other debris, you'll likely scatter dust and fur when you clean it. Also, bear in mind that hair will get caught up around the rollers, which can also affect its operation.
Therefore, we prefer products that are easy to maintain on all scores. We suggest scanning the user manual of a product before you buy to see what's involved with maintenance. You may find that it's a deciding factor.
General Buyer Considerations
A vacuum, of course, is a practical device. The chances are that you're not buying one just of its ability to take up pet hair. That's why you need to evaluate your purchase as you would any other. Consider the basics such as a money-back guarantee and warranty. We always appreciate it when a manufacturer or seller backs up their products.  However, read the fine print. Often, there are conditions.
Make convenience a selling point. Again, we have to refer back to where your pet roams in your home. Think about every room that you must clean. What are the most critical considerations for each one? Put that high on your list of dealbreaker criteria.
Conclusion
The Pure Clean Automatic Robot Vacuum Cleaner stood out among our reviews of the best vacuums for pet hair. The product couldn't be easier to use. We loved the fact that it's brushless, too. That means less clogging so that it is truly hands-off cleaning. It's priced right for what it is. The suction power was excellent for its size. It's an excellent example of how the manufacturers have improved the design.
The side brushes are genius since that was a common complaint with these devices. The Pure Clean streamlines the process of keeping your home clean.
The XPOWER B-2 Pet Dryer and Vacuum is our pick for best value. For such a lightweight design, it's got great suction power and it's easy to use.
Maybe one of the other picks on our list speaks to you? We hope these reviews have simplified your process for choosing a great vacuum for pet hair.
---
Featured Image Credit: sipcrew, Shutterstock