7 Best Wet Dog Foods to Mix With Dry – 2023 Reviews & Top Picks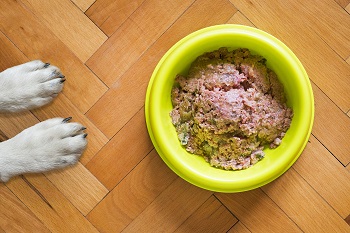 Having a finicky pup is like a roller coaster. You become excited when you find a food that they readily gobble up. Then, when they start to eat less and end up sticking their noses up at it, you feel disappointed to have to go back to the drawing board.
Mixing it up when it comes to food helps you stay one step ahead of them. It is becoming an increasingly popular trend to mix wet and dry food. It changes up the tastes and textures for pups with choosy tongues.
There are pros and cons to both types of food, but mixing them up can give you the best of both worlds. We have collected and created reviews for the best seven wet dog food options to mix with dry food. To understand the positives of mixing foods, be sure to also check out our buyer's guide.

A Quick Comparison of Our Favorites in 2023
Rating
Image
Product
Details

Best Overall

American Journey Stews

Two flavors offered in one 12-pack
Healthy balance of protein and fat
No by-products used
Check Price

Best Value

Pedigree Chopped Ground Dinner

Well-balanced protein
Best budget-friendly option
Satisfying texture
Check Price

Best for Puppies

Blue Buffalo Homestyle Recipe Puppy

Formulated specifically for puppies
Easy to mix with dry food
Higher protein and fat percentage
Check Price

Blue Buffalo Wilderness Grain-Free

Easily mixed with dry food
Does not include gluten
High percentage of protein and fat
Check Price

Purina Pro Plan Focus Adult Classic

Formulated for pups with sensitive stomachs
Salmon is a second ingredient
Manufactured in the U.S.
Check Price
The 7 Best Wet Dog Foods to Mix With Dry
1.

American Journey Stews Grain-Free Canned Dog Food — Best Overall
American Journey Poultry & Beef Stews provides a variety pack of 12 cans featuring two different flavors. Depending on which flavor you go with, the first ingredient is either beef or chicken.
To give the wet food the best texture, a savory broth made from chicken and beef broth is the second ingredient in both varieties. The food contains a crude protein of 8%, crude fat in 5%, and fiber at 1.5%. Some owners complain that there is too much gravy, but this makes it an excellent choice to mix with dry food.
American Journey formulates its food to support your pup in whatever adventure they find themselves. It helps them maintain lean muscles and provides them with a filling food. That means there are no grains, corn, soy, or poultry by-product meal included in this mix. BPA-free cans contain the food for ultimate pet safety.
Two flavors offered in one 12-pack
Healthy balance of protein and fat
No by-products used
Too much gravy for solo meals
---
2.

Pedigree Chopped Ground Dinner Canned Dog Food — Best Value
Pedigree's take on wet dog food is a bit unique. Instead of putting it into a sauce, they grind up all the ingredients without adding broth or gravy. The food is still a wet texture, simply without much sauce. Another positive is that it happens to be the best wet dog food to mix with dry for the money.
Pedigree makes its doggie dinner with a chicken and rice mix. The delicious feast contains essential minerals and oils that keep their skin and coat glistening and satisfied. The texture and balance of the recipe make it highly digestible as well.
This food contains 8.5% crude protein and 6% crude fat. With crude fiber at 1%, it keeps their digestive system working correctly. Unfortunately, it does include controversial chicken by-products, which are the first ingredient.
Well-balanced protein to fat and fiber content
Best budget-friendly option
Ground processing gives satisfying texture for dry food
Chicken by-product is the first ingredient
No additional gravy or broth
---
3.

Blue Buffalo Homestyle Recipe Puppy Dog Food — Best for Puppies
The puppy stage of life is the most important in a dog's life regarding their growth and continued health. Feed your puppy the best with Blue Buffalo's formula specifically made for puppies.
Puppy food typically needs more protein, and this one has a crude protein of 10% and 7.5% crude fat. Its first ingredients are quality, as are most of Blue Buffalo's recipes. They feature chicken and chicken broth, then chicken liver, followed by carrots and peas.
The formula includes DHA, an essential ingredient to support the young dog's brain and eye development. It is a pâté-style food, easy to separate in the can and then mix with dry food. Even though the recipe is balanced, some puppies won't eat it.
Formulated specifically for puppies
Pâté-style food easy to mix with dry food
Higher protein and fat percentage
Some puppies turn their nose up at unmixed food
---
4.

Blue Buffalo Wilderness Grain-Free Canned Dog Food
For this beef and chicken grill recipe, you can get 12 cans of dog food. All of Blue Buffalo's formulas are grain-free, including their cans of wet food.
Blue Buffalo wants to encourage dogs to live an active, strong life with the growth and energy that they need to maintain themselves. It provides them with a formula of high-quality protein made from grilled beef and chicken.
The total percentage of protein is 10%, and fat is 9%. These increased portions mean good things for active dogs but can cause weight issues in lazier pups.
The first ingredient is beef, followed by chicken, chicken broth, and chicken liver. There are no ingredients that contain gluten and no by-product meals from meat either. The texture of the food is pâté.
Pâté texture is easily mixed with dry food
Does not include gluten or by-product meals
High percentage of protein and fat
Formula for active dogs can cause weight issues in lazy pups
---
5.

Purina Pro Plan Focus Adult Classic Canned Dog Food
Purina Pro Plan formulates its adult food by focusing on dogs with food sensitivities. The aim is to support those dogs with food allergies, which manifest in irritating skin breakouts or upset stomachs.
Purina Pro Plan was manufactured for adult dogs but does contain the DHA needed to support a puppy's growth. Salmon is the second ingredient on the list, supporting positive coat and skin health. Unfortunately, water is used for processing the first ingredient, which means it is highest in quantity.
This food contains a lower protein percentage than most, listed at 7%, and the crude fat is at 5%. It is manufactured in the U.S. and doesn't contain any artificial flavors, colors, or preservatives.
Formulated for pups with sensitive stomachs
Salmon is a second ingredient
Manufactured in the U.S.
Lower protein and fat content compared to similar products
Water is the first ingredient
---
6.

Cesar Classic Loaf in Sauce Variety Pack Dog Food Trays
Cesar Classic offers a case of 24 smaller 3.5-ounce cases. It is a variety pack, allowing you to figure out your dog's favorites and continue to mix it up for them in one pack. The flavors include classic loaf in sauce, filet mignon, porterhouse steak, and grilled chicken.
One of the positives of this pack is that you receive 24 packs for a more affordable price. Cesar Classic is free from grains, and the first ingredients are always the featured meat according to the name of the recipe. The next ingredients across the board are chicken liver, beef lung, and chicken broth. Even though all these are high-quality sources of the 8.5-9% crude protein, the following ingredients are pork by-products.
Although the picture is of a small breed pup on the packaging, this food is for large and small dogs. The single-serve packages mean you don't have to refrigerate them for preservation between meals. Some people do not like the serving size because it means multiple packages per meal for large dogs.
Variety pack offers greater mix and match capacity
First ingredients are high-quality
Large and small dogs appreciate this food
Small serving size means it doesn't go far for large breeds
Contains pork by-products
---
7.

Iams ProActive Health Canned Dog Food
Puppies aren't the only age of dogs that need more attention and specific nutrition requirements than middle-aged dogs. Senior pups need less fat content and slightly less protein content. They are not as active, and their systems begin to struggle with weight control over time.
Iams formulates its canned, wet dog food with only 7% protein content and a 3% crude fat content. While the first ingredients include water, meat by-products, and chicken, there are chicken by-products as well.
Either way, the protein and fat content make it a good choice for senior dogs over 7 years old and older. The mix of vitamins and minerals supports a dog's coat and skin even as they age. The texture is a pâté, easy to mix in with dry food.
Specially formulated for seniors
Lower protein and fat content for dogs that struggle with weight
Easily mixable pâté texture
Includes several controversial ingredients
---
Buyer's Guide – How to Choose the Best Wet Dog Food to Mix With Dry
When it comes to finding food appropriate to mix in with dry dog food, you want to find quality wet food. Some wet diets mix better with dry food than others. They can also have slightly different ingredients and impacts on the health of a dog.
Mixing wet and dry dog food can help tempt a picky eater. Finding the right food and ratio is key to getting them back to the bowl.
Mixing Up Textures and Tastes
The textures and tastes are the most impactful factors of dog food, especially for finicky eaters. Mixing up the texture of dry food is easily done by adding pâté- or gravy-based wet foods. It also makes it easier to swallow and digest.
The mixing of wet and dry food instead of feeding them individually helps counteract a few of their more negative aspects. For example, wet food adds moisture and thus takes away the dryness of dry food. Dry food helps wet food and absorbs the oiliness that could unpleasantly settle in your dog's mouth.
Tastes are enhanced in wet foods because their texture tends to make them more available to a pup's taste buds. The enhanced flavor in most wet foods attracts pickier eaters. Combining the two does the same. So what can be mixed with dry dog food?
Increasing Hydration
Water is almost always in the top 10 ingredients of any specific food. Inherently, this adds moisture and better hydration into your pup's diet. If you notice that your dog is incredibly thirsty after their meals, mixing wet food can help rid them of dry mouth. It might even make them more inclined to eat full meals.
Ingredients
The ingredient make-up of wet food varies from typical dry dog foods. When you combine them, you want to make sure they are still receiving a balanced diet. There are ingredients in particular to pay attention to.
Protein Sources
The source of protein is essential to how healthy, safe, and digestible it is. Using meat by-products is controversial because they can be made from relatively undefined parts of animals. Some of these are valuable in terms of nutrition, but others are not.
Healthy sources of protein include chicken and their hearts, liver, and main meat. Beef, lamb, and turkey are also excellent proteins. Salmon and other fish are often used for dogs with food sensitivities to other primary protein sources.
Grains or No Grains
Grains are not as necessary because wet food doesn't have to be maintained in small kibble bits. If you prefer food containing grains and one that doesn't, it can be easier to locate wet food without hard-to-digest grains.
See also: 5 Health Benefits of Grain-Free Dog Food
Size and Age
As with any dog food, you need to keep in mind your individual dog's needs. If they are young, a year or less, they need increased protein, fat, and DHA for proper life development. As they grow older than 7-10 years, they also have specific requirements. Senior pups need less fat because they cannot control their weight as well.
Age is not the only consideration — you also want to take into account their size. Large dog breeds need much more food than the average small to medium-sized breed. Combining wet food with dry food helps make your wet food go further.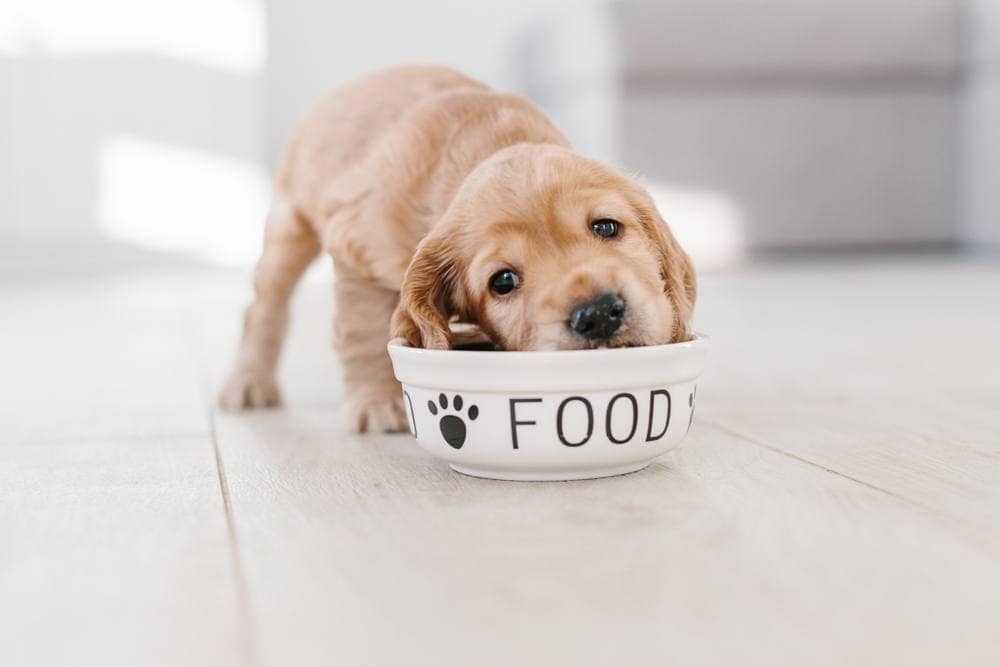 Preservation
Dry food is much easier to preserve than wet food. Depending on the ratio of wet and dry food you mix, you might have to preserve the wet food.
Dry food is easily stored away in a dry, dark location and can keep for a long time if needed. Wet food can expire in a matter of days if it isn't used. Set yourself and your pup a schedule so you don't end up wasting any food and money. Cover wet food up and refrigerate it to maintain it for longer. If it says that you don't have to do this, it is probably loaded with preservatives, and you might want to take a second look at the ingredient list.
Combine Them Properly
Speaking of the ratio of wet to dry food, you might be surprised to find how little wet food needs to be mixed in to make a difference.
You cannot put in as much dry food as your dog would typically have and then top it off with wet food to change the texture. They will receive too many calories in a day.
Instead, remember that 3 ounces of wet food replace approximately ¼ cup of dry dog food. Start by mixing in 3 ounces and taking out that ¼ cup. If you have not yet reached your desired texture, then double or triple it the next time, taking ½ or ¾ cup out.
If the food is made with a gravy or sauce, then the given texture ends up differently. Adjust accordingly for pâtés and ground food.

Conclusion
Mixing wet dog food with dry dog food can be a way to tempt even the pickiest of dogs back to the food bowl. If you have trouble getting your dog to finish their meals, experiment with the best American Journey Stews Grain-Free Canned Dog Food.
For those that have tried everything and feel like they are only throwing money away at this point, take the safer route with a quality budget option. The Pedigree Chopped Ground Dinner Canned Dog Food presents you with an easier-on-the-wallet choice.
From big breeds to little ones, there are quality combos out there. If they need more protein for a higher daily activity or lower amounts for seniors, both the wet and dry dog food can contribute to meet dietary needs.
Make sure you mix the right amount to keep their diet healthy and balanced. From there, you have endless options for what flavors and food you can try. Continue to rotate them throughout the year so your finicky eater never has the chance to get bored.
---
Featured Image Credit: mattycoulton, Pixabay