Black Cockapoo Pictures, Facts, And History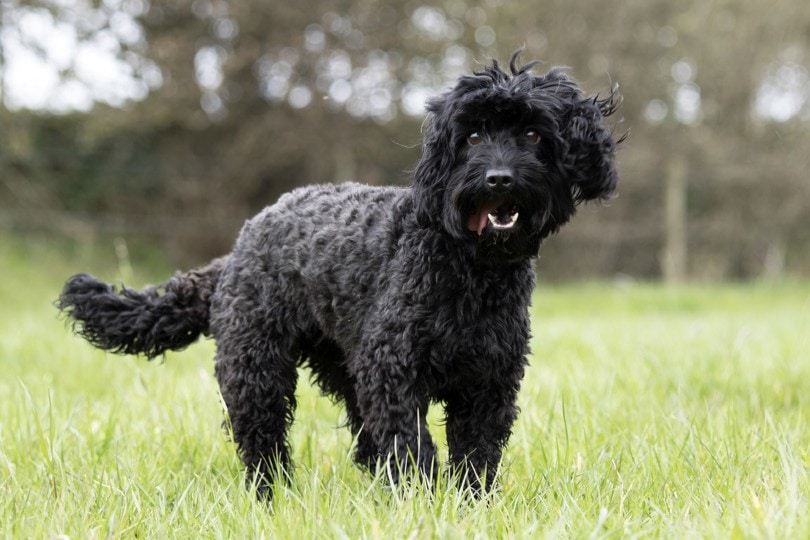 The Cockapoo is one of the most popular designer dog breeds in the world, and it's easy to see why. Fluffy, active, and incredibly sweet, this cross breed has made a name for itself across the globe, with the beautiful mix of Cocker Spaniel and Poodle bringing the best of the breeds together.
Whether a toy Poodle and an American Cocker Spaniel made the mix or a standard Poodle and an English Cocker Spaniel, you can count on a bright, active, and gentle pup to captivate and delight all the family.
While the Cockapoo comes in a wide variety of colors, the black Cockapoo holds weight as one of the most popular colors of the breed. Dark, shiny, and glossy fur lends a very "puppyish" element to this beautiful dog.

The Earliest Records of Black Cockapoos in History
Because of the mixed-breed nature of the Cockapoo, its formal history is a little hazy. There are reports of the Cockapoo being either bred intentionally from Poodles and Cocker Spaniels or that this was a happy accident. However, the consensus is that the Cockapoo first appeared in the USA in the 1950s-1960s.
After this, the breed exploded in popularity across the United States, moving across to Australia (where they're more commonly referred to as "Spoodles") and the UK within the last 15-20 years.
Several groups are dedicated to the breed, such as the American Cockapoo Club and the Cockapoo Club GB, which advocate for responsible breeding and the exchange of information for Cockapoo owners.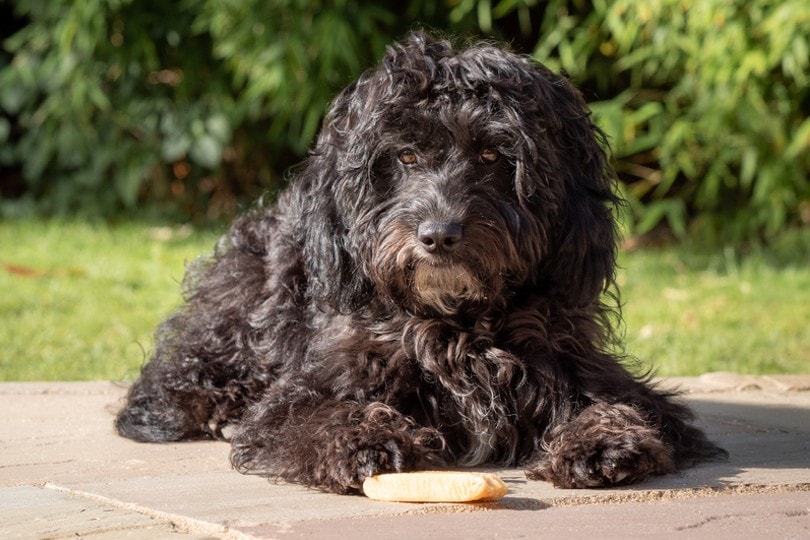 How Black Cockapoos Gained Popularity
The Cockapoo was an instant hit, being a family-friendly, hypoallergenic dog. The intelligence and friendliness of the Cockapoo were almost instantaneously identified as a perfect match for the skills of a service dog, with other doodle cross breeds such as the Labradoodle being bred solely for this purpose.
Cockapoos have spread across the globe, becoming popular pets everywhere they go. They were the most popular dog to own for New York and Chicago residents in 2021, and they sit undisturbed as top dogs in the UK.
This isn't surprising since the Cockapoo is easily trained as a working dog, being a pup of choice for guide dogs, support dogs, and dogs that help the disabled.
The History of The Poodle and the Cocker Spaniel
The two breeds that mix to create the Cockapoo have long and detailed histories of their own. Both breeds have been around for a very long time, with the Poodle first being described in Germany in the Middle Ages and the Cocker Spaniel's lineage dating back to the 14th century.
Poodles were originally bred as water dogs, retrieving gunned-down waterfowl for their masters and bringing them back unscathed. For this reason, the Poodle's curly coat was fashioned into the fancy continental clip. As the chest fur and tufts on the legs keep the animal insulated from the cold water, the shaved portions allow the dog to move quickly in the water.
The Cocker Spaniel has two distinct breed types, the American and the English. The American Cocker Spaniel is most often seen in the Cockapoo breed, and the entirety of the breed's lineage is thought to be traced back to a single dog—Champion Obo II, who came across to America in 1879.

Top 7 Unique Facts About Cockapoos
1.

Black Cockapoos (in fact, all Cockapoos) will lose some of their colors and change colors throughout their lives.
This is because Cockapoos inherit the fading gene from their Poodle parent, which means that most Cockapoos (not all) will change color throughout their lives. For black Cockapoos, this shows as a black puppy being born very dark (almost inky black), and from around 6 months to 3 years, it goes through lighter and lighter shades until the coat resembles a soft gray or blue. However, this isn't the case for all dogs.
---
2.

There are several Cockapoo colors, but Black is one of the most popular.
Cockapoos have many coat colors to choose from, with apricot taking the top spot and black coming in hot on its heels. Black Cockapoos can come in a solid color (which means their whole body is black), or they can come in a pattern, with other colors intermixed with the black. This can be seen in Tuxedo coat colors (black with a white patch on the chest), Phantom, Sable, or Roan.
---
3.

Cockapoos are hypoallergenic.
Cockapoos inherit their gorgeous curly coat from their Poodle parent and the softness of the fur from the Cocker parent. These two characteristics converge into an intriguing point: Cockapoos are hypoallergenic and don't produce much dander.
---
4.

They are known as one of the friendliest dog breeds around
Often cited as the most family-friendly dogs, cockapoos are renowned for their sweet and temperate temperament. They get their intelligence from the Poodle side and their happy and perky enthusiasm from the Cocker side, so it's no wonder these dogs make friendly pets.
---
5.

Cockapoos live for a relatively long time…
Cockapoos can beat most other breeds of their size in longevity, with the top range being 20 years (although they're unlikely to reach that age without losing some quality of life) and the average being 12-15 years.
Seeing as most dogs, in general, live between 10-13 years, it's not a huge difference, but the size of dogs seems to correlate negatively with their expected lifespan, with the bigger dogs being expected to live shorter lives than smaller ones.
---
6.

May inherit some health issues.
Just like any other breed, Cockapoos can suffer from health issues. Since they're a mixed breed, they are generally seen as healthier than pure breed dogs and inherit fewer genetic conditions.
A few issues your Cockapoo may run into include cataracts, Progressive Retinal Atrophy (another eye disease that results in blindness), luxating patella, and hip dysplasia.
---
7.

Cockapoos can be big or small depending on the type of Poodle they're bred from.
Relating to the last point, Cockapoos vary significantly in size depending on the dogs they're bred from. A standard poodle weighs between 44–71 pounds, with medium Poodles weighing 33­–42 pounds, a miniature Poodle weighing 26–31 pounds, and a toy Poodle weighing a minuscule 14–17 pounds. With this vast size difference, you can see how a standard Poodle and a miniature Poodle bred with the same Cocker Spaniel can produce puppies that vary greatly in size.

Does A Black Cockapoo Make a Good Pet?
Cockapoos are friendly, good-natured animals that aren't particularly difficult to care for. They have a moderate need for exercise (hailing from their waterdog and gundog background) without having the Cocker Spaniel's great need for lots of exercise.
They don't usually grow beyond 60 pounds, so they won't break the bank with food intake either, but they will need pet insurance. They require frequent grooming to maintain their curly coats, but not as intensely as a full Poodle might. Cockapoos are not known for barking, digging, or separation anxiety as long as they're socialized well, given enough exercise, and treated like a loved member of the family.

Conclusion
Black Cockapoos are one of the most popular dogs to own the world over. They're sweet, gentle, and all-around cute pups that don't ever really seem to leave puppyhood with their playfulness. They have the style of a Poodle with the energy of the Cocker, and the intelligence of both gifts this cross breed with an excellent disposition and affinity for service work.
---
Featured Image Credit: Kimberley Rennie, Shutterstock