Black Koi Fish: Info, Pictures, Origins & Facts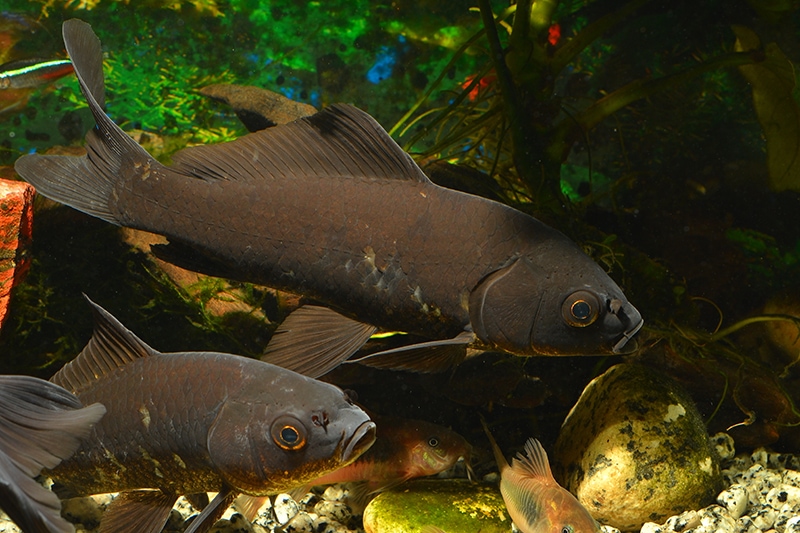 Koi fish can be found in many brilliant colors which makes them an appealing choice for people looking for colorful and hardy fish to stock their ponds with. One of the many colors that koi fish can be found in is black, and it is usually mixed with other colors or as a solid color depending on the variety. They are usually referred to as Sumi koi, which describes their black pigmentation.
Certain varieties such as the Karasu koi fish is entirely black, while other varieties might appear black due to a combination of different colors. These fish are ideal for large ponds and look attractive when kept with other colorful koi fish. Black koi fish can live for a very long time, and with the right care and environment, they can live for over 25 years.
Keep reading to find out more about the fascinating black koi fish and their care requirements.

Quick Facts About Black Koi Fish
| | |
| --- | --- |
| Species Name: | Cyprinus rubrofuscus |
| Family: | Cyprinidae |
| Care Level: | Beginner-friendly |
| Temperature: | 59 to 77 degrees Fahrenheit |
| Temperament: | Peaceful and social |
| Color Form: | Black, yellow, orange, white |
| Lifespan: | 25 to 35 years |
| Size: | 15 to 36 inches |
| Diet: | Omnivores |
| Minimum Pond Size: | 500 gallons |
| Pond Set-Up: | Filtered freshwater pond with vegetation |
| Compatibility: | Other koi fish |
Black Koi Fish Overview
Black koi fish are believed to have originated from an Asian koi known as Magoi. These were a type of carp that had a dark coloration, and it is likely where the jet-black coloration developed to produce the black koi fish we see today.
All koi fish descended from carp in China around 200 AD. They were originally raised as a food source for Chinese rice farmers and developed color mutations that made them more appealing.
Koi fish were becoming noticed for their striking colors which ranged from red, white, yellow, blue, and of course, black. This led to selective koi breeding in Japan, which allowed the koi to develop more patterns and colors. In the early 1900s, koi fish started to become more widely recognized after being gifted to an Emperor at a Tokyo exhibition.
This led to the development of koi with black colorations. The black was either a solid color from true black koi fish, or it was from a mix of different colors that made the koi look black under certain lighting. Black has become a common color in different koi fish varieties and adds a unique look to many of their patterns.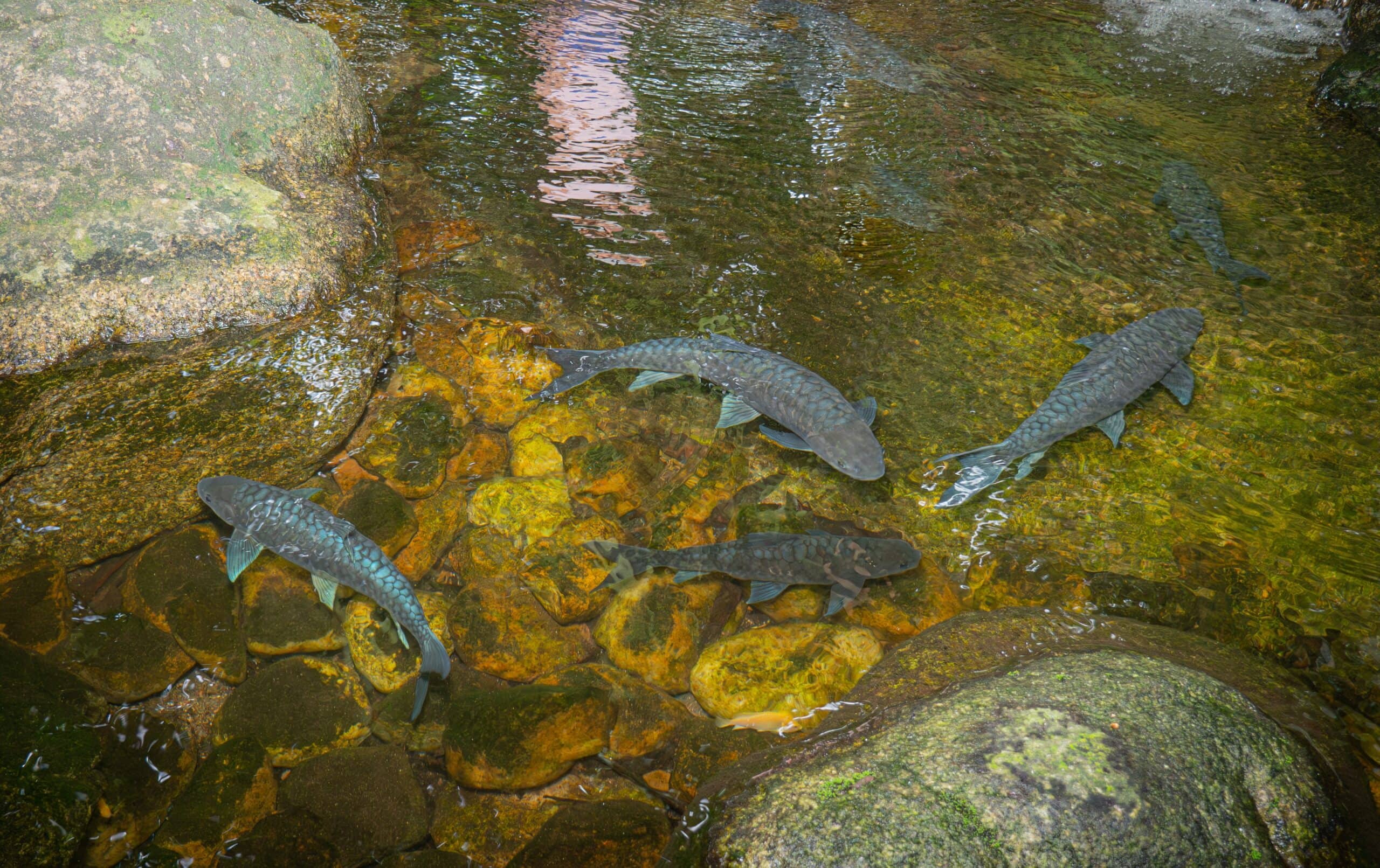 How Much Do Black Koi Fish Cost?
The price of koi fish ranges depending on the variety, rarity, and size of the fish. The larger and rarer the fish is, the more expensive the fish will be. True varieties of black koi like the Karasugoi are priced from $100 to $1,800.
The price will be higher if you purchase true black koi from Japanese breeders since these koi are of higher quality. If you are purchasing a koi fish that looks like it has a black coloration in certain lighting or has a combination of black and other colors, the price will range from $75 to $500.
Typical Behavior & Temperament
The majority of koi fish are known for having a peaceful and social temperament. Black koi fish are not aggressive fish and they enjoy the company of other koi. They will spend most of their time swimming around their pond, foraging amongst vegetation, and interacting with other koi fish. If you do not provide your black koi fish with plants and other hiding places in the pond, they may spend most of their time hiding.
This is also true for shallow ponds since the koi fish will feel more exposed to predators. When koi are kept in large ponds in groups of similar-sized koi fish, they will be quite active and easier to watch as they swim about.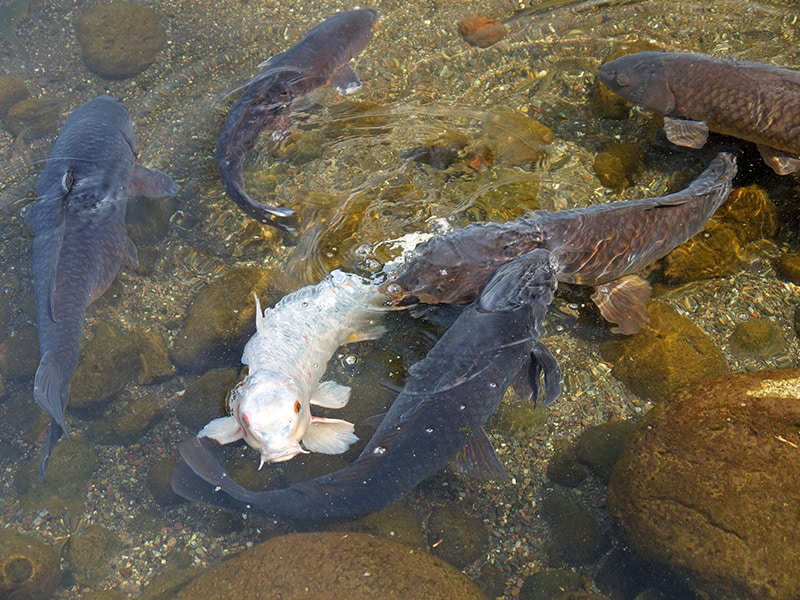 Appearance & Varieties
There are over 100 different varieties of koi fish, but the Karasu koi is one of the true koi fish that is a solid black. However, other varieties of koi fish that have black in their patterns or make up the majority of their body coloration includes the Matsuba, Sanke, and Utsuri. Some koi have a mixture of blues and purple hues that can make it appear as if they have a black coloration, but it may fade or lighten up as the koi ages. True black koi fish will maintain a black coloration throughout their life.
As a large fish, you can expect your koi to grow between 15 to 36 inches in length. Their growth occurs over several years, and even though Japanese koi can grow to 36 inches in size, most environments do not support a koi's maximum size.
While the Karasu koi fishes' color is mainly a solid black, they can have white, red, oranges, and yellow on their bellies. These colors are not very noticeable in a pond, since the top of the fish is easier to view from above. It is uncommon for Karasu koi not to have scales, as they are generally fully-scaled fish. Any scaleless (doitsu) koi that have a black coloration are probably Kumonryu koi. This can happen if their pattern has developed into a solid black. Most Kumonyru koi have a black-and-white pattern, but sometimes the white can fade to a dark grey that blends in with a dull black color.
An interesting appearance that has been noticed in some koi fish is a black base color with white patches all over their body. This is quite an appealing color and can be seen in the Shiro Utsuri variety. Koi with dark blue colors on their body can appear as if they are black koi. Their color can change in different lighting, and the deep blue color makes them appear black.
How to Take Care of Black Koi Fish
Habitat, Tank Conditions & Setup
The black koi fish's care requirements are not very different from other koi fish, and here's how you can care for them.
Pond Size
Black koi fish are not suited for small tanks. These big fish need large ponds, with a starting size of 500 gallons for two or three small koi fish. A good pond size that allows you to raise and keep several koi fish is between 1,000 to 1,500 gallons in size. The pond should be at least 3 feet deep to support the koi's size. Most fish tanks are not big enough for koi fish, so they are not the best housing option for the species.
Water Quality & Conditions
Like all fish, koi need clean and filtered water. A pump should continuously circulate the pond water to prevent it from getting stagnant. Stagnant pond water gets dirty quickly and provides your koi with less dissolved oxygen. Black koi are freshwater fish and remain comfortable at a temperature of 59 to 77 degrees Fahrenheit.
Substrate
You don't necessarily need to provide your black koi fish with a substrate, but if you do, a sandy or gravel substrate will work. The substrate can be a growing medium for any plants you plan to place into the pond, or it can improve the pond's appearance.
Plants
Live plants are great additions to koi ponds. They help keep the water clean by using waste products in the water as fertilizer and providing your black koi fish with shelter. Overall, plants help to liven up the koi pond and create a natural environment for your koi fish. You should ideally choose plants that can grow partially submerged in water, as some aquatic plants aren't going to thrive in a pond environment.
Lighting
Black koi fish are not picky with the amount of lighting they receive, although bright artificial lights can stress them out. When kept in a pond, a combination of shade and partial sun throughout the day will suffice. Avoid installing the pond in an area where the sun constantly shines over, since it can cause the temperatures of the pond to fluctuate.
Filtration
Most koi ponds are enclosed, so the water will not be replenished with fresh water. As messy fish, koi need their ponds to be filtered. The filter should be strong enough to handle the volume of water in the pond while creating gentle surface agitation to prevent the pond water from becoming stagnant.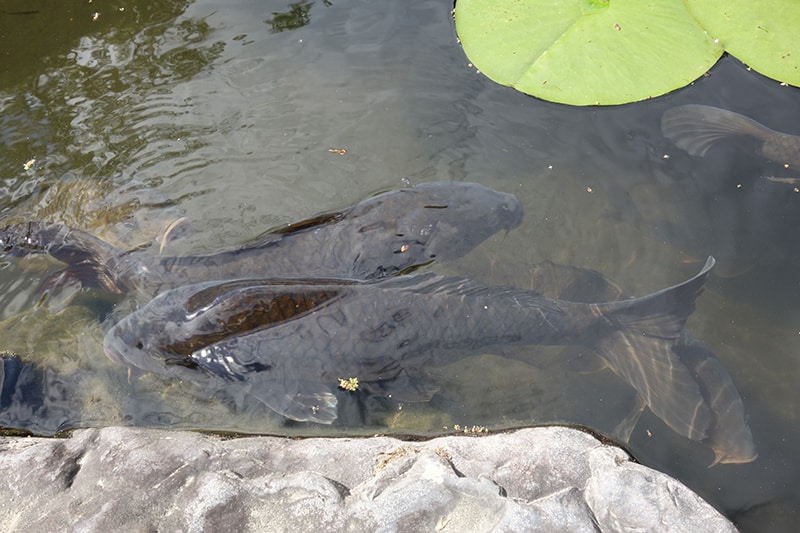 Are Black Koi Fish Good Tank Mates?
Other koi are the best tank mates for these fish. Since koi are social fish, they should be kept in groups of two or more. The more koi you plan to add to the pond, the larger the pond needs to be. If you want to add more variety to your koi pond, you can keep them with large Common or Comet goldfish. The goldfish should be around 6 to 8 inches in size before placing them in a koi pond to prevent them from being eaten.
However, both single-tailed goldfish and koi should remain in groups of their species even when housed together.

What to Feed Your Black Koi Fish
All koi fish are omnivores that benefit from both animal and plant-based foods in their diet. A healthy and balanced diet for your black koi fish will help them maintain a striking coloration and good weight.
Their staple food should include pelleted koi food that can either sink or float. It should contain quality ingredients and be specifically formulated with the nutritional requirements of koi fish in mind. Ideally, you should opt for a food that has fewer fillers and more nutritious ingredients at the top of the list. You can supplement your koi fish's diet with algae or spirulina flakes.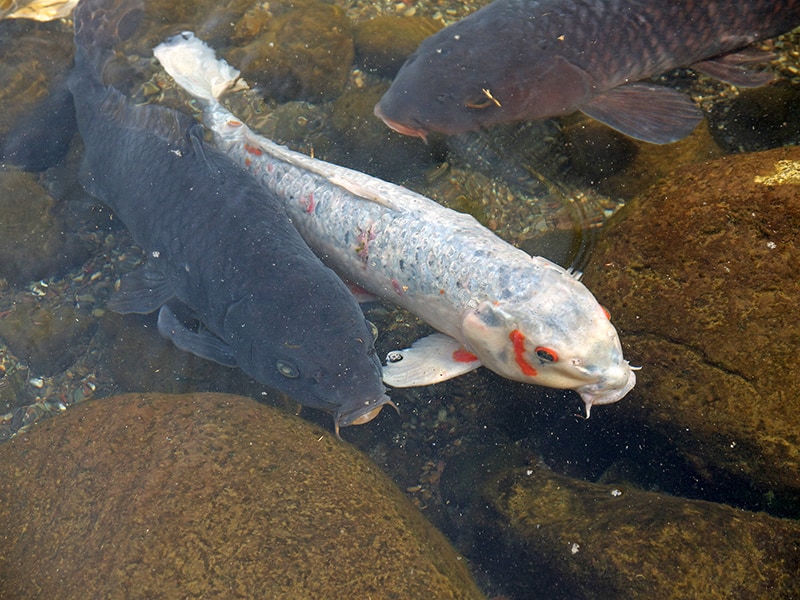 Keeping Your Black Koi Fish Healthy
Koi are resilient and hardy fish, which is one of the many reasons they are so well adapted to life in ponds. It is relatively easy to keep your black koi fish healthy, especially if you have gotten them from a breeder that breeds for the quality and health of the fish.
Tips you can use to ensure your black koi fish are kept healthy.
Keep them in a large pond with plenty of space for them to grow and swim comfortably.
Ensure that the pond is filtered and the water is continuously pumped to prevent it from becoming stagnant.
Feed your black koi fish a healthy and balanced diet filled with the vitamins and minerals they require to stay healthy.
Provide your black koi fish with other koi to prevent them from becoming lonely since they are social fish.
Keep high-quality fish medications on-hand to treat any diseases or disorders that may affect your koi fish when necessary.
Decorate the pond with live plants and ceramic garden pots that are laying on their side to make your koi feel more secure.
Breeding
Like most koi, the black koi fish will only become sexually mature at around 10 inches in size. This is usually when the koi are 2 to 3 years old and kept in the right environment. You will need to breed using two mature koi that are healthy. Black koi can breed with other varieties of koi fish, and an experience koi fish breeder will be able to help you choose breeding pairs that can produce the specific fry you want to achieve by breeding your koi.
Koi fish reproduce by spawning and the breeding season for these fish is generally between spring to summer. A healthy female koi fish can lay up to 100,000 eggs during the breeding season, especially if she is at a decent weight for her size and age. Adult koi will eat any eggs and fry they find in the pond. The fry's chances of survival will increase if they are moved to a separate aquarium until they are large enough to be housed in the adult pond.

Are Black Koi Fish Suitable for Your Aquarium?
The inky coloration of black koi fishes looks great in many ponds, especially if they are kept with brightly colored koi. Black koi will be suitable for large ponds that are filtered, and they do best when kept in pairs or groups of other koi fish. You will need to ensure that you can provide and care for a fish that can live for three decades and sometimes longer.
If you can provide your black koi fish with a pond, a healthy diet, and clean water, they will thrive and grow in your care.
---