Blue Buffalo vs Hill's Science Diet Dog Food Review 2023: Comparison & Winner

Picking the right dog food can be difficult, especially given how misleading much of the packaging can be. Unless you know exactly what to look for, it's easy to get tricked into paying more for a food that does less for your dog.
This is especially true among the higher-end foods. With so much money on the line, it's only natural that they'd be willing to trick you into buying their food by any means necessary.
That's why we've taken the time to do an in-depth examination of some of the top dog food brands on the market. Today, we're looking at Blue Buffalo vs Hill's Science Diet dog food, two brands that claim to be exceptionally healthy for your dog.
Do they live up to the hype? Which one is actually better? Read on to find out.

A Sneak Peek at the Winner: Blue Buffalo
Unless you have a dog with a medical condition, there's a good chance your pooch will get better nutrition from eating Blue Buffalo than Hill's Science Diet. Blue Buffalo's foods use better ingredients, and you won't find inferior foods like cheap grains or animal by-products inside.
Rating
Image
Product
Details

Best Overall

Blue Buffalo Basics Limited Ingredient Diet

Great for sensitive stomachs
Very high in omega fatty acids
Helpful for building a shiny coat
Check Price

Runner Up

Hill's Science Diet Adult

First ingredient is real chicken
Dried beet pulp adds fiber
20% protein
Check Price
If you decide to feed your dog Blue Buffalo, here are a few of our favorite recipes:
While we feel that Blue Buffalo is a better food overall, there are a few instances in which we'd prefer Hill's Science Diet. We discuss those in more detail below.
About Blue Buffalo
If you've spent any time in a pet food store lately, you've likely seen quite a few Blue Buffalo products. Below are a few surprising facts about this dog food giant.
Blue Buffalo is a Relative Newcomer to the Dog Food Game
Given how major of a player Blue Buffalo has become in the pet care game, you might think they've been around for decades. And they have — a little less than two decades, to be exact.
The Blue Buffalo was founded in 2003, and since then, it's exploded in popularity. In fact, it's gone from being a small, independent operation to being purchased by General Mills for billions of dollars in 2018.
The Brand Was Started Because of One Dog
The founder of Blue Buffalo, Bill Bishop, owned an Airedale named Blue that was stricken with cancer. Desperate to do anything he could to save his beloved pet, Bishop consulted a variety of vets and animal nutritionists to create a high-quality food for his dog.
Blue Buffalo was the result. The food Bishop created was so high quality, it quickly became in demand by owners in similar situations. Word of mouth quickly spread, and in less than twenty years, the brand went from inception to becoming the top natural pet food brand in America.
The company still uses high-quality ingredients, with no animal by-products or cheap fillers. However, they're not always as good as other foods in their premium price range.
The Food Uses Proprietary LifeSource Bits
If you've taken a close look at Blue Buffalo kibble, you've likely noticed little dark chunks mixed in with the food. Those are LifeSource Bits, which are little hunks of vitamins and antioxidants thrown in with the kibble to boost its nutritional profile.
These LifeSource Bits are a big reason why Blue Buffalo can give your dog so much nutrition in each serving.
However, don't just assume that Blue Buffalo foods are naturally more nutritious, as a close look at their labels will show that many recipes lag behind the competition in several important categories.
Their Safety History Isn't the Best
Despite only having been around since 2003, the brand's foods have been involved in several recalls. Also, the FDA has linked Blue Buffalo (along with over a dozen other brands) with a possible increase in the risk of canine heart disease.
The evidence is far from clear, but there is at least some evidence.
Doesn't use fillers or by-products
LifeSource Bits add vitamins and antioxidants
Created in collaboration with vets and nutritionists
Safety history isn't the greatest
Tends to be pricey
Not always as nutritious as similar products

About Hill's Science Diet
If Blue Buffalo is a Johnny-come-lately in the dog food world, Hill's Science Diet is as established as it gets. Its origins can be traced back to the 1930s, although it wasn't mass-produced until 1948.
Hill's Science Diet Was Also Created Because of a Single Dog
In this case, the dog in question was a seeing-eye dog named Buddy. Buddy was being taken around the country to promote the use of seeing-eye dogs when he began to suffer from kidney failure.
Buddy's owner, Morris Frank, took him to see Dr. Mark Morris. Morris believed Buddy's condition was a result of poor nutrition and set out to make a food that would help.
The precursor to Hill's Science Diet was made in Morris's kitchen and stored in glass jars in his basement. Eventually, he would ally with a packing company to mass-produce the Hill's Science Diet food, which was still aimed at solving health problems with proper nutrition.
Many of the Hill's Science Diet Foods are Available by Prescription Only
If your dog suffers from certain health problems, your vet may suggest putting him on one of Hill's prescription-only foods.
You can't buy these recipes in stores, of course, but they're some of the best foods around for helping to counteract the effects of certain diseases and conditions.
The Company Owns a Pet Nutrition Center
Hill's monitors a select group of animals to see how they perform when fed highly nutritious foods. The research done at this facility helps them create the healthiest food possible for your pet.
Many of Hill's Science Diet Foods Use Questionable Ingredients
Despite all the care the company apparently takes to track the effects of proper nutrition, many of their foods use low-quality ingredients like wheat, corn, and artificial flavors and colors. They also tend to lag in terms of protein content.
It's surprising that a food that brags so much about scientific evidence would rely on foods that have been widely shown to be questionable for dogs at best.
Good for certain health conditions
Company does a lot of groundbreaking research
Long and storied history
Some of the best foods are only available with a prescription
Many foods use questionable ingredients
Recipes are often low in protein

3 Most Popular Blue Buffalo Dog Food Recipes
1.

Blue Buffalo Basics Limited Ingredient Diet Natural Adult
Blue Buffalo's limited ingredients line tries to reduce the number of foods that go into each bag, thereby helping reduce the risk of causing digestive issues in sensitive dogs. The ingredients list is still long, but that's largely due to all the vitamins and minerals inside.
Most of the protein in here is from fish, specifically salmon and salmon meal. This means your dog will get high-quality lean meat that's exceptionally high in omega fatty acids. As a result, this food should be good for building a healthy and shiny coat, as well as keeping his immune system in fine working order.
However, there's not much overall protein in here (only 20%). Most of the calories are from carbs, and those are mostly from peas and potatoes. It uses more salt than we'd like to see as well.
There is a pretty good amount of fiber inside, though.
If your dog has a sensitive stomach, this food may be a great way to limit allergic reactions. Otherwise,  you'll likely want something with a little more heft to it.
Great for sensitive stomachs
Very high in omega fatty acids
Helpful for building a shiny coat
Low amount of protein
Most of the calories are from carbs
High in salt
---
2.

Blue Buffalo Wilderness High Protein Grain Free Natural Adult Large Breed
If you read the review above and decided you'd rather buy a Blue Buffalo food with more protein, well, this is it. There's 32% protein inside, mostly from chicken and fish meal (although there is some plant protein mixed in, too).
There's a lot of omega fatty acids in here as well, due to the presence of ingredients like chicken fat, fish oil, and flaxseed. The fiber content is also high, as it has pea fiber, dried chicory root, and sweet potatoes.
There are a few foods in here that might upset your dog's stomach, though, most notably dried egg product and white potatoes. As a result, this kibble is less suitable for sensitive tummies than the limited-ingredient option above.
Blue Buffalo's Wilderness line is our favorite of all the foods they make, and this is one of the best recipes from that line. It's a great choice for anyone looking to feed their dog a high-protein diet.
Very high in protein
Filled with omega fatty acids
Has a lot of fiber
Some of the protein comes from plants
A few ingredients could cause upset stomachs
---
3.

Blue Buffalo Freedom Grain Free Natural Adult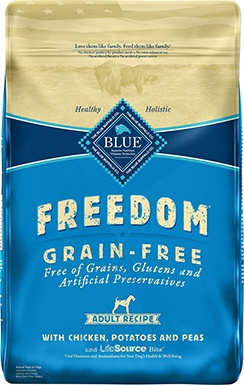 While this recipe has more foods inside than the limited-ingredient variety, grains are one food group that didn't make the cut. There's absolutely no gluten to be found inside the bag.
There is a lot of starch, however, as most of the calories come from carbohydrates. The overall protein level (24%) is at the lower end of average, despite using animal sources like chicken, chicken fat, and turkey meal.
The salt level is very high, too, so this may not be a great food for overweight or diabetic dogs.
You'll find quite a bit of pre- and probiotics in here, though, so your dog should be able to digest it nicely. It may even improve the quality of his poop, which is a benefit we know you'll love.
We don't like this food quite as much as the high-protein variety above, but it's still a very good basic food, and one that many dogs should do quite well on.
Gluten-free recipe
Lots of pre- and probiotics
Uses several different animal protein sources
High in salt
Calories are mostly carb-based
Mediocre amount of protein

3 Most Popular Hill's Science Diet Dog Food Recipes
1.

Hill's Science Diet Adult
This is Hill's Science Diet most basic recipe and believe us when we say; it's basic. This is essentially what dog food looked like thirty years ago.
The first ingredient is chicken, which is good — but we question how much they used, because there's only 20% protein overall. They do add a little chicken fat and chicken meal further down the list.
After the chicken is an array of grains, including wheat, sorghum, barley, soybeans, and corn. This is a murderer's row of empty calories and potential allergens, so if your dog is chunky or has a delicate disposition, any one of those ingredients should disqualify this food from consideration.
It seems like for every good ingredient on the list, you'll find a bad one to counteract it. The food has dried beet pulp for fiber, but it also uses artificial flavors. There's brewers rice, which is soft on digestive tracts, but there's also a ton of salt. You get the idea.
The thing about a food like this is, many dogs will do just fine eating it. That's why it was so popular for so long. However, a great many will experience a variety of issues as a result of the foods inside, so we don't see the point of taking a chance when there are better recipes available.
First ingredient is real chicken
Also includes chicken meal and fat
Dried beet pulp adds fiber
Stuffed with potentially disruptive ingredients
Low in protein
Uses artificial flavors
---
2.

Hill's Science Diet Adult Large Breed
This is nominally a large breed-specific version of their basic kibble above, but we can't really tell any difference between the two. The ingredients in this Hill's Science Diet recipe seem to be about the same (which isn't necessarily a good thing), and they have the exact same amount of protein, fat, and fiber.
The wheat, corn, and soy ingredients are especially worrisome in a large breed formula, though. Bigger dogs need help keeping the pounds off, and those foods are jam-packed with empty calories. There's very little protein in here to offset those simple carbs.
The good news is that chicken meal has quite a bit of glucosamine in it, so that should help ease the strain on your big puppy's joints. There's also a decent amount of omega fatty acids in here, thanks to the inclusion of flaxseed and chicken fat.
Overall, it's very questionable to us that one of their specialty formulas would be a near-carbon copy of their basic kibble. It suggests they think they can get by with clever marketing instead of advanced research, which would seemingly go against the ethos of the brand.
Good amount of glucosamine
Includes a few omega-rich foods
Seems to be almost identical to their regular formula
Empty calories can cause weight gain
Very little protein
---
3.

Hill's Science Diet Adult Perfect Weight for Weight Management
The good news is, we can tell right away that this Hill's Science Diet recipe is different from the two above. That at least puts to rest any fears we had of them pouring the exact same kibble into a bunch of different bags.
This food has more protein and fiber than the basic kibble, which is good for dogs who are trying to get swimsuit-ready for summer. However, the overall levels are still mediocre at best, even when compared to non-weight loss formulas that other brands offer.
There are fewer questionable ingredients in this Hill's Science Diet recipe, but a few still linger (most notably corn gluten meal, artificial flavors, and a lot of salt). This should at least be gentler on your mutt's tummy, thanks to the high amount of oats and rice inside.
The calorie levels are extremely low, but so is the amount of fat inside, so your dog might feel like he's starving on this food. While you might think that's the point of a weight-loss formula, there are other options out there that should allow him to shed excess weight without going hungry.
Low in calories
Fewer questionable ingredients than other recipes
Gentle on stomachs due to oats and rice
Low fat levels may leave dog feeling hungry
Mediocre amounts of protein and fiber
Still uses some fillers and artificial flavors
---
Recall History of Blue Buffalo and Hill's Science Diet
Both Blue Buffalo and Hill's Science Diet bill themselves as extremely healthy foods for your dog. It's a little bit disconcerting, then, that the two foods should have such a fierce competition over which one has had more recalls in the past 15 years or so.
We could spend quite a bit of space detailing every single one of their recalls, so let's just quickly recap what they have in common, shall we?
In 2007, there was a massive recall of over 100 pet foods due to the presence of melamine, a lethal chemical found in plastic. Both Blue Buffalo and Hill's Science Diet were on the list of recalled foods.
Has either food been recalled for Salmonella contamination? Yes, both have! Blue Buffalo was recalled in 2015, whereas Hill's took foods back in 2014.
What about elevated vitamin D levels? Yep, both foods are guilty there, with Blue Buffalo issuing a recall in 2010 and Hill's doing so in 2020.
They do have a few unique recalls up their sleeves, though. Blue Buffalo recalled canned foods in 2017 due to the presence of metal and elevated beef thyroid hormone levels, and in 2016 they did the same thing as a result of mold.
Meanwhile, in 2015, Hill's Science Diet recalled certain foods due to labeling problems, which seems positively innocent compared to some of the other issues listed here.
The bottom line is that, regardless of the nutritional value of either food, both companies need to get their acts together in terms of safety.
Blue Buffalo VS Hill's Science Diet Dog Food Comparison
To give you a better idea of how the foods stack up against one another, we compared them in the following categories:
Taste
All things being equal, we feel that most dogs will prefer the taste of Blue Buffalo.
This is because they tend to use more real meat in their recipes, and some of their higher-end foods are packed with flavorful foods like beef, venison, lamb, and a whole host of fruits and veggies.
Nutritional Value
Blue Buffalo takes this category too. Most of their worst foods, nutritionally speaking, are the equals of Hill's Science Diet basic recipes. Blue Buffalo's higher-end foods pretty much blow Hill's out of the water.
Price
Hill's Science Diet is one of the more expensive cheap foods, while Blue Buffalo is one of the cheaper expensive foods, if that makes sense.
You'll almost certainly pay more for a bag of Blue Buffalo, but you'll almost certainly get more of your money's worth from it.
Selection
This is a somewhat difficult category to judge, given that Hill's has so many foods that are available by prescription only. If you count those, we'd likely give Hill's the nod.
However, if you're simply walking into a store or browsing online, you'll likely find a better array of foods under the Blue Buffalo banner.
Overall
While Blue Buffalo couldn't sweep these categories, they won by enough that it's pretty easy to give them our recommendation.
The one caveat is if your dog is suffering from a specific health problem and your vet recommends one of Hill's Science Diet's prescription foods. In that case, we'd listen to your vet.

Conclusion
Blue Buffalo and Hill's Science Diet are two foods that go to great lengths to tout themselves as being perfect for health-conscious owners. As we've seen here, however, Blue Buffalo does a much better job of living up to their promises.
The main exception is Hill's Science Diet's array of prescription foods. These are often recommended by vets to help battle certain health conditions, and they're fantastic for that purpose. It's a shame their over-the-counter foods can't say the same.
You'll pay a little more for a bag of Blue Buffalo, but your dog will thank you for it.