Blue Buffalo vs. Purina Pro Plan Dog Food: 2023 Comparison

If you want to stop feeding your dog the cheapest kibble you can find on the shelf and give her something a little more nutritious, you would do well to consider Blue Buffalo and Purina Pro Plan. Both are higher-end foods, and as a result they tend to use better ingredients than bargain-basement kibbles.
That doesn't mean that they're equal, however. And unfortunately, deciding to feed your pup a better food isn't as simple as just spending more money; you'll have to do some research.
That research can quickly turn into a full-time job, as there's so much to learn about all the ingredients that go into your dog's food. Luckily, we've done that research for you, and below we'll show you which brand we prefer, and why.

A Sneak Peek at the Winner: Purina Pro Plan
Rating
Image
Product
Details

Best Overall

Purina Pro Plan Savor

Tasty bits of shredded meat mixed in with kibble
Bolstered with probiotics
Good amount of protein
Check Price

Runner-Up

Blue Buffalo Life Protection

Chicken is first ingredient
Has flaxseed for omega fatty acids
Chicory root adds fiber
Check Price
These foods are very comparable, and your dog will likely do well on both. We gave Purina Pro Plan the nod because they have a wider variety of products to choose from, and you can likely find a recipe that's perfectly suited for your dog. Also, there are some safety concerns with Blue Buffalo.
However, it's difficult to give a one-size-fits-all answer to a question like this, especially when the two foods are so close in terms of quality. There may well be some dogs who will do much better on Blue Buffalo, so read on to discover our in-depth comparisons of both foods.

About Blue Buffalo
Filled with chunks of antioxidants
Free of wheat, corn, and soy
Several specialized brands to choose from
Can be expensive
Some foods still use controversial ingredients
Less history than other brands
Blue Buffalo hasn't been around as long as many other pet food brands, but it's managed to pack quite a bit of success into a short time period. They've largely done this by focusing on dogs and their health first.
Blue Buffalo Has Only Been Around Since 2003
Many of older dog food companies started off feeding bland, generic kibble and then had to pivot once the market started favoring specialized recipes and high-quality ingredients.
Blue Buffalo was founded in 2003, however, right in the middle of this dog food revolution. As a result, they've been focused on creating premium foods from the very beginning.
They've since been acquired by General Mills, so they're far from a mom-and-pop operation. However, that giant corporation wouldn't have been interested in them if they hadn't already had their finger on the pulse of the dog food market.
They Mix LifeSource Bits in with Their Kibble
The first time you open a bag of Blue Buffalo, you might be concerned to notice the small, dark, round chunks mixed in with the kibble. It looks like there might be two different kinds of food in there, or that perhaps some of the kibble didn't get fully cooked.
Don't panic, however — these are their proprietary LifeSource Bits, which are chunks of vitamins and antioxidants they mix in with the food to boost their nutritional profile.
Blue Buffalo Doesn't Use Corn, Wheat, or Soy in Any of Their Products
Those ingredients are three of the most common allergens in dog foods, and by omitting them, Blue Buffalo increases the likelihood that their foods will be well-tolerated by your dog, even if she has a sensitive disposition.
Those foods are also sources of empty calories, so hopefully your dog won't have to deal with unwanted weight gain from eating their kibble.
Blue Buffalo has Several Different Product Lines
Their basic line is designed to use high-quality ingredients, with few or no questionable foods. It tends to be middle-of-the-road in terms of protein, fat, and fiber content, and it's suitable for the widest range of dogs.
They have several different specialized formulas, however, including some that are high in protein (their Blue Wilderness line) or grain-free (Blue Freedom). As a result, you should be able to find a food that fits your dog's needs.
It's important to note that each of these lines has different standards in terms of ingredients, and some of them allow controversial additives inside (like food coloring). They can also vary drastically in terms of price.

About Purina Pro Plan
Wide variety of products to choose from
High-end foods are extremely nutritious
Designed to address specific issues or life stages
Quality of ingredients varies wildly
Choices can be overwhelming
Foods aren't suitable for all dogs
Purina Pro Plan is one of Purina's three food lines (the others being Purina ONE and their basic Purina Dog Chow). The food is largely aimed at addressing specific issues your dog may have.
The Recipes are Extremely Specialized
You can find a Purina Pro Plan formula that's designed to address just about any issue your dog may be facing. They have recipes aimed at specific life stages, specific health issues, and even specific lifestyles.
As a result, you're almost certain to be able to find a recipe that works for your dog. The issue is wading through all their different products in order to find it.
Our Favorite Purina Pro Plan Recipe:
The Quality of Ingredients Varies from Formula to Formula
Some of Purina Pro Plan's formulas are among the best we've found anywhere: full of lean protein and nutrient-rich vegetables, with no dodgy ingredients.
Others, however, cut corners here and there. You may find cheap fillers like corn and wheat, or even animal by-products inside.
As a result, you must read the ingredients list before buying any of their foods. Just because two bags both say "Pro Plan" on the front doesn't mean that what's inside is of the same quality.
The Choices Can Be Overwhelming
Just because you've decided to feed your dog Purina Pro Plan doesn't mean that you're done making choices. There are over 80 different formulas in this line of food, so it can take some time to decide which one is right for you.
Also, given how specialized some of the formulas are, you can't always count on being able to find the one you want, especially if you prefer to shop in person. Even if you shop online, there's always a chance that you'll have trouble finding the recipe you want at the merchant you prefer.
Some Formulas are Absolutely Stuffed with Nutrients
That's obviously a good thing — unless it isn't.
There are some formulas in the Purina Pro Plan line that are aimed at active dogs (their SPORT foods, for instance). If you have an extremely energetic dog, those foods will be fantastic for giving them all the nutritional support they need.
The issue arises when you feed one of those "fantastic" foods to a less-than-active dog. All those nutrients can go to her waistline instead of getting burned in the backyard. The result would be like what would happen if a regular Joe decided to eat like an Olympic swimmer.

3 Most Popular Blue Buffalo Dog Food Recipes
1.

Blue Buffalo Life Protection Formula Natural Adult
This is the brand's basic formula, and the one that started it all.
There's nothing spectacular about this food, other than the fact that it doesn't have any cheap fillers or animal by-products. The level of fat and protein is average, and you won't find many "superfoods" inside.
There's not much to dislike, either. Deboned chicken and chicken meal are the first two ingredients, giving your dog lots of lean protein and other essential nutrients. There's flaxseed for omega fatty acids, chicory root for fiber, and their LifeSource Bits add a range of antioxidants.
We wish there wasn't so much salt inside, and the food is somewhat expensive given its limited amount of protein. However, if this is as bad as the brand gets, they're in good shape.
Chicken is first ingredient
Has flaxseed for omega fatty acids
Chicory root adds fiber
Average amount of protein
Pricey for what you get
---
2.

Blue Buffalo Freedom Grain Free Recipe Adult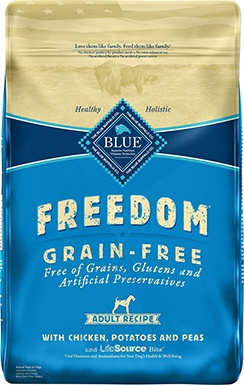 While every Blue Buffalo product is free of corn, wheat, and soy, this recipe goes one step further by banishing all grains. Instead, it gets its carbs from peas and tapioca, which are more complex carbohydrates.
The levels of fat and protein still aren't very impressive (although the fiber levels are good), but this has a few more positive ingredients than the basic kibble.
There's chicken and turkey meal, both of which use organ meats to add essential nutrients. Your pup will get plenty of omega fatty acids from the flaxseed and chicken fat, and there are even superfoods like blueberries, cranberries, and kelp.
A fair amount of the protein comes from plant sources, though, and we'd prefer if there was a little less salt. However, if you want to feed your dog a food that will keep her energized all day long, this is a good choice.
Absolutely no grains inside
Made with lots of high-quality foods
Relies on complex carbohydrates
Average amount of fat and protein
Much of the protein comes from plants
High in salt
---
3.

Blue Buffalo Wilderness High Protein Grain Free Natural Adult
One of the issues that both above foods had in common, was only boasting a moderate amount of protein. It's safe to say this recipe doesn't have that same problem.
It packs a whopping 34% protein in each bag, due largely to all the meat inside. You'll find chicken, chicken meal, fish meal, chicken fat and dried egg product in here, as well as pea protein. We'd prefer if they'd replace the peas with another animal source, but that's a minor quibble at best.
There's quite a bit of glucosamine in here, making it a smart choice for large pups, and all that protein will help dogs feel fuller longer, so you may want to consider switching to this if your pooch is starting to get plump.
There are a couple of questionable ingredients inside, most notable the egg product and potatoes, both of which cause digestive issues in some dogs. However, it's vastly preferable to see those ingredients than to spot animal by-products or corn on the list.
Extremely high in protein
Plenty of glucosamine
Helps dogs feel fuller longer
Includes plant protein as well
May cause slight digestive issues

3 Most Popular Purina Pro Plan Dog Food Recipes
1.

Purina Pro Plan SAVOR Shredded Blend with Probiotics
This Purina Pro Plan formula is designed to be tasty while still being good for your dog's digestive tract.
To that end, they add shredded morsels of real beef in order to tempt your dog, while it's also stuffed with probiotics to aid digestion.
It's odd to us, then, that there would be so many ingredients inside that could possibly spoil your dog's appetite. It has a ton of wheat and corn inside, and there are animal by-products as well. Plus, ingredients like dried egg product and soybeans can upset many pooches' stomachs as well.
The protein is on the high end for a food that's not specifically high-protein, but the fiber is very low — only 3%. Again, that's strange for a formula intended to address digestive issues.
We appreciate how the company tried to make this food palatable while also populating your dog's gut with beneficial bacteria, but until they remove the questionable ingredients, they may do more harm than good.
Tasty bits of shredded meat mixed in with kibble
Bolstered with probiotics
Good amount of protein
Filled with cheap fillers and animal by-products
Low amount of fiber
Some ingredients may irritate sensitive stomachs
---
2.

Purina Pro Plan FOCUS Sensitive Skin & Stomach
It's almost as if the company read every single objection we wrote above when they created this formula. Intended for dogs with delicate tummies, it omits just about any possible allergen you can think of.
Instead, it uses ingredients like oatmeal and ground rice, both of which are gentle on digestive tracts. There's also fish and sunflower oils for omega fatty acids, and plenty of fish-based protein as well.
We also like the additions of inulin and chicory root, both of which can promote healthy digestive tracts. These are prebiotics, and they can help soothe issues like vomiting and diarrhea.
We don't like the inclusion of animal fat, as anytime they don't tell you the exact animal the fat came from it means they don't want you to know (or they don't know themselves). We'd prefer it if they used less salt as well.
Overall, though, that's not much to complain about this Purina Pro Plan recipe; it's a pretty clear improvement on the one that preceded it.
Uses ingredients designed to be gentle on stomachs
Filled with pre- and probiotics
Lots of omega fatty acids inside
Includes low-quality animal fat
More salt than we'd like
---
3.

Purina Pro Plan SPORT Formula
This recipe is designed to fuel an active dog's lifestyle, and to that end it's high in both protein and fat (30% and 20%, respectively).
However, while we like those numbers, the way they get there is questionable at best. You'll find corn, gluten, and animal by-products inside, none of which should be eaten by a dog that's trying to maintain a healthy lifestyle.
They compensate for that somewhat by including a ton of omega fatty acids from sources like fish meal and fish oil, as well as a wide array of protein sources. There's a good amount of glucosamine inside as well, which is good, because active mutts need all the joint support they can get.
You'll find very little fiber inside, and the calorie count is way too high for all but the most active dogs.
High in protein and fat
Lots of omega fatty acids
Good amount of glucosamine
Uses a ton of corn
Filled with animal by-products
Very low in fiber

Recall History of Blue Buffalo and Purina Pro Plan
Despite being a relatively young brand, Blue Buffalo has been recalled several times in its history.
The first happened in the so-called "Great Melamine Recall of 2007." There were over 100 brands involved in this recall, due to the inclusion of a lethal chemical found in plastics. As a result of the recall, the company severed its relationship with the manufacturer responsible.
In 2010, they recalled a few foods due to a sequencing error that affected the vitamin D levels inside. They also recalled a single lot of chew bones in 2015 over concerns they may have been contaminated with Salmonella.
2016 saw them recalling canned foods due to a potential mold contamination, while the next year they recalled some more canned foods over the possibility of an aluminum contamination. They recalled a different batch of canned goods that same year because it may have had excessive levels of beef thyroid hormone.
Most disturbingly, though, Blue Buffalo was listed by the FDA as one of 16 foods that could cause heart disease. The link has not been concretely established, though.
Purina's recall history is much milder. In 2016, they had several wet foods recalled because the number of vitamins inside didn't match what was on the label. The foods weren't dangerous, however.
Blue Buffalo vs. Purina Pro Plan Comparison
In order to give you a better idea of what to expect from both brands, we've compared them side-by-side in several important metrics below:
Taste
Both foods largely rely on real meat as their primary ingredient, so both should be well-tolerated by your dog. Purina Pro Plan has several recipes that include chunks of real meat, which most mutts go crazy for.
However, once the food reaches your dog's stomach, she may prefer the Blue Buffalo, as it's less likely to use problematic ingredients.
This is a close category, but we'll give the slight nod to Blue Buffalo for being gentle on digestive tracts.
Nutritional Value
This will vary depending on the specific foods you're comparing, but we prefer Blue Buffalo. They never use any fillers or other cheap ingredients, and you're more likely to find the occasional superfood like blueberries or cranberries in their recipes.
Price
Again, this will depend on the specific formulas involved, but you should generally find that Purina Pro Plan is the less-expensive food.
Selection
Purina Pro Plan has one of the broadest selections of any food line, as they have over 80 recipes to choose from. Regardless of what you're looking for in a kibble, it's likely that they offer it.
However, that also makes it daunting to settle on just one, so while Purina Pro Plan has the edge here, it's likely closer than you'd think.
Overall
From reading the above, you might think that this is a tie — and it is extremely close.
The reason why we chose Purina Pro Plan is largely to do with the safety concerns we discussed in the recall section. While, on average, Blue Buffalo is a healthier food, that doesn't do you much good if you must send the bag back to the manufacturer.
Also, Purina Pro Plan has some exceptional foods at the higher end of its product line.

Blue Buffalo vs Purina Pro Plan: Which Should You Choose?
Both of these foods are extremely close in terms of quality, and you won't go too far wrong in feeding either one to your dog. We simply trust Purina Pro Plan a bit more, especially if you choose one of their higher-end formulas.
That being said, if you just want to grab a bag and go without doing a ton of research, Blue Buffalo is probably the better choice. Just be sure to pay attention to any potential recalls.