Blue Buffalo vs Wellness Dog Food: Our 2023 In-Depth Comparison

There's nothing that can make you feel more ignorant than trying to decide between two high-end brands of dog food. Should you go grain-free or limited ingredient? How much protein does your dog need? And what the heck is an animal by-product?
If all that sounds overwhelming, don't worry. We've taken the time to dig deep into several of the top brands on the market today to decide which ones are worth your money.
Today, we're comparing Blue Buffalo and Wellness, two dog foods that promise to give your dog the best nutrition she's ever had. Only one can truly deliver on that promise, though — so which one will it be?

A Sneak Peek at the Winner: Wellness
Wellness is slightly better food, both in quality and value. More importantly, though, we feel it's a more trustworthy brand, so it gets the nod here.
Rating
Image
Product
Details

Best Overall

Wellness Complete Health Natural

Plenty of probiotics
Lots of superfoods
With taurine for heart health
Check Price

Runner Up

Blue Buffalo Life Protection Formula

Good amount of fiber
Gentle on stomachs
Lots of glucosamine and chondroitin
Check Price
However, even though Wellness is the superior dog food, that doesn't necessarily mean it's the superior value. Would we recommend spending more money on it, or saving a few bucks and buying Blue Buffalo? Read on to find out.

About Blue Buffalo
It didn't take Blue Buffalo long to become one of the biggest names in dog food, but how much do you really know about the brand? Here are a few things you might find interesting.
The Brand is Fairly Young
Blue Buffalo was founded in 2003, so it's been around for less than two decades. It's made the most of that time, though, as they've quickly sprouted into one of the top natural dog food brands in the world.
In 2018, Blue Buffalo was bought out by General Mills, giving them the same large-scale corporate backing that some of their top competitors enjoy, and it will be interesting to see what the brand does with their newfound resources.
They Don't Use Cheap Grains
Many dog foods contain cheap fillers like soy, wheat, or corn. These are designed to bulk up the kibble at little expense to the manufacturer.
Unfortunately, these cheap grains can prove costly to your dog. Many animals are allergic to them, and you may encounter all sorts of food sensitivities as a result. They're also full of empty calories, making it easy for you to plump up your pooch accidentally.
Whether or Not They Use Animal By-Products is Up for Debate
Ever since their inception, Blue Buffalo has proudly claimed that they don't use any animal by-products. After being sued by Purina for false advertising in 2014, though, they were forced to admit that many of their dog foods are full of low-grade meat.
They claim they've learned their lesson and will never do it again, but you never know when they might revert to their old ways.
Their Food Varies Wildly in Terms of Quality
Blue Buffalo has five different lines, each of which has a different hook. Their basic kibble looks very different, nutritionally-speaking, than their high-protein variety, for example.
As a result, some of the Blue Buffalo foods are quite good while others are rather mediocre. You should take a close look at their labels before committing to any of their dog foods.
Doesn't use cheap fillers
Some of their foods are quite good
One of the top natural food brands in the world
Has lied about using animal by-products in the past
Recipes vary wildly in quality

About Wellness
Wellness is a much older brand than Blue Buffalo, as it has existed in some form since 1926. However, the company as we know it didn't start making kibble until 1997.
Wellness Rose to Prominence After Being Bought by an Animal Nutritionist
The company started out as the Old Mother Hubbard dog biscuit company, but in 1961 it was acquired by a man named Jim Scott. Scott was an animal nutritionist, and he saw the value in offering a kibble that was designed to meet the nutritional needs of dogs.
He refocused the brand to making holistic, natural kibble for dogs of all sizes and ages, and ever since, the company has experienced enviable success.
The Food is Made in the USA
Wellness is headquartered in Tewskbury, Massachusetts, and all their dog food is produced in the United States,
However, the company gives no information as to where they acquire their ingredients, so we don't know if their foods are locally sourced or imported.
Wellness Makes Four Product Lines
Their primary lines are Complete Health, CORE, Simple, and Trufood.
Complete Health is their basic kibble, and you'll find both regular and grain-free formulas in it. CORE is a high-protein dog food that is completely grain-free, while Simple is a limited-ingredient option for dogs with sensitive stomachs.
Their Trufood line features oven-baked foods, with an eye towards offering a balance of lean protein and healthy carbs.
Their Food is Expensive
The company uses premium ingredients, and you should expect to pay premium prices as a result. They could shave off a few bucks by adding cheap fillers or animal by-products, but that would compromise the quality of the dog food.
However, the fact remains that their dog food might be too pricey for some owners.
Made in the USA
Doesn't use cheap grains or by-products
Four different product lines to choose from
Fairly expensive
Company doesn't reveal where they source ingredients from

3 Most Popular Blue Buffalo Dog Food Recipes
1.

Blue Buffalo Life Protection Formula Large Breed Natural
This is Blue Buffalo's basic formula, except geared toward larger dogs. It has quite a bit of glucosamine and chondroitin, largely from the chicken fat in it, so it should be good for creaky joints.
The protein and fat levels are very low, though, at just 22% and 12%. That's just not enough for big pups, in our opinion, and your dog will struggle to feel full from eating this dog food. Much of that protein comes from plants, too, which lack important amino acids found in animal sources.
The brown rice and oatmeal should be very gentle on sensitive tummies, so you can feed this to most dogs without issue. The fiber levels are good (6%), and most of that comes from peas, chicory root, and sweet potatoes.
Overall, this is mediocre dog food, but it would be so easy to make it a great dog food that we can't understand why they haven't done so already.
Good amount of fiber
Lots of glucosamine and chondroitin
Gentle on stomachs
Low in protein and fat
Uses lots of plant protein
---
2.

Blue Buffalo Freedom Grain-Free Natural Adult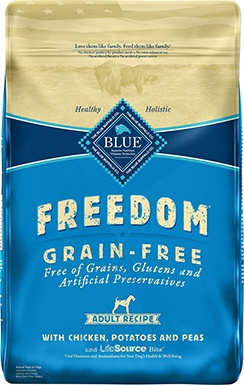 There's no gluten whatsoever in this food, making it a smart choice for sensitive dispositions, not to mention dogs that need to lose a little weight.
Chicken and chicken meal are the first two ingredients, ensuring that this kibble is built on a healthy foundation of protein. The overall protein levels are average at best, clocking in at just 24%.
It does have quite a bit of omega fatty acids in it, thanks to the flaxseed inside. You'll also find high-quality fruits and veggies like cranberries, blueberries, kelp, and sweet potatoes.
Blue Buffalo does pour a lot of salt into this dog food, so monitor your dog to make sure she isn't drinking a lot more water.
This is good food, that's for certain. However, it's priced like great dog food, and we just don't think it quite meets that mark.
Chicken is first ingredient
Lots of omega fatty acids inside
Filled with superfoods like blueberries, cranberries, and kelp
High in salt
Pricey for what you get
---
3.

Blue Buffalo Wilderness Rocky Mountain Recipe High Protein Grain-Free Natural Adult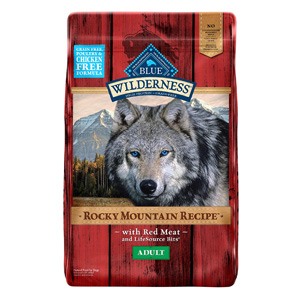 Unlike the two other foods above, this kibble has plenty of protein — 30%, to be exact. It comes from a wide array of sources too, including bison, fish meal, and beef meal. Bison is a very lean red meat, so your dog should love it, and it shouldn't be too detrimental to her cholesterol levels.
They add a lot of plant protein to achieve that high number, which is disappointing. Also, the fat levels are average, and we'd prefer to see them a bit higher.
There are several foods in here that have been known to cause digestive issues in dogs, including eggs, potatoes, and tomato pomace. Then again, there are also quite a few foods that are fantastic for dogs, like flaxseed, canola oil, and kelp.
Most canines should wolf this dog food right down, and it will give them all the protein they need to stay strong and healthy. Wilderness is our favorite Blue Buffalo line, and this recipe gives a clear indication as to why.
Very high in protein
Bison is a very lean red meat
Dogs generally find it appetizing
Has a few foods that cause digestive issues
Contains a lot of plant protein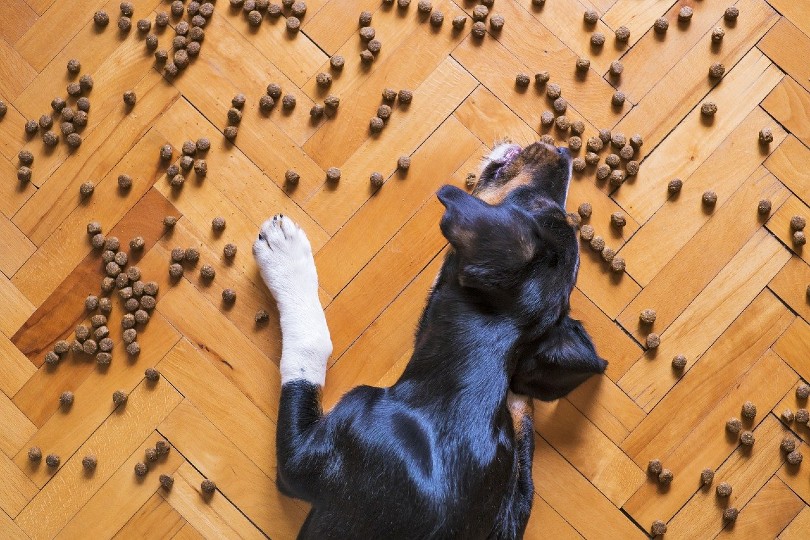 3 Most Popular Wellness Dog Food Recipes
1.

Wellness Complete Health Natural
This is Wellness's basic brand, and it's very similar to Blue Buffalo's. It has average amounts of protein, fat, and fiber (24%/12%/4%, respectively), but it uses a wide array of healthy foods to get there.
Chicken and chicken meal are the first two ingredients, followed by several healthy carbs. There's also chicken fat and flaxseed for omega fatty acids, taurine for heart health, and probiotics to keep your pup's digestive system working properly.
While both kibbles have superfoods in them, Wellness seems to put more in. You'll find carrots, spinach, sweet potatoes, and blueberries towards the front of the line.
We can't spot any ingredients that we believe should have been left out, so our main issue is that they didn't add a bit more meat. We'd also like to see a bit more glucosamine and chondroitin.
If we must get our magnifying glasses out to spot flaws, it's a good indication that this is a quality dog food.
Lots of superfoods inside
Adds taurine for heart health
Plenty of probiotics
Could use more protein
Limited amount of glucosamine and chondroitin
---
2.

Wellness CORE Natural Grain Free Original
Their CORE line is their high protein variety, and this one is no exception, clocking in at 34%. It's also grain-free, so you get all that meat without any gluten or other common allergens to go with it.
There's a wide array of meat in here, too. You'll find turkey, turkey meal, chicken meal, chicken fat, and chicken liver, all of which are excellent sources of lean protein.
There's a ton of omegas in here as well, thanks to the flaxseed and salmon oil. It has quite a few foods that everyone should eat more of, like broccoli, spinach, blueberries, kale, and carrots.
Unfortunately, they put a lot of potatoes in here, and those can cause digestive issues in some pups. Your dog will still eat it, but she may just clear the room afterwards.
Overall, this is an excellent food, and one that should give your dog all the long-lasting energy she needs to conquer the day.
Extremely high in protein
Packed with omega fatty acids
Has high-quality fruits and veggies like spinach, blueberries, and kale
---
3.

Wellness Simple Natural Grain Free Limited Ingredient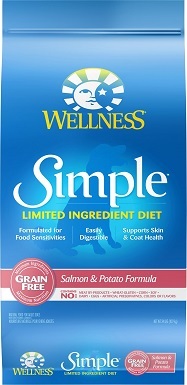 Limited-ingredient formulas are designed to cut down on potential allergens by reducing the number of foods used to make the kibble. The idea is that the fewer foods you have inside, the less chance one of them will rub your dog the wrong way.
We can't understand, then, why they put so many potatoes in here. Potatoes are well known to cause gas, and they don't offer much in the way of nutrition. We feel they should have been replaced by sweet potatoes or something similar.
They make up for that by cramming a ton of omega fatty acids in here. Salmon, salmon meal, flaxseed, canola oil — all are filled with healthy antioxidants.
They throw in some additional vitamin E, too, which should be good for your pup's coat and skin.
The protein, fat, and fiber levels are all good but not great (25%/12%/5%, respectively), but this food is priced like one that offers elite nutrition, so we'd expect those values to be higher.
Overall, this a very good kibble, but we're not entirely sure it's worth what they're asking for it.
Boasts a ton of healthy antioxidants
Vitamin E for skin and coat health
Uses a limited number of ingredients
Potatoes can cause digestive issues
Should have more nutrition for the price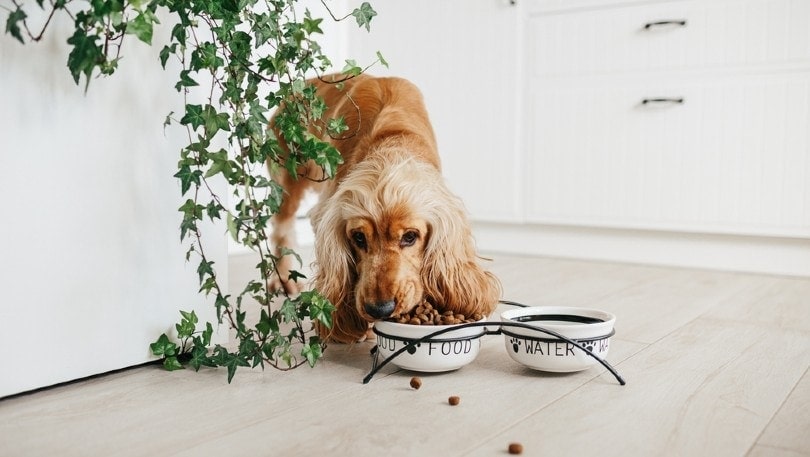 Recall History of Blue Buffalo and Wellness
Both brands have been the victims of recalls in the past several years, but one has a much worse record than the other.
Blue Buffalo has been involved in a few serious recalls, the most concerning of which happened in 2007. Over 100 pet foods were recalled because they had become tainted with melamine, a chemical found in plastics. Thousands of pets were killed from eating this dog food, but we don't know how many (if any) died as a result of eating Blue Buffalo.
In 2010, Blue Buffalo recalled some dog food due to elevated vitamin D levels. Five years later, they brought back some chew bones because of potential Salmonella contamination.
Blue Buffalo canned foods had a bad run in 2016 and 2017. First, they were recalled due to mold, then because it was believed they had chunks of aluminum in them. Finally, elevated beef thyroid levels triggered a recall as well.
While not technically a recall, the FDA has identified Blue Buffalo as one of over a dozen foods that may be linked to canine heart disease. The link is far from proven, but you should know it's being looked at.
Wellness, on the other hand, has had three recalls in the past decade. There were two in 2012, one for mold and the other for Salmonella, as well as another in 2020 due to elevated beef thyroid hormone levels.

Blue Buffalo vs Wellness Comparison
Our general overview of the two brands should make one thing clear: these foods are very close in terms of quality. To get a better idea of which one is superior, we should examine them side-by-side:
Taste
Both should have similar taste profiles, as they both use real meat as the first ingredient and use it in similar amounts.
Wellness seems to have a wider array of flavors, so we'll give them the edge here.
Nutritional Value
These foods are almost identical in this regard. However, Blue Buffalo has a few recipes that are lower in nutrients like protein than anything Wellness has to offer.
Since Wellness's floor is higher, they get the slightest of nods in this category.
Price
Both foods are pricey, so don't expect a bargain from either one. Though, you should be able to save a few bucks with Blue Buffalo.
Selection
As noted above, Wellness has more flavors, including exotic options like bison. Blue Buffalo has a few more product lines, so we'll call this a draw.
Overall
Wellness would seem to have a slight edge based on the analysis above, but when you factor in their superior safety history, we feel they're the clear pick here.

Conclusion
Blue Buffalo and Wellness are so close, they might as well be related. Both place an emphasis on natural ingredients, both have similar nutritional profiles, and your dog should be happy to munch on either one.
We gave Wellness the win due to a slight edge in terms of nutritional quality, as well as their superior safety history. If you want to save a few bucks without sacrificing too much on quality, Blue Buffalo might be the better choice.
We like both kibbles quite a bit, but if you put a gun to our heads, we'll take Wellness (also, please don't put a gun to our heads).