Boerboel vs Cane Corso: What Are The Differences?

Boerboels and Cane Corsos are two fairly rare breeds of dog, but their popularity has been steadily increasing. For first-time dog owners, both breeds may not seem different and might even be confused for other types of Mastiffs. Boerboels and Cane Corsos even have plenty in common: they're both large-breed dogs, are Mastiff-type dogs, and have natural guarding instincts. These large dogs have similar facial and. Boerboels and Cane Corsos even look similar, depending on coat coloration and size. However, these two massive canines still have plenty of factors that make them separate breeds. Today, we're going to break down these two large breeds and see what makes them similar and what makes them different:

Visual Differences
A Quick Overview of the Boerboel Vs Cane Corso
Boerboel
Average height (adult): 23-28 inches
Average weight (adult): 110-200 pounds
Lifespan: 10-12 years
Exercise: 1-2 hours (Moderate energy level)
Grooming needs: Low
Family-friendly: Yes
Dog-friendly: Potentially; can be aggressive with same-sex dogs
Trainability: High; needs experienced owner
Cane Corso
Average height (adult): 23-28 inches
Average weight (adult): 88-110 pounds
Lifespan: 9-12 years
Exercise: 2+ hours (Moderate to high energy level)
Grooming needs: Moderate
Family-friendly: Yes; can become overprotective of family
Dog-friendly: Potentially; can be aggressive with same-sex dogs
Trainability: High; needs experienced owner

Boerboel Overview
Boerboels are Mastiff-type dogs that originated in South Africa, mostly for farming and homestead protection. With their power and bodybuilder-like muscles, Boerboels were trained to hunt in packs for trapped leopards and to ward off territorial baboons. Boerboels have very intense, serious expressions that can ward off even the bravest of intruders, but they rarely have to use aggression to keep the peace. While their immense size and origins as working dogs give them a serious tone, Boerboels have a gentler, more affectionate side that most Mastiffs possess.
Temperament
Boerboels are confident, serious dogs that have a natural protective instinct for their families. Similar to other mastiffs, Boerboels have an imposing appearance and will stand their ground at anything they deem a threat. These massive canines are fairly easygoing and obedient, but they need a very knowledgeable owner that they can follow with confidence. Between their size and self-awareness, Boerboels can be a serious challenge to anyone who has never owned this type of dog before.
Training
Boerboels need a firm, consistent owner that knows how to be a leader, especially if this is going to be a family dog. They're very confident and can be motivated to learn, but they can sense weakness and frustration. Positive reinforcement training is a good base for obedience, but most Boerboels need additional training to prevent unwanted behaviors. We highly recommend hiring a professional dog trainer that specializes in Mastiff-type dogs, especially for first-time dog owners. They also need frequent and early socialization in many situations, but they may still be aloof with strangers.
Exercise
Boerboels need plenty of exercise since they're a working breed, but they're not as active as leaner working dogs. Still, they'll need at least an hour of cardiovascular activity such as jogging or playing, with a few walks throughout the day to stretch their legs. These dogs are prone to obesity and can become a bit lazy, so it's crucial to motivate them to exercise. Mental stimulation for Boerboels is also important, which can be achieved through thinking games and puzzle toys.
Grooming
Grooming Boerboels is simple due to their shorthaired coats and relatively low shedding levels. Brushing out the coat once in a while will help remove dirt and loose fur, while also promoting natural oil production. Bathing Boerboels should only be done when necessary as they're prone to dry skin if bathed too often. Their nails will also need to be trimmed on an as-needed basis, depending on their activity levels.

Cane Corso Overview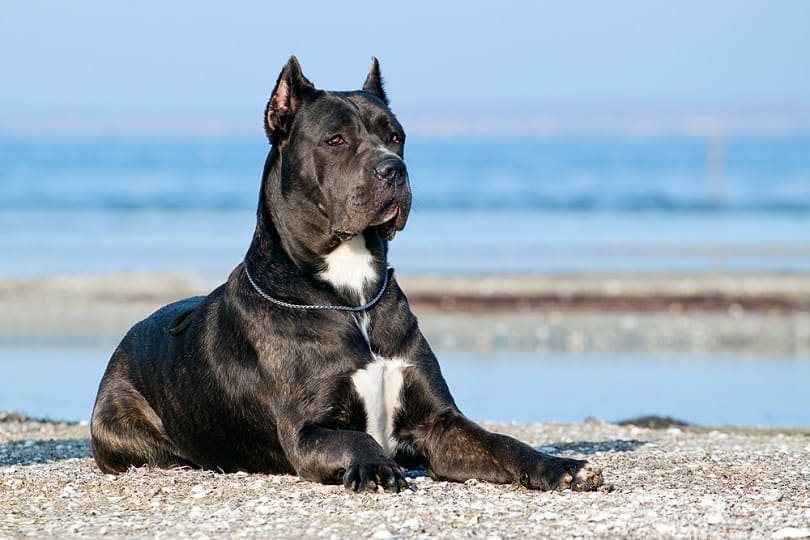 Cane Corsos are also Mastiff-type dogs, hailing from southern Italy. Originally bred for protection, guarding, and police work, Cane Corsos were only recently recognized by the American Kennel Club in 2010. These large dogs were relatively unknown until around the 1980s, due to a few surviving Cane Corsos that saved the breed from near extinction. Sharing the imposing, serious expressions that Boerboels and Mastiffs have, Cane Corsos take pride in their position as family protector. While they may seem aggressive, Cane Corsos are quite gentle and crave affection from their families.
Temperament
Cane Corsos were bred for protection, so it's no surprise that they're natural guardians and enjoy watching over their families. Cane Corsos can be stubborn if they sense weakness in their owners, but they're highly trainable in the right hands. Protective natures aside, Cane Corsos are actually quite affectionate and love to be with their families. However, they can easily become overprotective if not socialized frequently.
Training
Cane Corsos are powerful dogs that have an intense guarding instinct, so training and socialization must start right away. Similar to Boerboels and other Mastiffs, these dogs will not follow an unconfident owner and need to know their boundaries. Positive reinforcement training for basic obedience is a good foundation, but they will most likely need additional training afterward. As with the Boerboel and other large dogs, we recommend finding a trainer that understands the mentality of Cane Corsos and similar breeds. Even with early socialization, some Cane Corsos may still exhibit overprotective tendencies.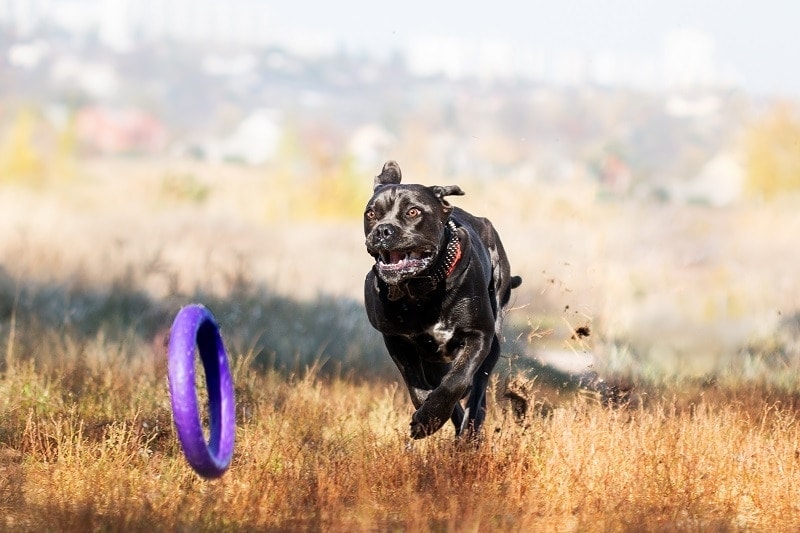 Exercise
Cane Corsos are relatively active dogs and need just as much exercise as Boerboels, if not more. An hour or two of cardiovascular exercise a day will usually be enough, but it's crucial that these dogs really move around to stay in shape. They should also be walked a few times a day, especially after each meal. As with Boerboels, mental stimulation is important to prevent boredom and frustration. Puzzle toys and thinking games are great ways to exercise the mind, while also encouraging natural canine instincts.
Grooming
Cane Corsos have shorthaired coats and are just as easy to groom. A quick brush-out of the coat once in a while will do, which can help reduce shedding and massage the skin. Cane Corsos should also not be bathed frequently as they're also prone to dry and irritated skin. In addition to coat brushing, how often their nails need to be trimmed will depend on how active they are.

Health Conditions of Both Breeds
Both Boerboels and Cane Corsos are giant-sized dogs and, unfortunately, fall prey to a lot of big dog problems. Hip Dysplasia, Bloat, and a few other conditions are moderately prevalent in both breeds, which is sadly due to the nature of big dogs in general. There are a few conditions like obesity that can easily be prevented, but other conditions like epilepsy that are neurological. Here are the most common health conditions of both breeds:
Most Common Health Conditions of the Boerboel
Hip Dysplasia
Elbow Dysplasia
Obesity
Epilepsy
Bloat/GDV
Most Common Health Conditions of the Cane Corso
Hip Dysplasia
Bloat/GDV
Several Eye Conditions
Demodectic Mange
Epilepsy
Obesity

Conclusion
Boerboels and Cane Corsos are two powerhouse dogs that have a lot in common, but they do have major differences that separate them as well. While Boerboels were bred for herding and farm work, Cane Corsos were bred for protection and companionship. Cane Corsos are big dogs, but Boerboels easily outweigh them. Regardless of their similarities and differences, both breeds require a deep understanding of canine behavior and a strong leader to follow. If you're looking for a working Mastiff that does well on farms, the Boerboel is a great option. If you're looking for a protection dog, the Cane Corso is a more suitable fit.
See also:
---