100+ Border Collie Names: Ideas for Affectionate & Athletic Dogs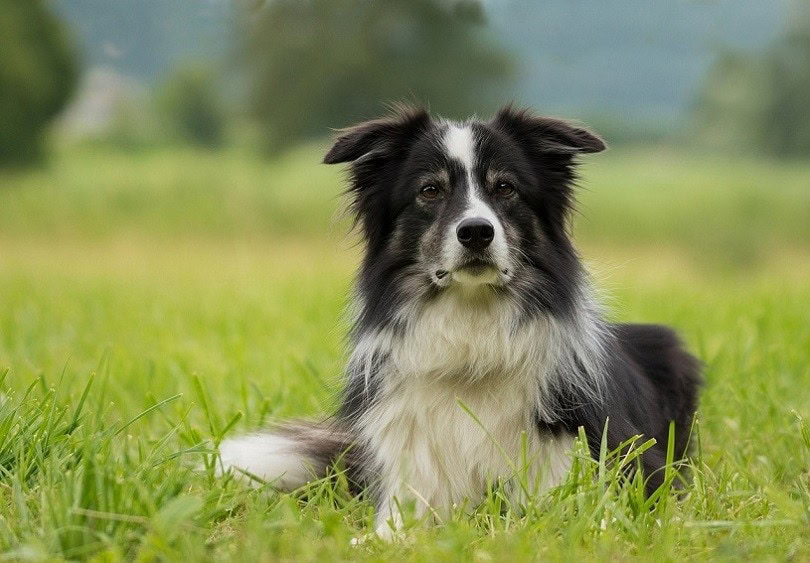 Border Collies are smart, nimble dogs that do particularly well at agility trials. If you've just adopted one, you know how lovable and energetic they can be. So what should you name your new puppy and where do you start?
To help you find the perfect name, we've gathered over 100 of the most popular and unique Border Collie names. Keep in mind that this should be a fun process and that whatever you pick, your Border Collie is going to love it. No matter what you're looking for, you are pretty likely to find it below.
We have organized the best names into male and female categories, offered suggestions based on their black and white fur, included ideas from Celtic, Gaelic and Scottish ideologies, traditional Border Collie names, options for the most adorable of pups, and finally a few herding ideas that pay tribute to their working side! 

Female Border Collie Names
Riley
Martha
Luna
Daisy
Bailey
Rose
Tilly
Lily
Molly
Bella
Phoebe
Coco
Peggy
Eloise
Rachel
Sadie
Charlie
Mist
Sophie
Scout
Maggie
Agatha
Ruby
Monica
Ginger
Holly
Male Border Collie Dog Names
James
Tucker
Benjamin
Jack
Giant
Edward
Luke
Freddie
Sammy
Bandit
Bear
Barney
Ross
Max
Jacob
Franklin
Chester
Bruce
Cooper
Cody
Milo
Teddy
Celtic & Gaelic Border Collie Dog Names
With a Scottish background and a Celtic heritage, we are sure that any Border Collie would be pleased with a name inspired by the language and culture! Suggestions based on a few classic names, places, and things – these are sure to be trendy ideas suitable for any Border Collie. In addition to being super cool, these names are definitely unique and will make your pup a true stand-out at the dog park.
Islay
Nessie
Fara
Moray
Lossie
Argyll
Thistle
Una
Aggie
Cullen
Shetland
Firth
Embra
Arran
Tiree
Bodie
Kilt
Quid
Baird
Mulligan
Murdo
Lochie
Calder
Kelso
Selkie
Tweed
Shanter
Murdoch
Bute

Black & White Border Collie Dog Names
You may be inclined to choose a name inspired by your new dog's fur – silky and soft black and white! They look pretty spiffy with a coat that resembles that of a tux! Sharp dressers, and incredibly smart? Talk about an exceptional and well-rounded breed! If you are looking to keep it simple, one of these would make an excellent match for your dog!
Gatsby
Checkers
Panda
Cow
Nova
Tuxedo
Penguin
Knight
Jet
Oreo
Domino
Nyx
Magpie
Zebra
Orca
Pepper
Mation
Butler
Chaplain
Spade
Dice
Traditional Border Collie Names
The Border Collie is a classic breed, so a traditional name might be just what you're looking for. They were developed in Scotland specifically for herding livestock, which is why they are such active and intelligent pups. Maybe you won't have your Border Collie herding animals in your yard, but you could give him a name that is a throwback to many of his farm-dog ancestors. Below are our favorite traditional names.
Oak
Brutus
Maeve
Hoy
Titus
Zeal
Augustus
Yew
Jed
Glen
Mariana
Shetland
Grig
Cicero
Felix
Tyne
Gala
Fay
Clyde
Fyfe
Rona
Saoirse
Finn
Skye
Biddy
London
Julius
Tulla
Fiona
Haggis
Yarrow
Albus
Rye
Cassio
Herding Names for Border Collie Dogs
One of the world's smartest and hard-working dog breeds is the Border Collie – they are notorious for being impeccable herding dogs. With laser focus and an incredible attention to detail, these pups are truly remarkable. If you are searching for a name that honors their dedication and admirable work ethic, this next list is for you!
Herder
Tracker
Chase
Shepherd
Sarge
Hawkeye
Dash
Laser
Arrow
Blitz
Focus
Diesel
Hawk
Atlas
Trapper
Bolt
Tank
Gunner
Marshall
Ranger
Scout
Walker

Cute Border Collie Names
Border Collies always have adorable faces, even when they leave puppyhood and enter adult-pup-hood. But, you could hold onto their adorableness a little longer by giving your Border Collie a cute name. Scroll down to see our favorites.
Cookie
Roamer
Mint
Cloudy
Milkshake
Chai
Plaid
Dimple
Oreo
Spots
Merle
Leopard
Swirl
Bunny
Lion
Rain
Jumper
Bubbles
Sprinkles
Sherlock
Starry
Thyme
Turtle
Cupcake

Finding the Right Name for Your Border Collie
Border Collies are intelligent, highly trainable family dogs, and such amazing companions deserve great names. They have also been known to live up to 17 years easily, so you want to pick a name you will love for the ages.
If you are having trouble choosing one after narrowing it down, enlist your family members, or close friends to weigh in the options you have selected. You might even benefit in trying a few out on your new pup – you'll be surprised by their reactions to some of the names. They might even be able to tell you which they love with a tail wag, and which they are not so fond of with a disapproving whine or whimper!
Don't let that stress you out, though, because there are so many incredible options out there. Trust your gut. As soon as you say the name aloud a few times, you'll know it's the one. Finally, have fun! Choosing a name should almost be as exciting as bringing your pup home for the very first time! In the end, your pup will love whatever name you decide to pair them with as long as you give them all of your unconditional love.
We hope that you have found a bit of inspiration from our list of Border Collie dog names. You may choose something traditional or cute, or something that reminds you of the farm, but make sure you can easily call your athletic pup back when he surely goes for a run and wander. 
If you haven't found the perfect name, why not try one of these lists?
---
Featured Image Credit: 4924546, Pixabay