160 Great Names for Border Terriers: Ideas for Tenacious Dogs

Anyone who owns or has had the fortune to meet a Border Terrier knows that these plucky dogs are tenacious, quick-witted, and loving. The Border Terrier is an old British breed that was bred to join fox hunts. Their long legs and compact bodies made them the perfect companions to follow the horses and dart into fox dens.
This little dog has a unique, grizzled face and sweet, dark eyes that peer out of a short, bearded, and bushy-eyebrowed face. Their scratchy beards and wiry coats can be colored a beautiful shade of brown or red, with black and white intermingled for a lovely, earthy palate. We put together this list for you to choose from some classic names, male & female names, and food & nature-inspired names.

How to Name Your Border Terrier
So, how do you name such an extraordinary dog? Some names can reflect their brave and quick natures or warm, hairy faces. Others may reference their fox-hunting history or the place they originated. And, some terms are just so fitting for a dog like the Border Terrier that they will always make the list.
We considered every facet of this little dog's personality, looks, and history to create a list of 160 amazing names for Border Terriers, so you can pick a name that will serve your Border Terrier amazingly well.
Classic Names for Border Terriers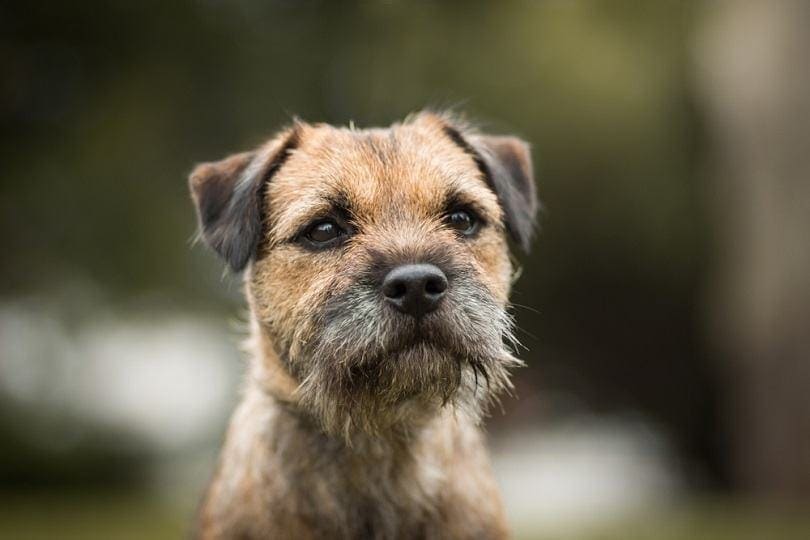 These names have stood the test of time and are proven to stand up to the Border's unique looks and personality, as well as being timeless classics for a canine species that everyone loves. Choose one of these classic names if you want a traditional or tried-and-tested name for your Border Terrier:
Bertie
Teddy
Pippa
Tilly
Cecil
Bobby
Scruff
Foxy
Olive
Chippy
Hunter
Fido
Rolf
Dodger
Buster
Ratter
Baxter
Zippy
Tiny
Twiggy

Male Names for Border Terriers
If a traditional (or more unusual) male name is what you're looking for, look no further. These titles are all male and reflect the breed's personality while being some of the most popular male dog names in the world.
Harry
Jimmy
Basil
Woody
Elvis
Rocky
Elmo
Trigger
Tiger
Chase
Dash
Chico
Bruno
Rex
Dobson
Rico
Archie
Ashton
Brucie
Sammy
Henry
Laughlan
Jim
Bentley
Benson
Fenton
Finlay
Archie
Archer
Dillon

Female Names for Border Terriers
Sometimes, a softer, more girlish name is needed for female dogs. Equally, if your Border Terrier is a firecracker, you want a powerful yet feminine name for your girl. These names are more suited to a female dog and are all popular choices for all breeds, including the gorgeous Border Terrier:
Bunny
Billeigh
Mollie
Mabel
Sable
Titch
Lacey
Aileen
Lucy
Millie
Ella
Belle
Jemima
Betty
Casey
Ethel
Frenchie
Jilly
Harriet
Hattie
Iggy
Nora
Meg
Olivia
Penny
Remi
Shelly
Tallulah
Filly
Mimi
Jules
Brittany
Celeste
Diana
Ditzy

Food-Inspired Names for Border Terriers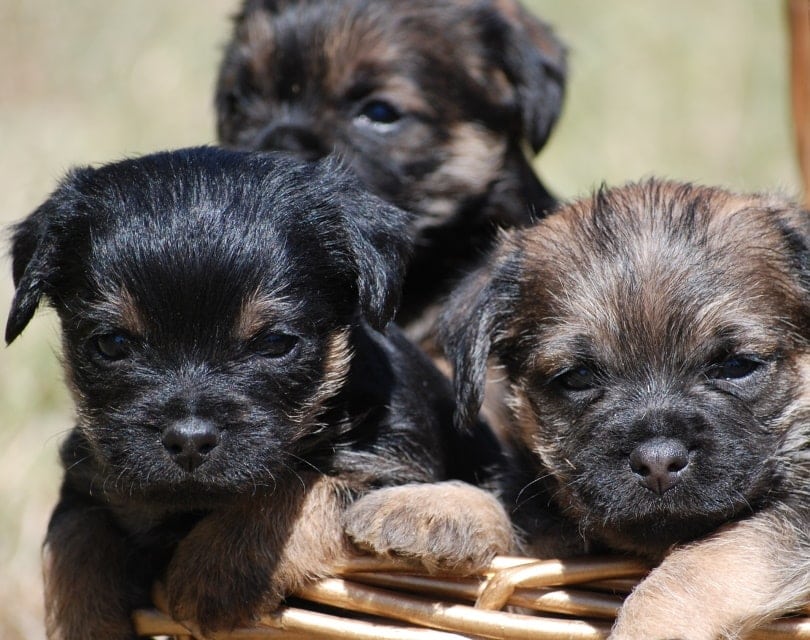 With their wiry, earth-toned coats and chocolate-brown eyes, it's no wonder why food-based names suit Border Terriers so well. From Fudge and Biscuit for the lighter coat colors to Coco and Oreo for the darker colors, you can base your Border's name on their appearance or your favorite snack. The choice is yours!
Fudge
Raisin
Sugar
Honey
Toffee
Caramel
Biscuit
Ginger
Taffy
Nutty
Hazel
Truffle
Nutmeg
Coco
Bon-Bon
Minty
Scotch
Jameson
Chilli
Jammy
Clementine
Peanut
Cola
Praline
Herb
Olive
Chutney
Chive
Haggis
Sausage
Saffron
Peaches
Bellini
Coconut
Pumpkin
Pickles
Oaty
Oreo
Alfredo
Pistachio

Nature-Themed Names for Border Terriers
Getting out into nature is in the Border Terrier's blood. It was originally bred to assist fox hunters, and running through forests and fields is something all Border Terriers enjoy. A nature-themed name is fitting for any Border that can't help but run when they're out on a walk!
Ruby
Sapphire
Forest
Star
Sparkle
Twinkle
Sunny
Sonny
Petal
Blossom
Clover
Thistle
Rocky
Gem
Rose
Jasmine
Daisy
Copper
Jasper
Blue
Skye
Goldie
Bluebell
Finn
Marlin
Buttercup
Petunia
Moore
Shadow
Gemini
Summer
Rosie
Fern
Bud
Vulpus

Final Thoughts
There are so many great names for a Border Terrier that looking through them all can seem like a task, so we hope that our list of the 160 most amazing names has helped you whittle down and hone your list of potential titles. Whether it's a name that reflects the dappled color of your Borders coat or that tells the world what your favorite snack is, there's no doubt that your Border Terrier will love whichever you pick.
---