100+ Brindle Dog Names: Ideas for Striped & Multi-Tonal Dogs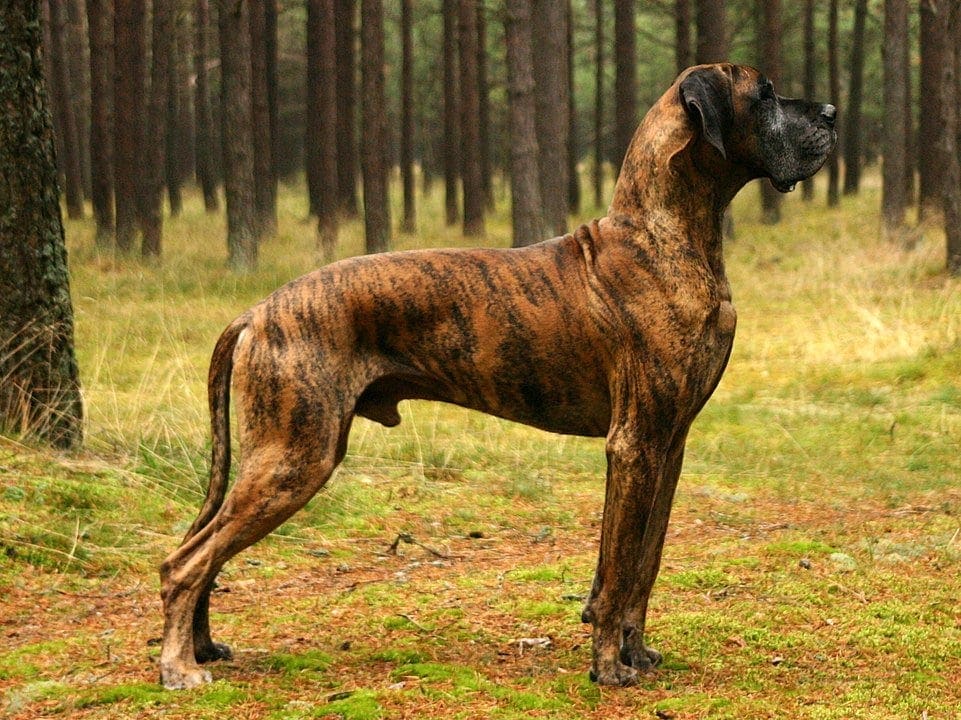 Brindle refers to the line-markings and patterns on the canine's distinctive coat. Although a pup with a brindle coat isn't necessarily rare, it is a genetic trait, which means that one of the parent dogs must also carry the beautiful and offset coat gene. Also referred to as "tiger-striped," brindle occurs when a darker color appears to streak over a lighter color throughout a pup's fur, resembling that of a tiger's coat, and a reverse brindle would suggest just the opposite! 
So when it comes time to name your pup, there are many things to consider, such as brindle patterns, colors, and textures. We have generated a list based on our favorite names for males and females, as well as names for specific breeds. 

Female Brindle Dog Names
Bailey 

Stella 

Luna

Dot

Sadie 

Arcadia

Cocoa

Lucy 

Ginger

Summer

Pebbles

Chloe 

Sienna

Daffodil

Cinnamon

Mila 

Bambi

Penny

Zoe

Savannah

Eva

Mia

Brandy

Fawn

Male Brindle Dog Names 
Charlie

Almond

Patches

Oscar

Chex

Chewbacca

Sparrow

Umber

Porter

Cooper

Beans

Splotch

Hazel

Sprinkles

Mudd

Marmalade

Milo 

Sepia

Chestnut

Biscuit

Speckles

Tabby

Bosco

Merlot

Inky

Finn

Tucker

Quinoa

Brindle Pitbull Names 
The most popular brindle pup has to be the pitbull! Rocking dark stripes and the occasional reverse pattern, this unique coat adds a bit of diversity to an extremely recognizable breed. Our top picks for brindle Pitbulls are below.
Zeus

Bear

Tiger

Sahara

Hugh

Mosaic

Camo

Noir

Monarch

Chip

Meatloaf

Onyx

Moose

Pipit

Cello

Kona

Slate

Guinness

Kuro

Monk

Bee

Beast

Nero

Tuscan

Hena 

Schwarz

Heath

Brindle Boxer Names
Full of life and energy, Boxers are known for their strong but relatively petite stature yet playful and inviting personalities. There are many coat color combinations found among this breed, and brindle is one of them! Here are our favorite brindle picks for the Boxer in your life!
Marbles

Pixel

Skunk

Spot

Shadow

Rolo

Quiche

Bongo

Ottoman

Freckles

Brindy

Latte

Honey

Swirl

Opal

Fleck

Thunder

Hickory

Java

Panda

Sesame

Olive

Russet

Bengal

Reese

Preto

Swatch

Kahlua
Bonus: Additional Breeds
Although Pitbulls and Boxers may appear to be the most popular breeds, there are quite a few others who can also carry the brindle gene and have the exquisite striped coat. Maybe you are unsure if your pup is brindle of not. If they're on this list, you can bet that they likely are if their fur resembles this unique pattern. 
Great Dane 

Mastiffs

Corgi

Cane Corso

Various Hounds

Finding the Right Brindle Name for Your Dog
Selecting a great name for your brindle pooch should be an enjoyable experience. With suggestions referencing patterns like Checkers and Tigger or color options like Marmalade and Camo to options geared toward their breed such Ninja and – we are paw-sitive we have a superb match for your new bud!
If not, we have linked a few of our other popular dog name posts and hope with one of them you'll have better luck. 
---
Feature Image Credit: Rytis Mikelskas, Wikipedia Commons