100+ Bullmastiff Names: Ideas for Massive & Gentle Dogs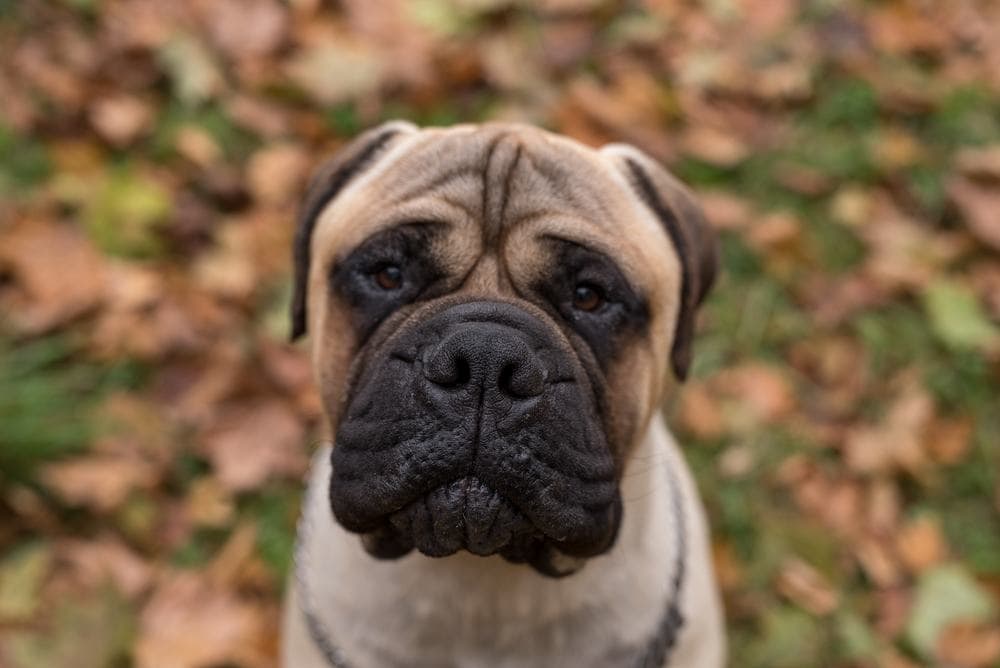 What this breed represents in a great, powerful, and otherwise intimidating exterior they make up for with an incredibly docile personality. These gentle giants are truly quite sensitive once you get to know them. Although these pups are natural guardians, with consistent training, the Bullmastiff is capable of being a wonderful family pet! Training might seem like a chore to some, but the Bullmastiff thrives in obedience – so establish yourself as the alpha early and you will have a lifelong and loyal companion! Despite their muscular build, this breed also enjoys sports such as agility and carting!
Naming your new Bullmastiff puppy might be challenging and the last thing you want to be hung up on when you're in the midst of training! In hopes of making this part of the new puppy process an absolute breeze, we have gathered a list of popular and some rather unique ideas for Bullmastiff names. Our top and most desired name choices for females and males, names that complement their grand stature, or tough appearance, and finally a few famous references for those pup with that star quality. 

Female Bullmastiff Dog Names
Flair 

Mable 

Gypsy 

Zelda 

Gigi

Monroe 

Gracie

Jinx 

Rumer 

Missy

Stella 

Lex  

Roxie 

Lulu 

Harlow 

Zoey 

Scarlett 

Joplin 

Fedora 
Male Bullmastiff Dog Names
Faber 

Jett 

Giant 

Major 

Tito 

Ryder 

Sonny 

Marshal 

Otto 

Hero 

Knox 

Angus 

Puck 

Dempsey 

Rex 

Bowie 

Mick 

Odin 
Famous Bullmastiff Dog Names
Bullmastiffs have been an all American and rather popular breed since the 19 century. So naturally, they would be littered throughout history, in films and literature. Each notable for their own roles, here is a list of the most famous Bullmastiffs to date, and how they've come to gain their celeb status.
Brutus – Bob Dylan 

Roloff – Dog from Little People, Big World 

Pete – Homeward Bound 

Butkus – Sylvester Stallone's dog  

Zorba – Heaviest Mastiff Ever 

Agent 11 / Spot – See Spot Run 

Swagger – Cleveland Browns Mascot

Pluto – Bollywood Film Di Dhadkene Do

Cocoa – Christina Aguilera 

Bonecrusher – Micheal Bay 
Large Bullmastiff Dog Names
Reaching a height of 27 inches and a weight of 130 pounds, the Bullmastiff is an intensely hearty breed. Pairing your new baby with a name that compliments their size might seem like the most obvious choice. However, we thought we could include a few unexpected and slightly numerous names for your sweet giant. 
Dozer 

Atlas 

Minx

Octavia 

Tank 

Adonis 

Venus 

Alabama 

Ceaser 

Titan 

Acadia 

Cairo 

Olympia 

Saber 

Ninja 

Rocky 

Banshee

Yeti 

Hannibal 

Orion 

Mars 

Baron 

Zeus 

Caine

Vixen 

Wolf

Apollo 

Gandalf 

Jericho 

Achillies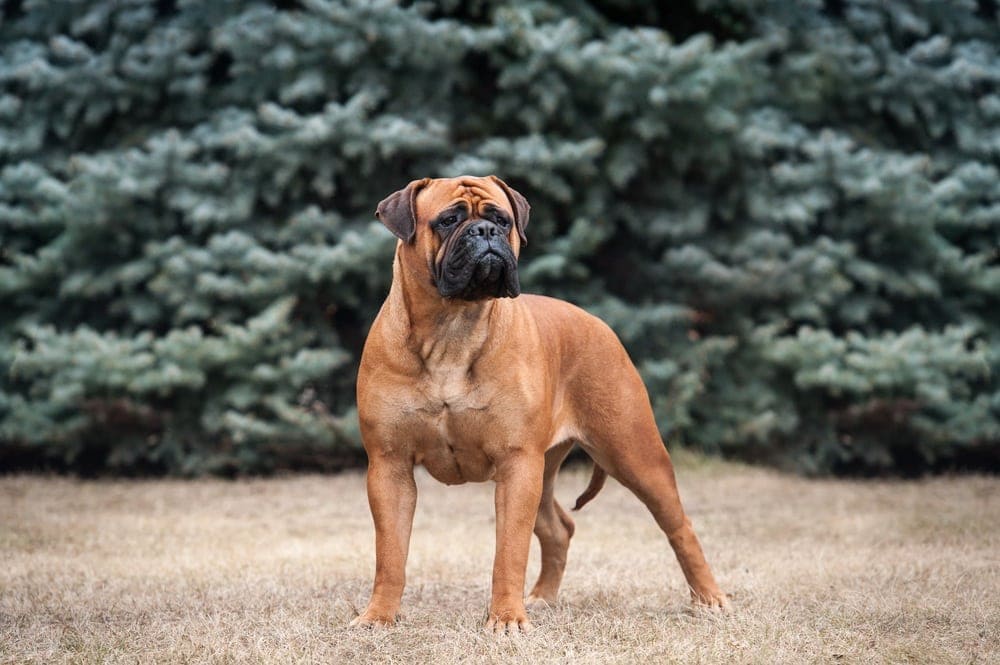 Badass Bullmastiff Dog Names
In addition to the Bullmastiff's size, their physical features and cool demeanor make them the perfect candidate for a tough name. Their stocky head shape usually shaded back, is contrasted with a fawn, red, or brindle coat. If any breed could pull off a pair of shades, the Bullmastiff would definitely be the one. 
Bane

Sass 

Rousey 

Butch 

Jazz 

Kitana

Hera 

Savage 

Turk 

Rogue 

King 

Goliath 

Gamora

Blitz 

Duke 

Jedi 

Medusa 

Vader 

Rebel 

Ursela 

Maverick 

Brutus 

Jaws 

Xena 

Queen 

Ammo 

Bones 

Cobra 

Hulk 

Finding the Right Name for Your Bullmastiff
Mastiffs in general are one of the grandest breeds but after adopting one of your very own,  you'll soon find out that they have so much more to offer than their tough exterior. They are intelligent and loyal – so you might be interested in a name that shows your new addition is the full package! We hope that you were inspired by one of our lists and found a great match for your puppy. Rest assured they will love whatever you choose so try not to overthink the process. We've included a few great tips of your having trouble narrowing down your search:
Love the name you choose

. Your pup's name is an important part of raising them. Take your time, and don't settle on a name you don't love! 

Names that end with vowels are easier for dogs to learn.

If you choose a name such as Lucy and Bruno, your pup might actually be a bit more receptive as they can understand these words much easier. They are also distinguishable from commands and won't confuse your new addition!

One or two syllable names are easier to say. Long, elaborate names might be a good idea for a formal name, but when it comes to practicality, you should stick to something simple. Missy Fetchface might be cute, but ensure you're pup knows their nickname, Missy or Fetch!
Hopefully, you were able to find a name in our list of Bullmastiff suggestions! Your pup is sure to love whatever you choose as long as you do too! 
Here are a few other popular posts if you are in need of a bit more inspiration:
---
Feature Image Credit: Photosounds, Shutterstock