Bully Sticks vs. Rawhide: Which is Best for Your Dog?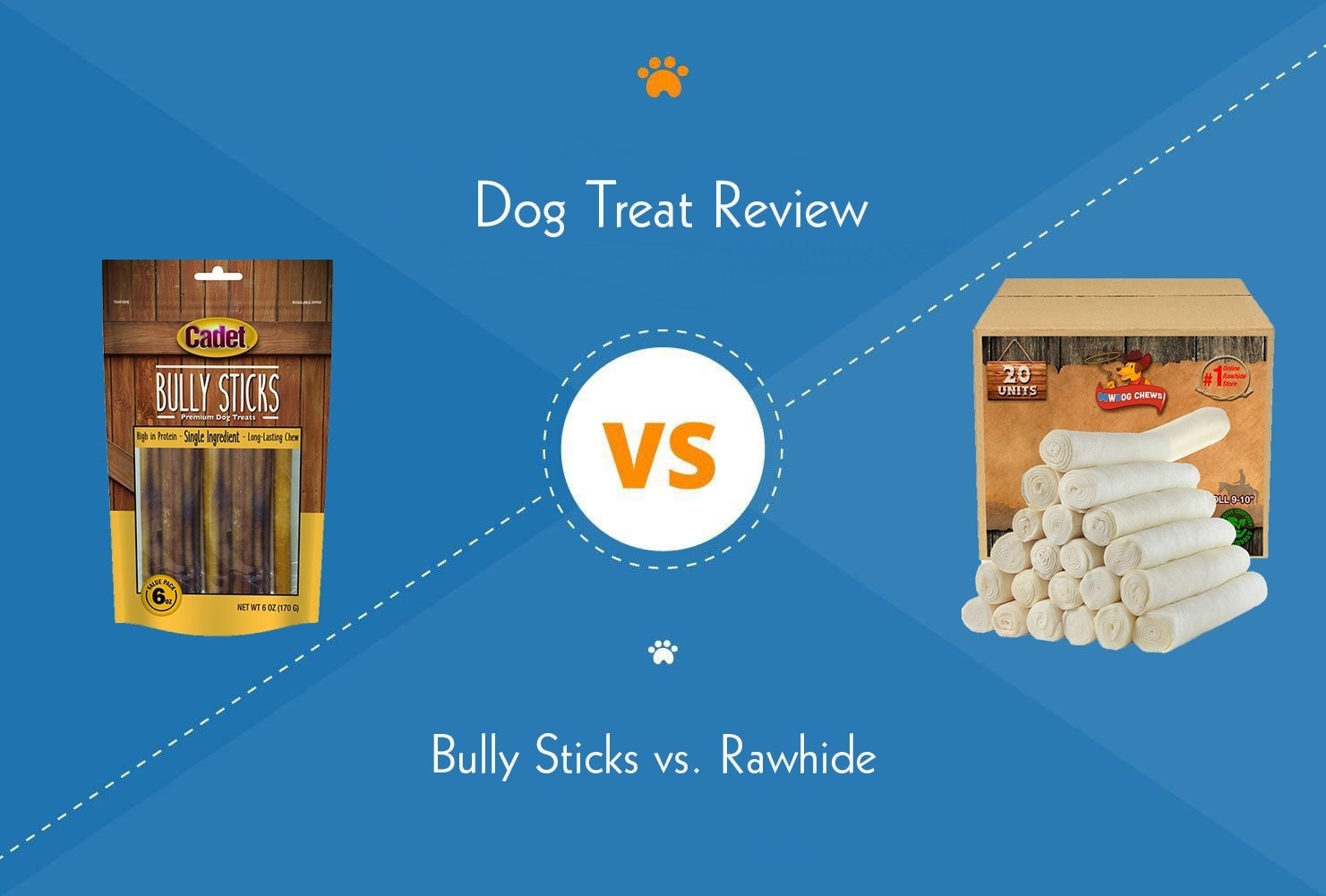 Bully sticks and rawhide are both familiar chew toys for dogs. However, there are a few significant differences between them. Selecting the right option for your canine is essential to ensuring their enjoyment and health. While this decision may not seem like a big deal, the wrong choice could be a choking hazard.
We'll help you choose the best option for your dog below, as well as let you know what the best bully stick and rawhide option on the market is.
Overview of Bully Sticks:
Bully sticks are single-ingredient, easily, digestible chew treats that are made from beef muscle. As you might imagine, they are decently digestible because they are made out of muscle, which is an extremely nutritious cut of meat for our furry friends. They include all the amino acids your dog needs to thrive.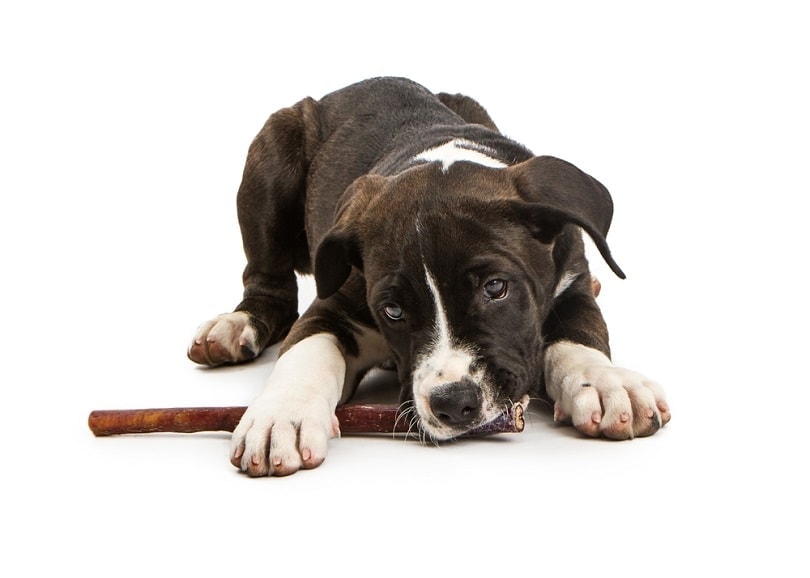 Safety
They also do not splinter like other sticks. This can limit some of the choking hazards commonly associated with chew treats. It also prevents internal injuries.
Most bully sticks are free from artificial ingredients like chemicals, additives, and preservatives. Because they only use one ingredient, they are great for dogs who have allergies (as long as they aren't allergic to beef).
Teeth Health
Bully sticks are useful for our dog's teeth health as well. The chew toy can clean your dog's teeth as they chew. They can support healthy your dog's healthy gums and fight inflammation.
Variety
There are also many different kinds of bully sticks on the market. You can get braided bully sticks and very thick bully sticks for intense chewers. You can find a bully stick for just about every dog out there.
Shaped bully sticks can also be useful for intelligent dogs who need a bit of mental stimulation. They can be a bit more challenging to chew, which is a challenge for some dogs.
Do not splinter
Free from artificial ingredients
Large variety available
One-ingredient in most cases
Made from beef muscle
---
Overview of Rawhide:
Rawhide treats come from the inner layer of cowhide. These hides are taken off during manufacturing and then cleaned and cut. Some are ground instead. Then, they're pressed into chewable dog treats of different shapes and sizes.
Some rawhides will include added flavorings or other ingredients.
Safety
The biggest downside of these treats is that they are not the safest. There are a few health concerns associated with these treats. Some dogs are sensitive to the ingredients used during processing, which can cause digestive upset. Diarrhea and other digestive problems may occur.
Rawhide bones can splinter and cause choking or blockages as well. Large rawhide pieces can be pulled off, which can get stuck in your dog's digestive tract. Vets can sometimes remove these issues pretty quickly through the dog's throat. However, surgery may be required in some circumstances.
However, you can avoid these problems by making the right purchasing decisions. Choose treats that are the correct size for you canine and discourage your dog from gulping. This might include separating them from other animals, so they don't feel the need to gulp down treats.
Once the rawhide because small enough to swallow, it should be taken away.
Teeth Health
Rawhide can also be useful for your dog's teeth healthy, as they do start hard. They do become soft over time and will stop cleaning your dog's teeth at this point. Rawhides still support healthy gums.
Variety
There are many types of rawhide out there. The ingredients and manufacturing process can vary a bit, so you should pay attention to how the particular brand makes their treats and the general shape and size.
Choosing the right size treat for your dog is essential. More significant is usually better, so it eliminates the chance of your dog swallowing the treat whole. This is not safe and can cause problems.
Inexpensive
Cleans teeth
Many different brands available
Not as safe as other options

Safety
The main difference between rawhide and bully sticks is safety. Bully sticks are typically very safe, as they are made out of the beef muscle. They are not processed with chemicals and are usually include only one ingredient.
Bully sticks also don't splinter and are more easily digestible. This prevents stomach upset, as well as injuries to your dog's intestines.
With that said, this does not make rawhide completely unsafe. You need to ensure that you choose the correct rawhide toy for your dog. The correct size is essential.
Even if you choose the perfect toy, some dogs can't use rawhide chews safely. If your dog is a very heavy chewer and tends to scarf stuff down, then rawhide is probably not the best option for them.
Chew Style
All dogs chew differently. This has something to do with the dog's breed. Bigger dogs tend to chew more intensely. Age can also matter. Teething puppies tend to chew more than adults, as they need to massage their gums.
Intense chewers are not able to use rawhide. They simply go through it too fast. They can choke on the pieces and potentially injure themselves. Because of this, you need to be aware of what type of chewer your dog is before you decide on the correct chew for them. You may want to get multiple chews for your dog to try out at first before making your final decision.
Cost
The cost of both rawhide and bully sticks can vary depending on the brand and size of the treat. Bigger treats cost more typically. Usually, the price is directly related to the quality. Better treats are also more expensive, usually because they don't cut corners in the manufacturing process.
Rawhide is usually cheaper, as the "leftovers" from the cow hides are cheaper than beef muscle. However, they are also healthier for our dogs, so it is a situation of give-and-take.
Health Benefits
Both types of chews is good for your pet teeth. Typically, chewing helps your pet clean their teeth, which can prevent plaque from forming. This prevents gum inflammation and a host of other problems.
However, that's when they start to differ. Rawhides don't have much nutritional value. They don't really don't have much nutrition in them at all. On the other hand, they may be full of additives and flavorings. Obviously, these are not super healthy for our canines.
At the same time, bully sticks are made out of beef muscle. This contains lots of nutrition, including many of the amino acids are dogs need to thrive.
Quick Look: Our Top Choices
Our Favorite Bully Stick: Cadet Bully Sticks
The Cadet Bully Sticks are high-quality and contain a lot of protein. They include no artificial flavors, colors, or fillers. Instead, they are made only with beef muscle, which is a high-quality ingredient for our canines. They are also inspected in the United States, so you can expect that they are safe.
Because they are made of beef, they are extremely digestible. They are best for small to medium dogs. However, the same company makes great options for larger dogs are well.
---
Our Favorite Rawhide: Cowdog Chews Retriever Rolls
We recommend the Cowdog Chews Retriever Rolls out of all the rawhide on the market. They contain none of the artificial ingredients common in rawhide. They are all-natural and made from free-range, pasture-raised cows. They are completely odorless, which may be a good benefit if you are sensitive to smells.
The rawhide naturally differs in color, weight, and thickness. This is to be expected, as it is a natural product.
Conclusion
When you're looking for a safe and healthy chew for your dog, both bully sticks and rawhide are both a good option. It is more important to choose a high-quality option of whatever treat you decide to get your dog than to choose the perfect option. High-quality bully sticks are great. High-quality rawhide is great.
However, low-quality options for both bully sticks and rawhide do exist and neither are a good choice for your canine. The quality of the chew is paramount.
---
Featured image credit: Pixabay