What Is the Cost of Pet Insurance in Canada? 2023 Price Guide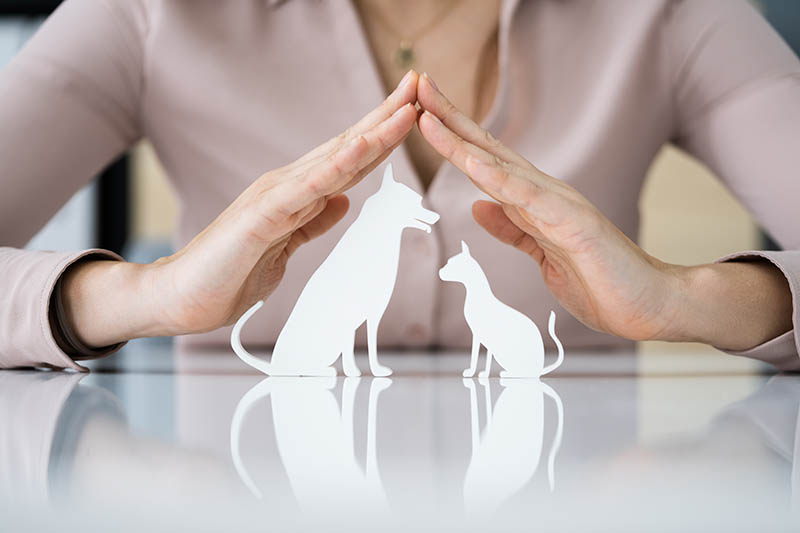 Pet insurance is becoming almost a necessity for many pet owners. It can help offset the costs of any unexpected emergencies involving health problems and accidents. The last thing that you want is to make a heartbreaking decision about whether you can help your pet in an emergency.
Pet insurance for dogs can start at around $20 and go up to $100 or more each month, while cats are a bit cheaper, so if you're interested in learning more about how it works and how much it might cost you as a Canadian, read on!

The Importance of Pet Insurance
Pet insurance is not mandatory but can make paying for unexpected vet visits more manageable. Vet bills can be intimidating, particularly if they fall outside your budget.
If you don't want to find yourself in a position of going into debt to pay for unexpected treatment or surgery that will keep your pet around longer, pet insurance can make a huge difference.
It can typically cover the following:
Unexpected illnesses
Accidental injuries
Dental issues
Chronic conditions (as long as they aren't pre-existing)
Diagnostic tests
Surgeries
Hereditary conditions
That said, much of this depends on the insurance company and the plan and deductible that you choose.
How Much Does Pet Insurance in Canada Cost?
How much you pay for pet insurance depends on several different factors: the company itself, what kind of pet you have, and the breed, age, health, and sex of your pet, as well as what part of Canada you live in.
Insurance for cats is less expensive than it is for dogs, and the breed and size of your pet will also make a difference.
Most pet insurance companies will allow you to pick your deductible, which affects your annual coverage amount and the percentage that you will be reimbursed.
If you choose a high deductible and a low reimbursement percentage, you'll end up paying a lower amount each month.
The monthly premiums for a dog could range from $15 to $100 or more each month. The premiums for cats could start at $10 each month or more, depending on your options.
| | | | | |
| --- | --- | --- | --- | --- |
| Company | Accident & Illness for Cats | Accident Only for Cats | Accident & Illness for Dogs | Accident Only for Dogs |
| Pets Plus Us | $44.17–$51.72 | $19.73 | $69.75–$102.23 | $22.06 |
| Pet Secure | $20.57–$69.96 | N/A | $32.51–$156.21 | N/A |
| Trupanion | $63.50–$155.08 | N/A | $84.18–$863.47 | N/A |
| Fetch | $20.66–$34.71 | N/A | $21.92–$195.12 | N/A |
| Sonnet | $27.29–$34.18 | N/A | $43.69–$70.98 | N/A |
| Furkin | $24.00–$32.48 | N/A | $46.95–$153.23 | N/A |
| Peppermint | $17.44–$36.38 | $10.87 | $18.73–$69.13 | $11.96 |
| Desjardin | $24.04–$89.30 | N/A | $32.22–$167.21 | N/A |
These quotes are for a domestic shorthaired cat, and a Chihuahua and a Great Dane were used for the dog quotes.
Additional Costs to Anticipate
Many pet insurance companies offer add-ons to provide you with extra options. Wellness packages can include things like vaccinations, checkups, and annual parasite treatments — for an additional fee.
Most insurance providers don't cover spaying or neutering surgeries, but some might include it in a wellness plan option.
Insurance providers like Trupanion offer optional coverage of dental care with a 90% reimbursement. Dental care isn't typically covered unless it's an emergency or there's a complication, such as periodontal disease.
Certain insurance companies have add-ons that include everything from behavioral therapy to holistic therapy and pet boarding. Options such as these cost extra.
Things to Look For in Your Pet Insurance Policy
You can shop around at different insurance providers, plug in your pet's info, and receive a free quote. Once you've decided on the right one, signing up is quick and easy, but it's essential to read the fine print and understand how it all works.
You'll need to decide what aspects of coverage are vital and where you're willing to compromise. Very few insurance providers will pay the vet directly; Trupanion is one example, but it's one of the more expensive companies.
How long you need to wait for reimbursement is important for some owners, as is what their plan covers.
The following are a few questions that you should ask each provider that you're considering:
Can I keep my current vet?
How long do I wait for reimbursement?
How will I receive my reimbursement?
What is the deductible?
What isn't covered?
Are prescriptions covered?
Are hereditary conditions covered?
Is there an age limit?
Are there any caps on illnesses or accidents?
Is there a wellness plan option?
Is dental covered?
How do I submit a claim?
Make a point of reading through the reviews of each company that you're considering. Keep in mind that some of the negative reviews are likely legitimate, and others might be misunderstandings on the part of the pet owners.
Those who don't read the fine print may write a negative review because they don't understand how their pet insurance plan works.
How Does Pet Insurance Work?
The language used for insurance can be a bit confusing, so here are a few common terms.
Deductible
Deductible refers to the amount that you need to pay before the provider reimburses your claims. You can typically pick the deductible that you want to pay, which is usually paid annually.
Reimbursement Rate
The reimbursement rate is the percentage that the provider pays toward the vet expenses after you've paid the deductible.
For example, if you chose a plan with a $200 deductible and 90% reimbursement rate and your vet bill is $800, you would pay the $200 deductible, plus 10% of the bill. This means you will pay $280, and the provider will pay $520.
Maximum Payout Limit
The maximum payout limit can be based on each incident, or it can also be an annual limit.
Per incident means you'll get reimbursed for each new injury or illness. However, when you reach the limit, you won't receive any more coverage for that specific illness or injury for the rest of the year.
Maximum annual payout will set a limit for the year that you can dip into until you've reached the limit.
Exclusions
Exclusions are any illness, treatment, or condition that the insurance provider won't cover. These are usually things like wellness plans, prescription food, spaying and neutering procedures, etc.
Waiting Period
Once you've applied for insurance, there is a waiting period before it kicks in. This means if your pet is injured or develops a condition during the waiting period, it won't be covered. It will be considered a pre-existing condition, which almost no provider will cover.
Be sure to read the policy quite carefully. The waiting period for certain conditions can be as long as 6 months.

Conclusion
While it might seem overwhelming when you start shopping for pet insurance, just take your time and remember to read customer reviews. Have a list of questions ready when picking a company, and read everything so you don't overlook anything.
It's also a good idea to call and speak to a representative, as they can go over any confusing bits and answer all your questions. While pet insurance isn't a necessary aspect of pet ownership, it can give you peace of mind.
---