Can Dogs Eat Apples? Are Apples Safe for Dogs?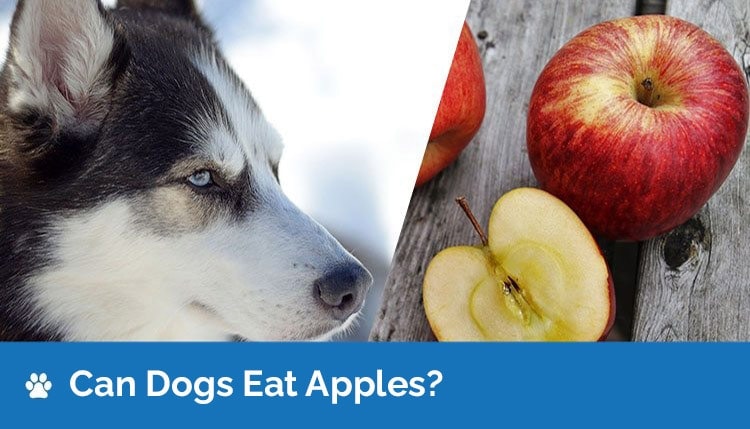 You're all set to bite into a crunchy, juicy, sweet apple, but your dog is giving you those puppy dog eyes you find so hard to resist. So, you wonder if it's okay to give your dog a piece of your apple.
Are apples safe for your dog to eat? The good news is, yes! Apples are a safe and healthy treat for your dog, but with a few warnings. 

The Healthy Apple
Apples are full of all kinds of nutritious goodness. These golden, green, and red globes of crunchy deliciousness come in a wide variety; as much as 7,500 different types of apples can be found throughout the world!
One medium-sized apple contains vitamins A, B1, B2, B6, and E as well as copper, manganese, and polyphenols (antioxidants). They also contain lots of vitamin C, fiber, potassium, vitamin K, and are low in calories.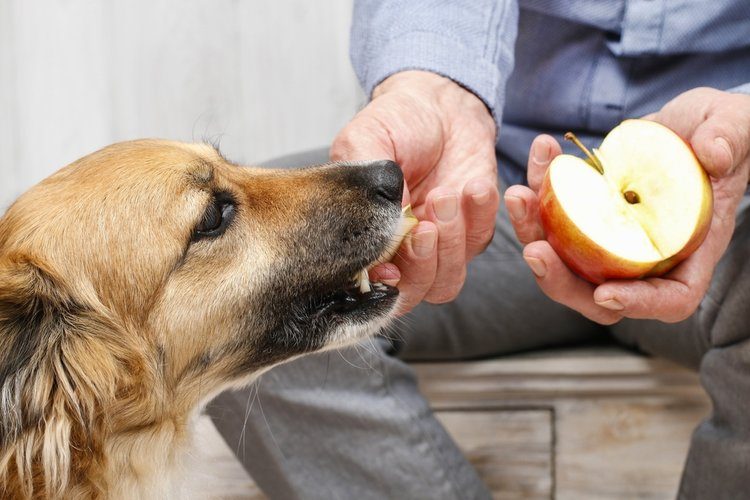 Some of the health benefits of apples can include:
Keeping teeth clean
Promoting healthy bones
Preventing mental decline
Helping prevent cancer
Aiding with weight loss
Lowering the risk of Type-2 diabetes
Boosting the growth of good bacteria in your gut
Assisting in fighting asthma
Helping to prevent heart disease
Apples are available all year but are generally in season from mid-June until early November.
Apples and Your Dog
Apples are clearly a healthy snack for humans, but what can they do for a dog? Some of the health benefits for humans also work on dogs:
Apples are chock full of fiber, which can help with your dog's gastrointestinal health.
Apples can help keep your dog's teeth clean and might even temporarily help with his doggy breath.
All of the vitamins, minerals, and antioxidants can benefit your dog's overall wellbeing, and potentially help prevent future health problems.
The apple is also low in calories and will give your dog a tasty, sweet, and crunchy snack that is good for him.
The Downside for Dogs
While apples can provide many benefits for your dog, some issues should be taken into consideration.
Firstly, apple cores are not safe for dogs. Not because they're toxic, but because they are a serious choking hazard. So, avoid giving your pup a whole apple to devour.
Next, overall, dietary fiber is good for the digestive system, but eating too much apple can make your dog ill. He could suffer from upset stomach and diarrhea, so ensure you only feed your dog a small to moderate amount of apple, no more than a few slices.
Most of the antioxidants can be found in the skin of the apple so you can feed your dog the peel and the flesh. However, you should always remove the core and especially the seeds, as apple seeds contain a small amount of cyanide that is released when chewed. Your dog would have to eat a lot of seeds for it to harm him, but it's always best to play it safe when it comes to the health and safety of your dog.
Always wash your apple before eating it yourself or feeding it to your dog to avoid any pesticide residue as well as dirt and bacteria. The best way to clean your apples is to mix 1 teaspoon of baking soda into 2 cups of water in your sink or a bowl. Soak your apples in this mixture for at least 15 minutes, rinse and enjoy.
Lastly, apples have a moderate amount of sugar (fructose). If there are concerns about your dog's weight or if your dog is diabetic, you should avoid apples or only give it to your dog in small amounts. You should discuss any concerns you may have with your vet about diet if your dog has issues with his weight or if he is diabetic.
These are signs of high blood sugar in your dog:
Increased urination
Weight loss
Extreme thirst
Depression
Excessive hunger
If you notice any of these symptoms in your dog, contact your vet immediately.
The general rule of thumb is that you should avoid applesauce (unless you know there's no added sugar) and don't give your pup any apple juice. Sugars tend to be concentrated in these forms.

Conclusion
Apples are a safe and healthy treat for your dog, provided you remove the core and seeds and only give him small amounts. When you give your dog or puppy their first apple, watch for stomach upset, or any other unusual behavior or symptoms that indicate discomfort.
You can look for apple recipes for dogs if you want to try something new or just give your dog a few bites of your own apple. Always check with your vet if you have any concerns and remember to always read the label before giving your dog a new treat. Apples are found all year round and are a cheap and tasty snack for you and your dog.
---
Featured Image: Pikist