Can Dogs Eat Cauliflower? Vet-Reviewed Nutrition Facts & Benefits
Cauliflower seems to have entered its renaissance in the last couple of decades, with people seeming to have a newfound appreciation for the vegetable. It's especially popular with people who are eating a low-carb diet, but as people come up with more and more creative ways to prepare it, it's showing up in more homes.
Whether you're hoping to share a cauliflower snack with your dog or looking for a low-carb, low-calorie treat option for them, you will be happy to know that cauliflower is non-toxic for your furry friend! Here's what you need to know about offering cauliflower to your pup.

Can Dogs Eat Cauliflower?
Yes, cauliflower is non-toxic and safe for dogs to consume. If you're growing your own cauliflower and have a bunch of cauliflower leaves, your dog can safely consume those as well.
The stems of cauliflower plants are quite fibrous, so it's generally not recommended to feed them to dogs. The high non-soluble fiber content can lead to digestive upset for your dog, including gas, bloating, and nausea. Stems also pose a choking hazard due to their hard texture and shape.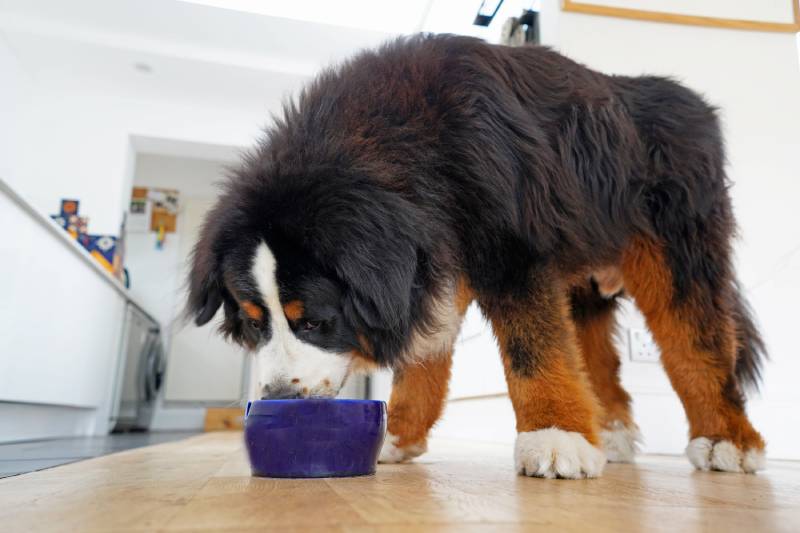 Is Cauliflower Healthy for Dogs?
Yes, cauliflower is a healthy food for dogs. It can be a good low-calorie treat for dogs needing to lose weight. It's unnecessary to be fed on a daily basis, but offering cauliflower to your dog multiple times per week is fine. If your dog has a sensitive stomach, they may benefit from having cooked cauliflower instead of raw.
Cauliflower is a good source of fiber, which helps support healthy digestion. It's also a good source of vitamin C, vitamin K, folate, potassium, and calcium. Not only is it rich in nutrients but cauliflower is low in calories, fat, and carbohydrates.
It should only be fed as a small portion so that your dog is still getting the bulk of their nutrition from their dog food.
How to Feed Cauliflower to Your Dog
Cauliflower can be offered to your dog in bite-sized pieces as a treat or on their food. It's recommended to chop any fresh vegetables that you feed to your dog into bite-sized pieces to reduce the risk of choking. With veggies like cauliflower, this is especially important due to the texture and density of cauliflower.
Dogs can eat raw or cooked cauliflower, but it's important to only feed your dog cooked cauliflower if it has been cooked without oils and spices. Fried, breaded, and seasoned cauliflower can not only cause stomach upset for your dog, but some ingredients in seasonings, like onion and garlic, are toxic for dogs.

In Conclusion
Cauliflower can be a healthy, tasty, and interesting treat for your dog. Stick to feeding in moderation, though, and don't feed it to your dog every day. Too much cauliflower can lead to stomach upset for pups.
Raw cauliflower has a higher chance of upsetting sensitive tummies than cooked cauliflower, so stick to boiled, steamed, or roasted cauliflower for dogs that tend to get stomach upset. Cut cauliflower into bite-sized pieces for your dog and avoid giving them stems due to the risk of choking and digestive difficulty.
---