Can Dogs Eat Cucumbers? Is Cucumber Safe for Dogs?

Dogs are omnivores, so they're happy to eat just about anything, whether it's actually good for them or not. Some foods aren't the best for dogs because they create gastrointestinal problems. Some foods, like onions, can actually be poisonous to dogs. But can dogs eat cucumbers? The short answer is yes!
Cucumbers are a nutritious snack option that most dogs naturally enjoy eating. They're full of hydrating water, vitamins, and minerals, all of which your dog needs for good health. A whole cup of sliced cucumber pieces (or about a third of a cucumber) only has 16 calories, so you don't have to worry about your dog putting on any extra weight. Here's everything you need to know about feeding your dog cucumbers.

Nutrient Benefits of Feeding Dogs Cucumbers
Cucumbers are a good source of vitamin K, vitamin C, magnesium, and potassium, which all dogs need plenty of for strong bones, shiny coats, and overall healthy lives. Cucumbers are also high in fiber, which can help keep your dog regular. Thanks to the low-calorie count of cucumbers, dogs that are overweight can benefit from eating them regularly.
Replacing high-caloric treats with low-calorie cucumbers will help your dog lose weight without sacrificing the rewards they are used to receiving. Cucumbers are among the many non-starchy veggies that can help keep your dog's blood sugar levels stabilized to reduce the change of developing diabetes over time.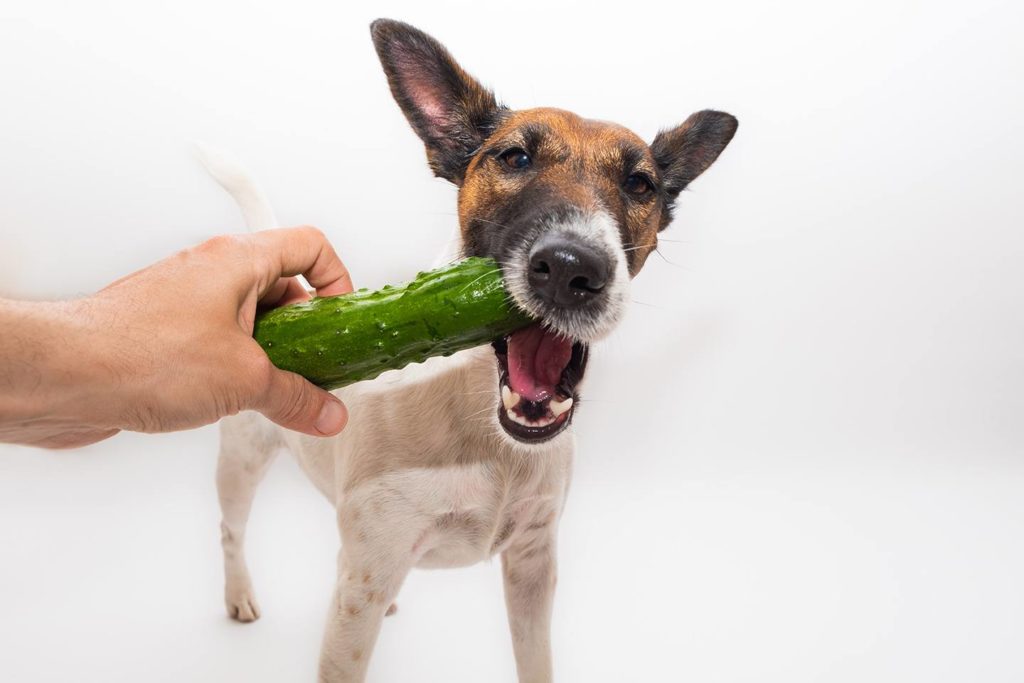 Health Hazards to Worry About
While cucumbers are perfectly safe to feed dogs, there are a couple of hazards to be aware of. The first possible problem is digestion issues. If a dog eats too many cucumbers at once, digestion can become uncomfortable for a day or two. So, it's best not to feed them more than one cucumber at a time.
Another health hazard to worry about is choking. Dogs are typically eager eaters and don't always take the time to chew their food properly before trying to swallow it. Giving a whole or even half of a cucumber to your dog without cutting it up first could lead to choking and even death. You can easily avoid this danger by always cutting cucumber into slices or small chunks before offering any to your pooch.
Fun Feeding Ideas to Consider
Dogs are typically happy to eat cucumbers as is, but there are many different things that you can do to create fun feeding opportunities that your dog is sure to appreciate. One easy idea is to put cucumber chunks in an interactive toy, like a Kong, to create a rewarding challenge for your dog to take on. Here are a few other ideas to consider:
Make Mini Cucumber Sandwiches. Apply a thin layer of peanut butter on a cucumber slice, and then place a second cucumber slice on top to create a fun mini sandwich for snack time. You can use applesauce or mashed banana instead of peanut butter if you're looking after your dog's weight.
Add Extra Flavor. If your dog isn't attracted to cucumbers on their own, you can soak some slices or chunks in beef or chicken broth to infuse extra flavor that no dog would resist.
Make a Game Out of Snack Time. When snack time comes around, consider hiding a few pieces of cucumber around the house or yard for your dog to sniff out. It will keep them busy and active while they find their rewards.
Try different feeding methods every time you cut a cucumber up to share with your pooch to keep things fresh and exciting.

Our Final Thoughts
Cucumbers are easy to find in the store and can be easily grown at home, so getting your hands on some to feed your dog should never be a problem. You should find that cucumbers are less expensive than packaged dog treats too. Cucumbers are just as good for humans as they are for dogs, so you and your pooch can actually share the same snack from time to time. While cucumbers shouldn't be a predominant part of your dog's diet, there is no reason to avoid them.
Have you ever fed your dog a cucumber? If so, how did they like and react to it? We want to know all about the cucumber antics you've experience with your pup! Feel free to let us know about your thoughts and experiences in the comments section below.
---
Featured Image Credit: Pixabay