Can Dogs Eat Granola? Nutrition Facts & Safety Guide

With a list of healthy ingredients like oats, whole grains, dried fruits, nuts, honey, and coconut, granola bars sound like the ultimate healthy snack, both for you and your pooch. But can dogs eat granola bars? Are they safe for your canine companion?
Dogs can eat granola bars but they probably shouldn't. The reason is not as simple as you'd think either, because granola bars have many different ingredients that differ greatly with every manufacturer. While most of the ingredients are good for us and may seem great for your pooch, certain ingredients in these bars should not be given to your dog, at least not on a regular basis. In this article, we'll explore the ingredients that most commercial granola bars contain and whether your dog should be eating them.

What's in a granola bar?
Dog lovers know how much dogs love to gnaw and chew, especially during their early growth stages. This makes it seem like a chewy granola bar full of "healthy" ingredients is a great snack for your beloved pooch. But, if you look a bit closer at the ingredients inside most granola bars, you may quickly change your mind. Most commercial granola bars contain the following ingredients in some form: whole grains, oats, puffed rice, nuts, dried fruits, seeds, and of course, sugar, flavorings, preservatives, and artificial sweeteners, in some cases.
Potential health benefits
While granola bar ingredients can differ widely, there are few commonly found ingredients that are potentially beneficial for your pooch. These include:
Cooked oatmeal has potential benefits for dogs and served in moderation, can be a healthy addition to their diet. Dogs can benefit from a small amount of carbohydrates, and oats are an especially good choice for dogs with grain sensitivities. Oats contains vitamin B, which helps maintain a healthy skin and coat, and a type of omega-6 fatty acid called linoleic acid.
Puffed rice. Puffed rice contains few vitamins and no protein, but it is a great gluten-free option for dogs with digestive issues. Rice is a good source of insoluble fiber, which can help prevent constipation. Brown rice in particular also contains vitamins D and B, which are essential to cardiovascular health.
Granola bars can contain many different seeds, some of which are a great addition to your pooch's daily diet. These may include flax seeds, which are packed with omega fatty acids, protein, and fiber. Some may also contain pumpkin seeds, which are packed with nutritional benefits like iron, calcium, and B vitamins but are also a natural de-wormer. Lastly, chia seeds have many benefits too, including being high in fiber and omega fatty acids.
Of course, all these ingredients can easily be separately given to your dog without the potential concerns of the other ingredients in granola bars. Let's take a look at what those are.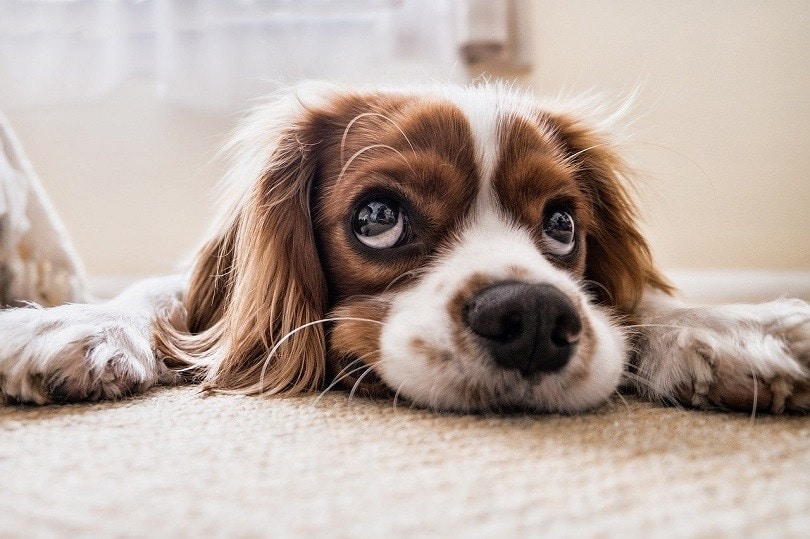 Potential health concerns
Like most commercial human foods, granola bars contain hidden ingredients that can be potentially harmful to your pooch if consumed in large quantities. These include: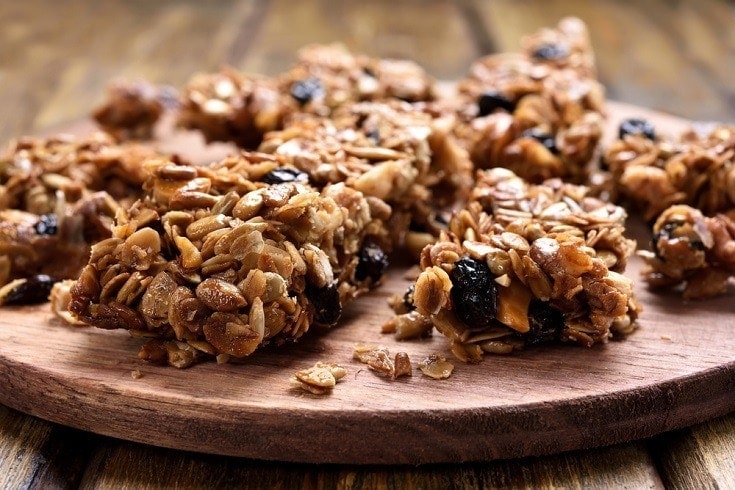 Conclusion
While you will probably not need to rush to the vet should your dog eat a few bites of your granola bar, it is not a snack that should be given to your pooch regularly, if at all. There may be a few ingredients that have some benefit, but these can easily be substituted into your dog's diet separately. Plus, granola bars have widely differing ingredients, and many of these can be potentially harmful to your beloved pooch.
---
Featured Image Credit: Tatiana Volgutova, Shutterstock