Can Dogs Eat Parsley? Vet-Approved Nutrition Facts & Safety Guide

Parsley is a popular herb because it lends a subtle flavor to soup and salads and serves as a garnish on many dishes. There are different varieties of parsley, and you may be wondering which of these may be harmful to your dog.
Parsley is derived from a Greek word that means "rock celery" because it prefers to grow in rocky areas. It has been cultivated for over 2,000 years and was made popular by a Roman emperor because he grew it on his property.1 Parsley is considered to be toxic to dogs by the ASPCA when ingested in significant amounts.
The guidelines offered in our article have been fact-checked and approved by a veterinarian but should be used as a mere guide on food safety rather than an individual nutrition plan.

Before changing your dog's diet or introducing new ingredients or supplements that they haven't eaten before, especially when it comes to human food, make sure to consult your veterinarian first. Every dog is different and requires an individual approach to nutrition, depending on their age, health, level of activity, and medical history. The guidelines offered in our article have been fact-checked and approved by a veterinarian but should be used as a mere guide on food safety rather than an individual nutrition plan.
Can Dogs Have Parsley?
Kind of Dogs can potentially eat parsley in very small amounts, but it has to be Petroselinum cripsum, or curly parsley. Spring parsley (Cymopterus watsonii) is toxic to dogs due to its high levels of furanocoumarin, which can cause sensitivity to light.1
Keep in mind that all parsley contains furanocoumarin, which is why you should either avoid it altogether or offer it in very small amounts according to your vet's advice. Some studies suggest that leafy vegetables, including parsley, could possibly be part of a healthy diet and may help to prevent certain cancers in dogs, but further research is required to actually confirm this and see if it is applicable to cancers other than transitional cell carcinoma of the urinary bladder, from this particular study.2
There is not much detail provided about how much parsley—or any other veg for that matter— would be needed to show any effect or whether it would be beneficial at all. However, there are many factors other than diet when it comes to managing cancer in dogs. Just know that parsley may provide certain anecdotal health benefits when used correctly.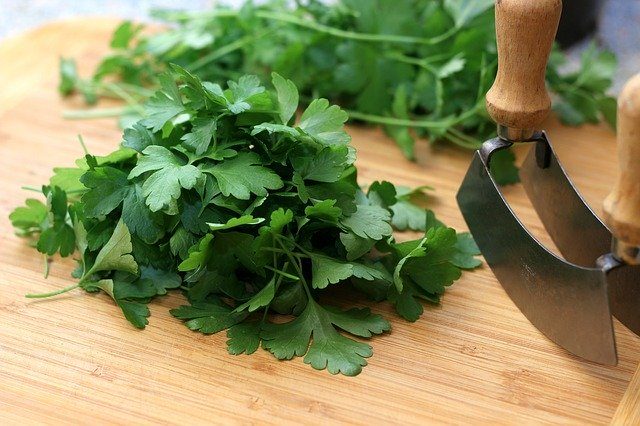 When Is Parsley Bad for Dogs?
As mentioned previously, parsley is considered toxic to dogs according to the ASPCA and is not ideal in large amounts because it can cause dermatitis or other skin irritation and sensitization to light. There is limited verified information available about the possible harmful effects of parsley seeds on dogs, with many websites anecdotally claiming they are especially toxic. However, we would still recommend against giving them to your dog. Parsley also acts as a diuretic, leading to increased urination and drinking if ingested in larger amounts.
In humans, parsley in large medicinal amounts has historically been used to try and end a pregnancy, but there is no evidence to say this would or wouldn't be the case in dogs. Also, dogs with kidney issues or a predisposition for urinary stones shouldn't eat any parsley because it is high in oxalates, which may increase the chance of developing kidney and bladder stones.
Is Parsley Safe for Dogs?
Parsley has antimicrobial properties, so it may be great for freshening your dog's breath. You will find that it is a common ingredient in dog treats that helps control tartar and bad breath. It is also added to some commercial dog foods for its flavor and nutritional value, but this is done in very small amounts.
However, parsley is considered toxic by the ASPCA and should generally be avoided in dogs, or used only according to your vet's advice, as side effects are possible. Still, we will discuss some of the parsley's properties.
There is anecdotal evidence that parsley may help support the urinary tract because of its ability to fight bacteria and flush it from the system since it is also a diuretic. In other words, it can increase the amount of urine that is expelled from the body. 
However, the amount of parsley that would be required for the purpose of diuresis may be too high and lead to other unwanted side effects. If your dog is having any urinary issues, speak to your vet first, as parsley may also lead to urinary and kidney stone formation in some dogs if given in excess or regularly.
Other benefits of parsley have been extrapolated from human medicine, and are not necessarily applicable to our canine companions. Certainly, they cannot eat parsley at the amounts we can, as it is toxic for them, and they are unlikely to reap significant benefits. Either way, human food and ingredients are not a replacement for a complete and balanced diet. 
Parsley is full of vitamins and antioxidants, especially vitamin K. This vitamin helps bone and heart health, alongside many metabolic functions, and ensures appropriate blood clotting. This is good to prevent excessive bleeding.
Other nutrients present are vitamin C, which is great for immune and heart health, and vitamin A, which is essential for eyes and skin. But remember, the small amount of parsley that may be appropriate for dogs to have as part of their dental chews of commercial food without developing toxic effects will not be sufficient for them to reap any of the benefits.
Puppies and Parsley
Speak to your vet before considering any parsley for your puppy, as due to their smaller size, they will be more sensitive to adverse and potentially toxic effects. You only want to give it in occasional and very small amounts as part of their dental chews or treats, and if you speak with your veterinarian, they can offer further guidance about the appropriate dosage for puppies.
Some dogs may develop stomach upset and don't forget the skin irritation, diuretic effect, and potential for urinary or kidney stones in some dogs that have been getting too much parsley. It's always better to be safe than sorry.
Should You Feed Parsley to Your Dog?
Knowing all of the above-discussed risks and consulting with your veterinarian, we hope that you will make an informed decision about whether parsley is an appropriate occasional ingredient in your dog's diet or not. 
If you want to freshen your dog's breath, there are many dental chews and treats formulated safely for dogs that contain safe amounts of parsley.
You can look for commercial treats and food that contain parsley, or better yet, make your own dog treats that include a small amount of this herb. This recipe from Her Modern Kitchen shows you how to make a yummy treat that freshens the breath while providing other health benefits, but remember to consult with your vet first and offer it in moderation.

Conclusion
In humans, parsley offers many health benefits—some anecdotal, some researched—such as strengthening the immune system and protecting the eyes, and it has been used for centuries to flavor food and provide treatment for some illnesses. However, parsley can cause toxic effects in dogs, especially if given in larger amounts or to smaller dogs. 
If you want to consider treats with parsley or adding it to your dog's diet, it would be wise to consult your veterinarian first, especially if your dog has any health issues, predisposition for urinary bladder or kidney stones, or to help you figure out the proper amount to prevent toxicity.
You can even find parsley included in commercial dog treats and food, and it's a great way to freshen your dog's breath. It can be a safe supplement as long as you know the advantages and disadvantages of this herb.
---