Can Dogs Eat Pesto? Vet Reviewed Facts & FAQ
Pesto is a common sauce in many homes, especially for people who enjoy pasta and Italian dishes. This sauce is traditionally made with pine nuts, basil, garlic, and olive oil, but there are a lot of variations of pesto. If you're a big fan of pesto, you may have hoped you could share this tasty sauce with your pup. Dogs cannot safely eat traditional pesto, mainly due to one of its main ingredients: garlic. Keep reading to learn more.

Can Dogs Eat Pesto?
Garlic is toxic to dogs and can cause gastrointestinal irritation and red blood cell damage.
Pesto also contains a large amount of olive oil. While most people can tolerate olive oil in the quantities that make up pesto, too much may lead to digestive upset, vomiting, and diarrhea for your dog.
Pine nuts are also best avoided for your pup as they are high in fat and phosphorus and can upset your dog's stomach even in small quantities.
Since there are so many pesto types on the market, it's best to avoid them all since finding a dog-friendly pesto is going to be very difficult. Almost all pesto sauce is going to contain at least one ingredient that is best avoided for your dog.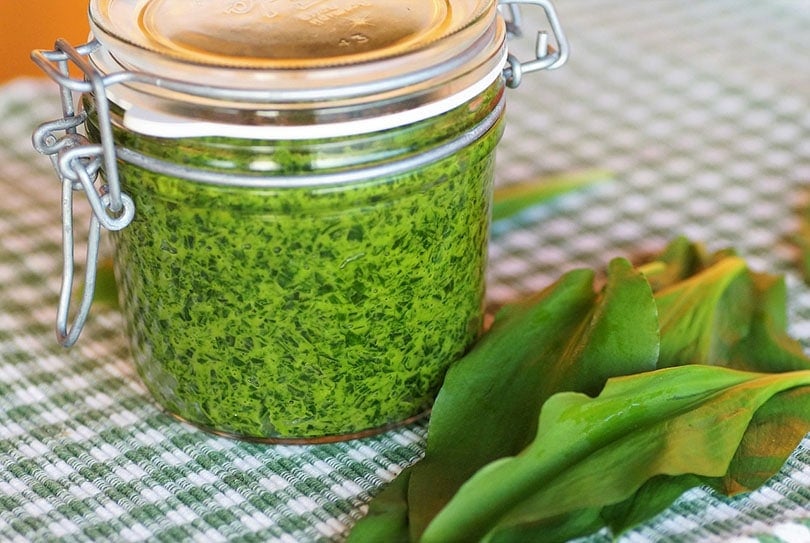 Making Dog-Safe Pesto
If your dog is a fan of herbs and you think they might like some pesto, you can make some dog-safe pesto sauce just for your pup. Parsley and basil are both safe herbs for your dog to consume, as well as dill, rosemary, and sage. Some nuts, such as macadamia nuts, are very toxic to dogs. Others, such as peanuts and cashew nuts, are safe in small quantities, but remember they're all high in fat and may cause digestive upset and weight gain over time.
To make dog-safe pesto sauce, you might consider creating a puree of herbs and some of your pet's favorite things, like fruits and veggies. Water or low-sodium broth are good options for liquids to make pesto for your dog. Avoid using any type of oil for this purpose due to the risk of stomach upset, weight gain, and even pancreatitis for your dog.
Never make pesto for your dog with onions, garlic, shallots, or chives, all of which are harmful to dogs.
If your dog has any underlying medical issues, always speak to your veterinarian before adding new foods to their diet to make sure they are suitable for your individual dog.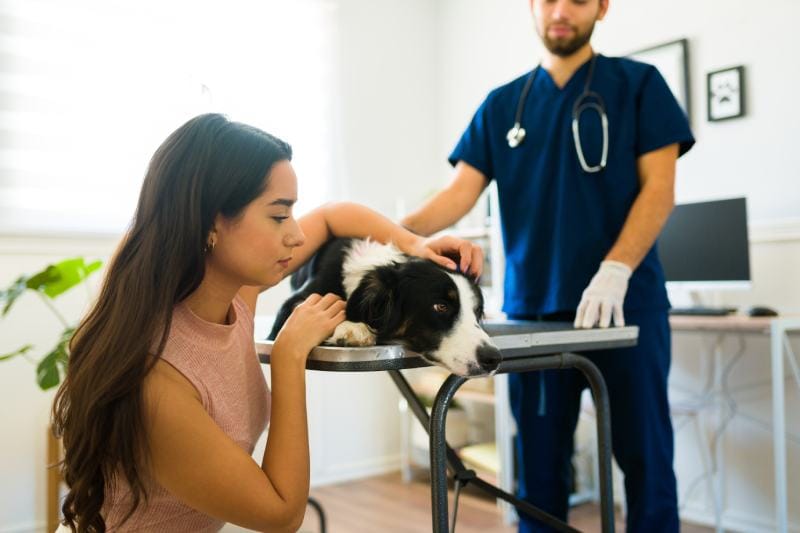 In Conclusion
Pesto sauce is usually not safe for dogs, and even pesto sauce that doesn't contain toxic ingredients may lead to stomach upset. High-fat foods like pesto can lead to pancreatitis, nausea and vomiting, diarrhea, and abdominal pain, and over time, high-calorie foods like this can lead to weight gain and obesity.
You can make your pup a dog-safe pesto using herbs, vegetables, and even fruits, dog treats, and dog food. Just make sure to check that all ingredients in your dog-safe pesto are truly safe for your furry friend.
---