Can Dogs Eat Turmeric? Vet-Reviewed Nutrition Facts & FAQ
If you're a dog owner who prefers to use natural remedies to keep your dog healthy, you might already be familiar with turmeric. The herb is commonly used in cooking and has numerous health benefits for humans. Dogs can also have turmeric, and research supports its use to help treat certain health conditions.
In this article, you'll learn what science tells us about how turmeric may benefit your dog. We'll also give you some suggestions for how to give your dog turmeric.

What Is Turmeric?
Turmeric is a spice derived from the root of a plant native to Asia. It's golden orange in color and is common in Asian and South Asian cooking. Traditional medicine practitioners in China and India also use turmeric.
The active ingredient in turmeric is curcumin, which takes it from a simple food flavoring to a spice with health benefits. Studies performed on humans suggest that curcumin has anti-inflammatory and antioxidant properties.
In humans, turmeric may help manage anxiety, inflammation, arthritis, high cholesterol, some eye conditions, and kidney health.
Benefits of Turmeric for Dogs: What Does the Science Say?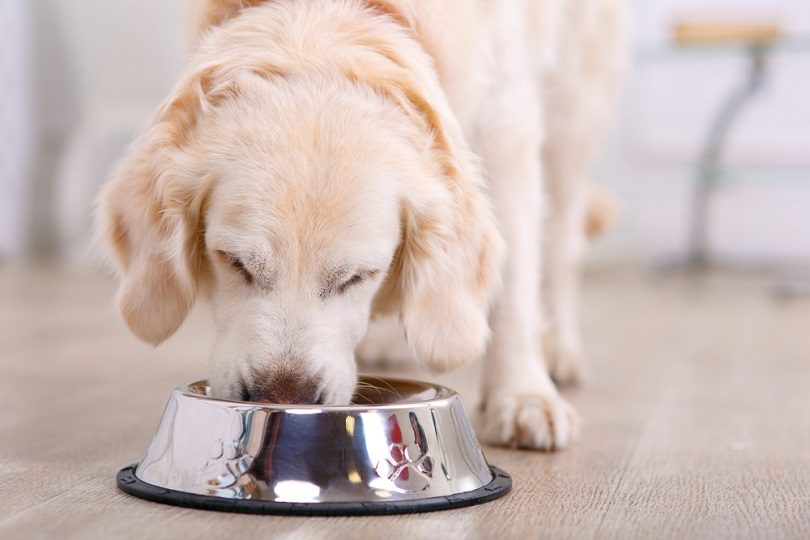 In dogs, various studies have examined the health benefits of turmeric. In 20121, a study found that curcumin had similar anti-inflammatory effects as non-steroidal anti-inflammatory medications. Another study from 2017,2 found that dogs with arthritis that received curcumin supplements for 3 months showed fewer signs of pain than those who didn't.
A separate study in dogs from 2016,3 again supported the anti-inflammatory properties of curcumin. Another study from the same year,4 found that curcumin also shows anti-inflammatory effects in horses.
Based on the available research, turmeric appears beneficial as an anti-inflammatory supplement in dogs. If your dog suffers from joint pain or arthritis, talk to your veterinarian about whether turmeric might help manage this chronic condition.
While the other potential health benefits of turmeric haven't been studied in dogs as they were in humans, the spice may also be useful as an antioxidant. If your vet suggests your dog may benefit from taking an antioxidant, ask whether turmeric is an appropriate solution.
How to Give Your Dog Turmeric
Your dog may already be eating turmeric without you knowing it; the spice is frequently used in commercial dog food as a color and flavor enhancer. However, it's unlikely to be present in high enough quantities for your pup to take advantage of the health benefits.
Various commercial turmeric supplements designed for dogs are available. However, because the supplement industry is not well-regulated in the United States, it's hard to know how much turmeric/curcumin they contain. However, your vet can suggest more reliable brands.
Another option is to give your dog plain turmeric straight from your spice rack. Ask your vet for a suggested amount. Try sprinkling the turmeric on your dog's food or mixing it with something tasty to mask the flavor.
Remember, never start your dog on any supplement without talking to your vet, even if it's "natural." Even naturally occurring chemical compounds can interact with other medications your dog might be taking. In addition, excess turmeric supplementation in humans has been linked to an increased risk of kidney stones.

Conclusion
As we've learned, dogs can have turmeric, but research has also shown that the active ingredient in the spice has anti-inflammatory benefits. More research is needed to support other potential health uses for dogs. If you want to give your dog turmeric, the first step is to talk to your veterinarian about any possible side effects or medication interactions.
See also:
---