Can Dogs Fly on Planes? What to Know Before You Go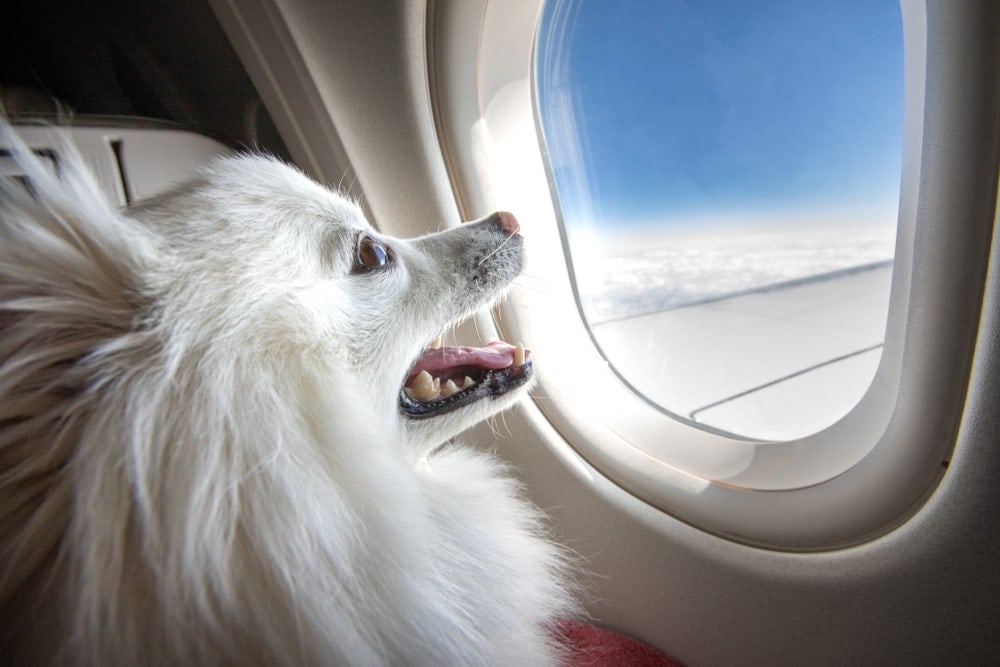 It's natural to want to bring your dog on vacation with you. After all, you want to travel with your family! If you're traveling by plane, however, taking your dog along is more complicated than most other methods of travel. Many airplanes allow dogs on planes, but the prospect can be daunting for first-time flyers, humans, and dogs alike. Can dogs fly on planes? Is it safe? How much does it cost?
Bringing your pup along on your flight is more expensive and complicated than flying alone, but it can be done. Doing your research ahead of time will prevent frustration and headaches when you embark on your travels. Here's a look at everything that you need to know about flying with your dog.

Can Dogs Fly on Planes?
Yes! Dogs can fly on planes. If your dog is small enough, they can ride with you in the cabin of the airplane. That said, most airlines only allow cats and dogs under 20 pounds inside the cabin. If your dog is larger than 20 pounds, they will most likely have to ride in the cargo hold as checked baggage.
There are restrictions on what dogs can travel on planes. Most airlines require all animals traveling in cargo holds to be a minimum of 8 weeks old, but some will accept puppies at 7 weeks old if they are fully vaccinated at least 5 days before flying. Most charge an extra fee for dogs on board, and there are weight limits for both cabin and cargo-hold passengers.
Weigh the Pros and Cons of Flying With Your Dog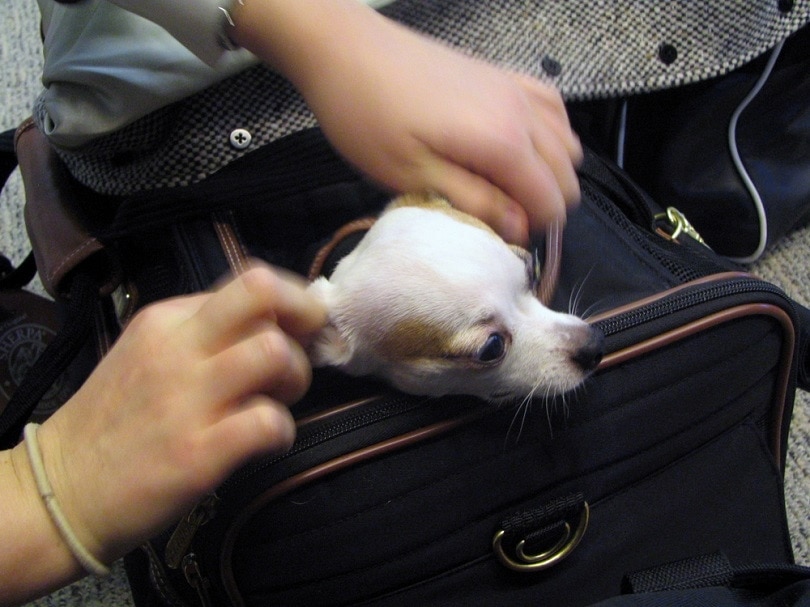 If you're considering flying with your dog, weighing the pros and cons is a good idea so you can see if it's worth the hassle.
Consider whether it's essential or necessary to take your dog with you. It may be if you are moving cross-country or taking an extra-long trip. If you're flying to the tropics for a week, though, your dog may be happier spending the time at a boarding kennel, with a family member, or with a pet sitter.
Flying can be an incredibly stressful experience for animals, especially if they've never done it. They have to be locked in their crate for long periods of time. Dogs that must travel in the cargo hold of an airplane will be surrounded by strange people, strange noises, changes in temperature and pressure, and limited bathroom breaks, and you won't be around to comfort them.
However, there may be times when you have no choice but to take your dog on a plane. So, let's look at what you can do to make the experience as pain-free as possible.
Carry-On or Cargo?
If your dog meets the requirements to fly with you in the cabin, they'll be with you at all times and under your supervision. This option is usually cheaper than checking your dog as baggage. However, some airlines don't allow pets on board, and not all dogs are small enough to fit under the seat, so you'll have to use the alternative option.
If your dog must fly in the cargo hold, there are a few things to keep in mind:
Make sure your dog is wearing identification tags in case they get lost during the flight or when being unloaded from the aircraft. (Yes, this happens, so make sure both your dog and the carrier are labeled well.)
Check with your vet about any medications or vaccinations that should be given prior to travel. Many airlines won't let dogs board without having rabies vaccinations, for example.
Bring along plenty of food and water, as airlines won't provide this.
Choose Your Carrier Wisely
Regardless of whether your dog is flying in the cabin or in cargo, you'll need a carrier. Your dog should be able to stand up, turn around, and lie down in their carrier. One with a top door is ideal so your pup can poke their head out for a bit of air during the flight.
Sturdiness is essential. You want something that won't tip over or crush under pressure, as it's likely to get bumped around at some point during the check-in or security processing. Finally, make sure all latches are secure (but also easy for you to open) so nothing falls out accidentally.

How Much Does It Cost to Fly With Your Dog?
The cost of flying with your dog depends on the airline, the length of the flight, and the size of your dog. The average price for a one-way flight is $50 to $200, plus $25 to $75 per additional pet. Airlines will often enable you to reserve seats for your dog for an additional fee. For specific pricing information, check airline websites directly or call their customer support. They will provide you with more details on what they offer and how much it costs.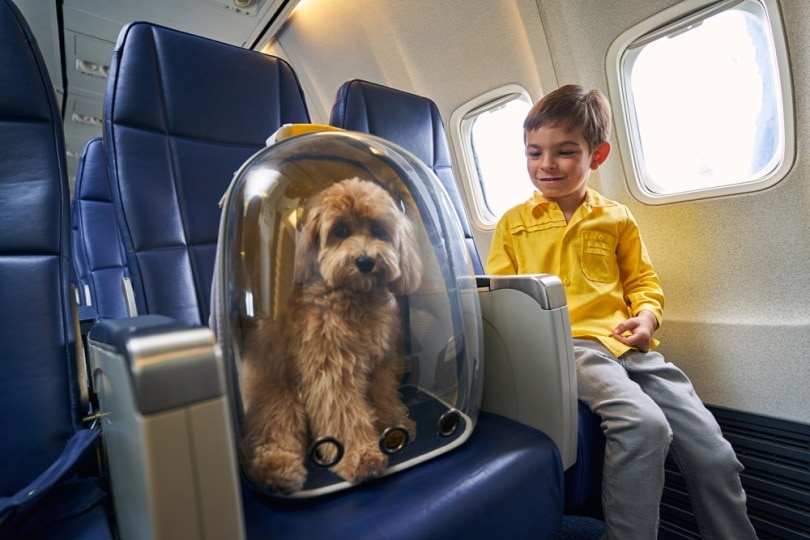 Review the Rules
If you're planning on flying with your dog, review the rules carefully for bringing animals on your flight.
Be sure to also do the following:
Check the airline website for policies for flying with pets. Your dog must meet all the requirements in order to fly.
Contact your local government's customs department to find out if any additional health or quarantine laws apply in your destination location. If so, make sure that your pet meets these standards before booking tickets.
Make sure there are no importation restrictions on dogs entering a specific country (like Australia, for example). We recommend checking out this information at least 2 months prior to travel so there is time for any necessary paperwork processing by both yourself and by officials at ports of entry into foreign countries.
Choose Your Flight Carefully
This is one of the most important steps in planning to fly with your dog. If at all possible, you want to choose a direct flight. This will reduce travel time and unnecessary stress on your dog.
Choosing a reputable airline is key. Not all airlines have the same regulations for traveling with pets. Don't just check the airline websites. Reading reviews from other passengers is often the best way to find out how the airline treats dogs in their care and how attentive they are to your and your pet's needs.
Talk to the Airline Directly
Once you have chosen an airline and a flight, contact them directly before travel. It will give you a chance to double-check their pet policy and what specific requirements might apply to your dog.
Ask about the airline's pet-handling procedures if your dog needs to fly in the cargo hold. Is there a designated area for animals in the terminal? What do they do with pets that get sick during the flight?
You should also ask about their pet insurance policies. Some airlines require that passengers bringing pets have a minimum amount of insurance while traveling with them (particularly if your dog is considered cargo). Knowing all these details will make sure no surprises come up at take-off.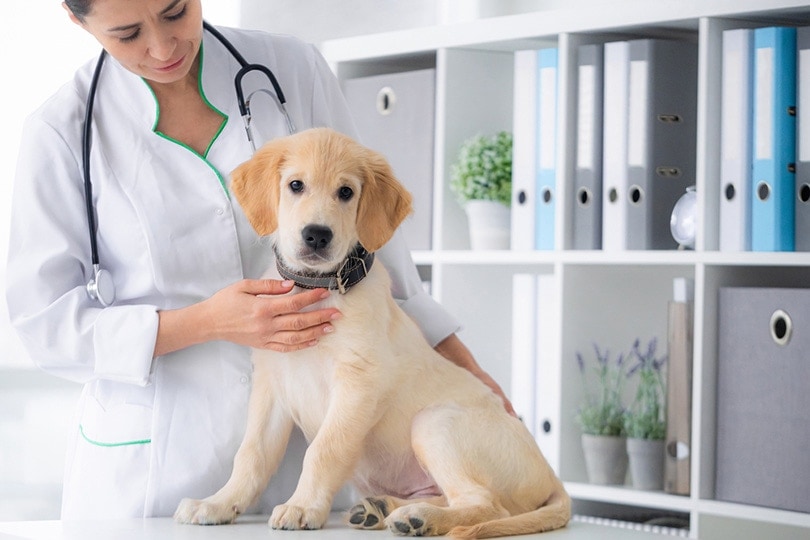 Visit the Vet for a Health Check
Visit your vet before you travel. Most airlines will require at least proof of rabies vaccination; some require other vaccinations. You should also visit the vet for a health check.
Make sure your dog is fit enough to fly. If your pet has health issues that could affect how they cope on an airplane, your vet is the best person to tell you your options.
Preparing Your Dog for Flying

Final Thoughts
Flying with your dog isn't for the faint of heart, but sometimes, it's the only option. We hope that this article has helped you to make an informed decision about flying with your dog. Being prepared is the best way to be sure your flight goes smoothly. Practicing and knowing what to expect will ensure the best possible experience for you and your dog.
---
Featured Image Credit: RyanTaylor, Shutterstock