Can Hamsters Eat Cherries? Vet Reviewed Facts & FAQ
Hamsters eat an omnivorous diet and can enjoy a wide variety of foods. While fruits and vegetables shouldn't take up the majority of their diet, they can still enjoy eating some fruits as an occasional snack or special treat. Hamsters can eat cherries in moderation and with some proper precautions. Cherries are a great choice if you're looking to introduce your hamster to a new treat.
Can Hamsters Eat Cherries?
Many hamsters will enjoy eating cherries and won't have any issues with digesting them. Cherries are a relatively healthy snack and have several health benefits. First, they're nutrient-dense foods and are an excellent source of vitamins, potassium, and fiber. They're also a good source of antioxidants and anti-inflammatory compounds. Cherries are also lower in sugar than many other fruits.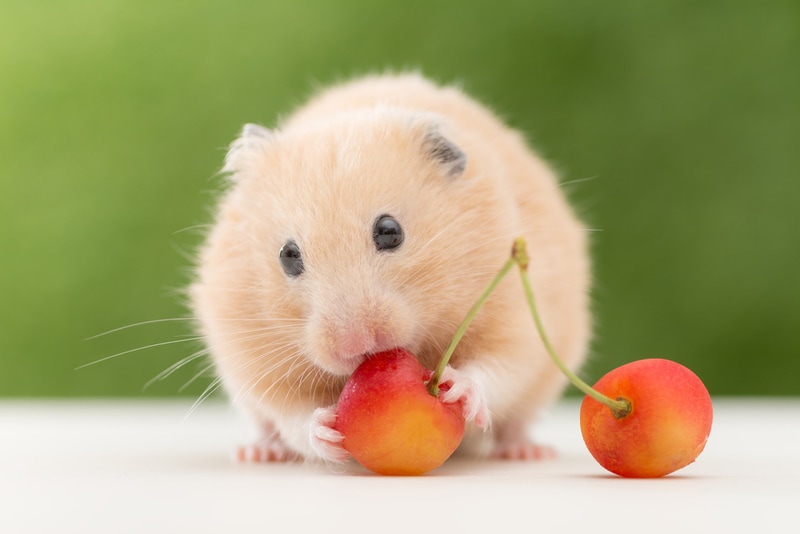 How Do You Safely Feed a Hamster Cherries?
If it's your hamster's first time trying out a cherry, it's best to start by giving them a tiny piece. Don't exceed a quarter slice of a cherry. If you have a smaller hamster breed, you may want to give them an even smaller slice. After you've portioned out an appropriate slice, place it inside your hamster's enclosure. Avoid laying it on top of your hamster's pellets and regular food, as the juice can cause them to spoil.
Allow your hamster to investigate this new food on their own. Since cherries aren't a necessary part of their diet, there's no need to put any extra effort into getting your hamster to eat them. If your hamster doesn't show any interest, you can remove the cherry from their enclosure. Keep in mind that sliced cherries can stay out at room temperature for up to 2 hours.
If your hamster eats the cherry, just make sure to monitor their condition and look for any sort of changes or abnormal behavior. Your hamster may show signs of sickness by being less active, losing their appetite, or having watery stool. Refrain from feeding your hamster any more cherries if they get sick from them.
If your hamster ends up eating cherries without any health issues, you can feed them as an occasional treat. As a general rule of thumb, stick to feeding your hamster cherries just a couple of times a week, and make sure not to give them cherries two consecutive days in a row. Feeding hamsters whole cherries is not recommended because the pit can be a choking hazard. So, make sure to remove the pit and dispose of it right away. Lastly, stick to feeding your hamster fresh cherries. Dried cherries have a higher sugar content and can cause health complications if your hamster eats them continuously.
What Other Fruits Can Hamsters Eat?
A hamster's diet should mostly consist of a complete and balanced commercial pellet, Timothy hay and some supplemental vegetables and fruits. If your hamster doesn't particularly enjoy eating cherries, you can try feeding them other kinds of fruit. Here are some common fruits that are safe for hamsters to eat:
Apples (seeds removed)
Apricots
Blueberries
Grapes
Melons
Pears
Raspberries
Strawberries
Similar to cherries, these fruits shouldn't take up a significant part of your hamster's diet. All fruits are encouraged to be fed as treats, so your hamster shouldn't be eating them too frequently throughout the week.
Conclusion
Cherries are a safe snack for hamsters to eat, and they come with some nutritional benefits. However, since fruits aren't a central part of a hamster's diet, there's no need to try really hard to make your hamster eat cherries. If your hamster passes on a cherry, you can try plenty of other fruits and discover options that your hamster enjoys eating.
---